This easy, mason jar salad recipe is the ultimate, healthy (vegan, gluten free) lunch to eat on the run, at work, school or on a road trip! Packed with tons of veggies, plant-based protein, and grains, these hearty salads are bursting with goodness to satisfy even the hungriest appetite. Customize with your favorite dairy-free salad dressing!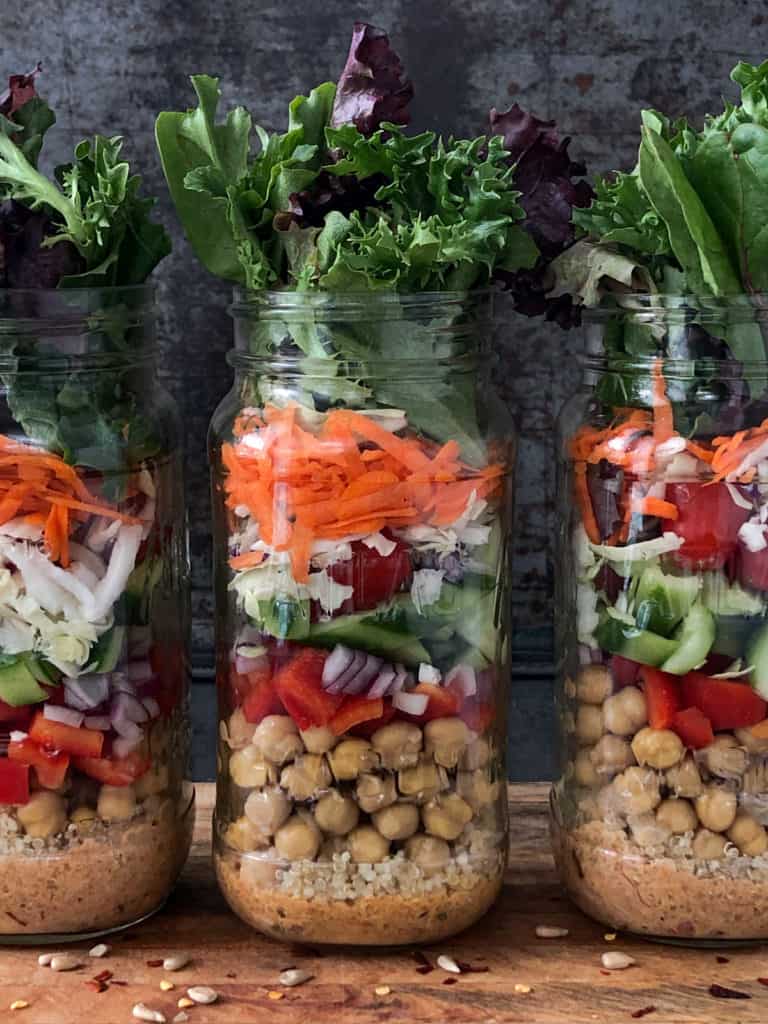 Why You'll Love Salad in a Jar
healthy - packed with nutrients and fiber, high protein, low fat, low calories, gluten free, soy free, nut free, and oil free adaptable, low carb, totally vegan, vegetarian, plant based.
quick and easy - while the grain is cooking, chop the veggies and make the dressing - ready in under 20 minutes.
make ahead - perfect for meal prep, these mason jar salads come together quickly and keep well all week in the fridge.
variety - switch up the veggies, beans or dressing to make a new salad every time - be gone boring salads, be gone.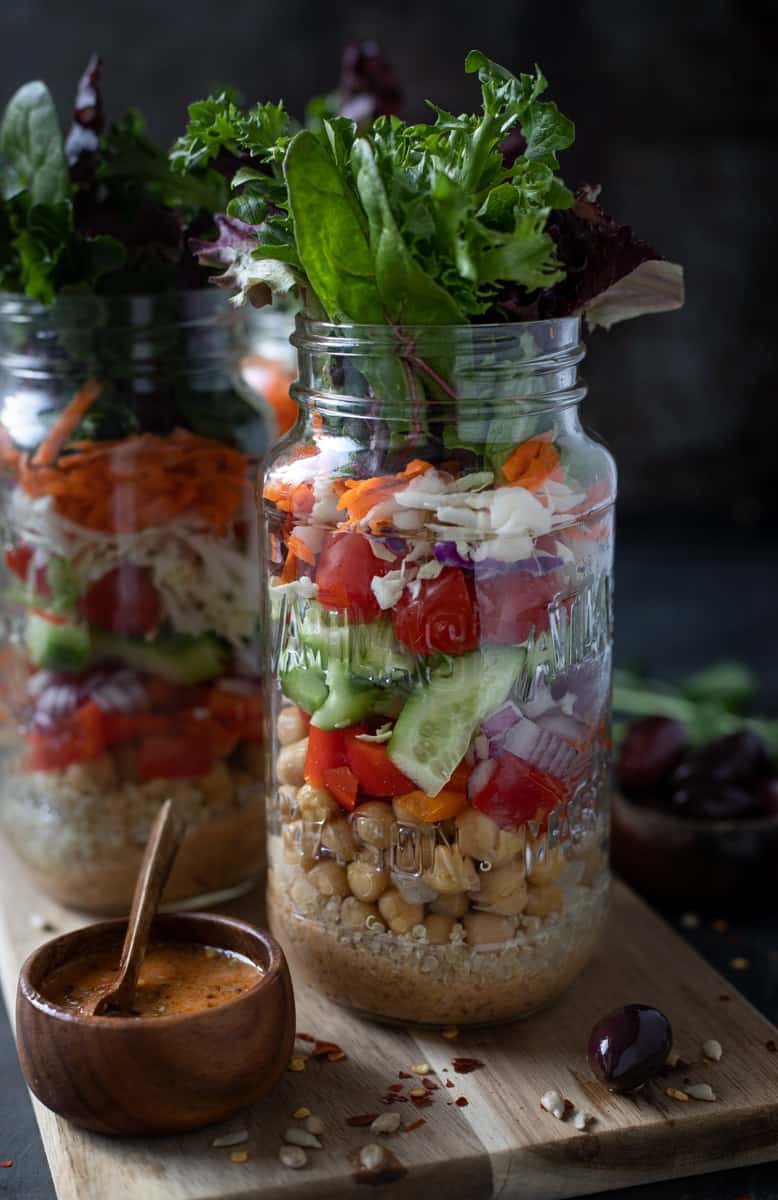 How to Make Layered Salad Jars
The secret is in the layers! Here's a few tips for layering mason jar salads so they stay fresh and crispy (not soggy!):
Prepare rice or grain (½ cup completely cooled, cooked grain per jar).
Prepare the veggies and beans.
Make the salad dressing (2-4 tablespoons per jar).
Layer the ingredients as follows: dressing, beans, hard veggies, grain, soft veggies, leafy greens, nuts/seeds.
Secure the lid and place in the fridge to be enjoyed over the next 4 days.
The goal is to keep the dressing away from the leafy veggies and it works! Every time I make these salads in a jar, my husband tells me I'm a genius. I'm like, I didn't invent them; but we're both happy someone did!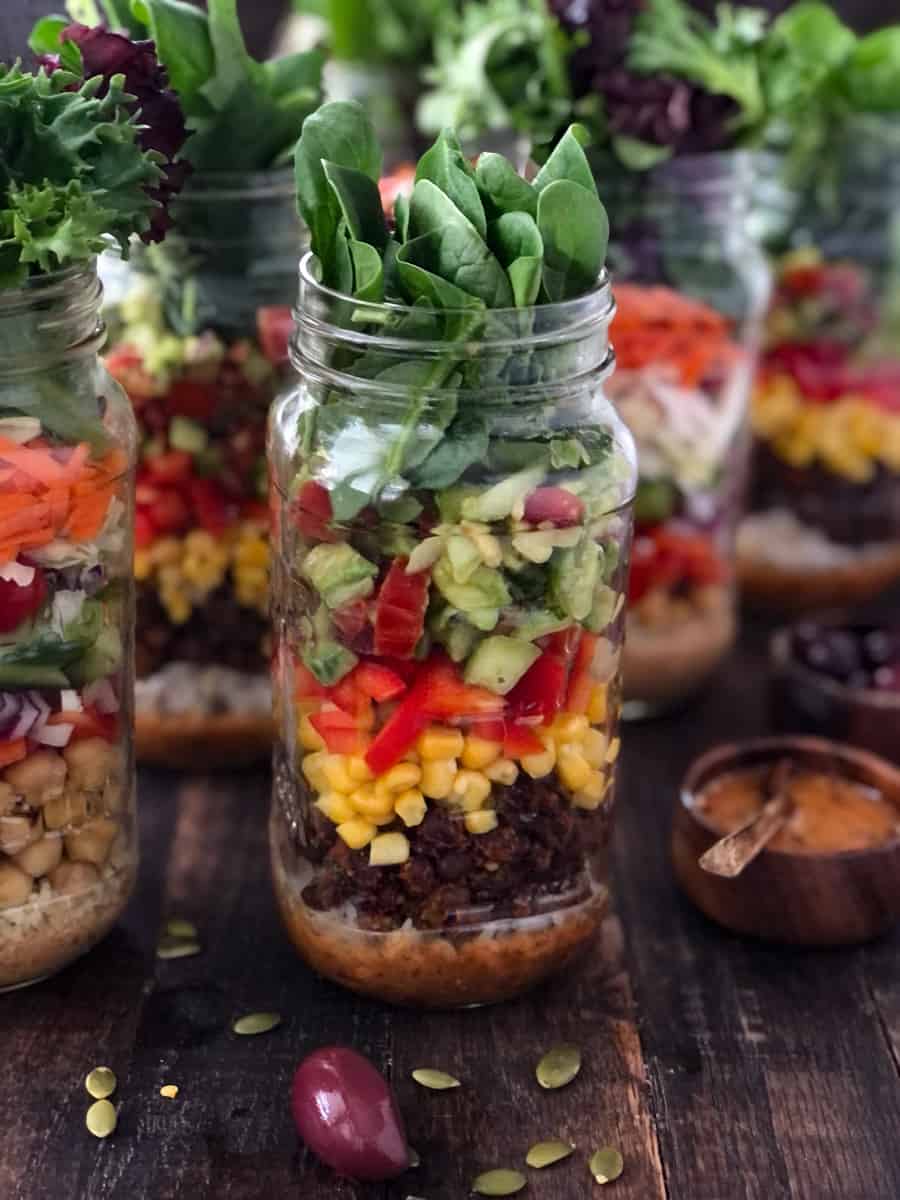 What's in a Mason Jar Lunch?
Salad Jar Meal - Taco Style
This vegan taco salad is packed with all the expected salad ingredients like tomatoes, cucumbers, onions, red peppers, and lettuce. Plus I added in spicy black beans for plant-based protein, rice and corn for some heft to make it more of a meal-sized salad, and topped it off with toasted pumpkin seeds.
This Smoked Paprika Vinaigrette is super flavorful. It's delicious drizzled on vegan tacos, tofu bowls or pretty much anything else!
Salad in a Jar - Greek Style
This Greek inspired salad is packed with ingredients like juicy tomatoes and cucumbers, sweet red peppers and shredded carrots and leafy greens. I added chickpeas, pumpkin seeds, and olives to bump up the plant-based protein, healthy fats, and flavor.
The Greek salad dressing is bursting with flavor plus it's oil-free and gluten-free! It's the same recipe I use for my tofu marinade.
Ideas for Customizing your Salad
There's no need to get bored with salad - the options for building your own customized salad are endless. Select from the ingredients you have in the pantry and fridge. Here's a few more ideas:
Grain - use your favorite or any grain you have in the pantry (brown rice, barley, basmati rice, buckwheat, quinoa, couscous to name a few). Pro Tip: Did you know couscous takes about 5 minutes to make and is super delicious!
Plant-based protein - beans, black lentils, tofu, tempeh or seitan.
Fresh vegetables - celery, cauliflower, sweet potatoes, radish, and kale to name a few.
Salad dressing - a simple flavor swap: add 2 - 4 tablespoons of your favorite homemade or store-bought dressing. Check out the Dressing page for more ideas!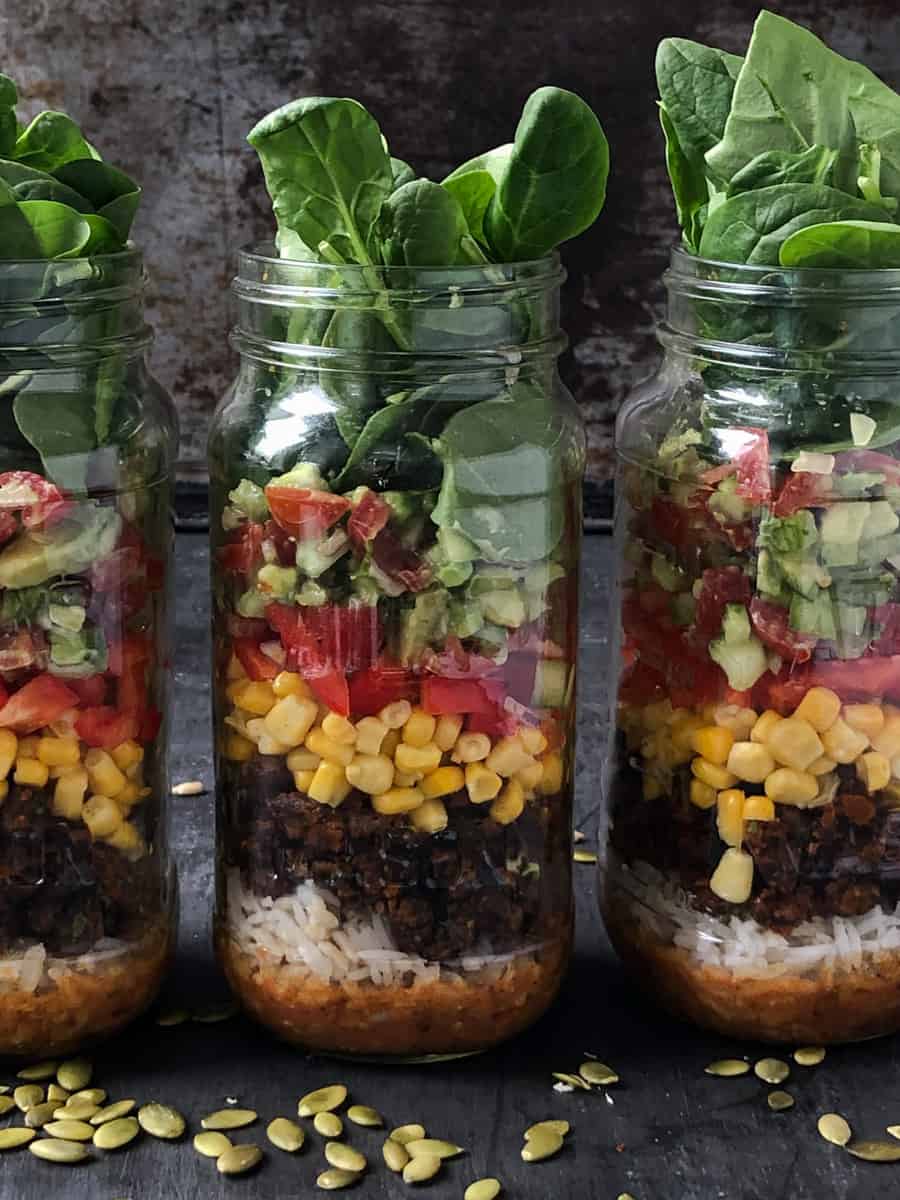 Tips and FAQ Questions for Salad Prep
Let the cooked ingredients cool completely before building your salad jar so the fresh vegetables and greens stay fresh and crisp.

Budget tip: Add an extra can of beans or more grains to make the salads heartier or to increase the number of servings.

To make the salad last longer: rather than diced tomatoes, use whole cherry tomatoes or slice them in half. Use fewer juicy vegetables or cut them into larger pieces. Deseed cucumbers before slicing. Squeeze lime juice over avocado slices and enjoy the salads that include avocado in the first day or two after making.

Eat your salad straight out of the jar: convenient for road trips and lunches at your desk! Tip it upside down, give it a shake to incorporate the dressing all the way to the top, open the jar and enjoy!
How long do mason jar salads last?
Stored in the fridge, a salad jar typically keeps fresh for about 4 days. Depending on the ingredients you choose, this could be extended by a day or two.
How do I prevent mason jar salads from getting soggy?
Keep the most delicate veggies like cucumbers and leafy greens away from the dressing! Add the dressing first, then layer in the beans creating a barrier between the dressing and the greens which will keep the salad fresh and crisp! Use a tall jar and keep it upright.
What size jar is best for a mason jar salad?
The 16 oz mason jar is a popular size for layered salads. However, don't rush out and buy new jars for these salads. Use what you have at home. The jars in these photos (reused sauce jars) are 2 ¾" at the opening and are 7" tall - perfect for this on-the-go lunch!
More Vegan Lunch Ideas
When lunch is the toughest meal of the day, here's a few suggestions to help:
Did you make this recipe? I'd love to see it!
Please let me know in the comments. Thank you so much for sharing!
Tag me on Instagram
NEVER MISS A RECIPE: Sign up for my email NEWSLETTER!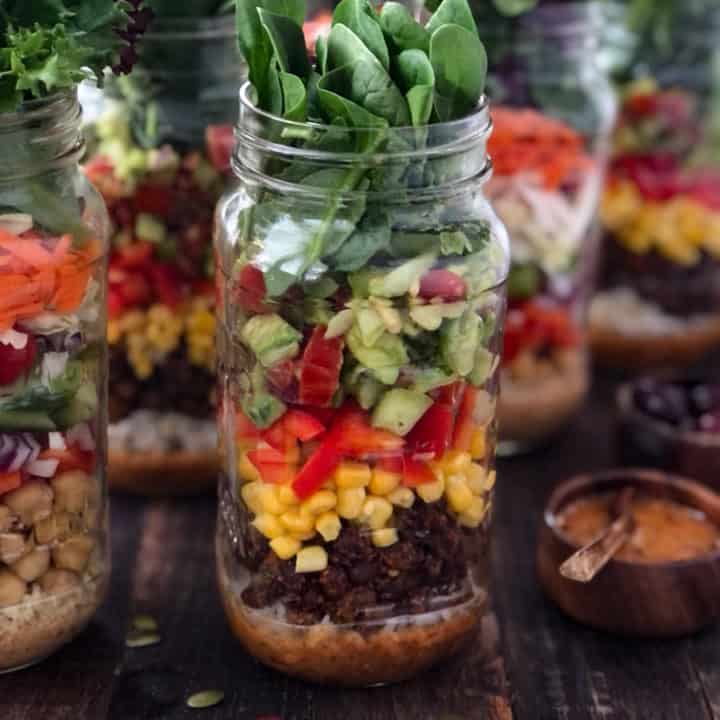 Scrumptious Mason Jar Salads (vegan + gf)
Easy, convenient, customizable, healthy and filling, these grab-and-go salads in a jar are the perfect vegan lunch or dinner. They're packed with all the colors in the rainbow, some heft from beans and grains, a salad dressing that's super flavorful and a few crunchy nuts and seeds on top.
Rate this recipe!
INGREDIENTS
Mason Jar Salad - Greek Style (makes 4)
2

cups

cooked grain (rice, quinoa, couscous)

2

cups

bean (chickpeas, black beans, pintos)

1 ⅓

cups

red peppers, chopped

1

cup

red onions

1 ⅓

cups

cucumber, deseeded, large chunks

16

cherry tomatoes, whole or halved

1 ⅓

cups

shredded carrot

1 ⅓

cups

cabbage (optional)

16

whole

green or kalamata olives, whole or sliced

4

cups

leafy greens, variety

4

tablespoons

nuts or seeds, toasted
Mason Jar Salad - Taco Style (makes 4)
2

cups

grain (rice, quinoa, couscous, bulgar)

2

cups

spicy black beans (see below)

2

cups

corn (fresh or frozen)

1

cup

bell peppers (red, orange, yellow), chopped

1

cup

red onion, chopped

1

cup

cucumber, deseeded, chopped

16

cherry tomatoes, whole or halved

1

avocado, large chunks (optional)

16

olives (optional)

2

cups

leafy greens, variety

cilantro leaves

4

tablespoons

pumpkin seeds, toasted
Smoked Paprika Vinaigrette
½

cup

lime juice* (freshly squeezed)

¼

cup

olive oil

1 - 1 ½

tablespoons

maple syrup (agave)

2-3

cloves

garlic, minced (more or less to taste)

1

teaspoon

smoked paprika

½ - 1

teaspoon

cumin

3-4

teaspoons

Dijon mustard

salt and pepper to taste

1

teaspoon

hot pepper flakes
INSTRUCTIONS
Mason Jar Salad - Greek Style
Cook rice, quinoa, couscous as per package instructions.

Prepare vegetables by washing, peeling and cutting. Deseed the cucumbers.

Drain, rinse and pat the chickpeas dry.

Make the salad dressing found in link below.
Mason Jar Salad - Taco Style
Make the rice (or other grain) as per package instructions.

MAKE THE SPICY BEANS: add 1 tablespoon of oil (optional) to a medium saucepan. Add the beans and 2 tablespoons of taco seasoning stirring over medium heat until warmed through. Add a squeeze of lime juice, salt (if needed) and some chopped cilantro. Let cool before layering in jars.

Corn: simply heat through in a pan of water over medium-high heat. Drain and pat dry.

Prepare the other vegetables as noted and make the dressing.
Smoked Paprika Vinaigrette
Place all ingredients in a jar and shake to incorporate. Taste and adjust ingredients to your personal taste.

*Can use red wine vinegar, white wine vinegar or fresh lemon juice instead of lime juice.
Assembling the Salad Jars (Both)
Each recipe makes 4 jars - divide the ingredients equally among the jars.

Pro Tip: make more or less of each vegetable as desired these quantities are just a guideline.

Add 2-4 tablespoons of dressing to the bottom of each jar.

Add the grain, beans, veggies, leafy greens, seeds.

Replace lid and store in fridge for up to 4 days.
NOTES
Leftovers - salad jars are an way to use up leftover bits and bobs from the week. Anytime we have tacos or bowls, there is leftover rice or beans or sauce so it's easy to throw together a salad jar as we're cleaning up the kitchen. Hungry? - make the meal heartier by rolling half the salad ingredients in a tortilla wrap with an extra drizzle of sauce.
This recipe is from simplyceecee.co food blog. All images and content are copyright protected. Please do not use my images or republish this recipe without prior permission. Thank you.