Veggie Pesto Pasta is a super flavorful and healthy veggie-loaded pasta dish made with a generous dollop of thick and herby walnut pesto. Ready in 30 minutes, this pesto pasta recipe can be made using store bought or homemade dairy-free pesto, any seasonal vegetables, and regular or gluten-free pasta.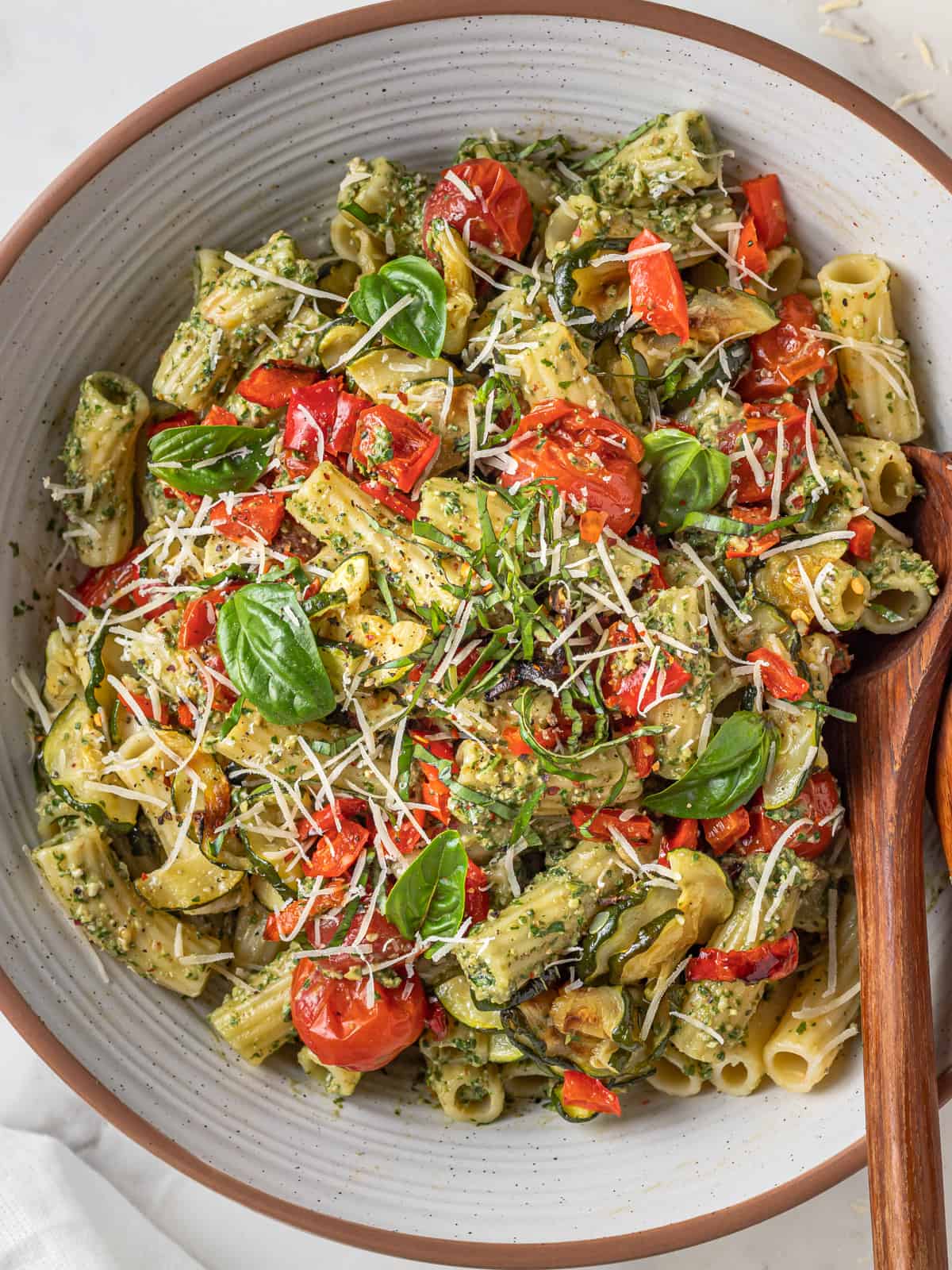 You're going to love the combination of rich walnut pesto sauce with bright notes from white balsamic vinegar, heat from sriracha, and slight sweetness from roasted veggies tossed together with warm pasta.
Choose one of 3 easy and convenient methods to prepare the veggies: roast veggies in the oven, saute them on the stove or grill foil packet veggies on the BBQ.
Ingredients You'll Need
For this vegetarian pesto pasta, you'll need about 6 cups of fresh veggies, dairy-free pesto (homemade or store bought) and short cut pasta. As well, white balsamic vinegar, sriracha sauce, some toasted nuts, and vegan parmesan cheese to garnish.
Variations & Substitutions
Customize your vegetable pesto pasta to taste! This recipe is meant to be tweaked to include your favorite vegetables and pasta, here's a few suggestions:
pasta choice: any type of pasta works with this pesto pasta including gluten free pasta or grain free pasta. I recommend using short cut pasta like rotini or penne to catch all the bits of veggies, pesto, and garlic.
pesto: this recipe is made with my dairy free pesto (recipe below), but works with store bought pesto as well. Check out my walnut pesto post for tips, different variations and ingredient substitutions when making homemade pesto.
other vegetables that work: any vegetables go well with pesto pasta (5 or 6 cups of vegetables per 6-8 ounces of pasta). Use only one vegetable like zucchini or choose a combination of vegetables as I have in this recipe. Popular vegetable choices include zucchini, red peppers, tomatoes, cauliflower, broccoli, mushrooms, peas, asparagus, and summer squash.
perk up the flavor: I love the addition of white balsamic vinegar for the slightly sweet, smooth, bright notes it brings.
try it with romesco sauce: for a change of pace, make this same recipe but with dairy-free romesco sauce in place of the walnut pesto.
make it with winter vegetables: sub summer vegetables for winter veggies like roasted Brussels sprouts, tomatoes, mushrooms, onion wedges or carrots and serve it with warm dinner rolls slathered in garlic butter.
How to Make Pesto Pasta
This veggie pesto pasta is super easy to make. If it's too hot to roast the vegetables in the oven, saute them on the stove or grill foil packet veggies on the BBQ! Here's what to do: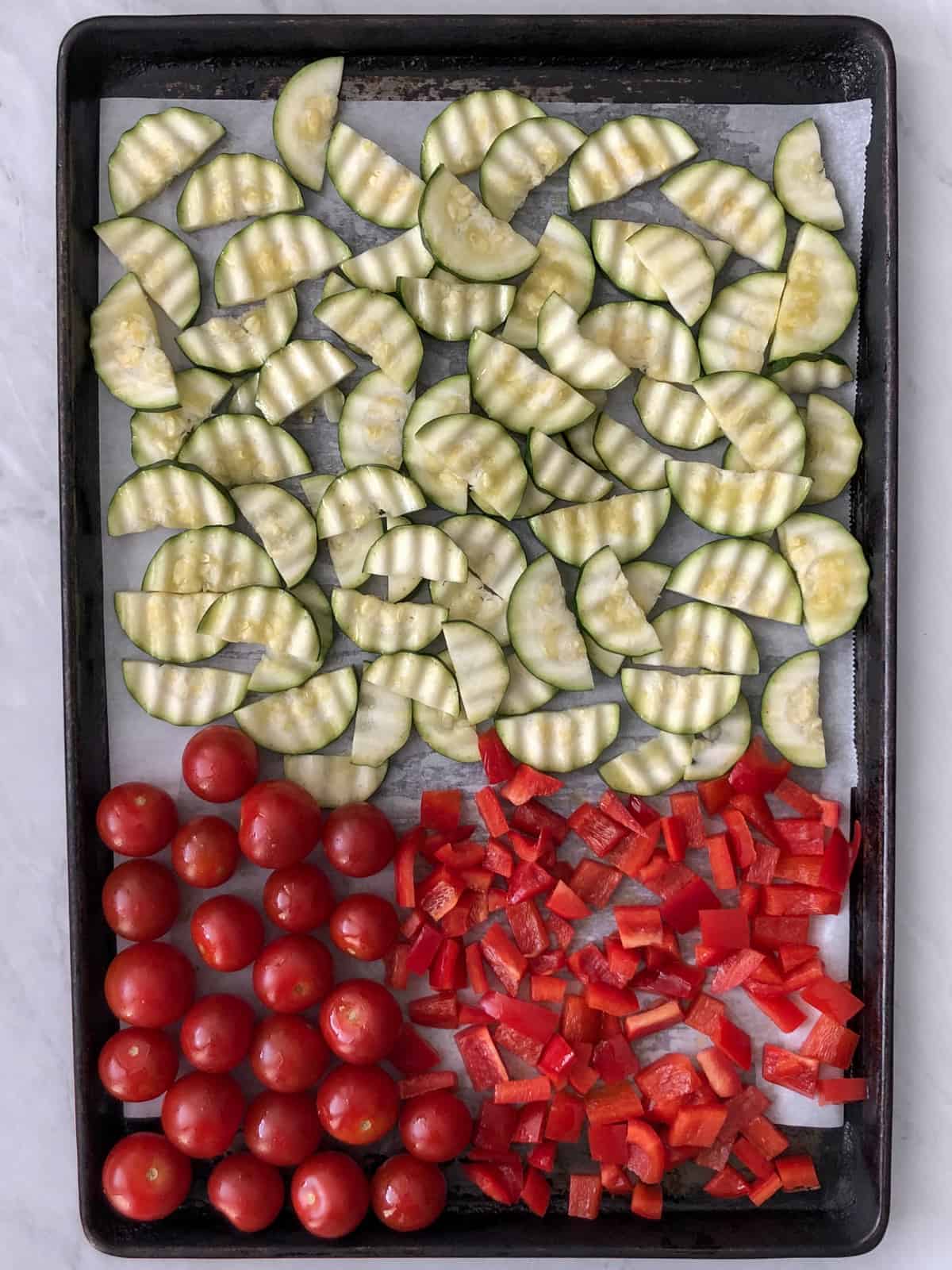 Roast the Vegetables: Preheat oven to 425º F. Arrange veggies on a baking sheet and roast for 20-30 minutes. See recipe card notes below for full instruction on how to BBQ foil packet veggies and for sauteing veggies on the stove.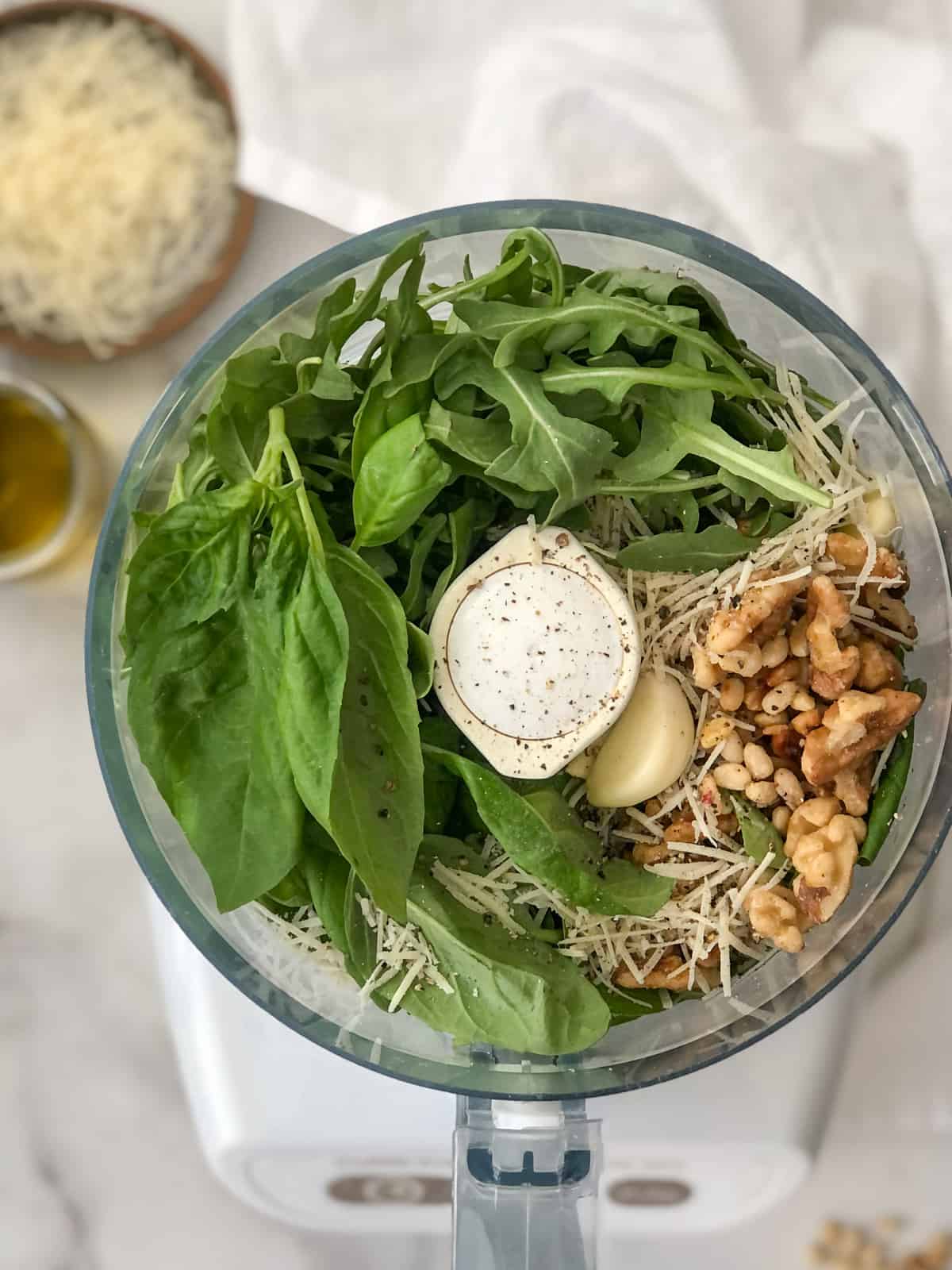 Make the Pesto: Place all the ingredients in the food processor and pulse until desired texture. Full recipe for the pesto is linked in the recipe card below.
Cook Pasta: Cook the pasta according to the package directions reserving 1 cup of salty pasta water before straining.
Toss Together: In a large bowl toss the pesto, vinegar, and sriracha with warm pasta until fully coated. Pile the roasted veggies on top. Garnish with crunchy toasted nuts and basil ribbons.
Dig In: Enjoy hot or cold!
Million Dollar Tips
Here's a few tips to help you breeze through this recipe effortlessly every single time:
Preparing vegetables: Some veggies cook faster than others so keep that in mind when selecting your produce. For example, cauliflower (a hard vegetable) takes longer to roast/grill. Cut it into smaller pieces so it's ready when the peppers, tomatoes, and zucchini are.
Pasta water: Save around a cup of salty, starchy pasta water before draining the pasta. Walnut pesto is thick so adding a splash of pasta water when tossing the pesto and pasta will make it looser and creamier.
How much salt?: Have you ever wondered how much salt to add to pasta water? I know I undersalt my cooking water. The rule of thumb for properly salted pasta water is: 2 tablespoons Diamond Kosher salt or 4 teaspoons Morton's Kosher salt (not table salt) per gallon (4 quarts) of water. (See recipe notes for more information.)
Did you cook the pasta too soon?: If you make the pasta too soon and it ends up being stiff and cold before it's time to use it, try this trick. Put the pasta back into the pot, pour very hot water over it, drain immediately. It's a quick and easy way to perk up and warm the pasta immediately.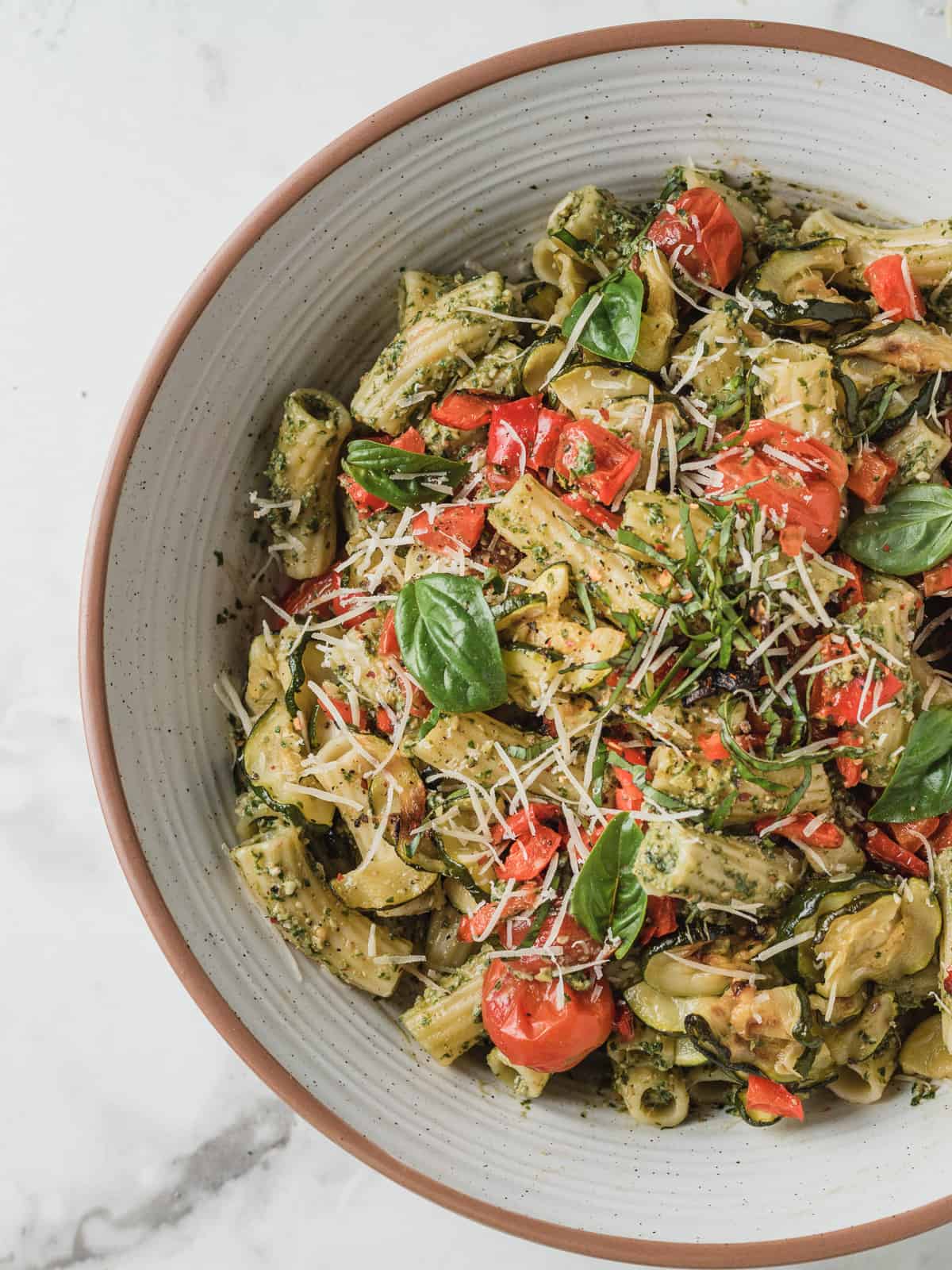 Serving Suggestions
One of the best things about this veggie pesto pasta is how simple and versatile it is. It can be served hot or cold, as a side dish or light summer meal:
Serve it for a healthy dinner: Veggie-loaded pesto pasta with garlicky breadsticks, grilled corn on the cob or a garden side salad is a quick, healthy vegan meal to feed your family .
Take it to a summer party: Everyone loves pesto pasta salad at a BBQ, picnic or family get together! Perfect to serve alongside veggie burgers, dairy free potato salad, vegan Greek salad, chopped salad, dairy free coleslaw, fresh veggies and fruit with dip.
Lunch on the go: Call dibs on the leftovers to take for lunch! This veggie pesto pasta is fantastic at room temperature for a quick lunch at work or school.
How to Store Leftovers
Store any leftover veggie pesto pasta in the fridge for 2-3 days. Gently warm in the microwave or enjoy at room temperature.
Any leftover walnut pesto can be stored separately in the fridge for 3 or 4 days or in the freezer for several months. I like to spoon leftover pesto into ice cube trays, freeze them, and then store in a freezer bag for quick and convenient use in soups, stews, and pasta sauces.
Vegan Summer Dinner Ideas
If you like this simple pesto pasta, here's a few more easy dinner ideas that are vegan and gluten free:
Did you make this recipe? I'd love to see it!
Please leave a review and ⭐️ rating below. Thank you so much for sharing!
Tag me on Instagram 
NEVER MISS A RECIPE: Sign up for my email NEWSLETTER!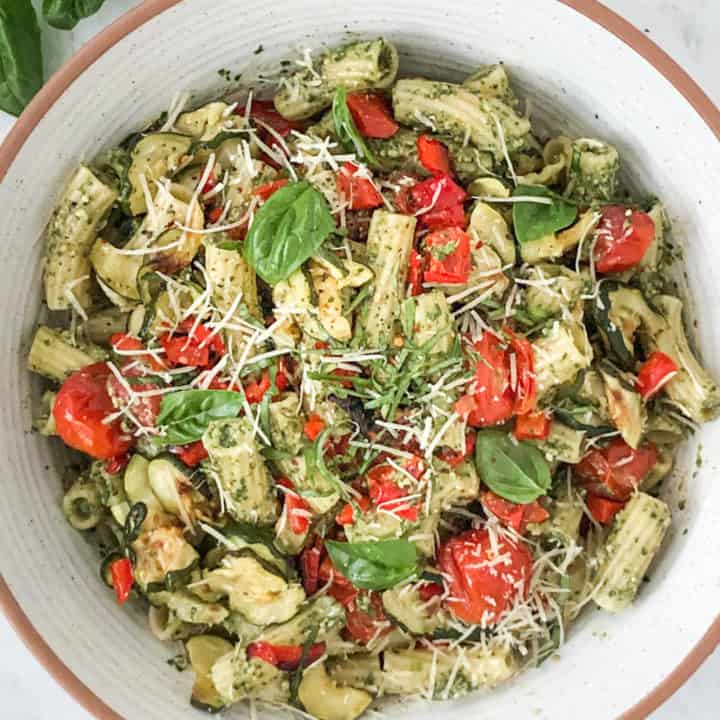 Easy Veggie Pesto Pasta (vegan + gluten free)
This quick and easy pesto pasta with vegetables is a family favorite! Delicious warm or cold, serve it at summer get togethers, BBQ or picnics. Ready in 35 minutes or less, this veggie-loaded pesto pasta salad is dairy free, vegan and gluten-free friendly.
Rate this recipe!
INGREDIENTS
For the Pasta
5 - 6

cups

seasonal veggies (zucchini, cherry tomatoes, red pepper)

2-3

teaspoons

olive oil

kosher salt and fresh ground black pepper

6-8

ounces

pasta (any short pasta like rotini)
For the Walnut Pesto
2

cups

basil

1

cup

arugula

1-2

cloves

garlic (small)

¼

cup

walnuts (cashews, pine nuts, almonds)

2+

tablespoons

dairy-free parmesan cheese

1-2

tablespoons

fresh lemon juice

Kosher salt and black pepper (to taste)

3-4

tablespoons

extra virgin olive oil
Optional Pasta Additions
2-4

tablespoons

white balsamic vinegar

2

tablespoons

sriracha sauce

2

tablespoons

toasted nuts

10

leaves

basil, ribbons
INSTRUCTIONS
Preheat oven to 425º F. If using BBQ, preheat to high with lid closed.
Preparing the Vegetables
Cut vegetables into similar size pieces so they will cook at the same speed.Root or harder vegetables may need to be chopped smaller so they cook at same time as softer veggies..

Toss with 2-3 teaspoons of olive oil and season with salt and pepper to taste.
Oven Roasting the Vegetables
Arrange the vegetables in a single layer on a parchment lined baking sheet. Roast for 20 - 30 minutes until golden and fragrant. Cooking time will depend on type and size of vegetables.
Sauteing the Vegetables - Stovetop Method
In a large saute pan over medium high heat 1 tablespoon of oil. Add the veggies and stir fry until tender crisp. Start with harder veggies like cauliflower for a couple minutes, then add remaining veggies for around 5-7 minutes depending on type and size of veggies.
Foil Pack Vegetables on the Grill
Preheat the BBQ on high heat with the lid closed.

Divide prepared vegetables between two or three pieces of foil. Make a packet around them by sealing the top and sides before grilling (see recipe notes below for how to make a tinfoil packet).

Cook over high (to medium high) heat for about 15-18 minutes depending on veggie type and size.

Be very careful removing veggie packets from the grill - they are HOT and release steam when opened!
Cooking the Pasta
Bring a large pot of salted water to a boil over high heat. Add the pasta, and cook according to package instructions. Right before draining the pasta, reserve 1 cup of salty starchy pasta water, then drain the pasta and set aside.
Making 5 Minute Pesto Sauce (or use store bought)
While the pasta cooks, make the pesto by placing all ingredients in a food processor and pulsing until smooth (stopping to scrape down the sides as needed). See recipe notes below

*Pesto can be made several days in advance and stored in the fridge.
Putting it All Together
Add pasta, ⅓ cup of pesto, white balsamic vinegar, sriracha, and ¼ cup of the reserved pasta water to a large bowl. Toss together until full incorporated.

Add more pesto sauce to taste. Add more water/vinegar as needed to create a loose creamy sauce that sticks to pasta. Taste and adjust seasonings as desired.

Add the cooked veggies and lightly toss to incorporate.

Garnish with toasted pine nuts (or any nut), basil ribbons, a sprinkle of parmesan cheese, and hot pepper flakes if desired.
NOTES
Basil Pesto: find more detailed instructions for on how to make homemade dairy free pesto in this post. Pesto can be made several days in advance and stored in the fridge.
Pesto to Pasta Ratio: Start with around ⅓ cup pesto for 6 ounces (2 servings) of pasta and then add more to taste. 
Pasta: any short cut pasta works great for this veggie pesto pasta. Use your favorite gluten free pasta or grain-free pasta as desired.
White Balsamic Vinegar: I add white balsamic vinegar because it brings a smooth, slightly sweet, zippiness. If you don't have any on hand, you can leave out or swap for another Italian acid like freshly squeezed lemon juice or white wine vinegar.
Cooking the Vegetables (3 ways): too hot to turn the oven on? No problem, BBQ or saute the veggies! Use about 5 or 6 cups for 6-8 ounces of pasta (more or less to taste).
How to Grill Vegetables in Foil Packets:
place prepared vegetables in the center of a flat piece of aluminum foil (not too full).
gather the longer sides of the foil above the vegetables, and tuck/roll the foil in toward the vegetables creating a sealed top.
repeat with each side folding and scrunching the foil in toward the vegetables.
add an additional layer of foil if needed to keep all the juices in the tinfoil packet when grilling.
ready to cook on the preheated grill.
How much Salt and what kind?: for a deep dive into salting and seasoning your food, I recommend the book, Salt Fat Acid Heat by Samin Nosrat. An easy and interesting read that's jam packed with interesting cooking tips, stories and recommendation about building flavor and so much more. Available in bookstores, to order online, and from your local library.
Storing Leftovers: Store any leftover pasta in the fridge in a covered container to be enjoyed either warmed up in microwave or served at room temperature over the next 2 or 3 days. For best results, I don't recommend freezing.
This recipe is from simplyceecee.co food blog. All images and content are copyright protected. Please do not use my images or republish this recipe without prior permission. Thank you.