This crunchy Asian Cabbage Salad is simply scrumptious. There's a ton of crunch from fresh veggies, toasted ramen noodles, and a mountain of nuts and seeds; but it's the creamy, savory-sweet sesame ginger dressing that pushes this Asian slaw way over the top. It's a vegan salad people will line up for!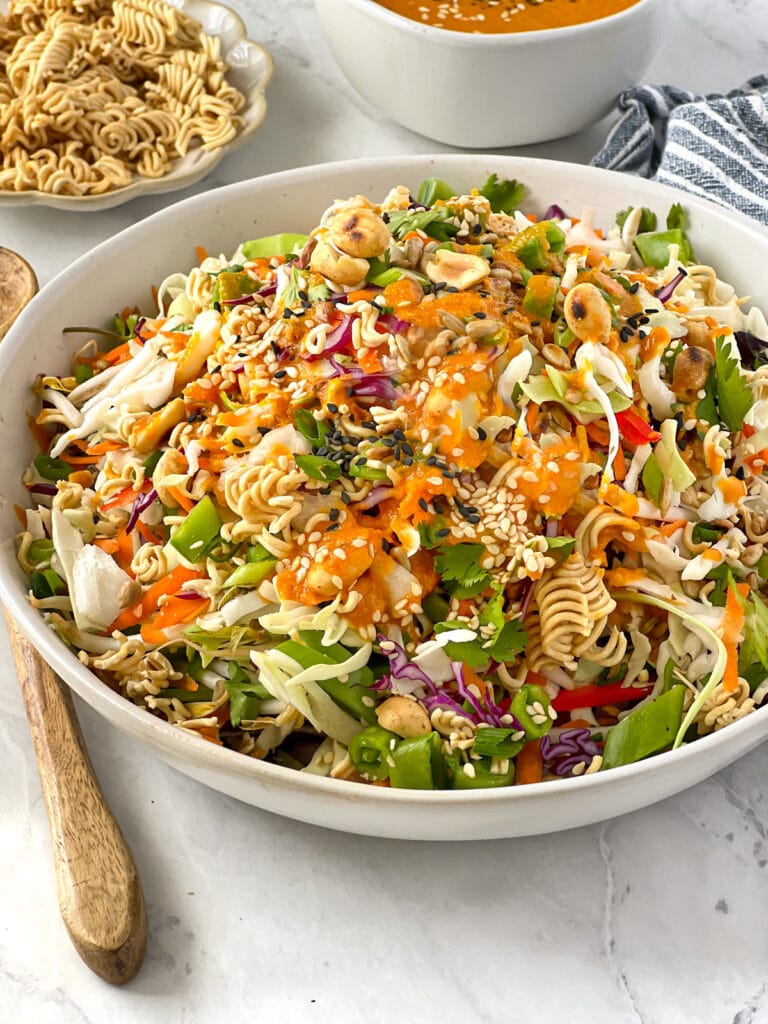 One of our favorite, healthy, weeknight meals is a BIG summer salad; and this crunchy Asian cabbage salad with ramen noodles doesn't disappoint. It's got everything an incredible, craveable salad should have: tons of texture, extra crunchiness, and a killer dressing to pull it all together. It takes under 30 minutes to make and is dairy free, gluten free, and totally vegan.
Just like my Thai Crunch Salad and Quinoa Chickpea Salad, this oriental cabbage salad makes the perfect, light summer meal or side dish for picnics and cookouts.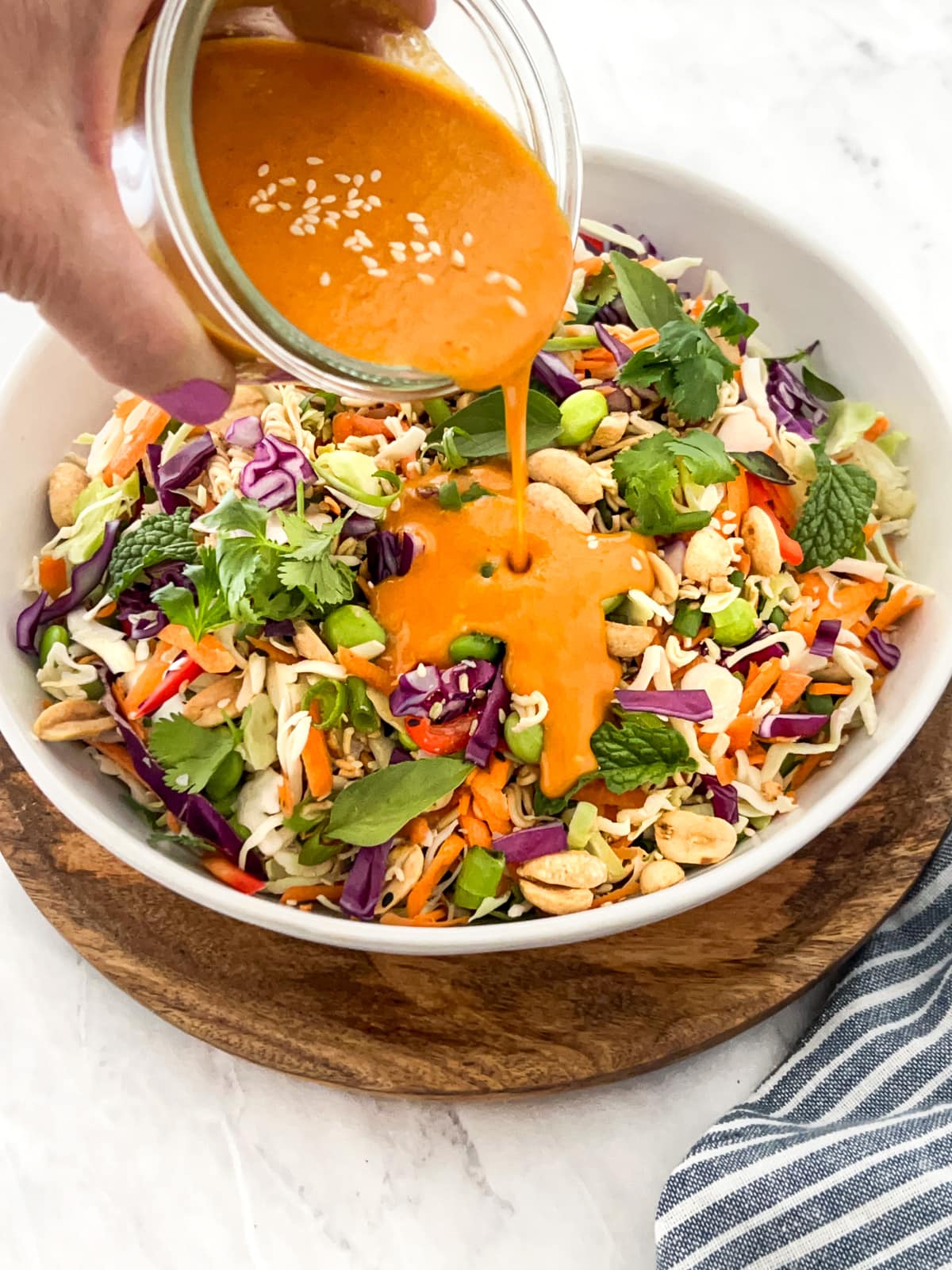 This easy Asian salad recipe is by no means authentic. I've pulled flavors from my travels in Asia as well as some of my family's favorite salads and vegan coleslaws that we've enjoyed over the years (eg. ramen noodle salad, Chinese chicken salad, chopped salads, etc.). The savory sweet vegan dressing is a nod to the popular carrot ginger dressings served in Japanese restaurants. This is my current favorite salad of all time, I hope you'll love it too!
Asian Cabbage Salad Ingredients
You'll need two sets of ingredients for this creamy, cabbage crunch salad with sesame ginger dressing: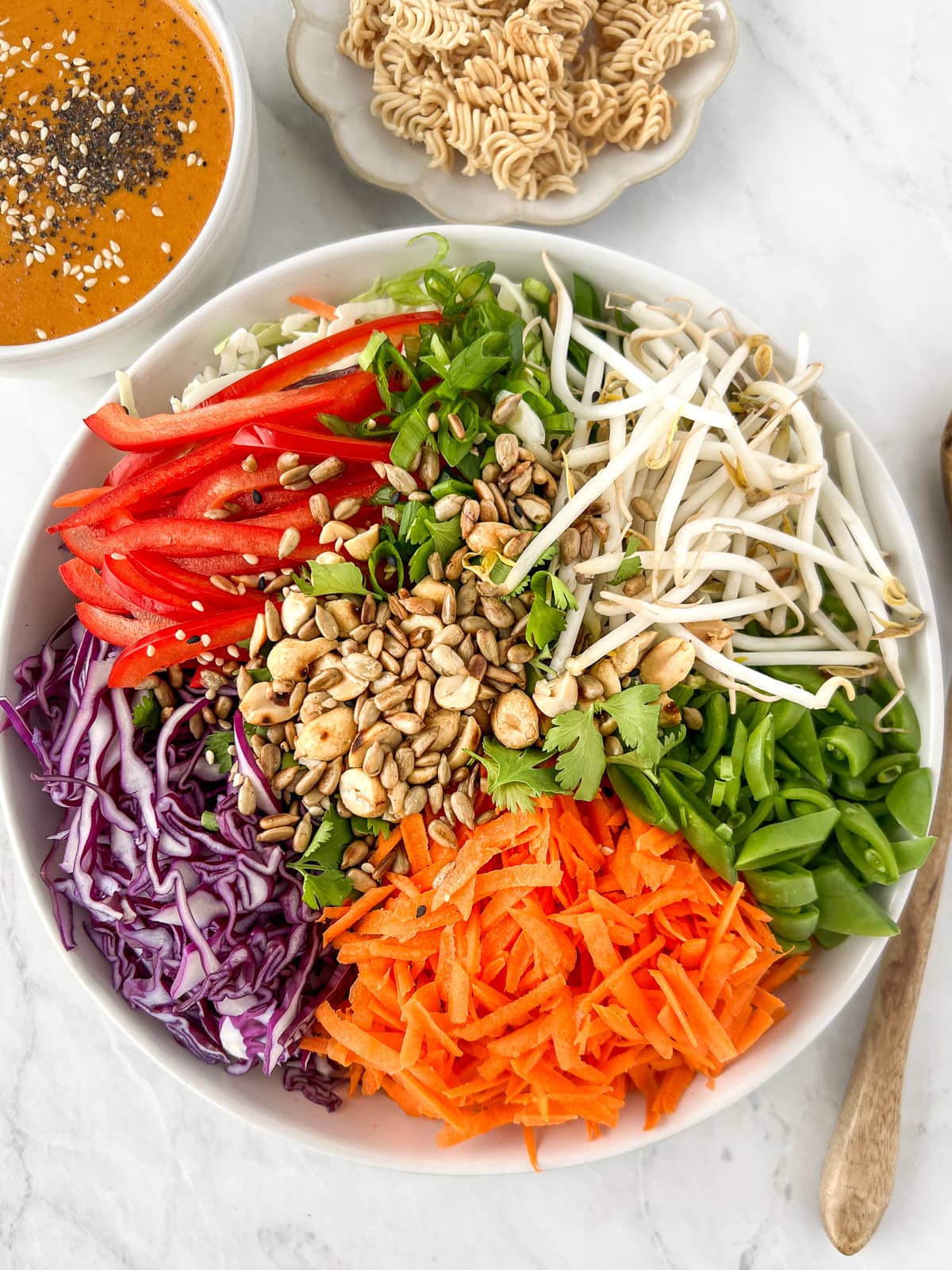 Asian cabbage salad ingredients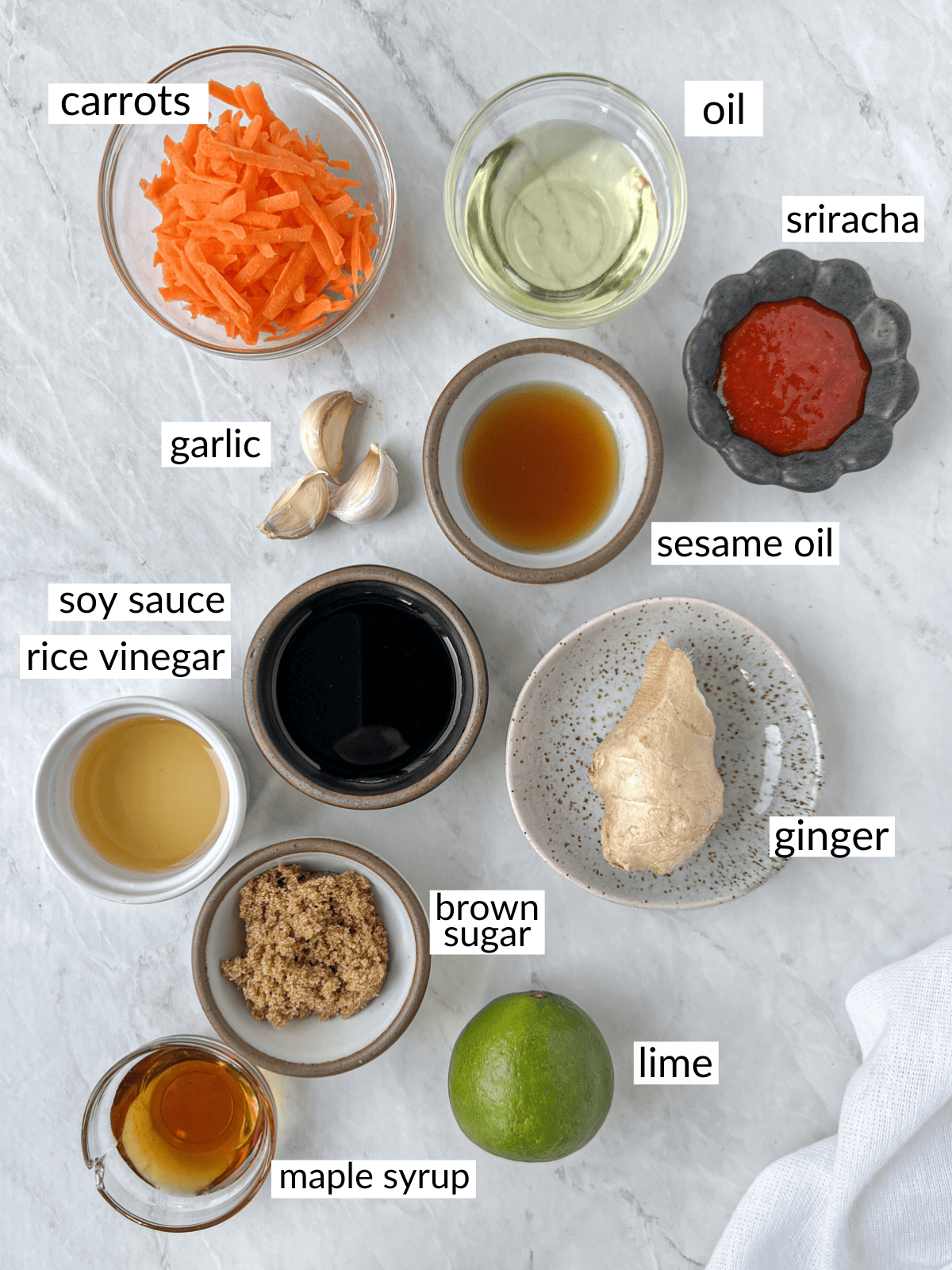 Asian carrot ginger dressing ingredients: Gather together shredded carrots, rice vinegar, fresh lime, neutral oil, sesame oil, soy sauce (gluten free soy sauce option or tamari), brown sugar, maple syrup, fresh garlic and ginger, sriracha sauce (optional, but not in my family!).
Ingredient Variations & Substitutions
This homemade Asian slaw recipe beats any Asian chopped salad kit (like Dole or Trader Joe's) that you'll find at the store. It uses the freshest ingredients, is totally customizable to your own taste plus it's super affordable and goes with everything!
How to Make an Asian Crunch Salad
Making an Asian Chopped Salad from scratch is too easy. Follow these simple steps: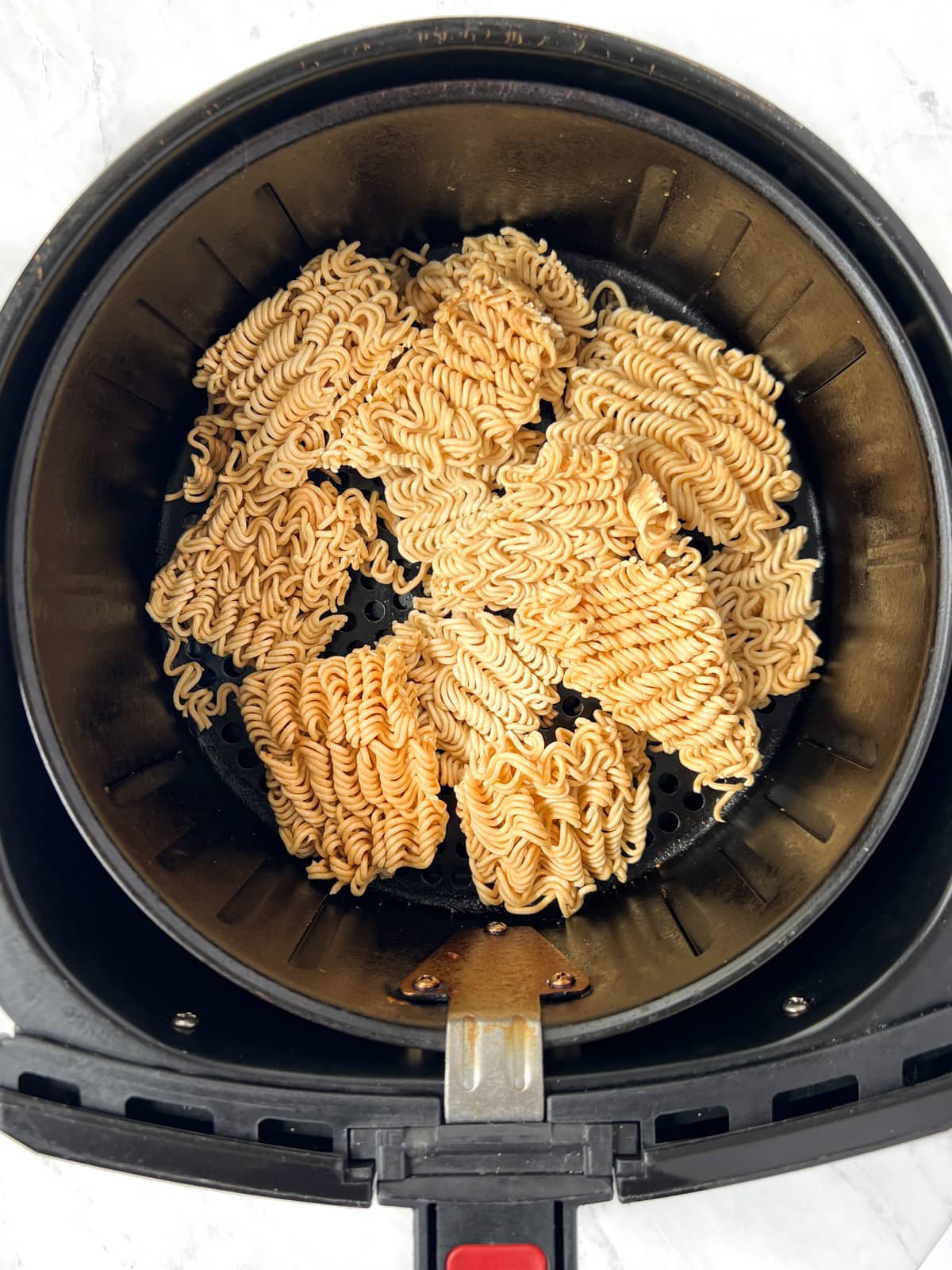 Lightly toast any nuts or seeds in a dry skillet over medium heat until fragrant. Set aside to cool. Toast the ramen noodles in an air fryer or toaster oven.
Wash and prepare all the veggies and fresh herbs. Use a sharp knife or mandoline for the cabbage or grab a bag of pre-shredded slaw mix at the store. Use a box grater to shred the carrots or a julienne peeler for a heartier texture.
Dress the cabbage salad: In a large mixing bowl add the vegetables and fresh herbs. Right before serving, pour a generous amount of Asian dressing over the slaw and toss to incorporate. Top with crunchy ramen noodles, nuts and seeds, and any optional toppings. Enjoy!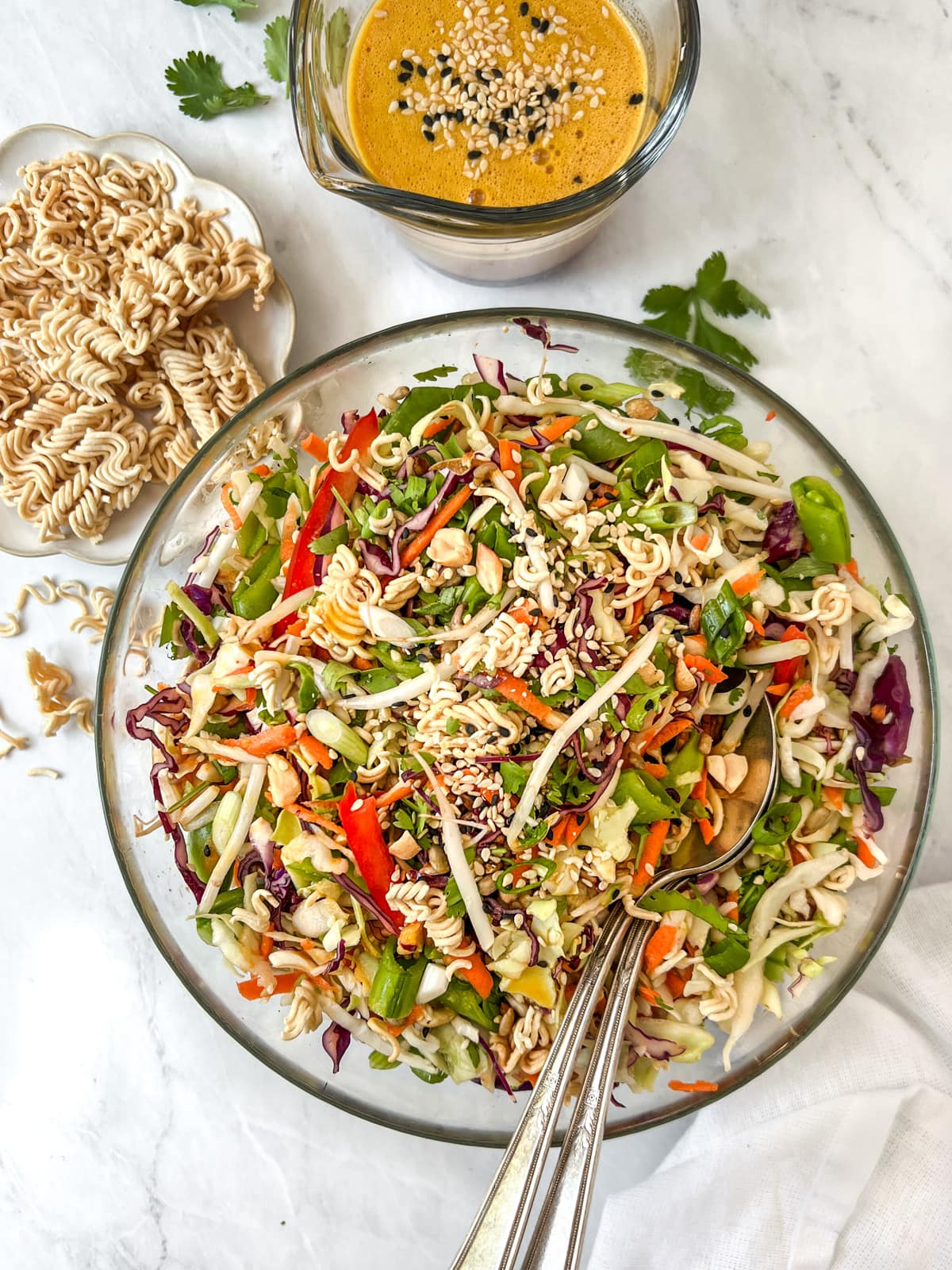 How to Make the Best Asian Dressing!
This insanely flavorful Japanese sesame dressing is definitely the magic ingredient in this recipe. It's the perfect balance of sweet, sour, salty, and savory with just a kiss of heat. We're beyond obsessed with the bold flavors, and I think you will be too! Let's make a batch together: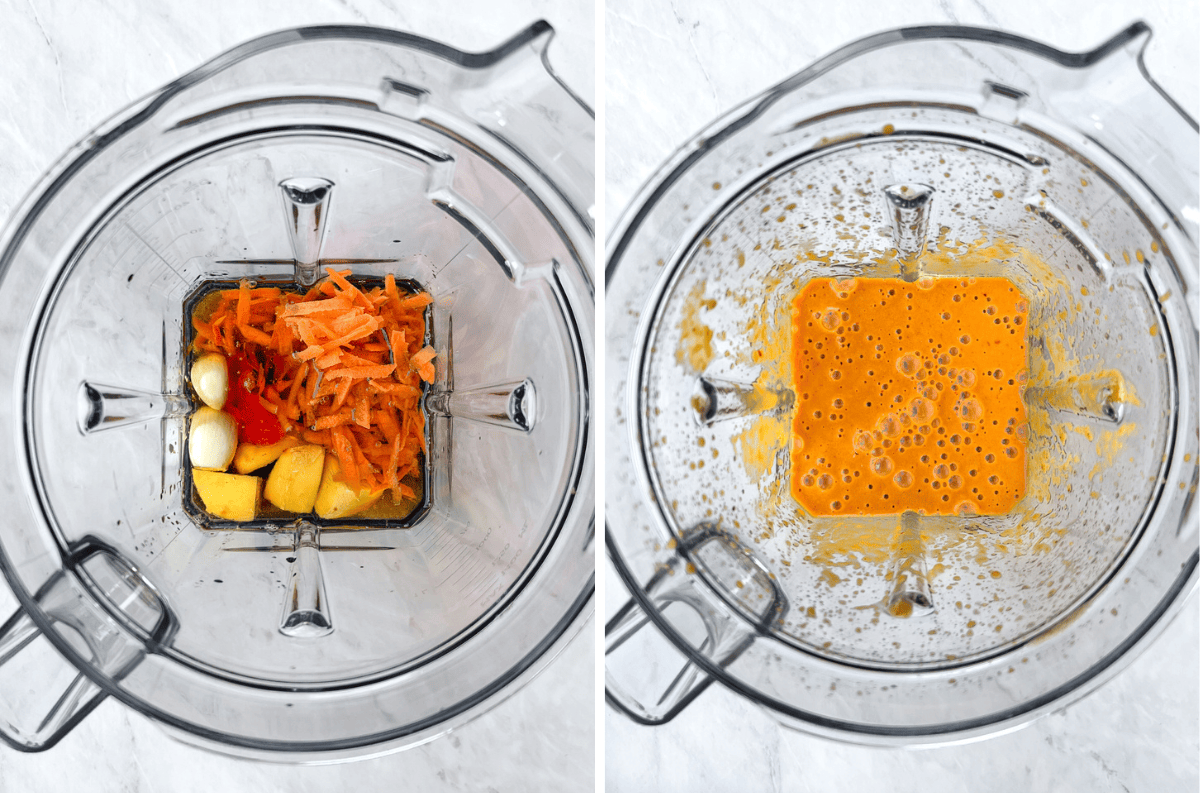 You'll need a blender or food processor because of the grated carrots which add flavor, color, and a creamy texture to the dressing. Everything goes into the blender, blitz until smooth and silky then pour into a jar and store in the fridge for up to several weeks. You're going to love this dressing on everything, it does not skimp on flavor!
Expert Tips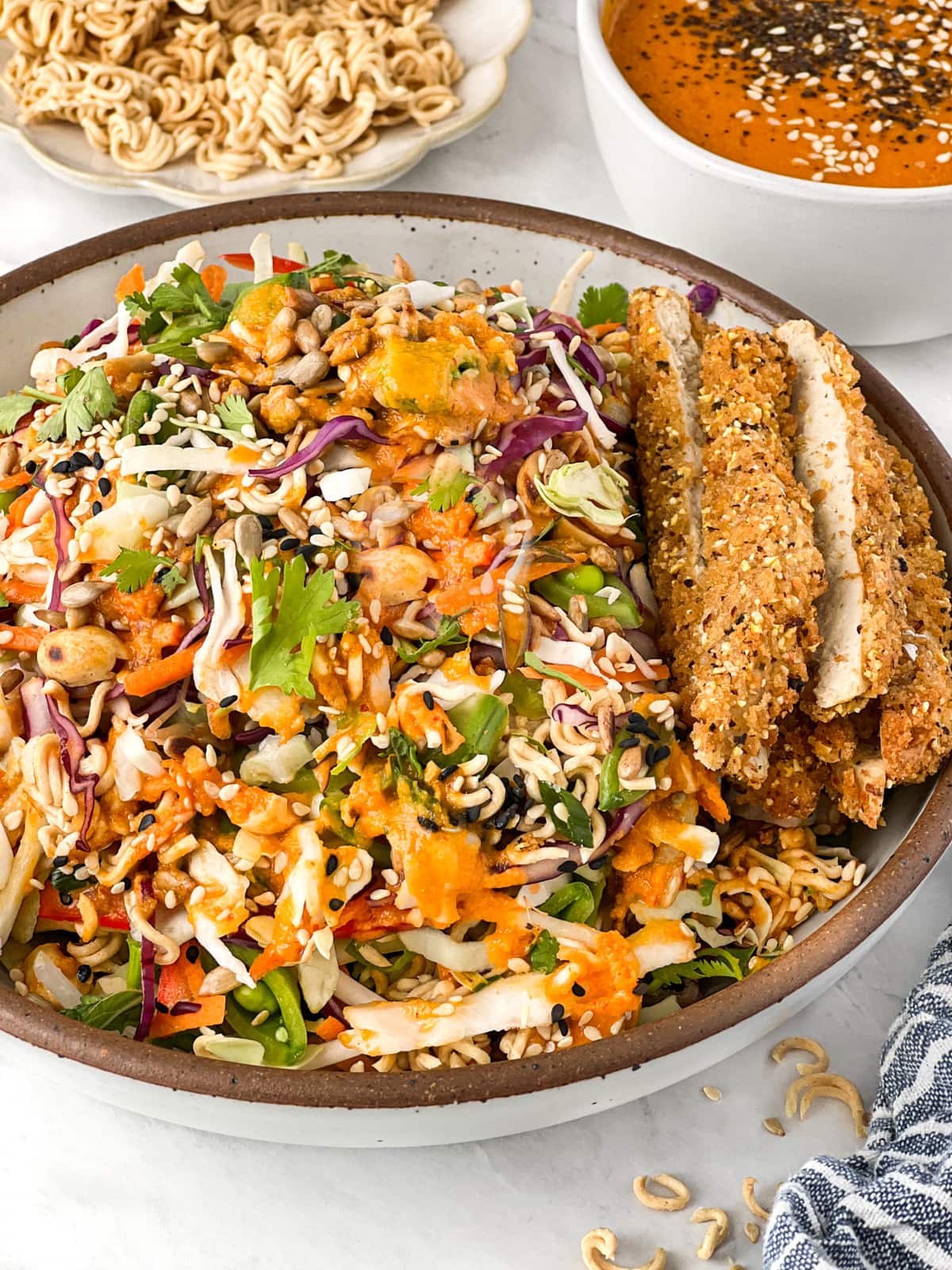 Storage & Make Ahead Tips
One of the best things about this vegan Asian slaw is it's super crunchy! It's easy to scale this cabbage slaw recipe to any size (up or down) - here's a few tips for keeping it fresh all week:
Make Ahead Tips: I usually prepare the cabbage crunch salad and a double batch of the sesame dressing ahead of time but store them separately. Then I pull out just the amount I need for each meal that way the veggies and toppings stay super fresh and crunchy.
Leftover Oriental Slaw: Any leftover dressed slaw will still be tasty the next day stored in the fridge. Although the flavor will stay 'good' for up to several more days, the vegetables and toppings will become less crunchy. You can always add a handful of fresh cabbage, toasted nuts or crunchy ramen noodles to the slaw to perk up the leftovers!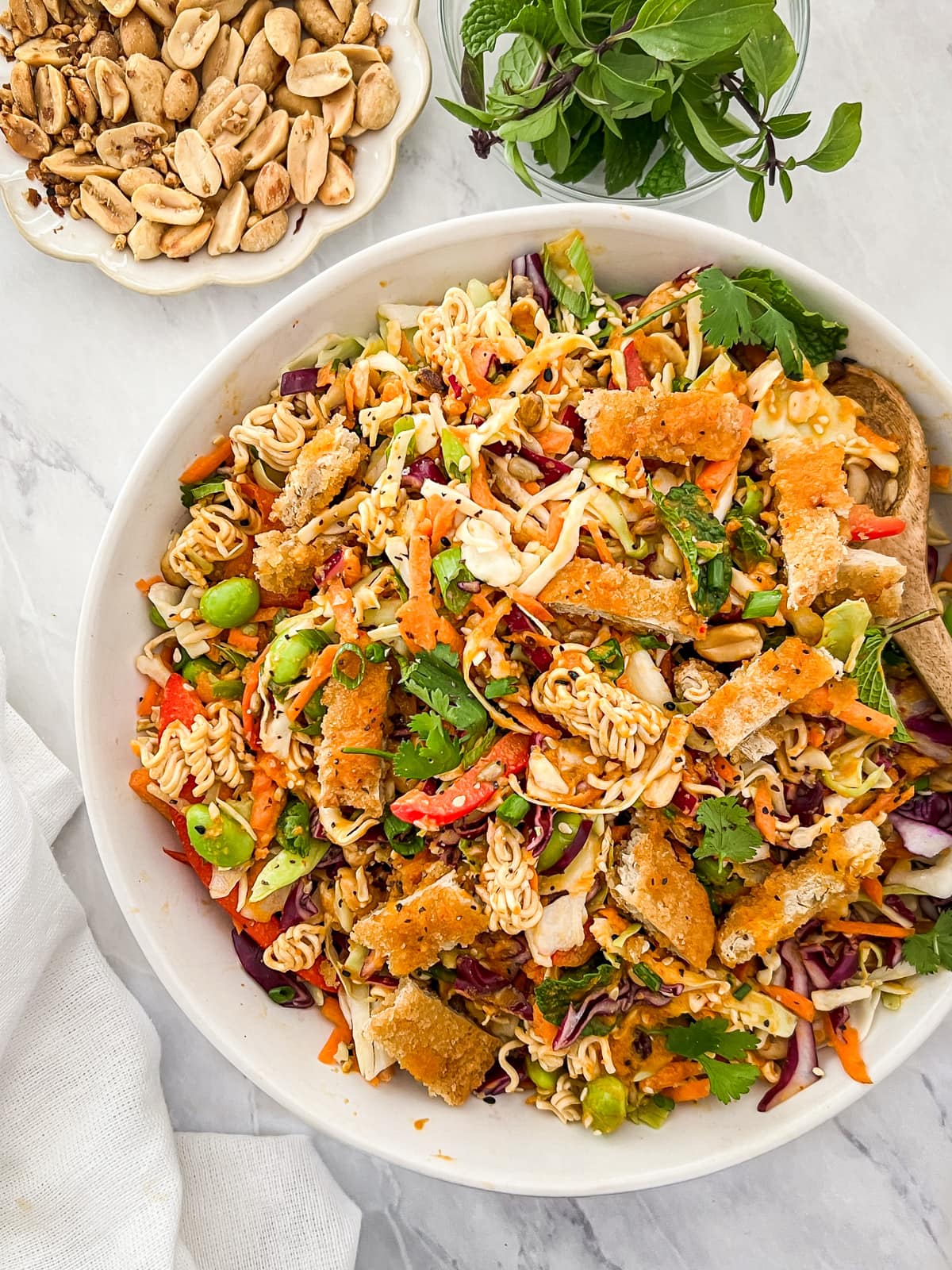 Crunchy Asian Slaw Serving Suggestions
This yummy Asian chopped salad goes with absolutely everything - serve it alongside whatever you've got on the grill! I like to pair it with veggie potstickers, vegan corn zucchini fritters, chickpea pancakes or baked tofu!
More Amazing Vegan Salads
If you love a big, flavorful dinner salad like we do, here's a few more vegan salad ideas to try! All are suitable for vegan, vegetarian, plant based, and gluten free eaters, but absolutely EVERYONE devours them:
If you tried this Asian Crunchy Cabbage Salad recipe or any other recipe on the blog, please let me know how you liked it by leaving a rating and review below! Follow along on Instagram and Pinterest for more delicious vegan recipes.
JOIN US SUNDAY MORNINGS: Sign up for my weekly NEWSLETTER!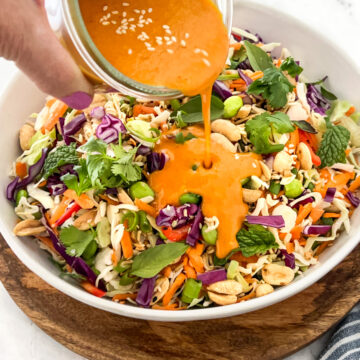 Easy Crunchy Asian Cabbage Salad (w/sesame ginger dressing) | Vegan
This healthy, Asian slaw recipe tastes amazing. It's made with a ton of vegetables, fresh herbs, a mountain of toasted nuts, seeds and crunchy ramen noodles. Everything comes together with a killer sesame ginger dressing! It's vegan, plant based, gluten free and epic. A vegan salad people will line up for!
Rate this recipe!
Equipment
blender

or food processor
INGREDIENTS
5-6

cups

cabbage, shredded

1

cup

grated carrots

1

red pepper, sliced thin

3-4

green onions, sliced

1

package

ramen noodles, toasted

1

cup

cilantro, Thai basil, mint, chopped

toasted sesame seeds
Optional Salad Toppers
½

cup

roasted peanuts, crushed

1

avocado, diced

crispy fried shallots
Asian Slaw Dressing
3

tablespoons

neutral oil

1

tablespoon

toasted sesame oil

3

tablespoons

soy sauce

3

tablespoons

rice vinegar

1

tablespoon

lime juice, fresh

1

tablespoon

maple syrup

1

tablespoon

brown sugar

2

cloves

garlic

1"

knob

ginger (~1 tablespoon grated)

¼

cup

grated carrots

1

tablespoon

sriracha sauce

¼ - ½

teaspoon

black pepper, coarse ground
INSTRUCTIONS
Toast the ramen noodles: Break a packed a dry ramen noodles into large chunks and toast on a baking sheet in the oven or toaster oven (350º F) or in the airfryer until golden. Stir or shake a couple times to prevent burning. This takes under 5 minutes so keep your eyes on them!

Assemble the slaw salad: Place all the slaw ingredients in a large bowl top with toasted ramen noodles, nuts/seeds, and fresh herbs.

Make the Asian slaw dressing: Place all the dressing ingredients into a blender. Blend until smooth and creamy. Taste and tweak flavor as needed.

Toss together: Pour the dressing over the slaw ingredients and toss together to incorporate. Garnish with more sesame seeds, peanuts, and your choice of optional toppings.
NOTES
Asian carrot ginger dressing: The dressing can be made several days in advance and stored in a jar or airtight container for ~10 days. Crunchy ramen noodles: Toast the dry ramen noodles up to a couple weeks in advance, let cool, and store in an airtight container or bag at room temperature. Meal prep idea: Make a double batch of dressing and enjoy it over salads, bowls, grilled veggies or use it as a stir fry sauce. It's so dang tasty on everything!
This recipe is from simplyceecee.co food blog. All images and content are copyright protected. Please do not use my images or republish this recipe without prior permission. Thank you.