Fresh and healthy avocado, tomato, cucumber salad recipe with a tangy balsamic reduction drizzle. This salad is very adaptable, hearty, nourishing and super delicious. Oil-free, gluten-free, dairy-free and 100% vegan.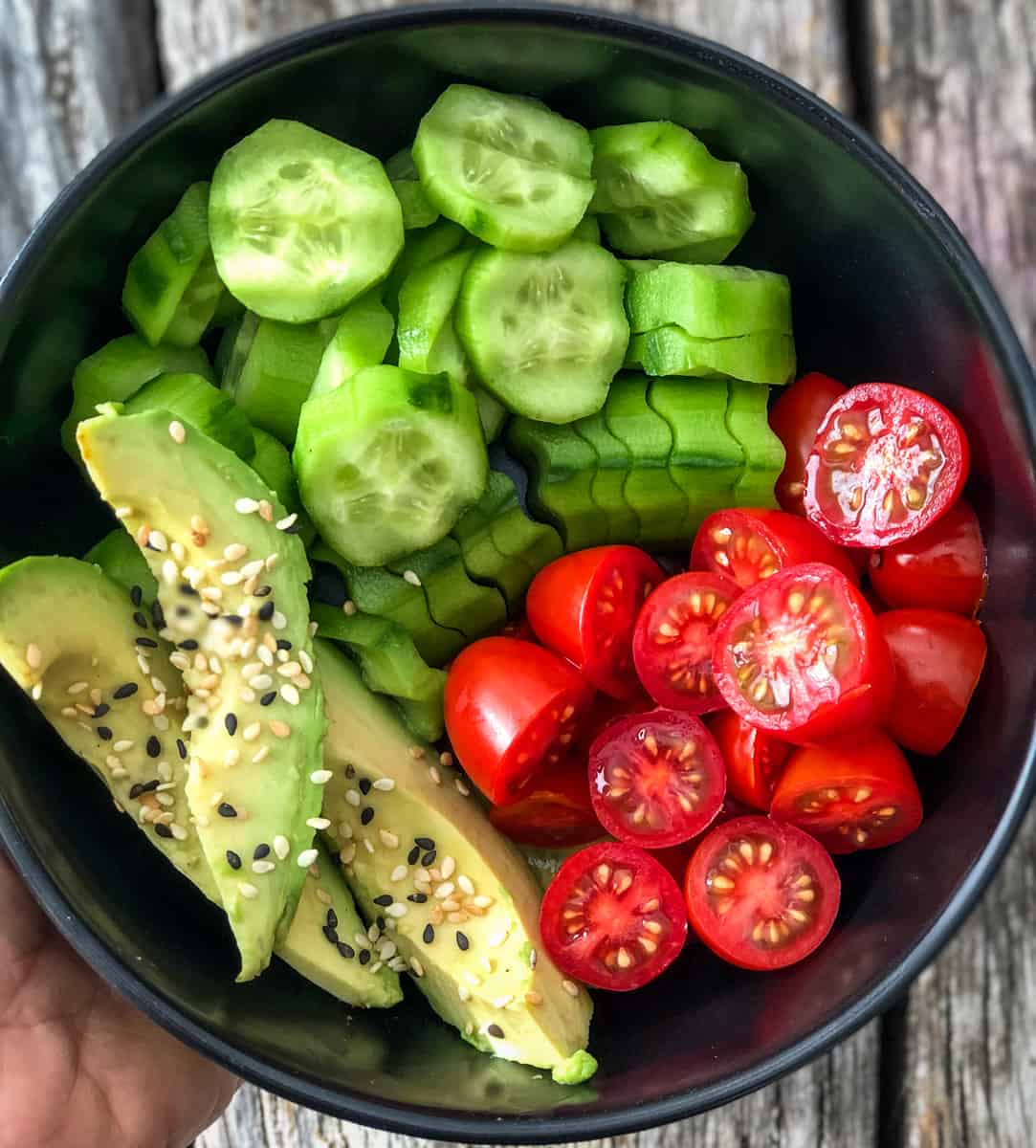 Do you have a few recipes that you make over and over again? The tried and true, easy to make recipes that use only a few basic ingredients? Me too, and this fast and nutritious salad is definitely one of them. If you love a healthy vegan salad for lunch, you'll want to try broccoli salad and fancy rainbow salad.
Healthy Vegan Salad Ingredients
I love the flavour profile and textures of this simple salad. The combination of fresh, crisp, and creamy vegetables drizzled with balsamic vinegar reduction is a game changer. Here are the ingredients I typically use:
Avocado chunks - creamy, healthy and delicious. Cut into slices or chunks
Tomato halves - juicy cherry tomatoes cut through the middle add freshness and juiciness
Cucumber slices - crispy and fresh, cut the cucumbers with a fancy cutter or on an angle
Onions - red or white onions cut into half moon slices add pungency and texture
Nuts - raw almonds add nuttiness and crunch OR use pistachios or pumpkin seeds
Hemp Hearts - add texture and bring a big dose of protein and omegas
Herbs - choose a variety to add freshness + brightness eg. cilantro, dill, basil, tarragon
Heft - add some chickpeas, black beans, lentils or your favorite grain
Drizzle - balsamic reduction adds the perfect flavor punch, slightly sweet + tangy
I add a pinch or two of hot pepper flakes to add some heat. Although this salad is very satisfying on its own, make it heartier by adding a handful of chickpeas, lentils or serve it on a bed of peppery greens.
Ingredient Spotlight - Balsamic Vinegar
In Italy, we went on an incredible food tour. One of our favorite stops was taste testing balsamic vinegar. We learned about traditional balsamic vinegar making, and I fell in love with each spoonful.
Of course, balsamic is well known and is a favourite condiment in the culinary world for good reason. For centuries balsamic vinegar has been made in the wine-making region of Reggio Emilia and Modena, Italy. Grape must (unfermented juice of grapes) is set aside from winemaking to produce this delicious, beloved vinegar. It is cooked down then transferred to wood barrels to ferment and age for years (and years).
As the vinegar reduces, it is moved to smaller barrels of different wood types where the vinegar takes on the flavour of these barrels. Then it's aged further before being bottled and enjoyed.
Because there are many levels of quality for balsamic vinegar, read the label if you want the good stuff! The aged balsamic made in the traditional method will include 'Aceto Balsamico Tradizionale' on the label. Overseen by a special certification agency, a DOP (Denominazione di Origine Protetta) stamp means strict, complex, regulations and established traditional procedures were followed. For example, certain grapes must be used. It must be aged for a minimum of 12 years using 5 or more barrels. This king of balsamic is not used for cooking, it's for drizzling and finishing.
But for this salad recipe, we heat and reduce the vinegar so it's not necessary to buy the good stuff! I use a grocery store brand that comes from Modena and it makes a tasty reduction.
How to make Balsamic Reduction at Home
Balsamic reduction or glaze is easy to make at home, and it's super delicious. Reducing the vinegar intensifies the flavors (sweetness and tanginess). Plus it becomes dark, thick, rich and glossy like liquid gold!
Don't buy a super expensive, aged bottle of balsamic vinegar. I use the grocery store brand (economical and delicious).
Pour half the bottle into a saucepan over medium-high heat.
Reduce the vinegar to half. It will become dark, glossy and stick to the back of the spoon.
As the vinegar cools, it becomes thicker.
Store in an airtight container or glass jar in a pantry or the fridge for several months.
Serve balsamic reduction drizzled over vegan tofu salad bowls, rice bowls, grilled mushrooms and onions, roasted Brussel sprouts, baked tofu, and vegan ice cream with strawberries!
More Easy Vegan Salads
Vegan Greek Salad is an easy, tasty, fresh and nourishing family favorite!
Best Vegan Potato Salad - grandma's recipe!
Southwestern Vegan Chopped Salad - crunchy, tangy, spicy, easy, epic!
Nana's Brussel Sprouts - to drizzle your balsamic over.
Did you make this recipe? I'd love to see it!
Please leave a star rating and comment at the bottom of the page.
Thank you so much for sharing! Tag me on Instagram 
For more Vegan Recipes: Sign up for my email NEWSLETTER!
Avocado Tomato Cucumber Salad with Balsamic Dressing
Fresh and healthy this avocado, tomato, cucumber salad recipe is crunchy, delicious and quick to make. Topped with a homemade balsamic vinegar reduction, the flavor profile is incredible. It's oil-free, gluten-free, vegan and 100% nourishing.
Rate this recipe!
INGREDIENTS
10-15

cherry tomatoes, halved

2-3

Persian cucumbers, thick slices

1

avocado, chunks

4-6

red onion, half moon slices

12-14

almonds, halved

1-2

tbsp

hemp hearts

pinch or two

red pepper flakes

S&P, to taste

2

tbsp

balsamic reduction*

assorted fresh herbs, chopped or minced

chickpeas, lentils, beans (optional)
INSTRUCTIONS
This salad recipe is very loose and adaptable, you can change the ingredients to suit your taste and hunger level.

Cut the cherry tomatoes through the belly. 

Cut an avocado in half and remove pit. Cut a large grid into each half so that you have big chunks of avocado when you scoop the flesh out.

Slice red or white onions into half moons. 

Chop desired fresh herbs such as cilantro, basil, tarragon.

Rough chop the almonds (or use pumpkin seeds or pistachios).
Balsamic Reduction Recipe
To make your own balsamic reduction - pour half a bottle (1 ½ cups) of inexpensive balsamic vinegar into a small saucepan. 

Bring it to a boil, reduce heat and let actively simmer while the vinegar reduces to half. Once the vinegar coats the back of the spoon, it's ready. Approximately 30-40 minutes.

The vinegar continues to thicken slightly as it cools. 

Store in the fridge or cupboard in an airtight container for several months.

Or use your favourite white balsamic or serrano maple vinegar - whatever is your preference for drizzling.
To Serve
To make this salad more substantial, add your favourite beans or grain. Try chickpeas, buckwheat, rice, quinoa, couscous or serve on a bed of greens. 
NOTES
Make the balsamic reduction in advance. You will find lots of uses for it! Trust me.
For the best results, use any fresh, juicy raw vegetables, something creamy like avocado or beans, and a crunchy element like nuts or seeds (any type). Drizzle with the balsamic and top with herbs and hot pepper flakes.
This recipe is from simplyceecee.co food blog. All images and content are copyright protected. Please do not use my images or republish this recipe without prior permission. Thank you.