When tomatoes are in season this cucumber tomato avocado salad with balsamic dressing is our favorite summer salad for a light lunch or side dish at dinner. It's fresh and flavorful, healthy and ready to enjoy in 10 minutes! Make-ahead friendly, this quick and easy salad is popular at summer parties, cookouts, and family gatherings.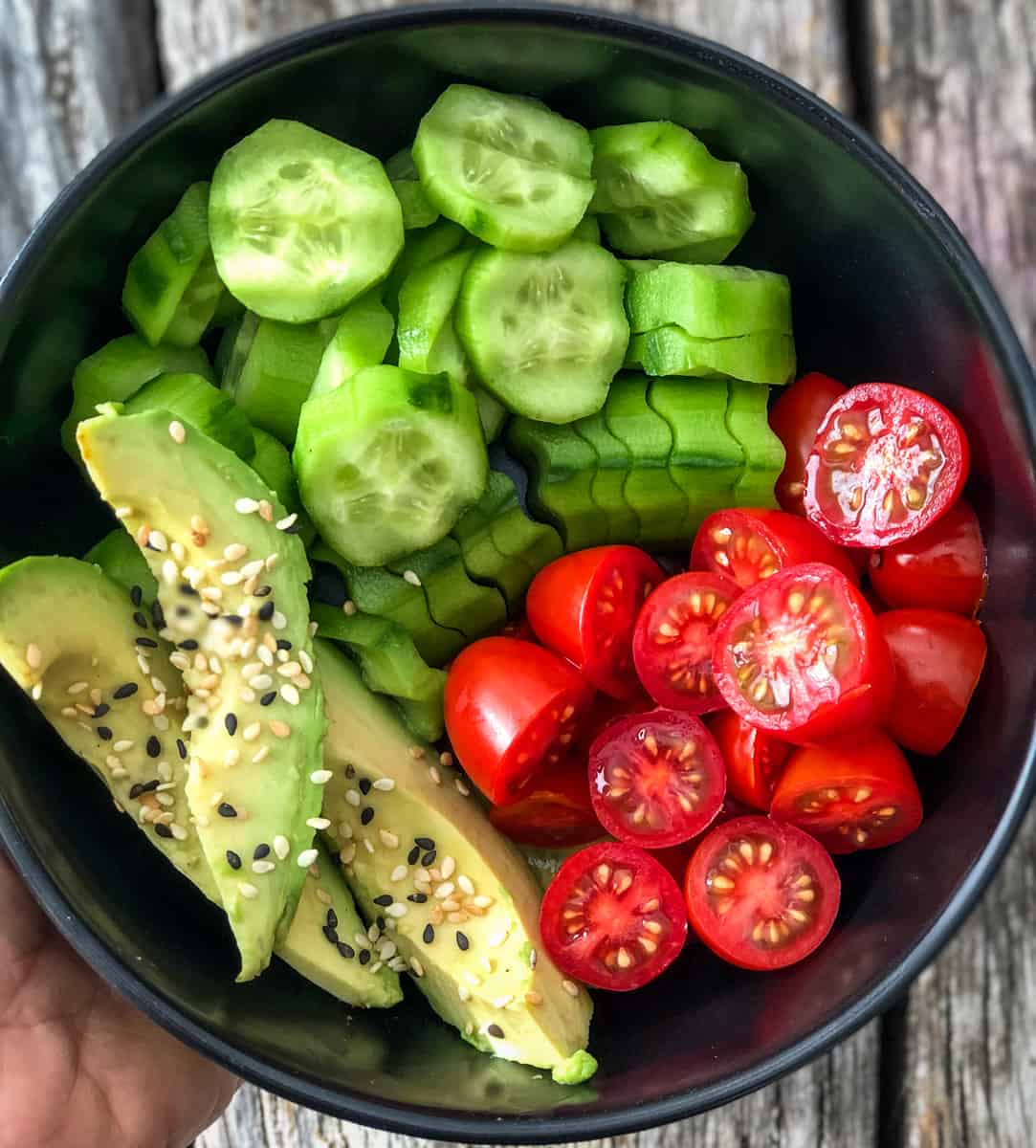 There's so many things to love about this cucumber tomato salad! With very little effort you'll have a fresh and nourishing salad that's bursting with flavor and texture to feed your family. Plus it's super customizable and allergy/ special diet friendly: oil-free, gluten-free, dairy-free, nut free, low carb, egg free, meatless, and vegan.
I know everyone thinks all vegans eat is salad (if I had a dollar . . .)! But when the salads are hearty like vegan broccoli salad, veggie pesto pasta or Thai crunch salad (CPK copycat), who wouldn't want salad all the time!
Salad Ingredients
I love the flavor profile and textures of this simple tomato, cucumber, onion salad; but I like to add one more ingredient: avocados! Gather these ingredients together and let's get started:
Tomatoes - use a mixture of cherry tomatoes, hot house tomatoes, romas, and heirloom tomatoes for the best texture, flavor, and color.
Cucumbers - Persian cucumbers and long English cucumbers work well with this salad because they have thinner skins (leave the peels on!), don't have many seeds or pulp, and are slightly sweet. Slice or cut into chunks.
Avocado - choose perfectly ripe avocados (firm but yield to softly applied pressure).
Italian Basil - cut large leaves into ribbons, but keep the tiny leaves whole.
Balsamic Dressing - 2 easy balsamic dressing recipes below: balsamic reduction or white balsamic and lemon vinaigrette.
A Few Notes and Substitutions
This summer salad recipe is flexible - here's a few ideas for customizing your own salad:
Switch the dressing - use Lemon Dijon Vinaigrette for a Mediterranean inspired cucumber tomato salad version. Or try a simple oil and vinegar dressing: 3 tablespoons white balsamic vinegar, 2 tablespoons olive oil, a squeeze of fresh lemon juice, and S&P to taste.
Try a different nut or seed - a handful of raw almonds, pistachios, pumpkins seeds or hemp hearts add protein, omegas, and mega crunch.
Make it heartier - the addition of chickpeas, quinoa or couscous add bulk, plant protein and mega nutrients.
Fresh herbs - choose one or use a variety to add freshness + brightness eg. parsley, basil, cilantro, dill, and tarragon.
Leafy greens - a handful of Spring Mix, spinach, kale or arugula adds an extra serving of veggies.
Make it spicy - add a hit of heat with a sprinkle or two of hot pepper flakes.
Fancy vegetable cutter - I love using my crinkle cutter on the cucumbers!
How to Make a Summer Salad
This is an easy one: make the dressing, chop, dice or slice the tomato, cucumber, avocado, and onion. Pour the salad dressing over the veggies, add the seasonings and toss together. Top with garnishes of choice (basil, nuts/seeds, hot pepper flakes) and enjoy right away or chill in the fridge for an hour.
Pro Tip: Add the nuts/seeds right before serving so they stay crunchy!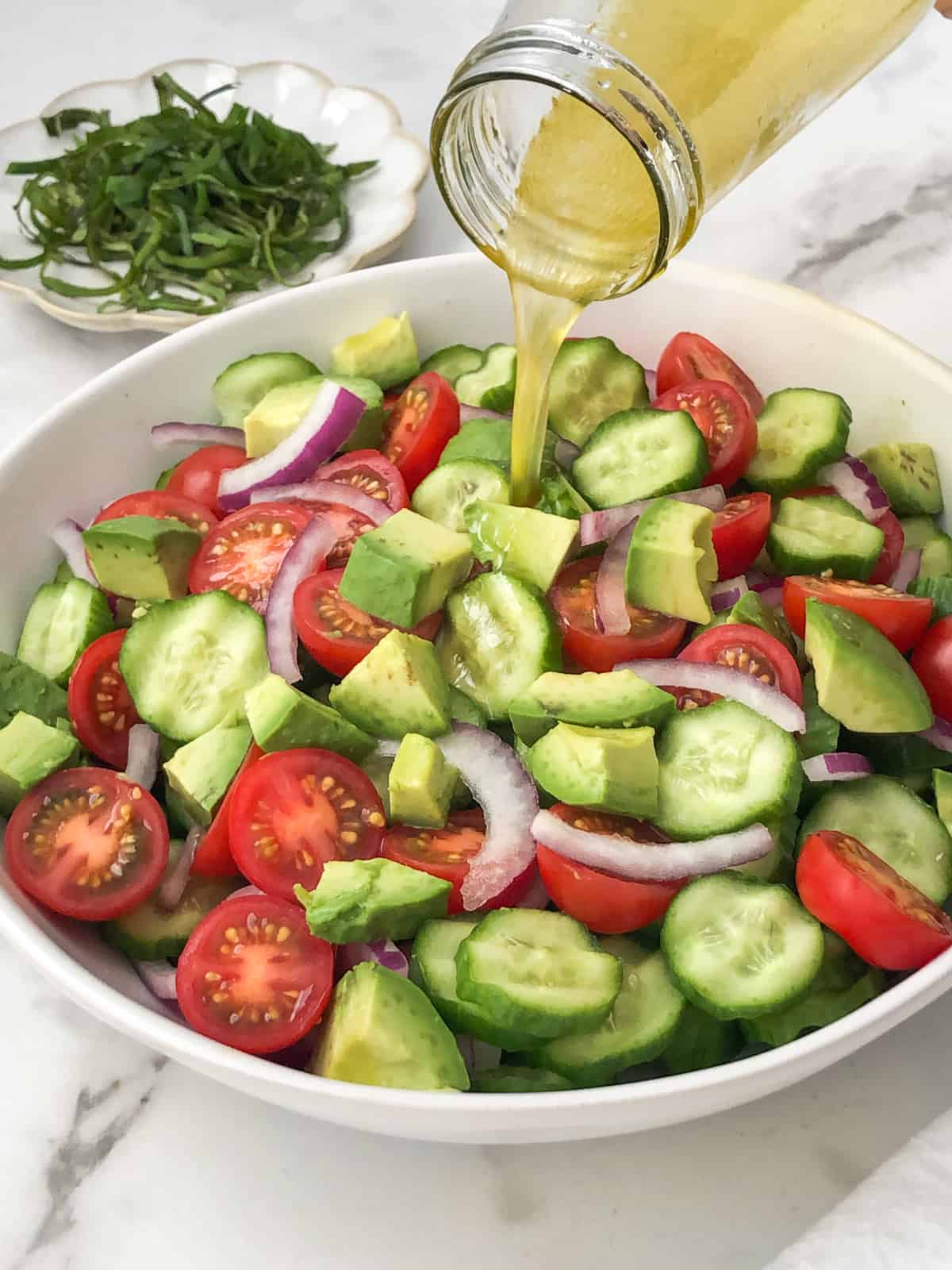 How to make Balsamic Reduction
This balsamic glaze recipe is easy to make at home, and it's super delicious. Reducing the balsamic vinegar intensifies the flavors (sweetness and tanginess), plus it becomes dark, thick, and glossy like liquid gold! Can be made several weeks in advance.
Don't buy a super expensive, aged bottle of balsamic vinegar. I use the grocery store brand (economical and delicious).
Pour half the bottle into a saucepan over medium/medium-high heat. Stir and check on the vinegar while it reduces down to half.
The reduced balsamic vinegar will look dark, glossy, and stick to the back of the spoon.
As the vinegar cools, it becomes thicker.
Store in an airtight container or glass jar in a pantry or the fridge for several months.
Storage Tips
Like most summer salads, this cucumber and tomato salad is best served fresh! Leftovers can be stored in the fridge in an airtight container to be enjoyed for another day or two. Add leftovers to a vegan bowl or vegan tacos to add flavor and freshness!
Easy Vegan Summer Salads
Here's a few more quick and easy salad ideas (vegan and gluten-free) for hot summer nights or to take to cookouts or summer parties:
Did you make this recipe? I'd love to see it!
Please leave a star rating and comment at the bottom of the page.
Thank you so much for sharing! Tag me on Instagram
For more Vegan Recipes: Sign up for my email NEWSLETTER!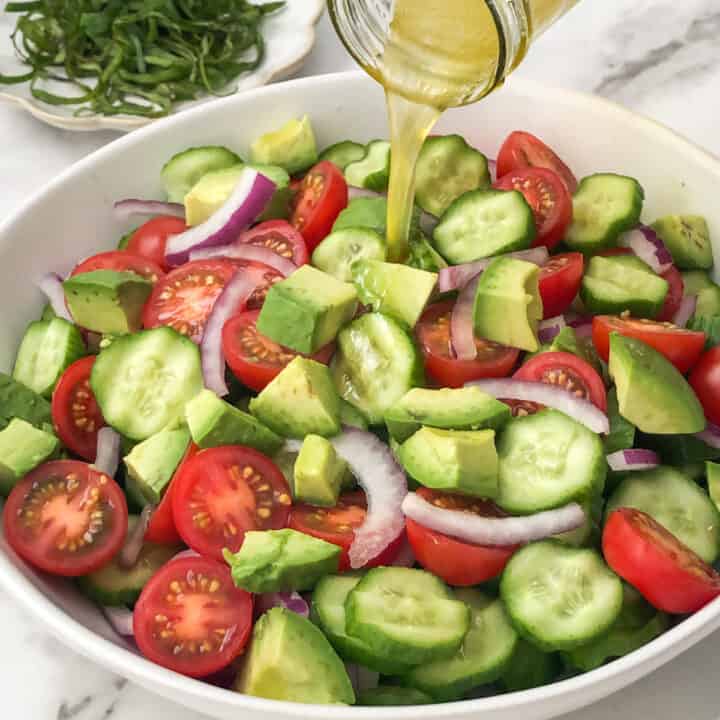 Cucumber Tomato Avocado Salad (with balsamic glaze)
Fresh and healthy this tomato, cucumber, onion and avocado salad is crunchy, delicious, and super quick to make. Topped with balsamic reduction (balsamic glaze) and fresh basil leaves, the flavor profile is irresistible. It's oil-free, gluten-free, vegan, and 100% nourishing.
Rate this recipe!
INGREDIENTS
2

cups

cherry tomatoes, halved

1

English cucumber, sliced

1 - 2

avocados, large dice

½

red onion, slices

pinch or two

red pepper flakes

S&P, to taste

2 - 4

tablespoons

balsamic reduction (more to taste)

10

leaves

fresh basil, ribbons
INSTRUCTIONS
Cut the cherry tomatoes in half. Cut roma, heirloom or hot house tomatoes into large dice.

Cut cucumber into a large dice or quarter a Persian or mini cuc. No need to peel or seed unless using a field cucumber (thicker skin and larger core of seeds).

Slice in half, remove pit, cut avocado into large dice - scoop out with a spoon.

Slice red onions into half moons or large dice.

Stack and roll fresh basil leaves then slice into ribbons.
How to Make Balsamic Vinegar Reduction
Use store bought balsamic dressing, white balsamic vinaigrette or make your own balsamic reduction.

Balsamic Reduction Recipe: pour half a bottle (1 ½ cups) of inexpensive balsamic vinegar into a small saucepan. 

Bring it to a boil, reduce heat and let actively simmer while the vinegar reduces to half. Stir and check on vinegar frequently. Once the vinegar coats the back of the spoon, it's ready. Approximately 30-40 minutes.

The vinegar continues to thicken slightly as it cools. 

Store in the fridge or cupboard in an airtight container for up to several months.
NOTES
Balsamic reduction: make the balsamic glaze up to a couple weeks in advance.
Dressing options: try lemon dijon dressing for a Mediterranean flavor profile.
Plant-based protein: add chickpeas, quinoa or couscous to make a heartier salad.
Nuts/seeds: Add raw almonds, pistachios or hemp hearts for extra crunch, nutrients and protein.
Storage: store leftover salad in an airtight container in the fridge for a day or two.
This recipe is from simplyceecee.co food blog. All images and content are copyright protected. Please do not use my images or republish this recipe without prior permission. Thank you.