This easy Vegan Tofu Scramble recipe is THE BEST! It nails the creamy, fluffy texture and flavor of scrambled eggs with minimal effort and just a handful of ingredients. Ready in under 15 minutes these delicious vegan eggs are fantastic on their own or served with lots of veggies, salsa, and avocado.
If you miss scrambled eggs since going vegan, you're going to love this soft, creamy tofu breakfast scramble! A healthy lean plant protein, tofu scramble makes the perfect vegan alternative to scrambled eggs. We have it almost every weekend for breakfast - the kids love it!
And if you do too, here's a couple more of our favorite scrambled tofu recipes to try: Curry Tofu Scramble and Southwest Tofu Scramble.
Key Ingredients
Tofu is obviously the star and provides the soft, fluffy scrambled egg texture. But tofu doesn't taste like much on its own (kind of bland) so we add seasoning! This combination of spices makes tofu taste "eggy". Here's what you'll need:
for the tofu scramble: medium-firm or firm tofu, olive oil, sea salt, green onions
for the tofu scramble seasoning: plain plant-based milk, garlic powder, turmeric (for color), nutritional yeast (for cheesy umami flavor), kala namak salt (aka black salt) for eggy flavor, and coarse ground black pepper
Variations & Substitutions
Black salt: Black salt is the secret to mimicking the "eggy" taste of eggs because of its sulfuric scent and flavor. Find kala namak salt at the grocery store, online or sub in smoked salt or regular sea salt. This will give you a different, yet delicious, flavor profile.
Add some heat: Looking for a way to kick up your morning? Drizzle the tofu eggs with your favorite hot sauce like sriracha or cholula or sprinkle on some red pepper flakes.
Cheesy scramble: Stir in your favorite vegan cheese such as shredded cheddar, mozzarella or havarti.
Add veggies: Making scrambled tofu with veggies is a tasty way to get in your daily nutrients! I recommend sautéeing up some spinach, mushrooms or onions to add to your scramble.
How Do You Make Tofu Scramble?
This vegan scrambled eggs recipe comes together in no time. Here's how to make it:
Prepare the tofu: Wrap the tofu in a clean kitchen towel or a few paper towels. Squeeze out the excess water (or press*) to let the towel absorb the water while you prepare the sauce and slice the onions. *You can place heavy skillet on top if using medium-firm tofu.
Make the sauce: Place the non-dairy milk and tofu scramble seasonings in a bowl and whisk until combined. Taste and adjust as needed.
Cook the tofu: Break the tofu into chunks while you heat the oil in a skillet. Add the sea salt and green onions to the hot skillet for about a minute before adding in the tofu pieces. Cook the tofu over medium/medium-high heat, stirring occasionally, until it starts to take on some color.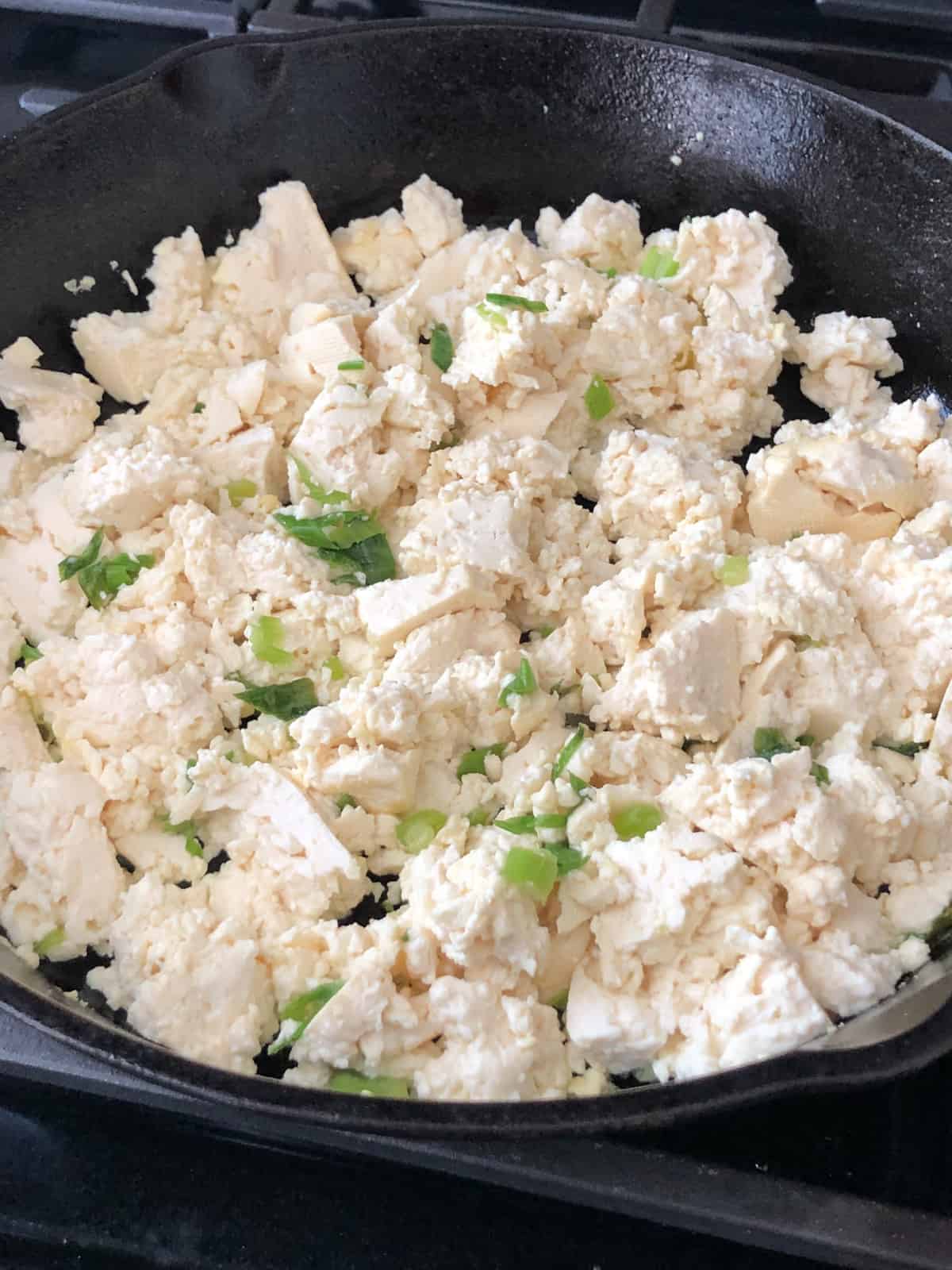 Add the seasoning sauce: Stir in the eggy sauce and continue to cook, stirring, for 4-8 minutes.
Serve: Taste and adjust seasonings, if needed. Top with remaining green onions and serve.
Tips for Success
Tofu is a magical, healthy, plant protein; and once you know how to cook tofu, I'm sure you'll be obsessed like we are. Here's a few extra tips to help you make the best tofu scramble:
What kind of tofu is best to use?: In my experience, medium-firm or firm tofu produces the best, fluffiest scrambled egg texture. Silken is too soft to hold shape and extra firm or super firm is too dry/compressed to achieve that fluffy signature scrambled egg texture.
Add milk for a fluffier texture: If you do use extra-firm tofu, adding a splash or two of plant-based milk will help create fluffiness.
Don't turn the heat too high: I recommend keeping the heat around medium to medium-high. Turning the heat too high dries out the tofu and it becomes crispy (more like a tofu crumble). The goal is for it to be fluffy like scrambled egg texture.
For easy clean up: Use a non-stick pan to avoid having tofu scramble stuck to the bottom of your pan. As well, once you've added the tofu to the hot pan, let it sit for a minute or two without stirring while the heat does its work removing the surface water. The tofu will then naturally release from the pan.
Million dollar tip: To make an extra rich and creamy scramble, stir in a teaspoon of plant-based butter right before removing the pan from the heat.
How to Serve
Tofu scramble is delicious and satisfying on its own or as part of a larger breakfast - here's a few ideas:
Avocado toast: This tofu breakfast scramble pairs perfectly with your morning avocado toast or easy 4 ingredient guacamole.
Vegan breakfast burrito/taco: Who doesn't love a grab-and-go breakfast or dinner? Add vegan eggs, sautéed veggies, avocado, Tex-Mex cashew cream and wrap it in a tortilla to go.
Take advantage of leftovers: If you have any leftover tofu scramble, re-purpose it to make the best vegan egg salad ever (recipe in notes)!
How to Store & Reheat
While this vegan breakfast scramble is best enjoyed hot from the skillet, it's also great for meal prep since you can store and reheat it with minimal effort. Here are some tips:
Storing: Store in the fridge for 4 or 5 days.
Freezing: Yes, tofu scramble can be frozen (if you have any left)! But I recommend making vegan egg salad with leftover scramble instead (recipe in notes!).
Reheating: Microwave to reheat or heat in a skillet with a splash of plant-based milk.
More Vegan Breakfast Recipes
If you love vegan breakfast (or breakfast for dinner) like we do, here's a few more to try:
Did you make this recipe? I'd love to see it!
Please leave a review and star rating below. Thank you so much for sharing!
Tag me on Instagram
NEVER MISS A RECIPE: Sign up for my email NEWSLETTER!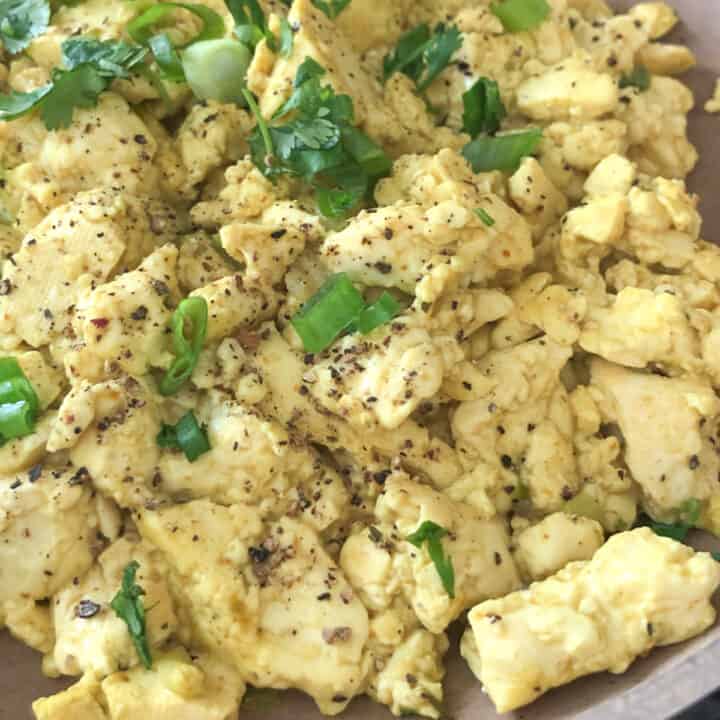 The Best Vegan Tofu Scramble (easy + eggy)
This simple vegan tofu scramble is a delicious vegan option to scrambled eggs for breakfast (or dinner)! It's very similar in both taste, color and texture to scrambled eggs. Learn how to make the best tofu scramble ever! It's an easy, high protein and fiber, low carb and fat, inexpensive, gluten free, vegan scrambled egg!
Rate this recipe!
INGREDIENTS
1

block

tofu, medium-firm/firm

1

tablespoon

olive oil

½

teaspoon

sea salt

2-3

green onions, sliced
Tofu Scramble Seasoning
2 - 4

tablespoons

plant-based milk (unsweetened, plain)

1

teaspoon

garlic powder

⅛

teaspoon

turmeric (for color)

1 - 1 ½

tablespoons

nutritional yeast

½

teaspoon

kala namak salt (more to taste)

½

teaspoon

coarse ground black pepper (more to taste)
INSTRUCTIONS
Preparing the Tofu
Wrap a block of medium-firm (or firm) tofu in a clean kitchen towel or several paper towels. Gently squeeze to remove excess liquid. Place a heavy skillet on top or just let the towels absorb the excess liquid while you prepare the tofu scramble seasonings and garnishes.
Make the Tofu Seasoning
Whisk the ingredients together, taste and adjust to personal preference.
Making the Tofu Scramble
Unwrap the tofu and break it into chunks onto the kitchen towel/paper towel. Give another pat dry.

Heat the oil in a non-stick skillet over medium-high heat. Once shimmering, add the sea salt and a handful of chopped green onions. Cook, stirring, until the onions are fragrant with crispy edges ~1 minute.

Add the tofu pieces to the skillet - reduce the heat to medium. Let the tofu cook without stirring for about 2 minutes letting the heat do its work removing some of the surface liquid. The tofu will naturally release preventing the tofu from sticking to the pan and making a mess.

Stir and let cook for another 2-3 minutes over medium heat being careful not to break the tofu pieces too small (they should resemble fluffy scrambled eggs).

Then stir in the tofu scramble seasoning and continue cooking for 4-8 minutes until creamy and fluffy. Cook time will vary depending on how creamy-dry you like your scramble, and how hot your pan is. (Taste it as it cooks to see when you like the flavor and texture best.)

Serve immediately with any remaining green onions sprinkled on top. Add a slice of sourdough toast and condiments of choice.
NOTES
Oil-free scrambled tofu eggs: for the oil-free version, skip the oil and be sure to use a non-stick skillet. 
Seasoning: for a cheesier

(stronger flavored scramble), sprinkle an additional teaspoon or two of nutritional yeast over the scramble as it cooks. Eggy flavor:

Add more black salt or sea salt to taste. Turmeric is for color but also adds nutrients.
A word about turmeric: turmeric is a super pigmented spice so a very small amount adds A LOT of color to tofu scramble. I've seen bright yellow/green/orange 'eggs' which is not too appetizing or authentic. My advice is to stir in only an ⅛ teaspoon or less and then add more as desired (or skip altogether). Also, it stains clothes and counters.
Add veggies: in a separate pan, fry diced potatoes, onions, spinach or red peppers with garlic and fresh oregano in 1 tablespoon of oil. Add salt and pepper. Serve with vegan scramble and toast.
Storing tofu scramble: store leftovers in an airtight container in the fridge for 4 or 5 days.
Reheating: reheat in a microwave or in a skillet with a splash of milk or oil.
The Best Egg Salad: tofu scramble leftovers make THE BEST vegan egg salad sandwich ever. Simply mix the scrambled tofu with vegan mayonnaise, green onions, salt and pepper make a sandwich on bread, toast, buns or pitas. Add any of your favorite egg salad filling ingredients like celery and pickles. I like to add leafy greens to my vegan egg salad sandwich as well. Enjoy!
This recipe is from simplyceecee.co food blog. All images and content are copyright protected. Please do not use my images or republish this recipe without prior permission. Thank you.