For the best vegan gravy recipe, look no further! This mushroom gravy is easy to make, is full flavored, and best of all everyone in the family loves it. Made with mushrooms and onions this deliciously versatile, vegan brown gravy is easily gluten free and make-ahead friendly!
For my family, gravy on the holiday table is not negotiable. So cooking plant based meant I had to work extra hard to find the perfect vegan gravy replacement for them. My goal was something super flavorful that my gravy-loving family would oooh and ahhh over.
Today, I'm sharing my luscious mushroom gravy recipe with you. I'll show you how to develop mega gravy flavor without any drippings and very little effort.
Top 5 Reasons to Love Vegan Gravy!
Is there anything better than a pool of homemade gravy on a mound of buttery vegan mashed potatoes? Here's why you can skip the store-bought gravy this year and make your own from scratch:
Easy to Make: No packages necessary - just basic pantry items, one pan, and a whisk! Ready in ~20 minutes.
Full Flavor Gravy: I've got a couple tips to share for building epic gravy flavor without any pan drippings!
Make Ahead Friendly: This tasty vegan brown gravy can be made in advance and reheated right before serving. Avoid the last minute frenzy of making turkey gravy; and instead, pour yourself a glass of wine and enjoy your family while your gravy simmers on the stove.
All Purpose (versatile): Especially delicious served with vegan turkey and mashed potatoes, this mushroom gravy is also incredible poured over crispy potatoes, French fries, vegan meatloaf, turkey pot pie, hot vegan turkey sandwiches and so much more.
Everyone Loves it!: A vegan gravy that gets rave reviews from family and friends. Plus it's gluten-free friendly, can be made smooth or chunky, and the kids love it too!!
What Ingredients Do I Need?
With the holidays right around the corner, everyone is going to be searching for the perfect savory gravy. Look no further, this recipe has a couple special ingredients that make it THE BEST vegan gravy! Let's review the ingredients with substitutions where possible: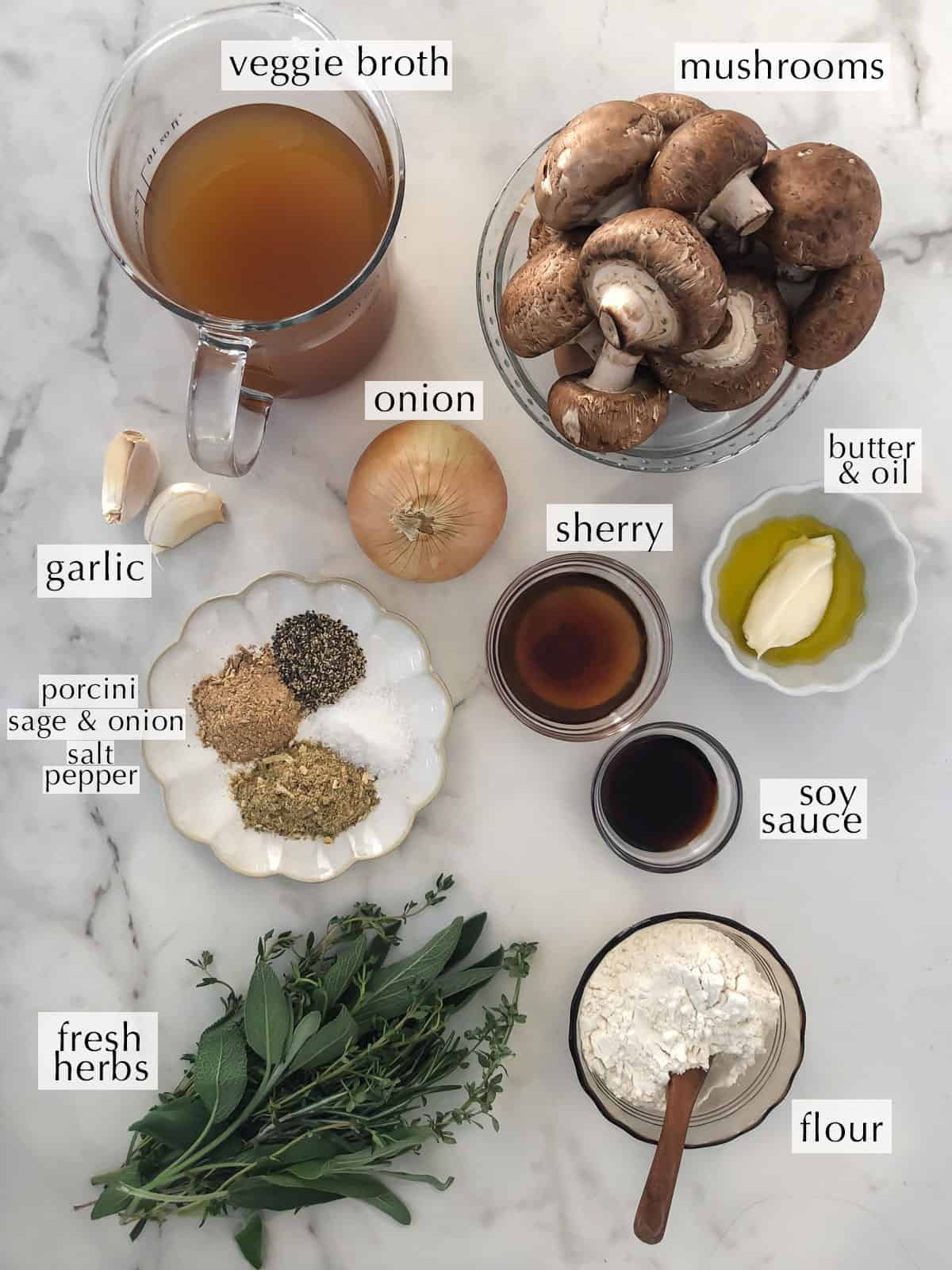 Mushrooms: Any variety of mushrooms will work. I typically use cremini and/or button mushrooms.
Porcini Mushroom Powder: This is the first 'secret' ingredient that adds incredible depth and savoriness to the gravy.
Onion & Garlic: Diced white or yellow onions and minced garlic.
Butter & Oil: Vegan butter/margarine and olive oil adds tons of flavor and richness.
Flour: Cake & pastry flour or all purpose flour.
Broth: I like Better than Bouillon - seasoned vegetable broth or try their chickenless or beefless broth.
Seasoning: This sage and onion seasoning is the second 'secret' ingredient for making the most flavorful vegan turkey gravy. Turkey is typically seasoned with sage or poultry seasoning so this seasoning brings those familiar holiday flavors to vegan gravy perfectly!
Gluten Free Mushroom Gravy Option: Use a cornstarch slurry (instructions below).
Soy Sauce: Adds extra salty, umami richness (optional).
How to Make Mushroom Gravy
I remember the first time I made gravy from scratch. I wanted it to have lots of color and flavor and no lumps! It didn't though; I ended up having to strain it! Here's some tips to help new cooks (and everyone else) avoid common pitfalls when making vegan gravy:
One nice thing is you can make this gravy the day before so you can cross that off your to do list early! I know holiday dinners can be a lot to juggle - especially your first time hosting! Let's make the gravy together:
Gather and prepare all ingredients: To make things simple and stress free, measure and prep all the gravy ingredients before starting.
Building flavor: In a medium skillet heat the butter and oil until shimmering. Add the diced onions and cook over medium-high while they caramelize (this builds flavor). After about 5-7 minutes add the garlic and mushrooms. Continue to cook for another 5-7 minutes while the mushrooms release their water and start to turn golden (more flavor).
Deglaze the pan: Deglaze the pan with sherry*, white wine or vegetable broth to incorporate the flavorful bits on the bottom of the pan. I prefer sherry for the subtle sweetness and incredible flavor it adds.
Roux-style thickening: We'll make a roux-style thickener. Add the butter to the onion-mushroom mixture. Stir until it melts and is well incorporated. Add the flour - stirring until a paste forms sticking to the vegetables. Cook for 2-3 minutes to caramelize the flour which adds flavor and removes the raw flour flavor.
Gradually whisk in the veggie broth until smooth. Simmer over low heat until thick and smooth. (See Tips below for avoiding lumpy gravy!)
Smooth or chunky?: If you prefer a silky gravy, transfer the gravy to a blender and blend until smooth. Then pour it back into the skillet, add more broth as needed for thinning.
Season the gravy: Taste and season as needed with salt, black pepper, and fresh thyme. This would be the time to add the soy sauce or even vegan worcestershire only if needed.
Gluten Free Vegan Gravy Tips
Here's how to make gluten free mushroom gravy:
Follow the recipe as written, except skip the flour (you can also reduce the butter in this step to 1 or 2 tablespoons depending on personal preference).
After you've incorporated the broth, turn the heat to medium and make a cornstarch slurry using 1 tablespoon of cornstarch and 3 tablespoons of water.
Pour the slurry into the gravy whisking until smooth. It will thicken very quickly. Remove from the heat and serve.
Making Vegan Gravy - Flavor Tips
Here's the foolproof tips I follow to make the best mushroom gravy - tons of flavor, no lumps and no drippings:
Building flavor: Let the mushrooms and onions caramelize before adding the next ingredients. Don't rush this step, it's well worth the extra few minutes.
A word about roux: Roux is a traditional means used to thicken sauces. It's a mixture of flour, butter, and broth. All three ingredients plus time affect the flavor of roux. There are 3 types of roux: white, blond, and brown. We are making blond roux - it cooks until the flour starts to take on a little color and flavor as it caramelizes.
MILLION DOLLAR TIPS to avoid lumpy gravy: Use cake/pastry flour to make your gravy. It has higher starch content (lower protein) so dissolves and incorporates more easily. This is a godsend when you're new to making gravy! When adding the broth to the roux, be sure to whisk the gravy to prevent lumps from forming.
Seasoning: Sage and onion seasoning (a spice typically added in turkey dressing/stuffing) along with fresh thyme adds poultry flavor to the vegan gravy.
Seriously savory: For maximum mushroom flavor, add porcini mushroom powder. Buy at the grocery store, Italian grocer, order online or make your own porcini mushroom powder (recipe below). I make mushroom powder and use it all the time - like in my favorite Curry Cauliflower Rice and Mushroom Soup.
Balancing/enhancing flavor: Taste the gravy, if the gravy tastes a bit 'light'*, add a teaspoon or two of soy sauce or vegan worcestershire to add additional saltiness and umami richness. I rarely add it, but have on occasion.
Mushroom Gravy - Color and Texture
Gravy color: Lots of factors affect the color of vegetarian gravy: type of mushrooms and how long you cook them, the type of broth you use, the mushroom powder, if you add soy sauce, and how long you simmer the gravy. Some people add 1//4 teaspoon kitchen bouquet to enhance the color as well. (I haven't tried it/needed it so far.)
Gravy consistency: Is your gravy too thick? Turn down or remove the gravy from heat which is thickening it. Alternatively, add a couple tablespoons of broth/water at a time to reach the desired consistency.
Is your gravy too thin?: Leave the gravy to simmer over medium-low heat (uncovered) until it reduces to desired consistency. Keep in mind that the gravy will thicken as it cools.
Storing & Reheating
This mushroom gravy recipe is very forgiving, make it thinner or thicker, freeze it, thaw it, and reheat it.
It thickens as it chills so, add a splash or two of water/broth and give it a good stir while you are reheating it on the stove or in the microwave.
Store in the fridge for 3 or 4 days or in the freezer for several months.
More Vegan Holiday Recipes
Here's a few more favorite vegan side dishes we serve at the holidays that I think you'll enjoy too:
Did you make this mushroom gravy recipe? I'd love to see it!
Please leave a review and ⭐️ rating below. Tag me on Instagram with any photos!
NEVER MISS A RECIPE: Sign up for my email NEWSLETTER!
Mushroom Gravy (vegan + gf option)
Simply the best full-flavored mushroom gravy without drippings and gluten-free friendly! This vegan gravy is easy to make, is loaded with holiday flavor, is make ahead and freezer friendly. It's incredible drizzled on everything from vegan turkey and mashed potatoes to homemade biscuits and fries!
Rate this recipe!
INGREDIENTS
1

tablespoon

vegan butter/margarine

1

tablespoon

olive oil

½

cup

onions, chopped

4

cups

mushrooms (10-12 oz), chopped or sliced

2

cloves

garlic, finely minced

2

tablespoons

sherry (white wine or veggie broth)

3

tablespoons

vegan butter

3

tablespoons

flour*

2+

cups

vegetable broth

1

tablespoon

porcini mushroom powder

2

teaspoons

sage/onion seasoning

½ - 1

teaspoon

pepper (more to taste)

½ - 1

teaspoon

salt (more to taste)

2-3

teaspoons

soy sauce (optional)

fresh thyme leaves
INSTRUCTIONS
Prep Work
Slice or chop mushrooms and dice onions.

Make vegetable broth - I make 3 cups incase I need extra for thinning especially for reheating.

Add the dairy-free butter and olive oil to a medium skillet over medium-high heat until melted. Saute the onions for 5-7 minutes until turning golden and caramelizing.

Add the garlic and mushrooms to the onions. Cook for another 5-7 minutes while the mushrooms release their water and start to turn golden.

Stir in the sherry and cook for another minute or two while it reduces.

Add 3 tablespoons of butter and stir to incorporate while it melts.

Add all the flour* stirring to incorporate for 2 or 3 minutes while a paste forms (roux) and sticks to the mushrooms.

Add 1 cup veggie broth, mushroom powder, and sage and onion seasoning - whisking to incorporate. Add the remaining 1 cup broth and whisk until smooth and lump free. Once the gravy starts to thicken, reduce the heat to simmer (low) and stir as needed.

Taste and adjust seasoning (salt, pepper and fresh thyme). This is when you would add the soy sauce only if needed for flavor.
Gluten Free Option
Follow the recipe as written except skip the flour. After the mushroom gravy has been prepared and is simmering, whisk together 1 tablespoon of cornstarch with 3 tablespoons of water (this is a cornstarch slurry) in a small dish.

Whisk the slurry into the gravy over medium heat until thickened (it will thicken quite quickly). Remove from heat. Adjust seasoning as desired.
NOTES
Mushrooms - slice or chop the mushrooms (whichever your family prefers).
Flour Options -

cake/pastry flour is a high starch, low protein flour that has the best thickening power. It is great for first time gravy makers (and everyone else!). Or use all purpose flour.
Gluten Free Gravy Option - for gluten free gravy, skip the flour step. Follow the recipe as written and right before serving, stir in the cornstarch slurry. It will thicken very quickly. Remove from heat and serve.
Sherry - you can sub the sherry as noted in the post or skip it all together but it adds a lovely, subtle smooth sweetness and depth of flavor. If you have some on hand, I highly recommend it.
Porcini Mushroom Powder Recipe - buy bulk dry porcini mushrooms. Place in a small food processor, spice grinder or blender. Blend until smooth and powdery. Store in a jar in the cupboard.
Sage & Onion Seasoning - this seasoning blend screams holidays! It adds a lot of flavor and gives the gravy a traditional holiday flavor. Make a batch of homemade sage, onion and garlic seasoning (you won't be disappointed) or sub with fresh or dry thyme, oregano or sage.
This recipe is from simplyceecee.co food blog. All images and content are copyright protected. Please do not use my images or republish this recipe without prior permission. Thank you.