This quick and easy vegan turkey is melt in your mouth delicious! The texture and turkey flavor is spot on - meaty, juicy, tender shaved vegan turkey slices with addictively crispy pieces mixed in.
A sprinkle of sage and onion seasoning magically transforms the tofu turkey slices and makes the whole house smell just like the holidays.
Ideal for your vegan Thanksgiving dinner or vegetarian Christmas feast, serve this shaved tofu turkey with your favorite side dishes like vegan mashed potatoes smothered in vegan gravy or cranberry sauce, crispy golden brussels sprouts and easy vegan dinner rolls.
Over the years I've made A LOT of plant-based, vegan, and vegetarian turkey products. There are some good ready-made options (like Gardein), and I made Miyoko's whole unturkey which was very good. But every year I keep testing and tasting. Finally I'm satisfied; and I'm excited to share this easy, shaved vegan turkey recipe with you! Let's get into the details.
Why This Vegan Turkey is the Best!
It tastes good!: The flavor and texture is a delicious meatless nod to roasted turkey.
Fuss Free!: It's the perfect quick and easy, vegan turkey roast alternative - especially if it's your first time making a vegan Thanksgiving dinner or you need a spectacular dish to take to a Christmas dinner.
Affordable: Each block of tofu is around $3 and will feed 3 people when served with other holiday side dishes.
Nutrients: Good source of calcium, high protein, low carb, no additives, gluten free.
Meatless Turkey!: A vegan, vegetarian, plant based turkey option that everyone loves.
Coveted Leftovers: Makes the best vegan turkey sandwiches (hot or cold).
Only a Few Ingredients Needed
For this easy shaved tofu recipe, you'll need only a handful of basic pantry items: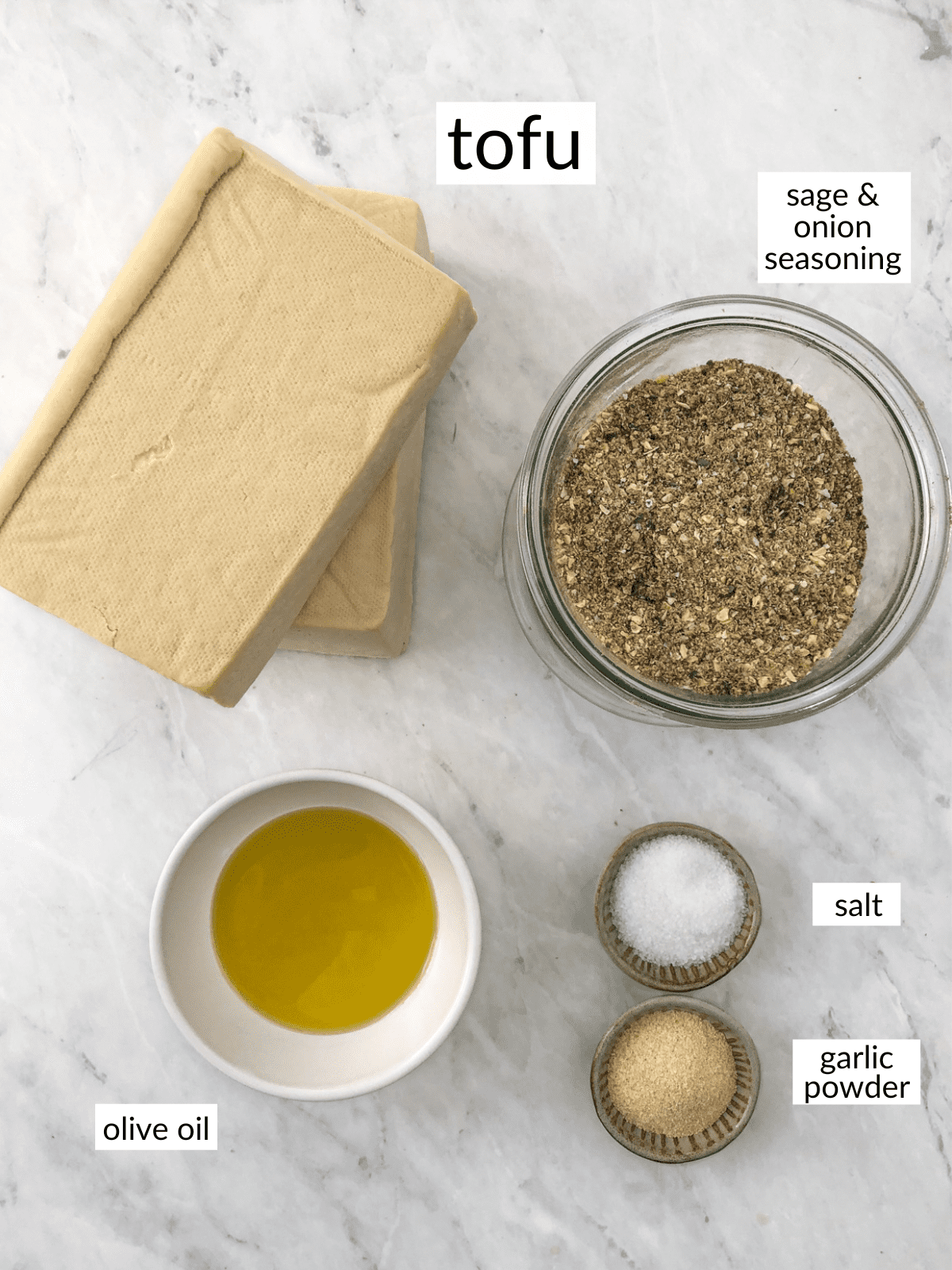 Tofu: Choose extra firm (or firm) tofu. It's not necessary to press the tofu because the end goal is juicy, meaty tofu turkey slices.
Seasoning: For the turkey flavor all you need is sage and onion seasoning, kosher salt, and a pinch of garlic powder (optional). Sage and onion seasoning is my favorite type of poultry seasoning - instantly nostalgic and fills the house with a distinctive holiday aroma!
Oil & Vegan Butter: Adds richness, flavor, and crispiness to the shaved turkey.
Options & Variations
When it comes to vegan turkey substitutes, this shaved turkey is the best! Here's a few simple flavor boosters and variations I recommend:
Vegan Chicken Broth: For enhanced turkey flavor and juiciness (see tips).
Mushrooms: Oyster mushrooms are a great addition for a couple reasons, they add both juiciness and texture and the crispy bits add extra flavor.
Green Onions: I like to add a handful of chopped green onions for the last 5 minutes of cooking. They add good flavor and a sprinkle of color.
How to Make the Best Vegan Turkey
I'll admit, as much as I love entertaining and cooking, making Thanksgiving dinner exhausted me. So my vegan turkey recipe had to be delicious and special, but also fuss free and not take all day. Here's how to make it:
Prepare the tofu: Extra firm tofu* does not need any pressing since the goal for this tofu recipe is a juicy, meaty turkey-like texture (not dry or crunchy).
Shave the tofu: Using a sharp knife, slice the tofu (and mushrooms) into thin slices (see photo), they don't have to be perfect.
Season the tofu slices: In a large bowl coat the shaved tofu with oil and then the spices. If using mushrooms, add them to the bowl as well. Stir or toss until the spices are evenly distributed. Pro Tip: Mix up a batch of Sage and Onion Seasoning anytime up to a couple months before using.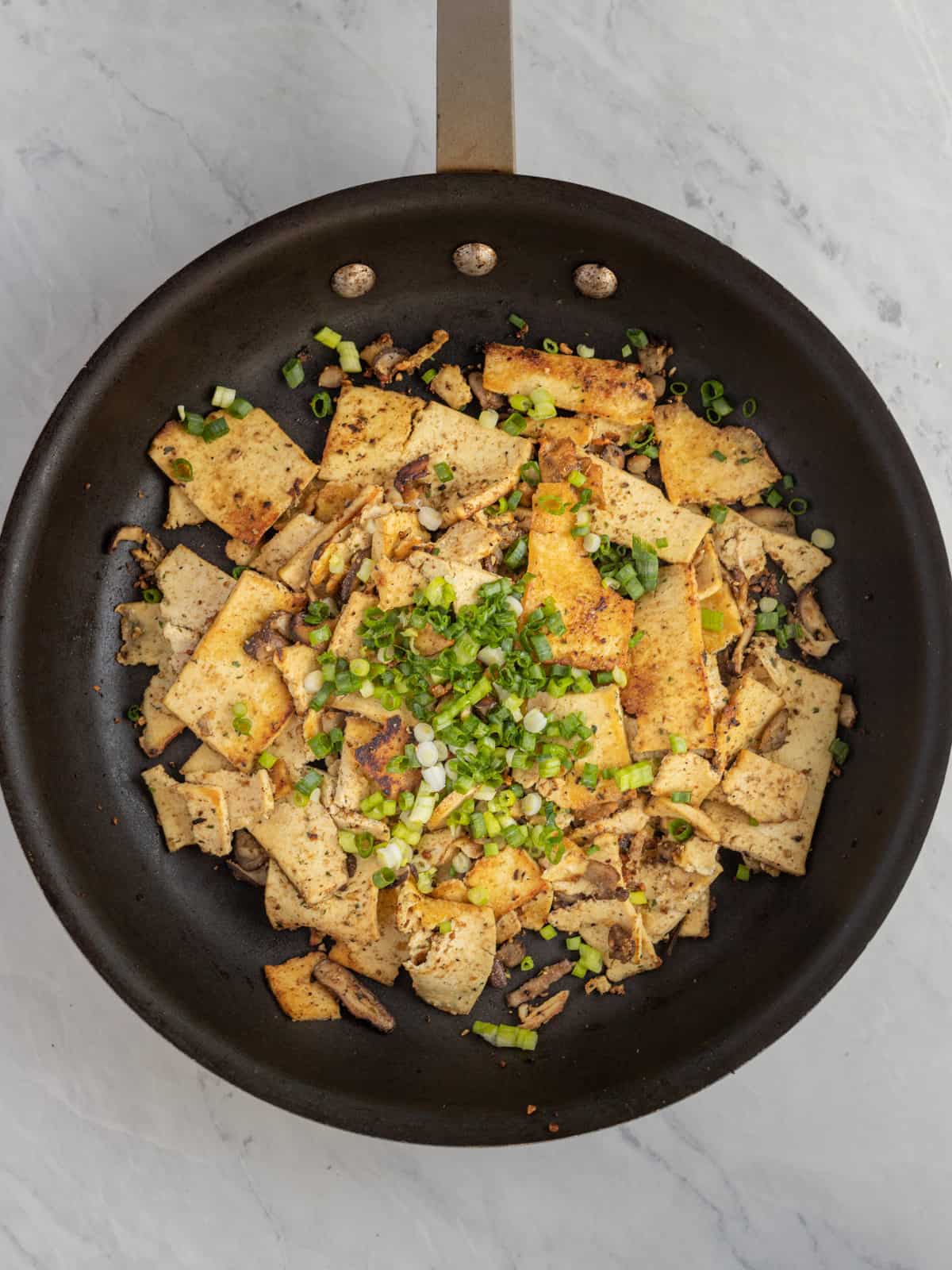 Cook the tofu: Heat a large skillet with butter, oil, and a sprinkle of kosher salt over medium-high heat. Once shimmering, add the shaved tofu (and mushrooms) in a single layer. Cook until some pieces are golden and a bit crispy and some are soft and juicy. For extra flavor and juiciness, add a splash of vegan chicken stock as the turkey is cooking. Add green onions for the last 5 minutes.
Recipe Tips
Here's a few tips for making the best moist, shaved tofu turkey:
What kind of tofu should I use?: Buy extra firm/firm tofu* that is vacuum sealed (it's in the refrigerated section at the grocery store). If your tofu is packaged in water, wrap it in a clean kitchen towel and stack a couple cookbooks on top for just 10 or 15 minutes. This will firm up the tofu so it's not too soft and holds its shape.
Tofu slices: The tofu slices do not have to be even and perfect. The thinner slices will get a little crispy and the thicker ones will be juicy and tender. The combination of the two textures is what makes this shaved turkey special and irresistible.
What pan should I use?: Use the largest skillet you have available or cook your shaved turkey in a couple batches so each slice gets some direct contact with the hot pan. The one I use is a 13" non stick frying pan.
Seasoning: The easiest way to distribute the seasoning is to sprinkle half the sage and onion seasoning over the tofu (and mushrooms), toss and stir. Then mix in the remaining seasoning. Some of the tofu slices may break up a bit and that is fine. Add more seasoning as you're cooking if you like a stronger poultry flavor or more salt (don't forget you'll be adding mushroom gravy on top which is also savory and salty).
Million Dollar Flavor Tip: Adding a flavorful vegan chicken broth while the turkey is cooking will: deglaze the pan (incorporating the food particles and flavor), add juiciness to the turkey and mushroom slices; and intensify the poultry flavor as the chicken broth reduces and concentrates.
Storing
Great for meal prep, sandwiches, wraps, and bowls, this tofu turkey keeps well in the fridge for at least a week. Store in a covered container.
What to Serve with Vegan Turkey
Shaved turkey is a delicious vegan main dish for Thanksgiving, Christmas or Sunday dinners. It pairs perfectly with all the classic side dishes like vegan turkey stuffing, cranberry sauce, glazed carrots, green bean casserole, and any of these:
More Vegan Holiday Menu Ideas
From vegan appetizers to main dishes, side dishes and vegan desserts, here's a few more recipes to make or take to holiday festivities:
Did you make this shaved vegan turkey recipe? I'd love to see it!
Please let me know in the comments. Thank you so much for sharing!
Tag me on Instagram
NEVER MISS A RECIPE: Sign up for my email NEWSLETTER!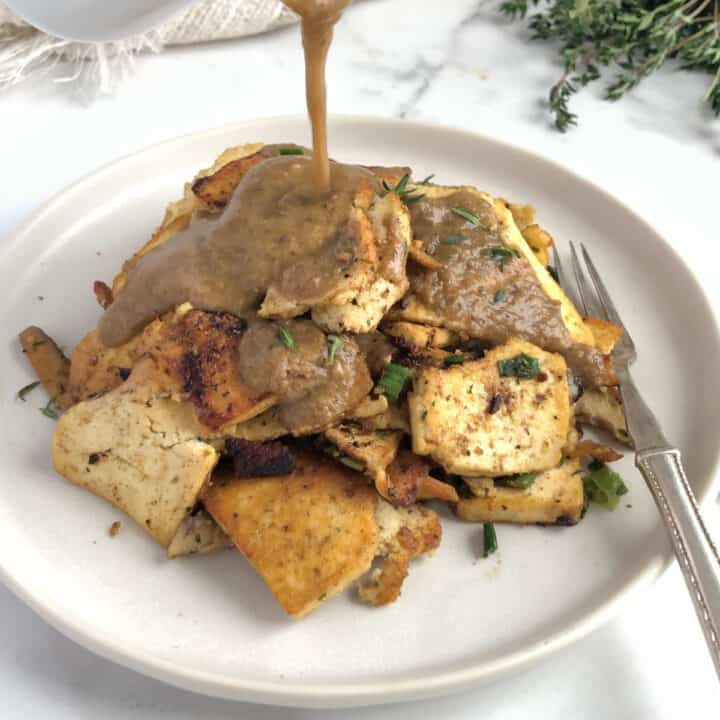 Vegan Turkey (for Thanksgiving & Christmas Dinner)
This vegan turkey is made from shaved tofu perfectly seasoned with sage and onion seasoning. It takes only 15 minutes to make, and has all the flavors and textures you've come to expect from a traditional turkey dinner (but no turkey!). Super meaty, juicy, and tender but also some irresistibly crispy edges. Everyone in the family loves this shaved vegan holiday roast smothered in vegan turkey gravy. I think you will too!
Rate this recipe!
INGREDIENTS
12

ounces

tofu, extra firm (350 grams)

2

tablespoons

oil and vegan butter

1

teaspoon

kosher salt

2+

tablespoons

sage and onion seasoning (see recipe)
Optional
¼ - ½

teaspoon

garlic powder

½

cup

vegan chicken broth

1

cup

oyster mushrooms, strips (see photo)

3-4

green onions, sliced
INSTRUCTIONS
Wrap the extra firm tofu in a clean kitchen towel and gently press/pat dry. Slice the tofu into thin pieces (see photo). If using oyster mushrooms, slice or break into strips.

Transfer the tofu and mushrooms into a large bowl, drizzle with olive oil, toss to coat.

Heat 1 tablespoon of vegan butter, ½ tablespoon of olive oil and half a teaspoon kosher salt in a large skillet over high heat*. Add the shaved tofu/mushroom mixture. (Adjust temperature as needed.)

Flip and stir the tofu until some of the pieces are crispy and some are caramelized but still tender and juicy (about 10-15 minutes). Add ¼ cup of vegan chicken broth after ~8 minutes to keep the larger turkey slices juicy and also to add extra flavor.

Taste and adjust seasoning as desired - add more salt, garlic powder or sage and onion seasoning to taste.
NOTES
Vegan chicken broth: for an extra boost of turkey flavor, deglaze the pan with a splash or two of vegan chicken broth (I like Better Than Bouillon No Chicken Base).
Garlic: if you like extra garlic flavor, add ¼ teaspoon garlic powder when seasoning the tofu.
Oyster mushrooms: the oyster mushrooms are optional, but they add good texture, moisture, and the crispy bits are super flavorful and irresistible. If you have some, I recommend giving them a try.
Green onions: the addition of green onions adds more good flavor and holiday color.
Ideas for leftover vegan turkey slices: hot or cold vegan turkey sandwiches are superb. Vegan Thanksgiving Wrap: tuck shaved turkey into a wrap with crispy potatoes, leafy greens, and a dollop of cranberry mayo.
Crispy Vegan Turkey Bacon: Pan fry the leftover shaved turkey in a bit of oil or air fry them and serve with vegan scrambled eggs and hashbrowns for breakfast on Boxing Day!
This recipe is from simplyceecee.co food blog. All images and content are copyright protected. Please do not use my images or republish this recipe without prior permission. Thank you.