You can pour this creamy, smoky chipotle sauce (chipotle crema) on anything and everything, and I support that!!!
Not even kidding, this Tex-Mex Cashew Cream recipe makes everything 1000% better! It's a smoky creamy, flavor bomb that's delicious served as a dressing, dip or drizzle. We love it liberally drizzled over tacos, burritos, nachos, pasta and so much more!!! I just know you are going to love this sauce as much as we do!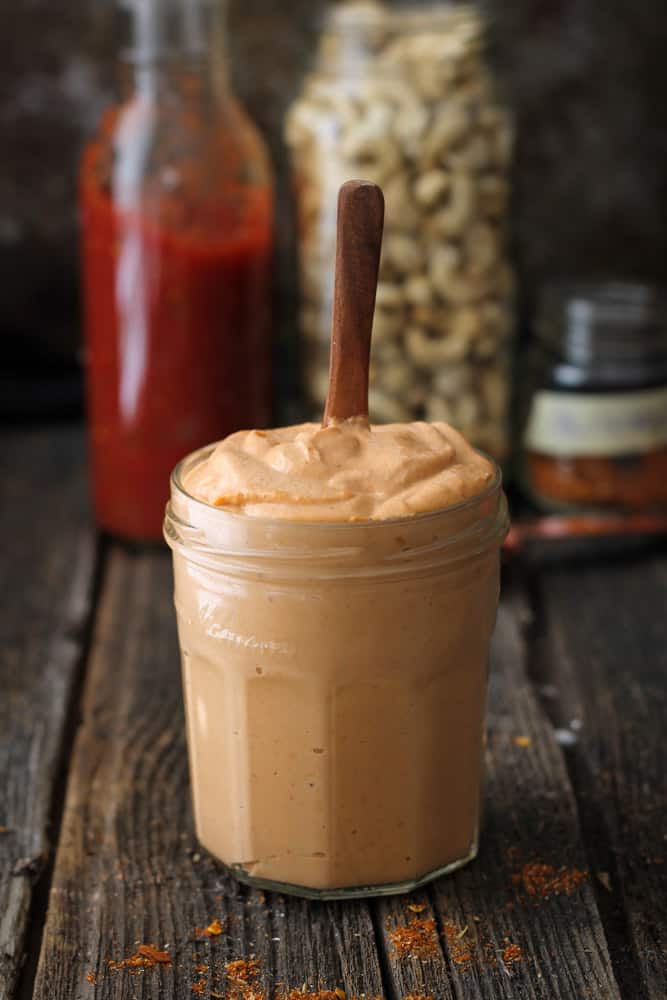 Cashew Cream Flavor Variations and Uses
Cashew cream is a staple in a vegan kitchen! Simple, dairy-free multi-purpose cashew cream sauce is transformed by adding just a few ingredients. It's the best five minute creamy sauce ever. Here are some of our favorites:
The basic, neutral version of cashew cream is a perfect vegan heavy cream replacement in white sauce (bechamel), cheese sauce, and gravy.
Cheesy, Buffalo, Thai, and sour cream versions are delicious dipped or drizzled on everything from veggie charcuterie boards to tacos, grilled vegetables, vegan bowls, and so much more.
Creamy cilantro jalapeno cashew sauce is delicious smeared on sandwiches and burgers or poured over a tofu scramble breakfast burrito.
Crispy cauliflower nuggets are super addictive dipped in Roasted Red Pepper cashew cream!
Tex-Mex cashew cream recipe is the jewel in the crown of my Tex Mex lasagna recipe. This plant based lasagna is so delicious and super popular at potlucks and family dinners. Cozy vegan comfort food at its very best!!! But you'd be missing out if you didn't drizzle your Savory Chickpea Pancakes or Stuffed Baked Potato with this scrumptious chipotle sauce too!!!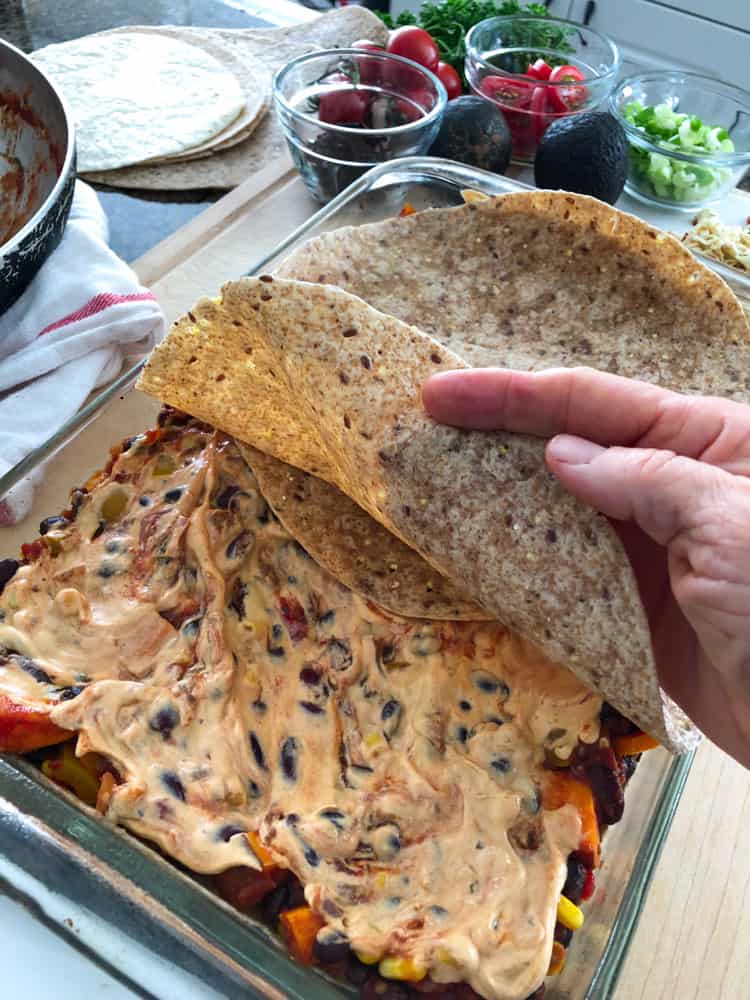 Main Ingredients in Tex-Mex Cashew Cream Sauce
Cashews - use raw cashew nuts not roasted, salted or dry roasted. The raw cashews make a mostly flavorless, neutral base for a creamy cashew sauce.
Chipotle Peppers in Adobo - adds smoky spicy flavor and colour. Use more or less to your preference.
Salsa - salsa adds flavor and some nice chunky texture!
Spices - taco seasoning to bring in Mexican flavors, garlic for bite, and salt to enhance flavors.
Fresh Lime Juice - brings acid to brighten up the sauce and add some tang. Add more or less to your taste.
How to Make the Best Five Minute Cashew Sauce
A high-speed blender (eg. Vitamix) produces the smoothest, creamiest sauce. The raw cashew nuts benefit from being soaked for at least 15 minutes (just pour boiling hot water over them and replace the lid of the blender). However, depending on the strength of your blender, you may need to soak for longer.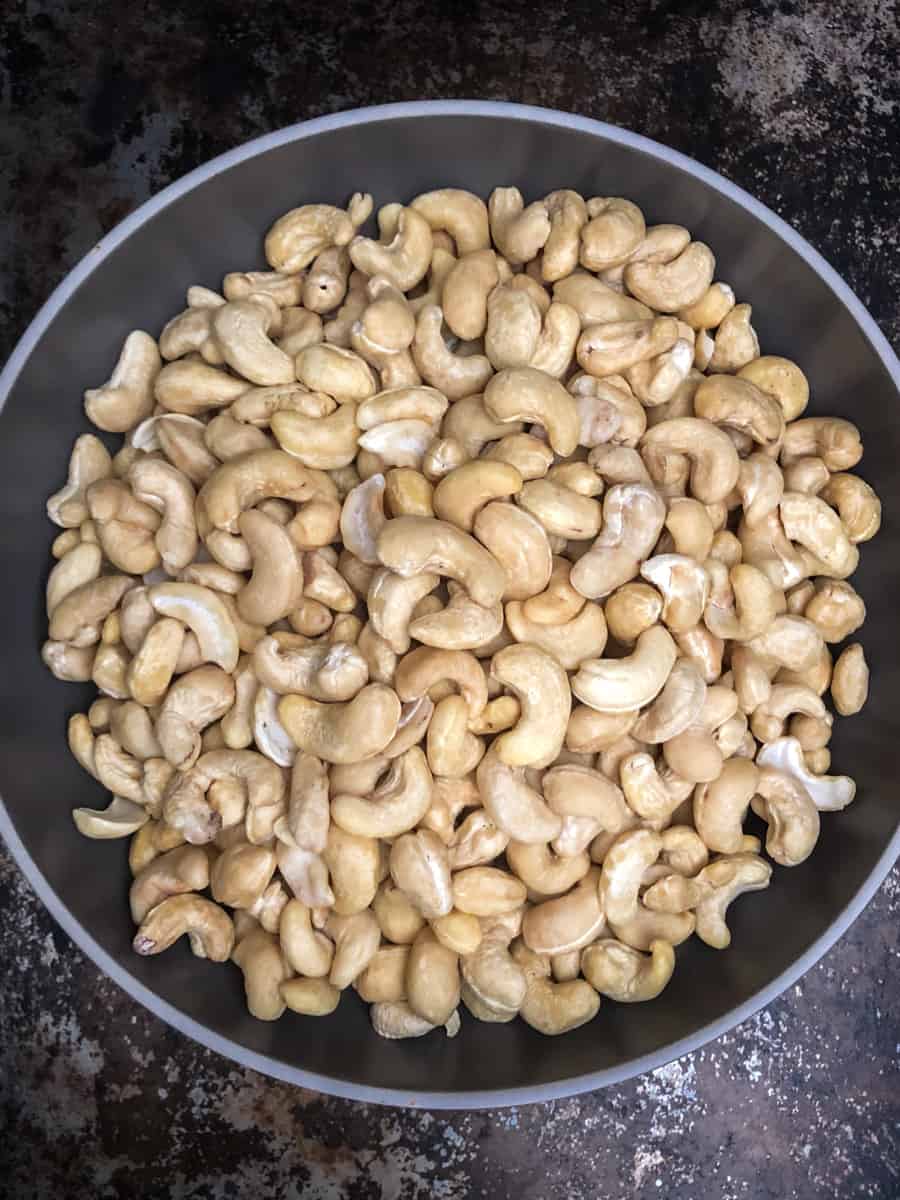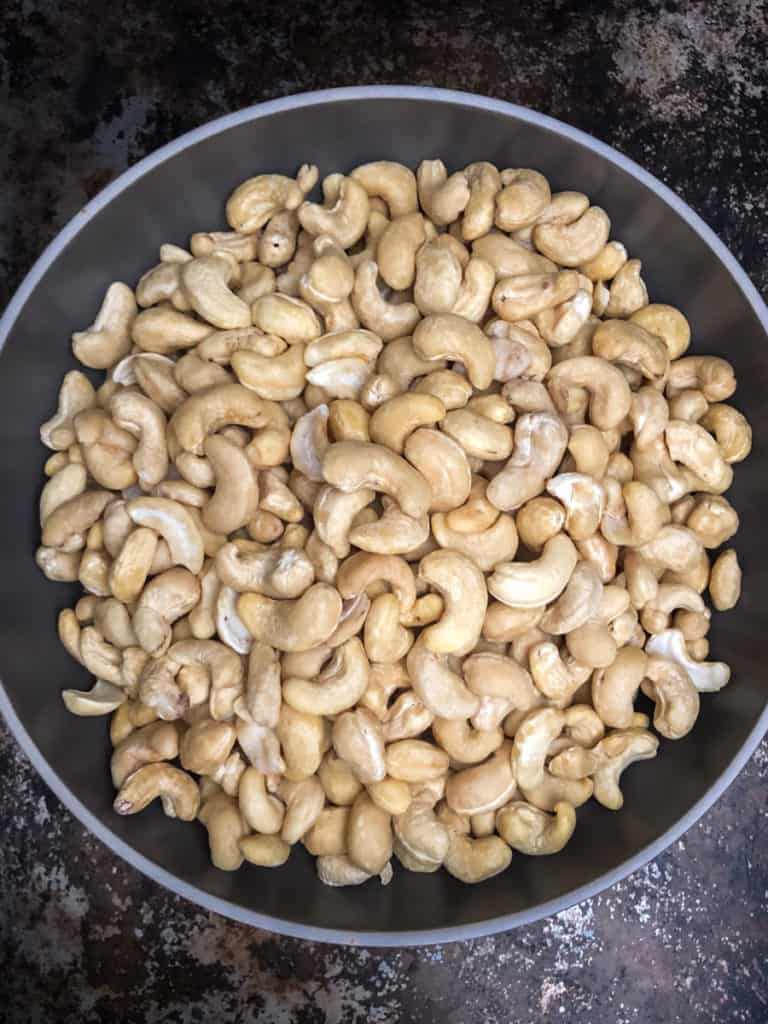 Either way, once the cashews are soaked, drain and rinse them. Add to the cup of the blender and process until smooth and creamy. If you want a thicker sauce/dip, add less water. The cashew sauce does firm up when chilled.
Storing Cashew Cream Sauce
Just in case you have leftovers, this cashew cream stores well in the fridge for 4 or 5 days. Freeze it for up to 6 months, bring to room temperature and then blend until the texture is creamy and smooth.
Freeze any leftover chipotle peppers in single servings for future recipes. They thaw quickly and are ready to use in a flash.
More Incredible Vegan Sauces
For more incredible dairy-free vegan sauces, dips and drizzles, check out my Vegan Sauce Page. Here are a few of our favorites to get you started.
Did you make my Tex-Mex Cashew Cream recipe? 
Leaving a comment and star rating helps others discover my blog and recipes. Thank you so much for your support!
Thanks for sharing your creations! Tag me on IG @ceeceecooks and Facebook!
NEVER MISS A RECIPE: Sign up for my email NEWSLETTER!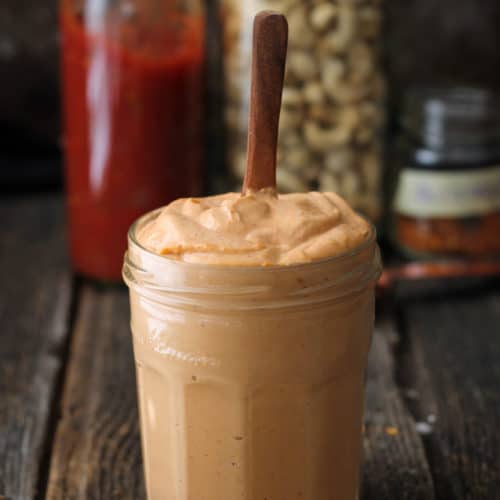 Tex-Mex Cashew Sauce Recipe (dairy-free)
This rich and delicious, smoky chipotle crema sauce is incredible by the spoonful, but try it drizzled over vegan bowls, pasta, tacos, and tofu scramble. Ready in five minutes, it's oil-free, dairy-free, vegan, and 1000% yummy!
Rate this recipe!
Equipment
Vitamix or high-power blender
INGREDIENTS
1

cup

cashews, raw

½- ¾

cup

water

pinch

salt

2

cloves

garlic, large

½

cup

salsa

1

chipotle pepper in adobo sauce (more to taste)

1-2

tsp

taco seasoning*

½

lime, juice only

¼

cup

cilantro, chopped for garnish (optional)
INSTRUCTIONS
**If you do not have a high-speed blender such as a Vitamix, you will get the best results by soaking the cashews first for a couple hours. Place the cashews in the blender, pour boiling water in to cover nuts by about an inch, replace lid and let soak. Then drain, rinse and follow recipe.**

If you do have a high-speed blender, boil the water. Place the nuts into the container of the Vitamix, cover with the boiling water, replace lid; and let it cool (5-15 minutes). Drain and rinse.

Add water, a pinch of salt (to taste) and 2-3 garlic cloves. Blend until smooth.

Add ½ cup your favourite salsa, 1 medium - large chipotle pepper in adobo sauce, taco seasoning, and lime juice.

Taste and adjust any seasonings (see recipe notes). Stir in (by hand) some additional salsa and chopped cilantro for extra texture if desired.

Store in the fridge for up to a week.
NOTES
Tweaking flavor profile and texture to your preference:
Smokier - add more chipotle peppers in adobo sauce

Spicier - add more taco seasoning or a pinch of cayenne powder

Too Bland - add salt

Tangier - add more lime juice

Too much acid - add ¼ - ½ tsp maple syrup

Too thick - add 1 tablespoonful of water at a time until desired consistency
Chunkier - stir in some salsa at the end

Leftovers - store in fridge for up to a week or freeze for up to 6 months.
Chipotles in adobo sauce can be stored in freezer in individual portions to be used in future recipes. They thaw quickly so are great frozen.
This recipe is from simplyceecee.co food blog. All images and content are copyright protected. Please do not use my images or republish this recipe without prior permission. Thank you.
Updated post from October 2018 to include new photos, tips, and techniques in April 2021.