When I tell you this Vegan Egg Salad is the closest you'll taste to traditional egg salad without eggs, I'm not joking! It is absolutely incredible, takes under 20 minutes to make, is packed with lean protein, and is super creamy and eggy.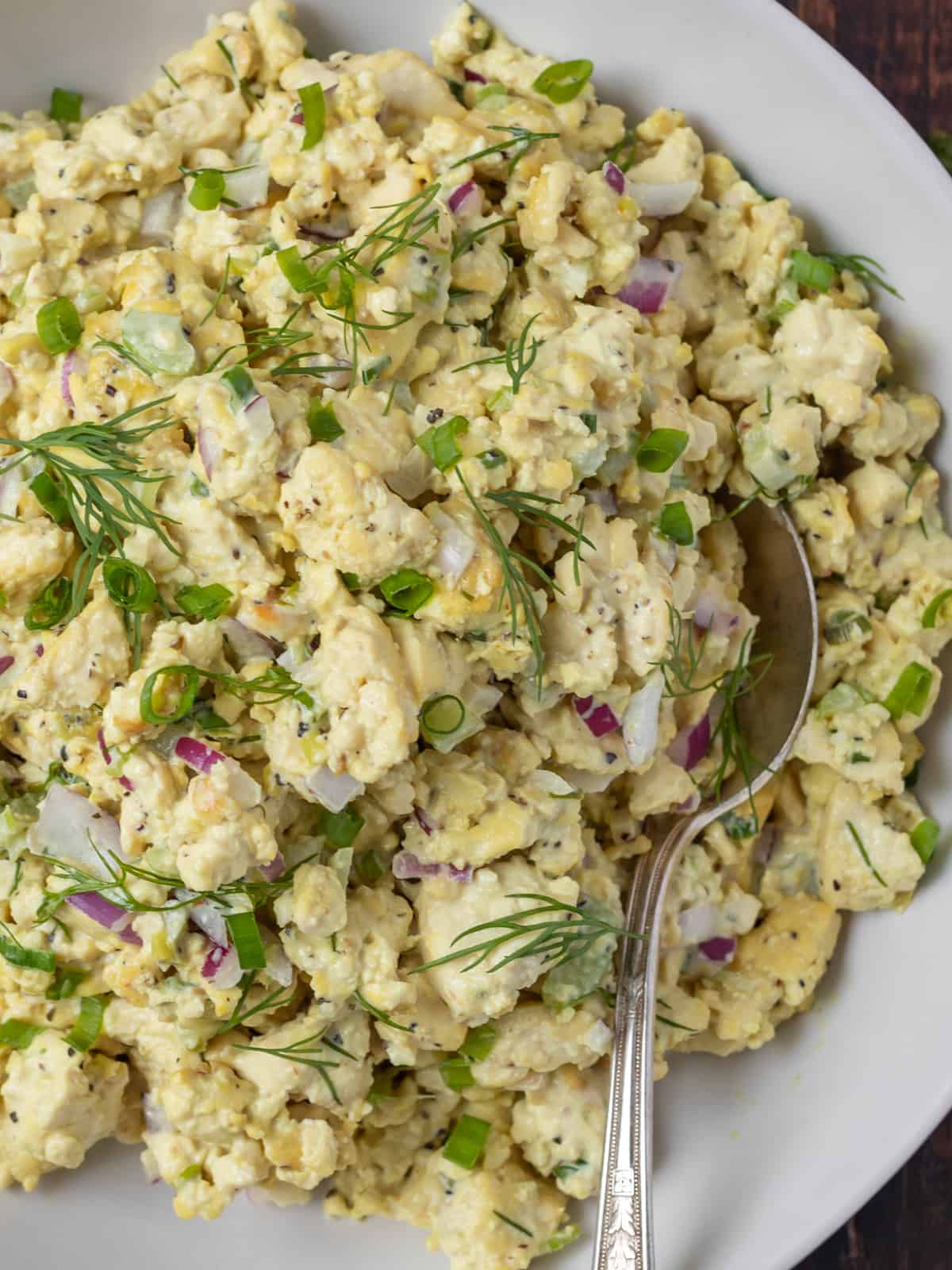 I never thought I'd eat an egg salad sandwich again after going vegan. But happily I was wrong! This recipe came about when I was searching the kitchen for lunch one day and found some leftover tofu scramble. I added some veggies and mayo and voila - the BEST vegan egg salad sandwich ever!
No eggs, but a super eggy texture (firm and creamy like hard boiled eggs) and seasoned to taste just like eggs. So if you've been missing egg salad too, I think this vegan version made with tofu scramble is going to blow your mind!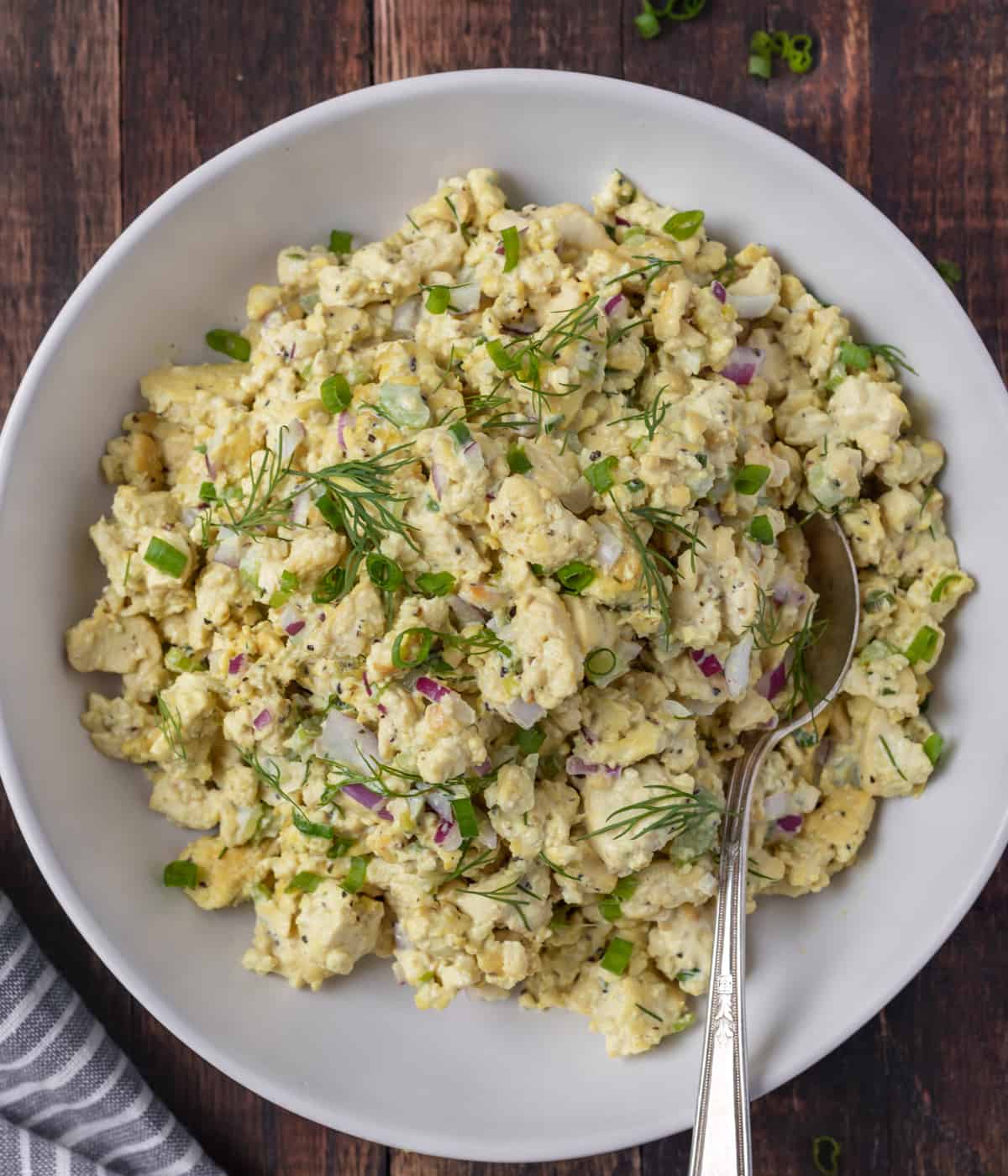 Why You'll Love this Plant Based Egg Salad
Everyone loves this easy, vegan egg salad even non-vegans! Here's why: It's a great source of healthy* lean plant protein and good source calcium and other nutrients. It's low carb, gluten free, dairy free, oil-free and keto friendly, vegan, vegetarian, and eggless but tastes super eggy. Plus it's very affordable, filling, and make-ahead friendly.
*Is tofu healthy? Ready more from leading health expert, Dr. Michael Greger, 'Soy' at Nutrition Facts dot org.
Ingredients
I typically make this recipe with leftover vegan scrambled egg or tofu crumble, but if starting from scratch, here's what you'll need for the tofu scramble: firm tofu, nutritional yeast, garlic powder, plant-based milk, kala namak (black) salt, and coarse ground pepper. Full recipe in recipe card below.
For the egg salad filling: gather together Vegan mayonnaise, dijon mustard, dill pickle juice, celery, green onions, sweet or dill pickles, paprika, salt and pepper.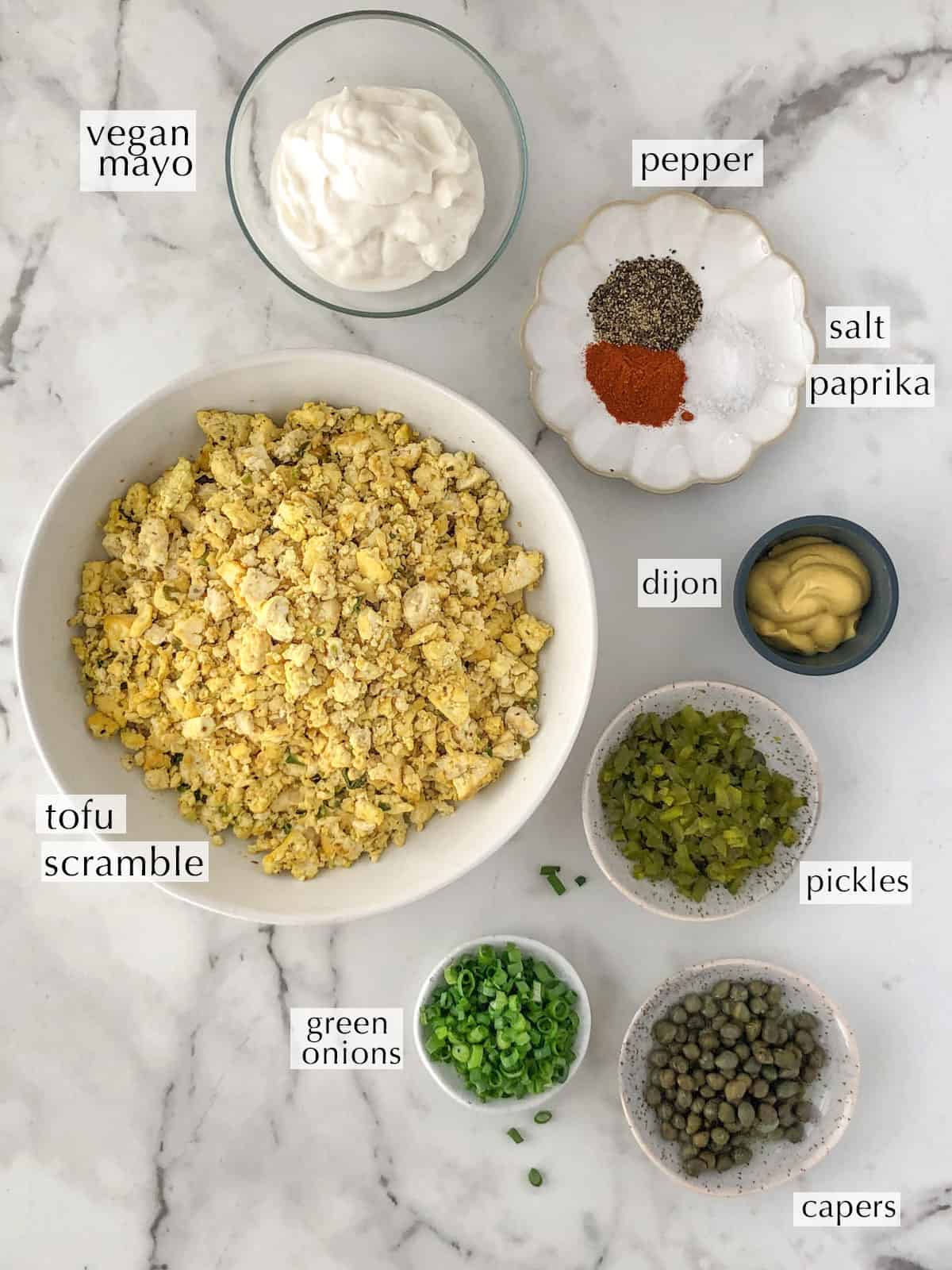 Substitutions & Variations
Eggless egg salad is a very delicious vegetarian/vegan version of traditional egg salad. Keep the flavors classic or have some fun with spices and add ins. Here's a few ideas:
Vegan Mayonnaise: I typically have Vegenaise in the fridge (found in the refrigerated section of the grocery store), but there are many Brands offering eggless, vegan mayonnaise, ie. Just Brand and Hellman's (found in condiment aisle).
Mustard: I like the creamy subtleness of Dijon mustard, but regular mustard adds a nice punch of flavor and color as well.
Pickle juice: I'm a big fan of using pickle juice (or jalapeño juice) for zippiness. I use it in other recipes like dairy-free coleslaw and vegan salad dressings too. Sub in fresh lemon juice or vinegar of your choice.
Use a variety of herbs: fresh dill, parsley, cilantro, Thai basil or a combination of herbs.
Optional add ins: celery, fresh garlic, red onions, capers, chives, green olives, dill pickles, sweet relish, pickled hot peppers or radish. 
Play with flavor: have fun with seasonings, add some heat (sriracha, red pepper flakes, cayenne pepper, harissa or tabasco), Old Bay seasoning or celery seeds.
Curry egg salad: if you love curry, use leftover curried tofu scramble for a spicy vegan egg salad sandwich!
Vegan egg salad sandwich: use hummus as the condiment, add leafy greens, pickled hot peppers, lentil sprouts, grated carrot, pickled red onions, and sweet or sour pickles to make the perfect tofu salad sandwich. 
How To Make the BEST Eggless Egg Salad
This version is made by mixing cooked tofu, vegan dressing, and some crunchy veggies. If you don't have tofu scramble leftovers, see the recipe card for a quick and eggy tofu scramble recipe then make this filling: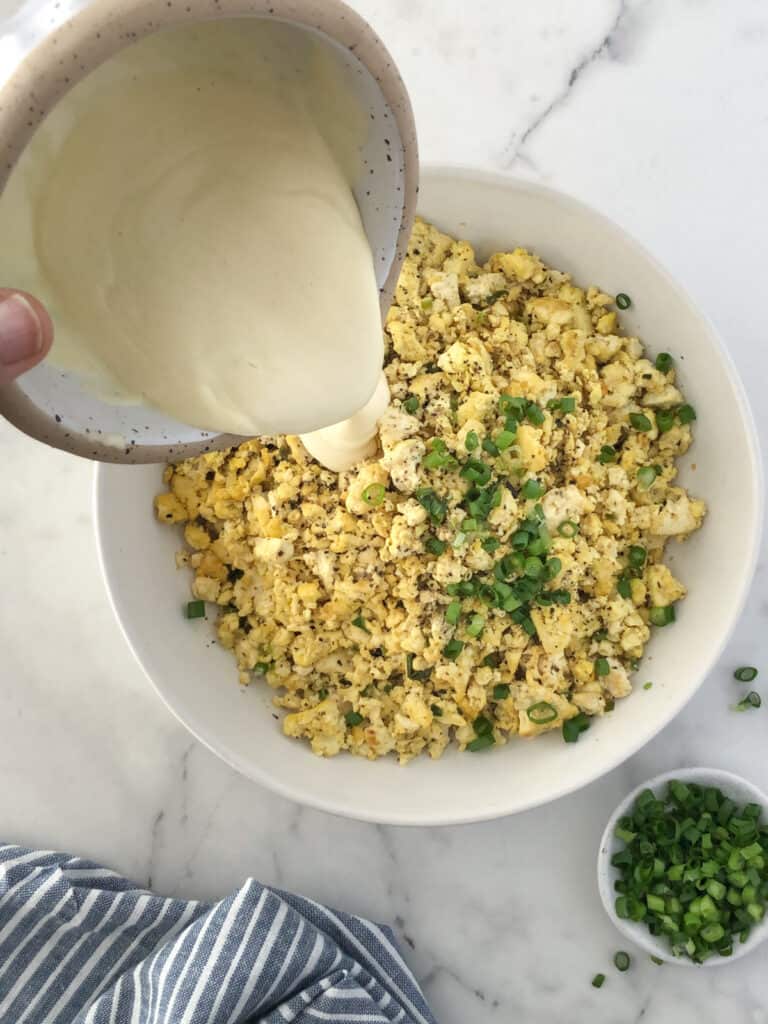 Chop the veggies: finely chop the onions, celery, optional veggies and herbs for the filling.
Combine all the ingredients: mix the vegan mayonnaise, mustard, spices, and veggies together with the cooled tofu scramble. Taste and adjust seasonings as needed. Chill for 30 minutes if possible.
Serve and enjoy
How to Serve Tofu Egg Salad
This tofu egg salad is super versatile, healthy, and filling, there's lots of ways to enjoy it. Here are a few ideas:
Plain and simple: Served on a bed of leafy greens (spring mix, arugula, spinach) for light lunch or snack with crackers, chips or veggies.
As a sandwich: Serve on sourdough bread, sandwich bread, bun or in a homemade pita with leafy greens, veggies and pickles. Make a heartier meal by adding a bowl of soup.
On a salad: add a scoop to a salad or grain bowl to add extra protein for a satisfying vegan lunch or dinner.
Picnic food: Quintessential picnic food along with eggless potato salad, vegan broccoli salad or vegan Greek salad.
Frequently Asked Questions
Can I make egg salad ahead?
Yes, it can be made ahead! It's a healthy, delicious meal prep recipe that keeps in the fridge for 4 or 5 days.
Why is my egg salad bland?
Tofu is bland tasting on its own so it can take a lot of seasoning. If you've seasoned the tofu egg salad; but it still tastes bland, add a pinch or two of salt to wake up the flavors.
What is vegan egg salad made of?
Egg free egg salad is made with cooked tofu, green onions, celery, vegan mayonnaise, Dijon mustard, pickle juice, paprika, salt & pepper, and sweet or dill pickles.
I can't wait for you to make this tofu egg salad. Once you try it, I think you'll make it over and over again!
Vegan Sandwich Recipes
If you love sandwiches, here's a few more healthy vegan sandwiches to try:
Did you make this recipe? I'd love to see it!
Please let me know in the comments. Thank you so much for sharing!
Tag me on Instagram
NEVER MISS A RECIPE: Sign up for my email NEWSLETTER!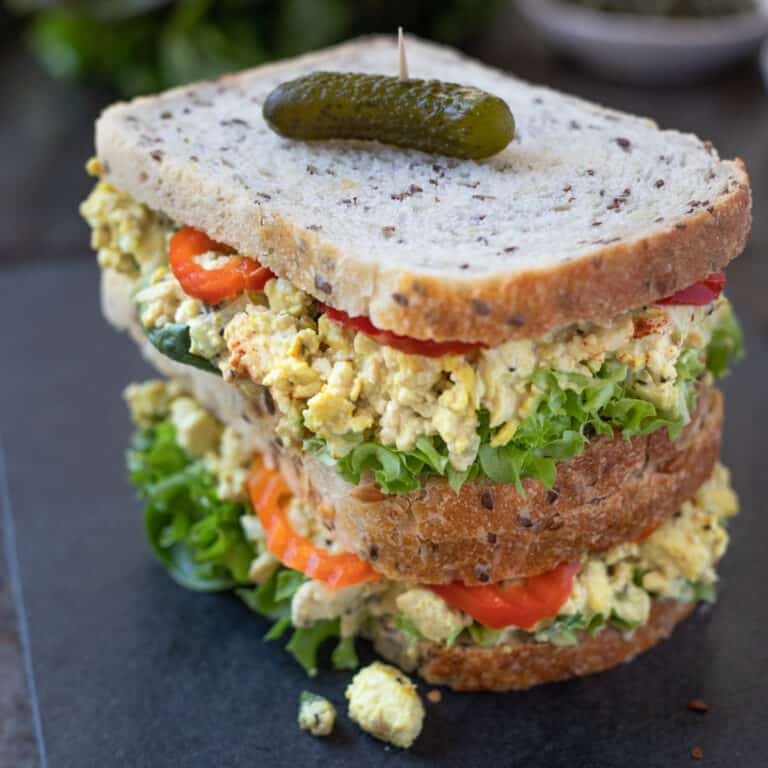 Vegan Egg Salad (easy + eggy)
This tofu egg salad with mayo-mustard and pickle juice dressing is a great dish to take to picnics, barbecues, potlucks or for a quick lunch. Packed with protein, fiber and calcium, it is healthy, filling and ready in under 30 minutes. Make-ahead friendly and perfect for meal prep.
Rate this recipe!
INGREDIENTS
Tofu Scramble
12

oz

block firm tofu, press

1

tablespoon

olive oil

½

teaspoon

kosher salt

1

green onion, sliced
Tofu Scramble Seasoning
1 - 1 ½

tablespoons

nutritional yeast

1

teaspoon

garlic powder

2-4

tablespoons

non-dairy milk

½

teaspoon

kala namak (black) salt

½

teaspoon

coarse black salt
Egg Salad Dressing
⅓

cup

vegan mayonnaise

2

teaspoons

Dijon mustard

1-2

tablespoons

dill pickle juice or lemon juice

3

tablespoons

red onion

1

stalk

celery, finely chopped

½

teaspoon

kosher salt

½

teaspoon

coarse black pepper

½

teaspoon

paprika

fresh dill, chopped
Optional Add Ins
2

tablespoons

pickles, gherkins or dill, finely chopped

⅛

teaspoon

cayenne pepper

2

tablespoons

capers, chopped

2

green onions, sliced
INSTRUCTIONS
Press the Tofu
Wrap a block of medium-firm or firm tofu in a clean kitchen towel or several paper towels. Gently squeeze to remove excess liquid. Place a heavy skillet on top to absorb excess liquid while you prepare the tofu scramble seasonings.
Mix the Seasoning
While the tofu presses, whisk the tofu scramble seasonings together in a small dish.
Make the Tofu Scramble
Break the tofu into chunks.

Heat 1 tablespoon of oil in a non stick skillet until shimmering. Add the sea salt and sliced green onions and cook over medium-high for 1-2 minutes.

Add the tofu chunks, stir and cook for ~4 minutes until the tofu starts to take on some color.

Then stir in the seasoning and continue cooking for 4-8 minutes until creamy and fluffy. Cook time will vary depending on how creamy-dry you like your scramble, and how hot your pan is. 

Remove from heat and let cool while you chop veggies and gather other ingredients.
Preparing the Filling
Finely chop the celery and onions. Prepare any optional add-ins as well.
Putting it all Together
Add the cooled tofu together with the creamy dressing, chopped veggies, herbs, and spices stirring to incorporate. Garnish with fresh dill. Cover and chill.

Enjoy on sourdough with leafy greens and pickles on the side.
NOTES
Optional Add Ins: Finely chopped radishes, red onions, capers, sweet green relish (or gherkin pickles), dill pickles or chives.
Optional Spices: Customize the flavor - add cayenne pepper, sriracha, tabasco, Old Bay seasoning, celery seeds or garlic powder to taste.
Serve as a sandwich: Serve on sourdough, white sandwich bread, pita or bagel with leafy greens, sprouts, and a side of pickles.
Storage Tips: store in an airtight container in the fridge for 4 or 5 days.
This recipe is from simplyceecee.co food blog. All images and content are copyright protected. Please do not use my images or republish this recipe without prior permission. Thank you.