This delicious, creamy vegan potato salad recipe is perfect for BBQ's and family get togethers this summer. If you're looking for an easy but delicious and nutritious potato salad made without eggs or dairy, keep reading!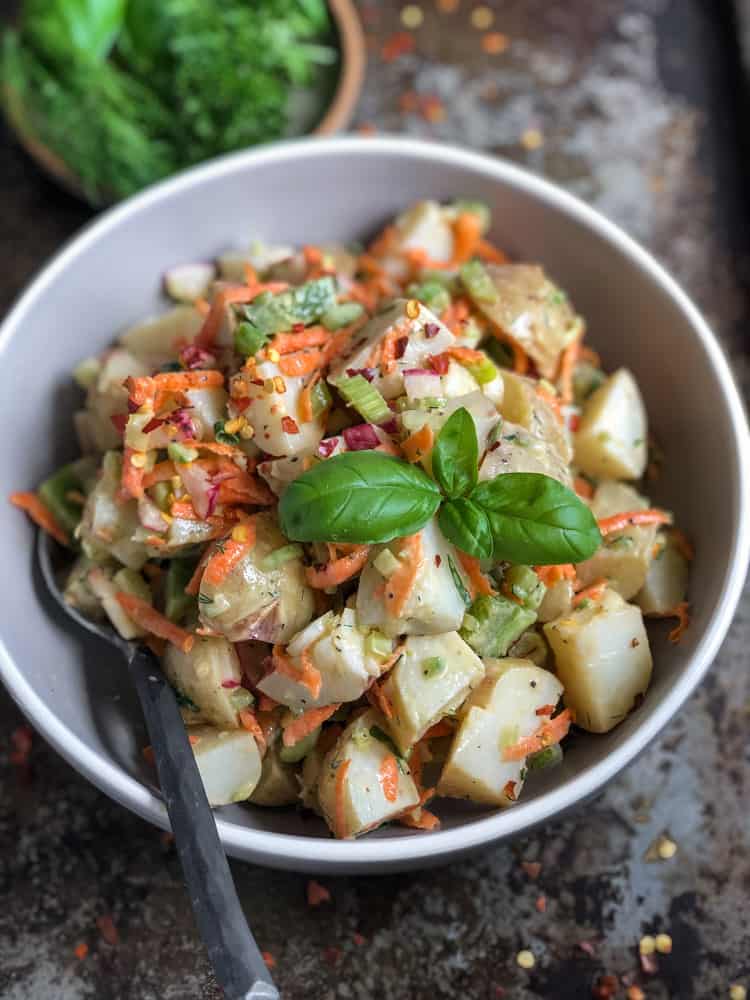 Well it's that time of year again - summer time!!! People everywhere are firing up their grills, dusting off their outdoor furniture, and busting out their favourite summer recipes. And potato salad is THE popular, classic, perfect dish for taking to backyard barbecues and all the summer parties.
Vegan Potato Salad Ingredients
Potatoes! These are the star ingredient so you want the best. Grandma always used new potatoes (red or white) because they hold their shape and don't get mushy. So I figure why reinvent the wheel? We always use new potatoes or fingerlings as well.
Because potatoes are the main event (it's not called POTATO salad for nothing!), they have to be cooked to perfection, not too firm, not too soft (no one wants a raw or mushy potato - trust me on this one!). Depending on the size and type of potato, it will take about 8-18 minutes boiling in lightly salted water for the potatoes to be fork-tender. Pro Tip: cut the potatoes around the same size so they cook at the same rate.
The best potato salad is creamy and crunchy with chunks of fork-tender potatoes tossed with lots of herbs and crunchy veggies. My grandmother's version is a very traditional potato salad. While I have kept the flavours similar - just a twist or two, I've also veganized it so it's dairy free and egg free!
What to serve with potato salad?
This delcious vegan potato salad recipe is a summer staple at BBQs and weekend gatherings. We love to create a buffet or pot-luck for our get family togethers. So there's usually a wide variety of salads from classic Cesar to Sloppy Slaw, Mango Corn Salsa, Pico de Gallo, Guacamole, Crunchy Delicious Broccoli salad, pasta salad, and a simple Avocado Tomato Salad.
"Meat' Meet you at the Grill! No BBQ is complete without something on the grill (duh!). We love grilled sausages like these Brats from Beyond Meat or the Mexican Chipotle and Italian Sausages from Field Roast - they are easy, super delicious, and take only minutes to cook.
And of course, what BBQ would be complete without burgers and hot dogs? There are so many commercial brands available like the super popular Beyond Meat Burger or Field Roast patty and hotdog to name a couple.
Did you make this recipe? I'd love to see it!
Please leave a star rating and comment at the bottom of the page.
Thank you so much for sharing! Tag me on Instagram 
For more Vegan Recipes: Sign up for my email NEWSLETTER!
Simply the Best Vegan Potato Salad
There's nothing like a creamy, crunchy potato salad. This easy, delicious version is a vegan twist on my Grandmother's nostalgic recipe!
Rate this recipe!
INGREDIENTS
5

cups

potatoes, cooked & cubed

5-6

green onions, sliced

8

radishes, chopped

½ - ¾

cup

carrots, grated

½

cup

cucumber, finely chopped

½ - ¾

cup

green pepper, chopped

½

cup

celery, chopped

S&P (to taste)

½

cup

Vegenaise

2

tbsp

dijon mustard

1-2

tsp

creamy horseradish (to taste)

½

tsp

paprika

1

tbsp

lemon juice

2

tbsp

fresh dill, minced

handful

dill, parsley or basil, chopped (for garnish)
INSTRUCTIONS
Cut the potatoes into equal size pieces. I use new potatoes and do not peel them. Cook the potatoes in a medium-large pan (big enough so they have room to move around). Bring the water to a boil, carefully add the potatoes, bring the water back to a boil and then turn the heat down to medium (maintain a soft rolling boil) until the potatoes are fork-tender but firm (8-18 minutes depending on size and temperature).

While the potatoes are cooking, slice, chop, dice, cube, and grate veggies as indicated above.

The ratio of veggies to potatoes is completely personal so add more or less to your family's personal preference.

PRO TIPS: Potatoes: After the potatoes have been cooked, cut them into cubes. I consider my audience, so if I'm making it for a ladies' tea, I cut the potatoes a little smaller than if I'm making it for a gang of teens. Radishes: Grandma thinly slices her radishes and decorates the top of the salad with them - so pretty. I finely chopped mine. Either way works. Cucumbers: Grandma grates her English cucumber. I use pickling/Persian cucumbers, cut them in half length wise, deseed them, and then diced them. I have found this method to be less 'juicy'. Consistency: Grandma says about the consistency: ' the salad should be moist and hold together but not be sloppy'.

Place cooled, cubed, potatoes in a large bowl, add all other prepared veggies. Season with S&P to taste.

In a smaller bowl stir together the dressing ingredients (Vegenaise, mustard, horseradish, paprika, lemon juice, and dill). Pour over veggies and mix to incorporate.

Garnish with radishes, dill, parsley or basil, and a sprinkle of paprika.

Cover and chill in refrigerator until ready to serve.
This recipe is from simplyceecee.co food blog. All images and content are copyright protected. Please do not use my images or republish this recipe without prior permission. Thank you.