This Vegan Broccoli Salad recipe is creamy, crunchy, and easy to make in just 20 minutes. Packed with broccoli, red onions and grapes, chewy cranberries, and crunchy sunflower seeds tossed in a creamy tangy dressing, this craveable broccoli salad is a summer favorite!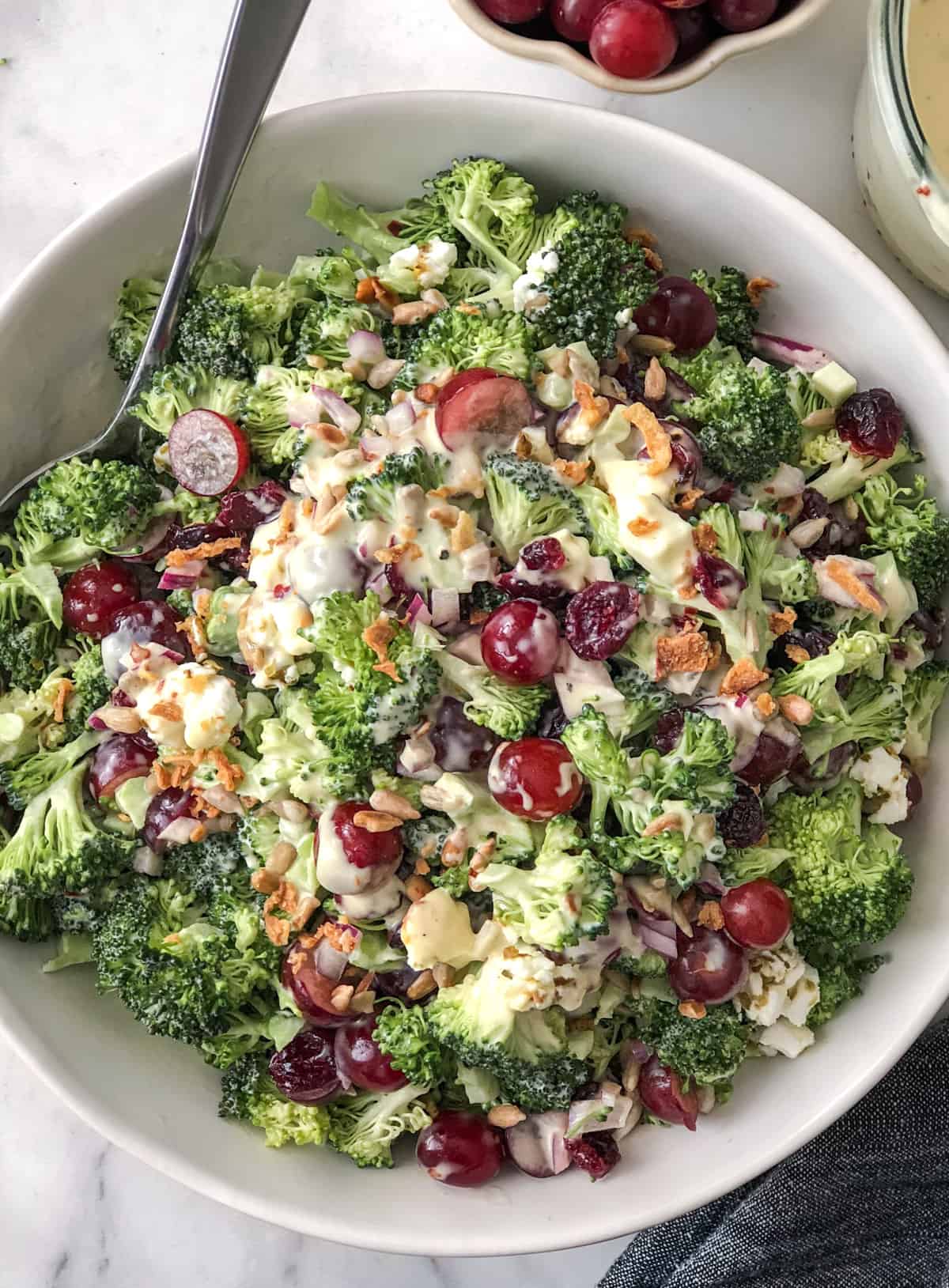 This simple, classic broccoli salad is dairy-free, gluten-free, low carb, and super flavorful (no bacon, no cheese needed!). It's one of my favorite nourishing summer salads because it's crunchy, sweet and savory, super affordable, make-ahead friendly, and the broccoli salad dressing is out of this world incredible!
Just like my veggie pesto pasta and Thai Crunch Salad, this vegan broccoli salad recipe is a crowd favorite at BBQs, cookouts and potlucks!
What's in Broccoli Salad?
Vegan broccoli salad is the most delicious, cold, creamy, crunchy summer salad! Traditional Southern broccoli salad recipes typically include bacon and cheese - this lighter, healthier version is vegan, but just as flavorful! Here's the simple ingredients you'll need: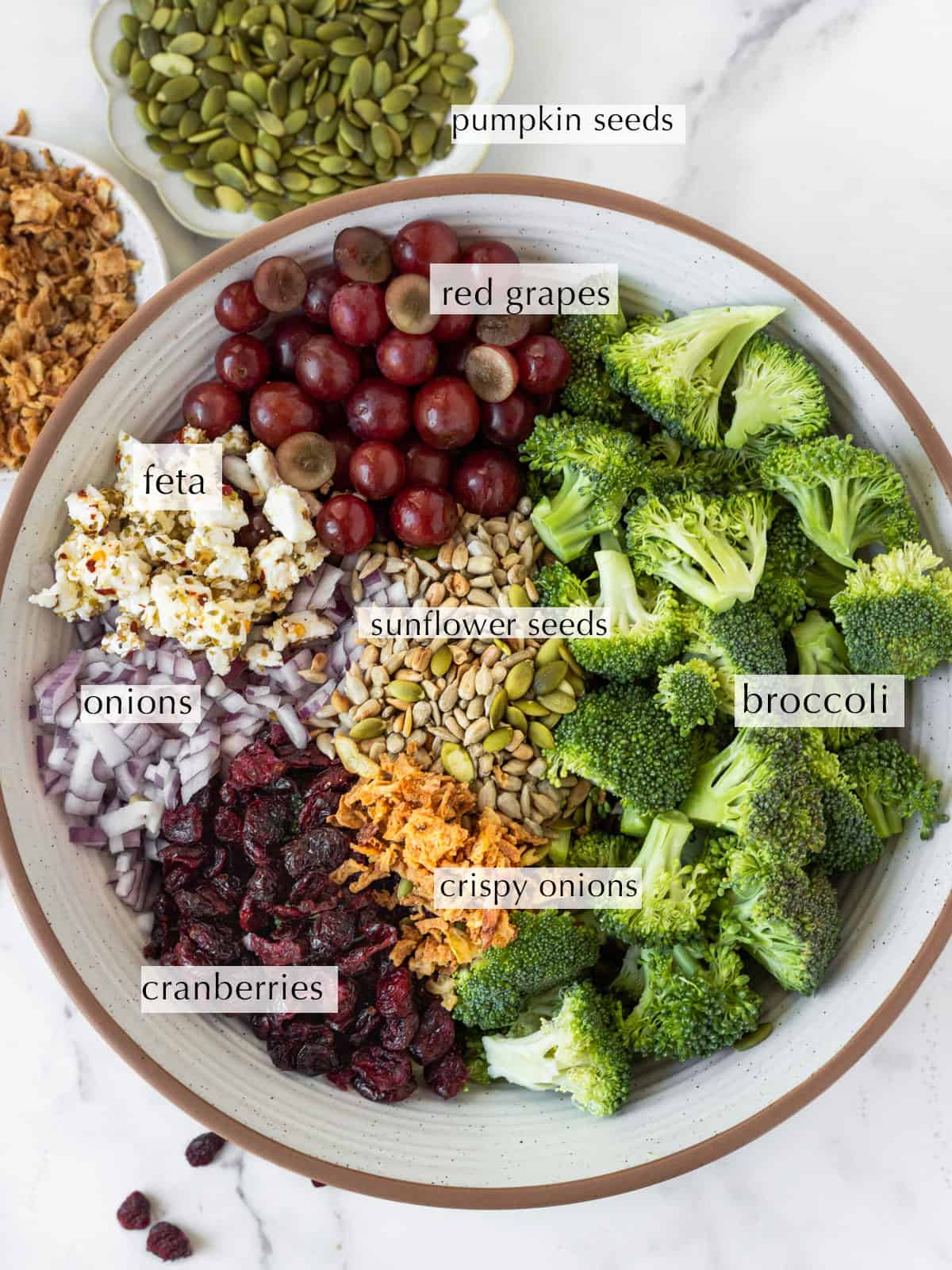 Ingredients for the salad: gather together fresh broccoli, red onion, sunflower seeds, crunchy red grapes, and chewy dried cranberries/raisins for the salad.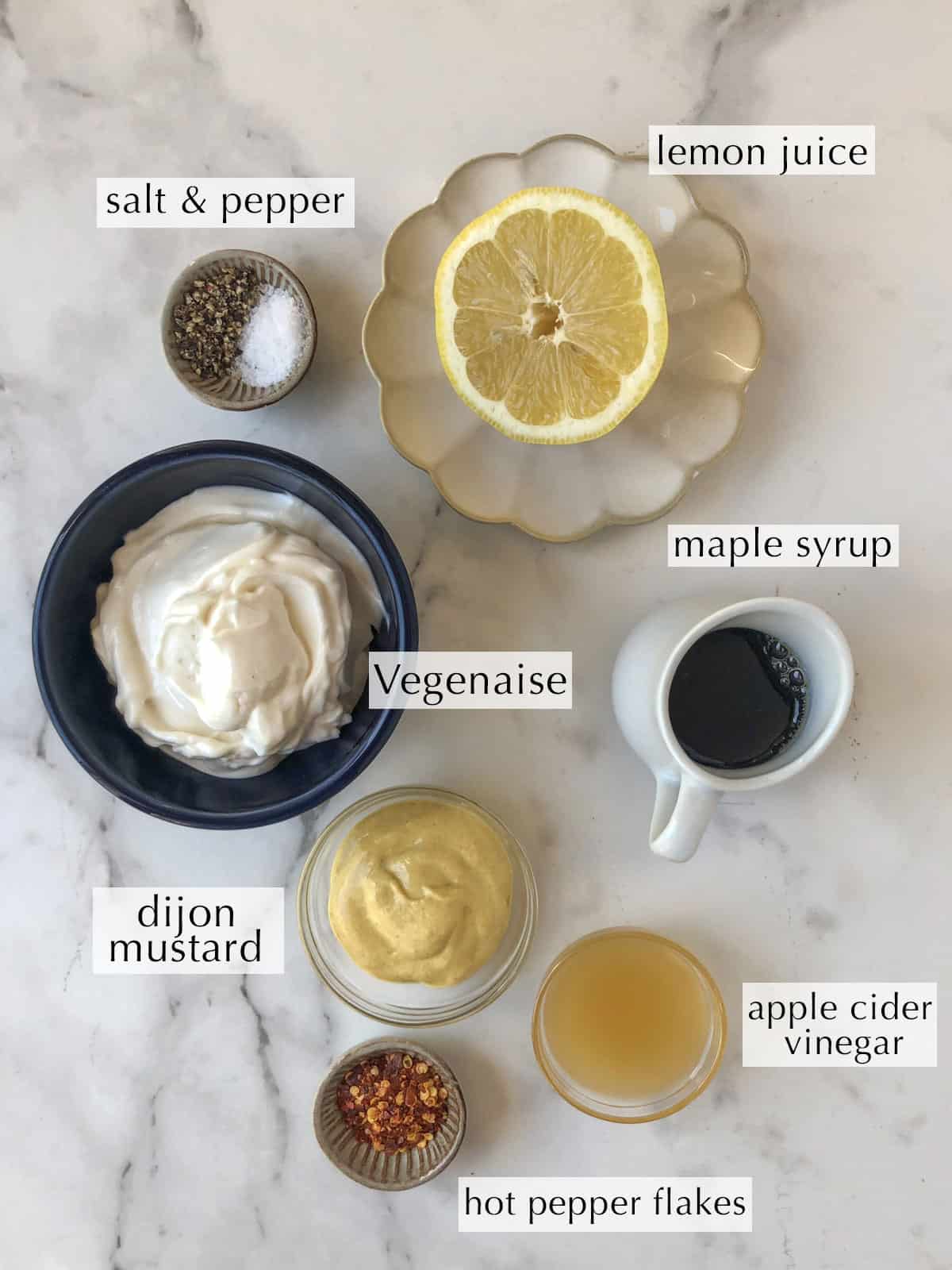 A classic broccoli salad dressing is creamy, and salty-sweet in its perfection. Here's what you'll need for this tangy dairy-free version: Dijon mustard, Vegenaise, fresh lemon juice, apple cider vinegar, and maple syrup, salt, pepper and red pepper flakes.
Ingredient Substitutions and Variations
Extra crunch and flavor: this broccoli salad and dressing are incredibly delicious but the addition of crispy fried onions right before serving add an extra level of smoky flavor and crunch. They are easy to find at grocery stores or online.
Add dairy-free cheese: salty vegan feta cheese crumbles (store bought or homemade) are a delicious addition.
Salad dressing: for a change of pace, swap out the homemade broccoli salad dressing for honey mustard dressing or dairy-free coleslaw dressing.
Nuts and seeds: instead of sunflower seeds use chopped cashews, almonds or pumpkin seeds to add crunch. Serve them raw or lightly toasted in a dry skillet over medium heat until golden.
Use raisins or red grapes instead of cranberries: the original recipe from Anne Lindsay uses raisins for sweetness. My kids always love the grapes!
Tips for making Broccoli Salad vegan!
For the best ever vegan broccoli salad (no joke, wait until you taste the dressing!), here's a few tips:
Cut the broccoli small - since the broccoli is raw, cut the florets small so they become fully coated and soften slightly in the dressing. Chop up some of the tender stems and include them as well. Pro Tip: use any leftover broccoli stems and stalks in vegan soups and pasta sauces.
Million Dollar Tip - to stretch the salad to feed more people, use the stems (noted above), add some chopped cauliflower or red peppers, chickpeas, lentils or quinoa (all are affordable and pair nicely with this broccoli salad). If grapes are out of season/expensive, add apple or pear chunks.
Extra crunchy - sprinkle the salad with nuts and crispy onions right before serving for extra crunch.
Chill out! - the broccoli salad benefits from some time in the fridge so the dressing can do its work marinating the veggies and developing flavor. Broccoli salad is superior when served cold. An hour or more in the fridge is perfect.
Frequently Asked Questions
Can I add cheese?
Yes, add salty vegan feta cheese (homemade or store bought) or creamy sharp cheddar cheese (dairy free).
Can you eat raw broccoli in salad?
Broccoli is a very nutritious vegetable with impressive health benefits. Broccoli is totally safe served raw in salads or on a veggie plate. If you prefer to blanch the broccoli florets, it's a super fast and simple preparation as well. Cut the broccoli florets bite size for salad.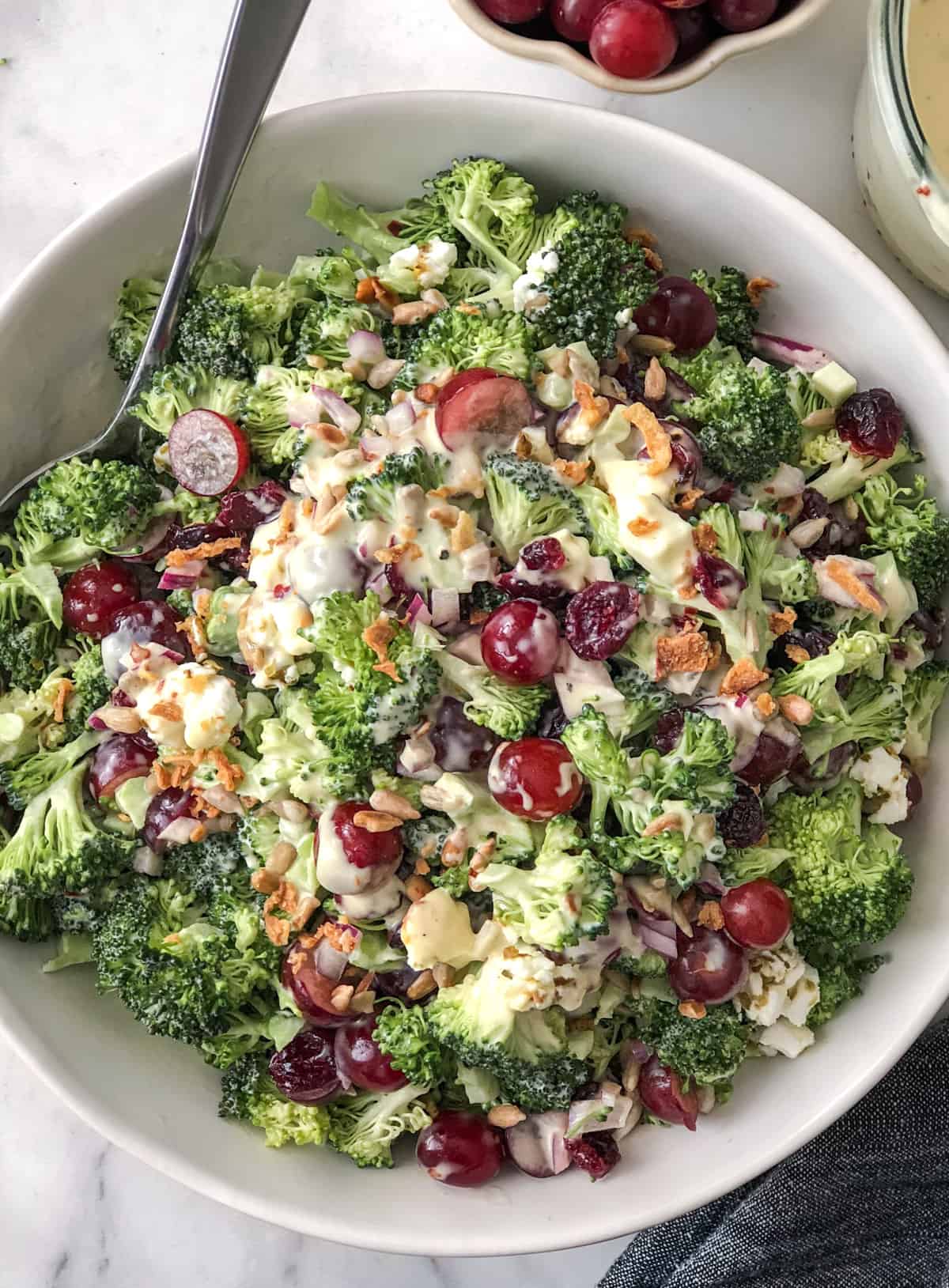 Serving Suggestions
If you make this broccoli salad for a BBQ or backyard party, it's the perfect accompaniment for saucy BBQ Jackfruit burgers, spicy Cauliflower Burgers or with BBQ sauce slathered tofu slices!
This broccoli salad is the perfect make-ahead dish to take to potlucks or pack up for a healthy, gluten-free lunch with a handful of protein-rich chickpeas.
More Summer Salads Dishes
Want more delicious dairy-free, gluten-free salads to take to summer parties? Here's a few of our favorites:
Did you make this recipe? I'd love to see it!
Please leave a star rating and comment at the bottom of the page.
Thank you so much for sharing! Tag me on Instagram
For more Vegan Recipes: Sign up for my email NEWSLETTER!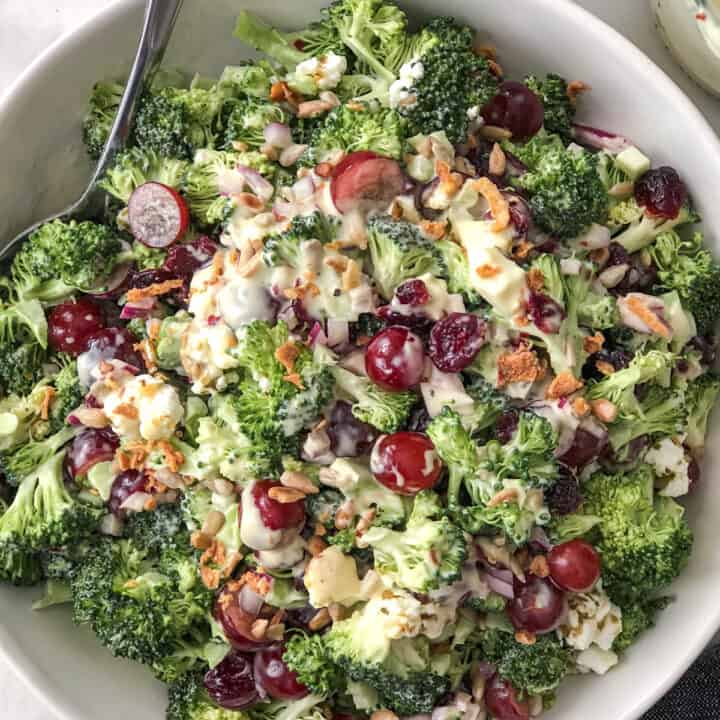 Vegan Broccoli Salad Recipe (gluten free)
This Vegan Broccoli Salad is creamy, crunchy, and easy to make in just 20 minutes. Broccoli, red onions, cranberries, and sunflower seeds are tossed in the creamiest tangy dairy free dressing to create a perfect salad for summer parties, cookouts, and potlucks! Lots of optional add-in ingredients to customize your own broccoli crunch salad included!
Rate this recipe!
INGREDIENTS
For the Salad
3-4

cups

broccoli, cut into bite-size florets

½

cup

red onion, chopped

½

cup

cranberries or raisins

⅓

cup

sunflower seeds
OPTIONAL Add Ins
1 - 1 ½

cups

red grapes, halved

1

small

red pepper, chopped

1

cup

chickpeas

½

cup

vegan feta cheese (store bought or homemade)
For the Broccoli Salad Dressing
2

tablespoons

Dijon mustard

⅓

cup

Vegenaise (vegan mayonnaise)

2

tablespoons

apple cider vinegar

1

tablespoon

fresh lemon juice

1

tablespoon

maple syrup, to taste

course ground black pepper, pinch of salt

pinch

hot pepper flakes, to taste
INSTRUCTIONS
For the Salad
Prepare the veggies by washing and patting dry.

Broccoli: Cut into bite-size florets and place in a large bowl.

Blanching the Broccoli?: If blanching the broccoli, dunk into boiling water for 1 minute, remove and plunge into a bowl of ice water. Let drain and thoroughly pat dry before using.

Onion: Finely dice red onion. Add to large bowl with broccoli, red grapes (halved), and cranberries.
For the Broccoli Salad Dressing
In a small mixing bowl, add all dressing ingredients and whisk together. Taste and adjust ingredients as required.

Pour over the salad ingredients and toss until well dressed. Place in the fridge covered to chill for an hour.
To Serve
RIght before serving, sprinkle with sunflower seeds, feta cheese, and crispy chickpeas peas (if using).
Vegan Feta Cheese (optional)
Buy your favorite store bought brand or make home vegan feta cheese up to a week in advance.
NOTES
Blanching the broccoli is a personal choice. Some do some don't. It's a quick and easy process which slightly softens the broccoli and turns it bright green (don't overcook it though)!
Dairy free cheese option - use store bought vegan feta or cheddar cheese. Or make your own vegan feta cheese (can be made a week in advance).
Extra crunchy option - add crunchy salted air fryer chickpeas. This chickpea recipe is ultra crispy and crunchy and can be made several days in advance. 
Optional extra protein - add a handful of raw chickpeas to bump up the plant-based protein, creaminess and heartiness of the salad for a light but filling lunch!
Chill the broccoli salad for an hour before serving for the best flavor. Sprinkle with sunflower seeds/crispy onions right before serving so they stay crunchy.
Storing broccoli salad - prep the veggies and dressing up to 3 days in advance and store them separately in the fridge. Store any dressed broccoli salad in the fridge for 2 or 3 days in an airtight container.
This recipe is from simplyceecee.co food blog. All images and content are copyright protected. Please do not use my images or republish this recipe without prior permission. Thank you.