This simple quinoa salad with chickpeas is incredibly delicious and super easy to make! Packed with fresh vegetables and herbs, quinoa and chickpeas, almonds and cranberries tossed in a tangy-sweet lemon balsamic dressing, this quinoa salad recipe is deliciously mouthwatering! Vegan and gluten free too!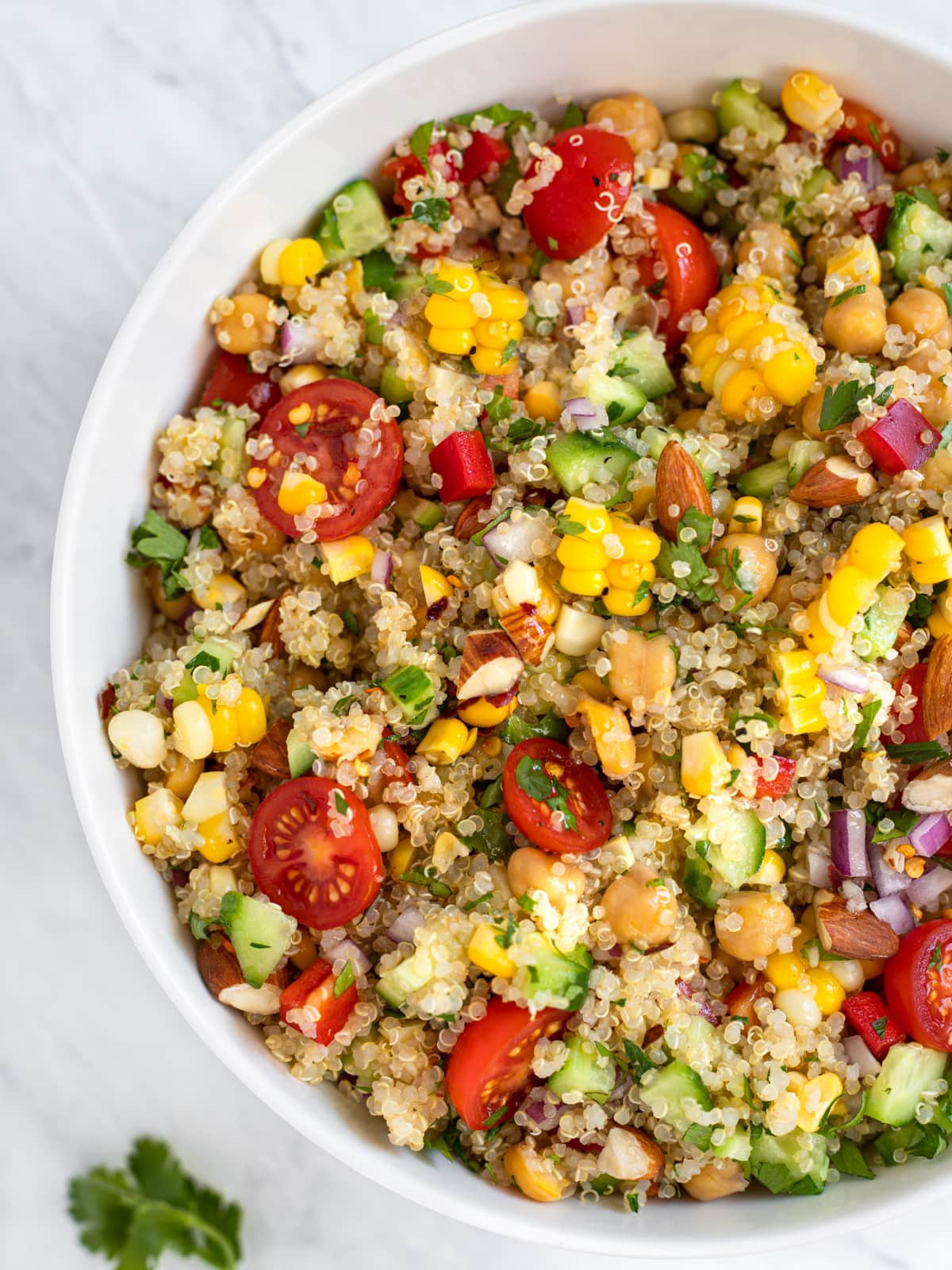 My family loves a good, BIG salad. We are especially addicted to salads with bold flavors and epic crunch in every bite. Just like my Thai Crunch Salad, Chopped Salad, Shaved Brussels Sprouts salad, and my favorite Vegan Chinese Chicken Salad (coming soon!), this easy Quinoa Chickpea salad doesn't disappoint. Bonus: All of these salads are gluten free, dairy free, plant based, and vegan!
My secrets for building a craveable, satisfying salad that EVERYONE loves include: a combination of plant proteins, a rainbow of fresh veggies, a variety of textures and flavors, and a killer dressing to pull it all together. Perfecto!
Quinoa Chickpea Salad Ingredients
With only a handful of wholesome ingredients, you too can enjoy this super fresh and vibrant, protein-rich quinoa salad! Let's get into the details: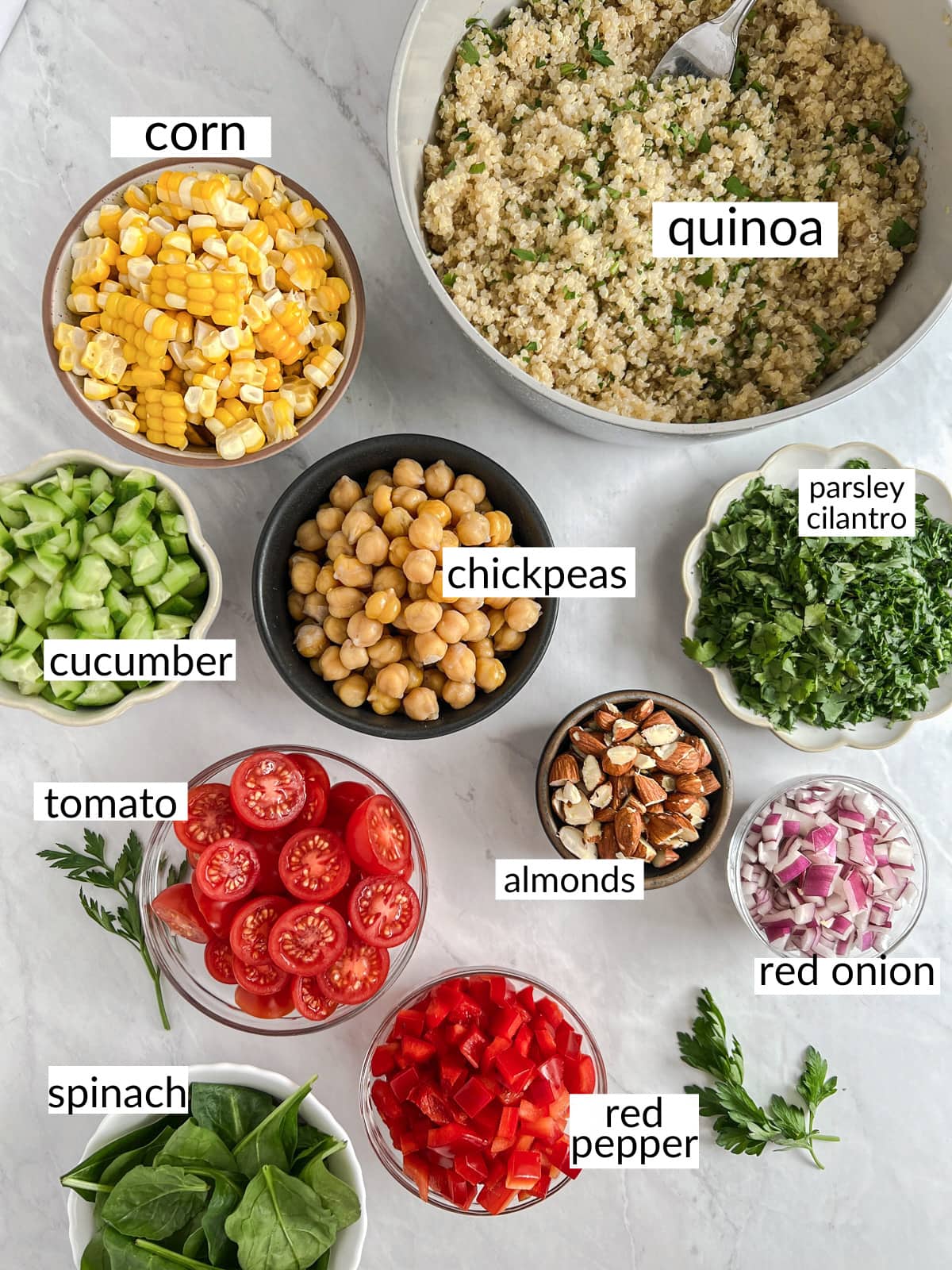 Plant protein: Quinoa (white, red or tri color) and chickpeas add plenty of plant protein and fiber to this salad.
Colorful vegetables: My go-to veggie combo includes bell peppers (use a variety of colors), cherry tomatoes, cucumbers, red or white onions, and leafy greens like baby spinach or romaine. Corn is optional . . . but not for our family!
Fresh Herbs: I use flat leaf parsley and cilantro, but choose any fresh herbs you have on hand like basil, tarragon, dill or even mint.
Lemon Balsamic Dressing: The bright, citrusy dressing gets its zesty kick from a mixture of white balsamic vinegar (tart, tangy and slightly sweet), fresh lemon juice & lemon zest, olive oil, and fresh garlic. Season with salt, pepper, and red pepper flakes.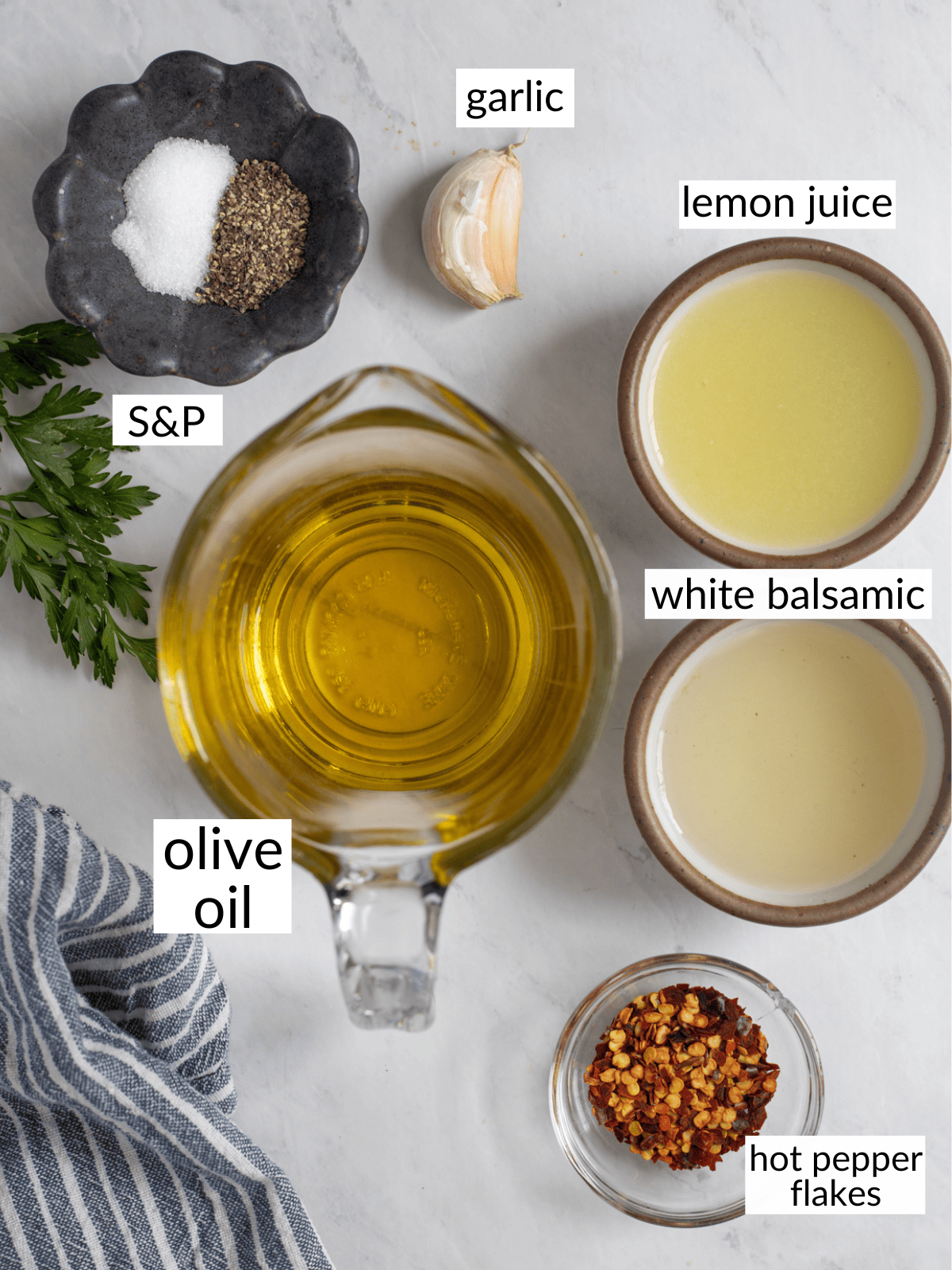 Add Ins and Salad Toppers
Have fun customizing this salad with your favorite ingredients or whatever you have on hand! Here's a few ideas to get you started:
Extra plant protein: I LOVE lentils in my quinoa salad - they are so tasty and bring a ton of nutrients, protein, and fiber. Edamame beans and tofu are also tasty, high protein choices.
Chickpea option: Sub in crunchy air fryer chickpeas for extra flavor and epic crunch.
Seasonal veggies: The best veggies to include are the ones your family loves! During the summer months I add sugar peas, zucchini, asparagus, and radishes. In the winter, I like to add some roasted veggies for a cozy, warm, and hearty quinoa salad.
Make it crunchy: Add extra crunch with lightly toasted almonds, pine nuts, walnuts or pistachios.
Jennifer Aniston quinoa salad option: If you like Jennifer Aniston's quinoa salad, add ⅓ cup of crumbled, dairy free feta cheese. Or add diced avocado for extra creaminess. I love this easy, homemade vegan feta cheese recipe, but there are some great store brands too like Violife!
Kiss of sweetness: I love my quinoa salad with cranberries! Blueberries or cherries (fresh or dry), fresh pomegranate seeds, grapes and chopped apple all add natural sweetness that plays well with the tangy dressing and salty feta too.
Salad dressing substitutions: Sub aged balsamic vinegar (or balsamic reduction), white wine vinegar or apple cider vinegar for the white balsamic. You may need to add some maple syrup to balance the flavors with these acidic options. Or try another flavorful dressing altogether like creamy Lemon Vinaigrette or honey mustard dressing.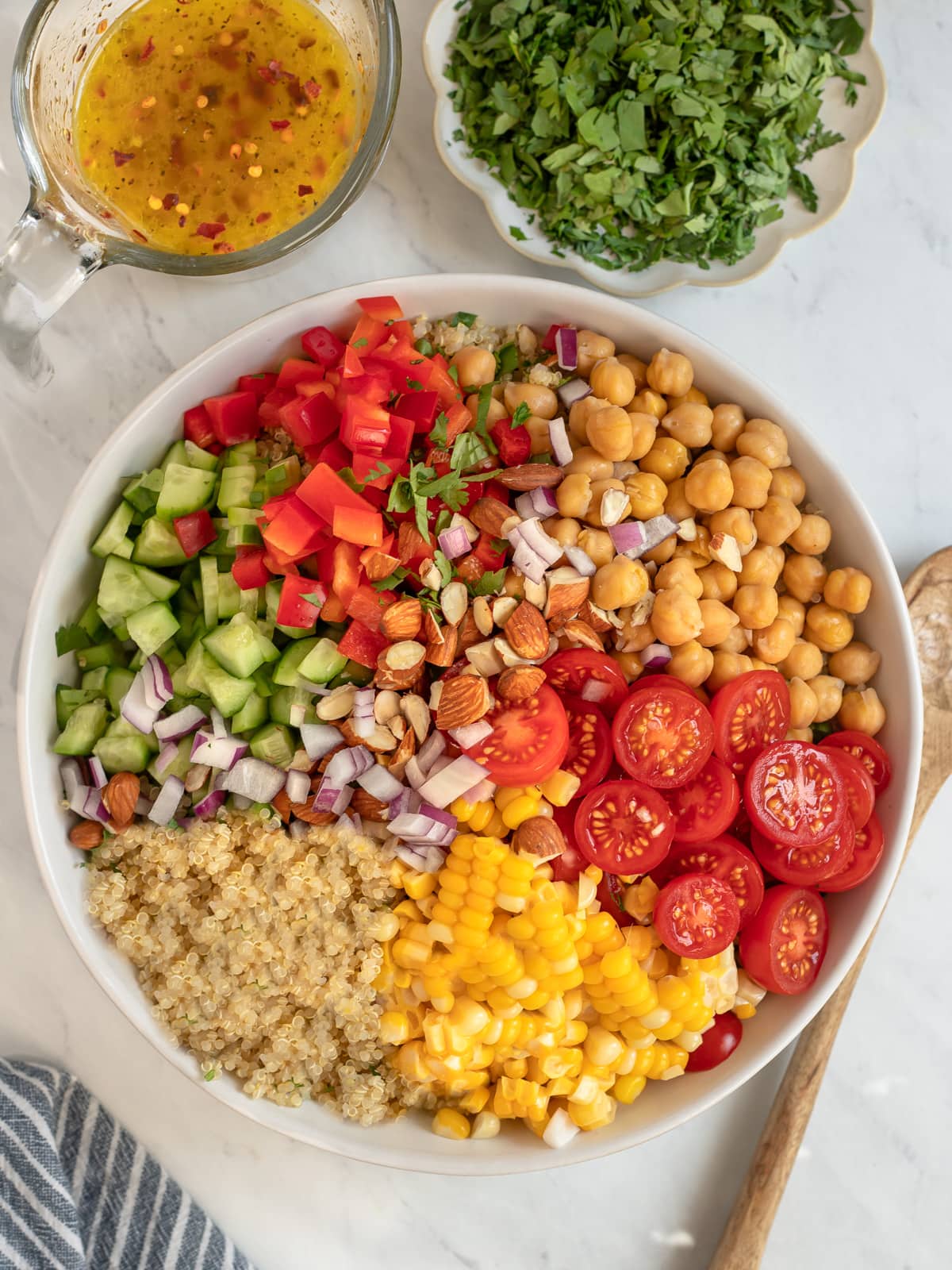 How to Cook Quinoa for Salad
Quinoa is an easy to make, healthy carb that's a great source of plant protein and fiber. This super versatile pseudo grain is naturally vegan and gluten free and makes a great sub for any grain. A hearty and satisfying superfood, quinoa has a mild flavor so it makes an incredible base for vegan salads, bowls, and soups!
Tips for cooking light, fluffy quinoa:
Rinse the quinoa with cold water in a fine mesh strainer. This removes the natural, bitter coating.
For each cup of quinoa, use 1 ¾ cup of liquid.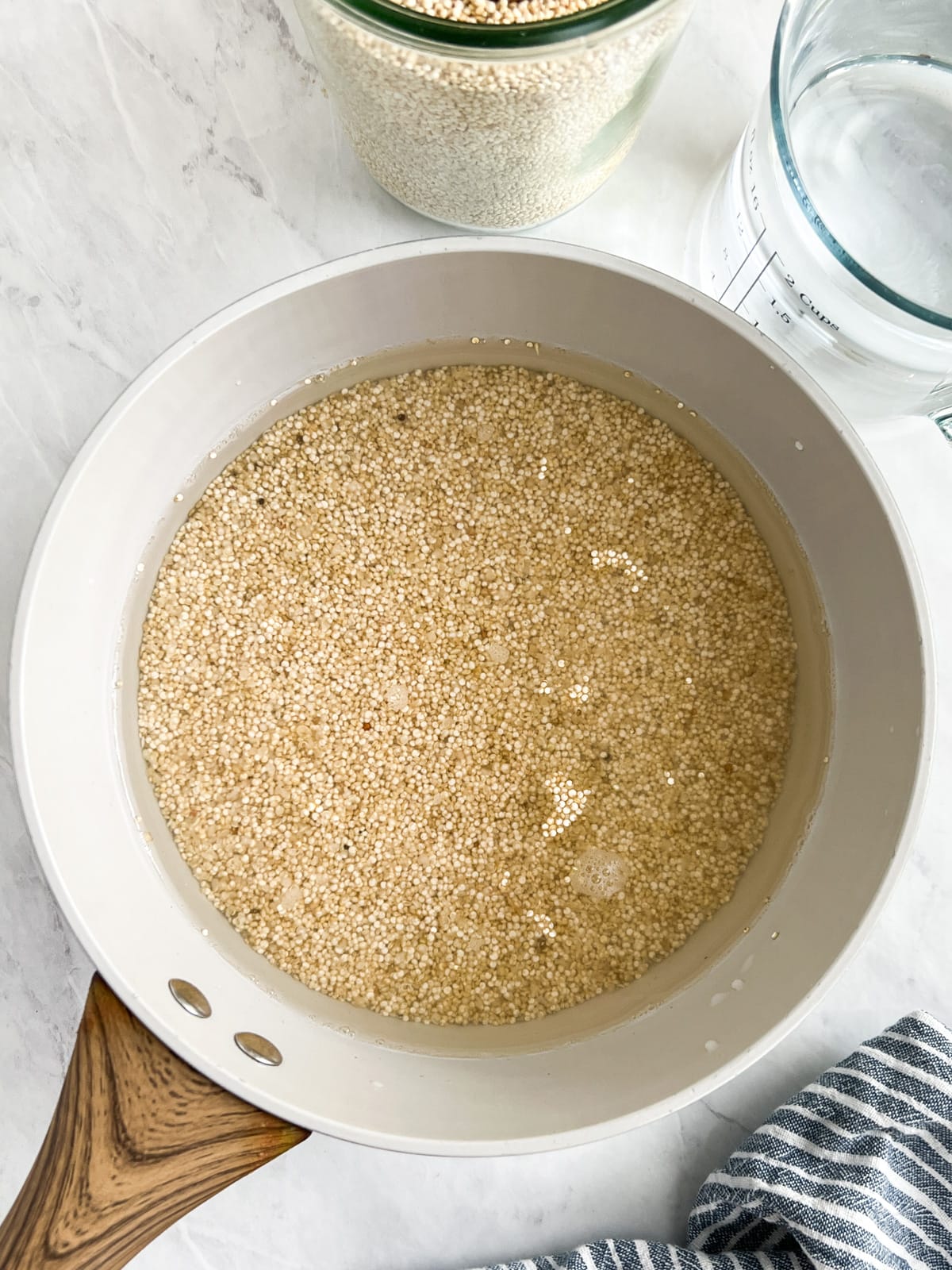 Bring water (or broth) and salt to a boil over high heat. Pro Tip: This is a good time to add additional seasoning if desired.
Stir in the quinoa and bring the water back up to a boil. Reduce the heat to low, cover, and simmer for ~15 minutes until the water is absorbed.
Remove from heat, let sit (covered) for ~10 minutes. Remove the lid, fluff the quinoa with a fork.
Cool before using. Make the quinoa a day or two in advance OR if pressed for time, simply transfer the hot quinoa to a plate and put it in the fridge to cool while you prepare the rest of the salad.
How to make a Zesty Quinoa Salad
This high protein, wholesome, quinoa salad is ideal for backyard BBQ season, light and healthy lunches or a side dish for summer dinners. Here's the 4 easy steps:
Cook the quinoa (instructions above).
Prepare the veggies.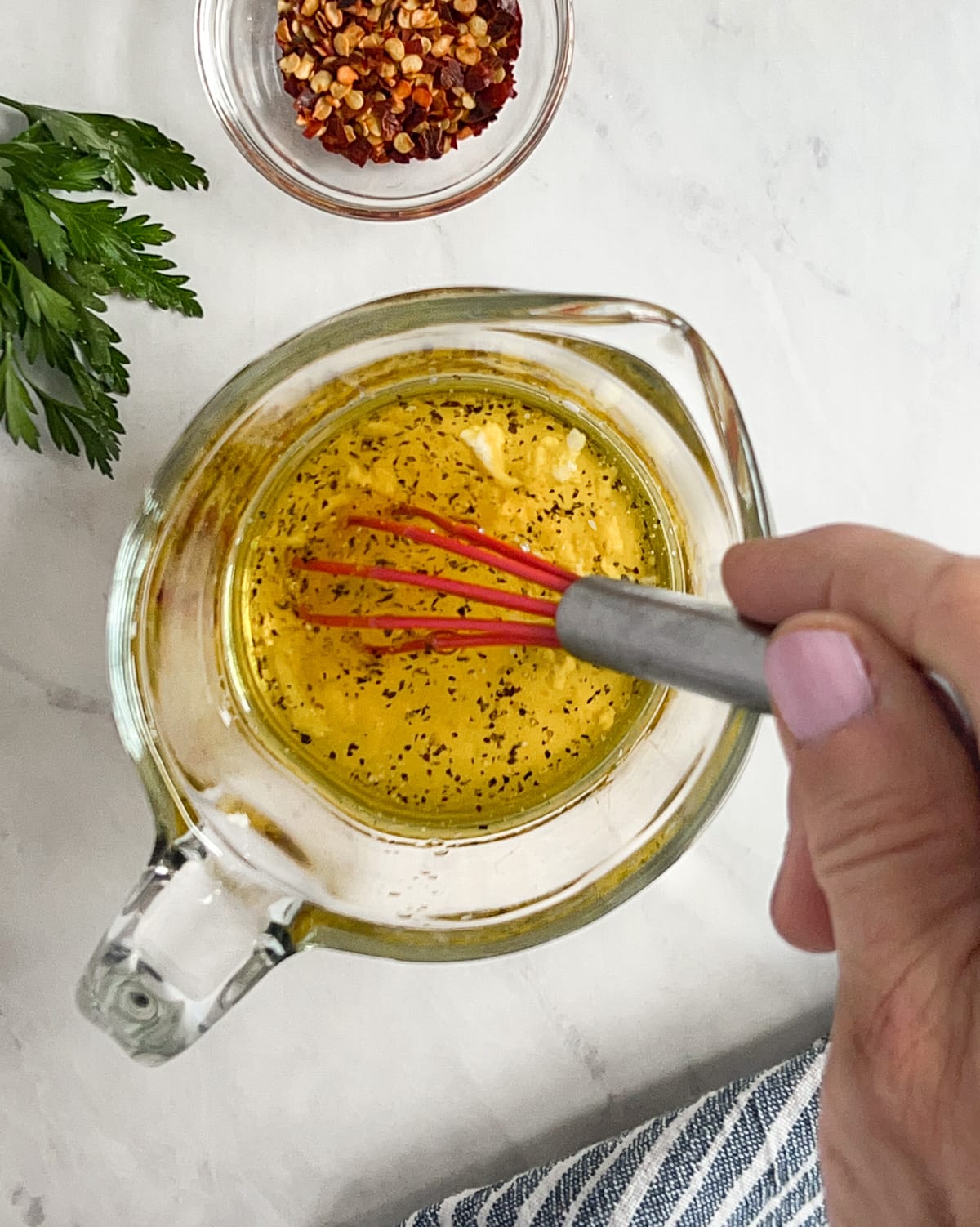 Mix up the zesty, lemon balsamic dressing (30 seconds).
Toss the dressing with the cool quinoa, chickpeas, and veggies.
Garnish with nuts and cranberries, and serve immediately or chill before digging in. Pro Tip: If adding avocado and/or feta cheese, leave them off until right before serving for the best results.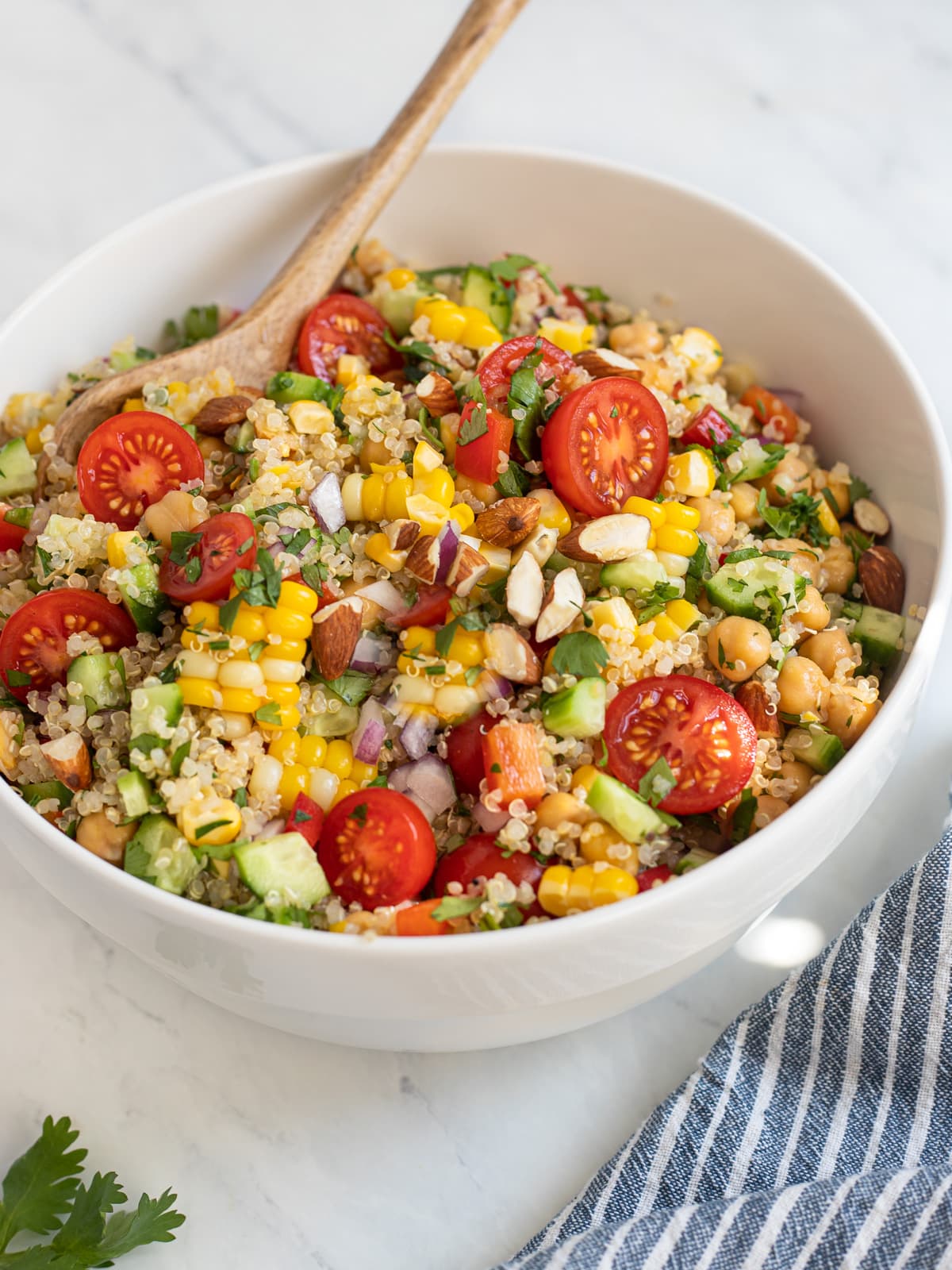 Vegan Quinoa Salad - expert tips!
Meal Plan Tip: Make the quinoa up to several days in advance and store in the fridge or freezer. All the components of this salad can be made ahead of time and placed in a large serving bowl (no dressing, avocado or nuts). Then right before serving, toss together with the dressing and toppings for the freshest salad.
Meal Prep: Divide the quinoa and chickpea salad evenly between 4 mason jars and store in the fridge for up to 4 days to be enjoyed for grab and go lunches all week.
Seasoning Quinoa: Add salt and a whole clove of garlic to the cooking water for a boost of flavor or sprinkle in some of your favorite seasoning. Cook the quinoa in veggie broth instead of water for added flavor.
How to pan roast nuts/seeds: Roasting nuts brings out their flavor! Simply cook the nuts in a dry skillet (no oil) over medium heat until fragrant and toasted (~4 or 5 minutes) stirring periodically. Remove from heat and let cool.
Leftover Quinoa: If you're like me and like to plan ahead: make a double batch of the quinoa, it freezes beautifully. Here's a couple more quinoa recipes to try: vegetable bean soup or cauliflower quinoa meatballs.
How to Store: Store leftover quinoa chickpea salad in the refrigerator in an airtight container for up to 4 days. I do not recommend freezing quinoa salad.
MILLION DOLLAR TIP (Leftover Ideas): Although not freezer friendly, leftovers can be repurposed! Use leftover quinoa chickpea salad as a topping on vegan tacos or stuffed sweet potatoes, stir it into chickpea pancakes or add it to a vegan Buddha bowl.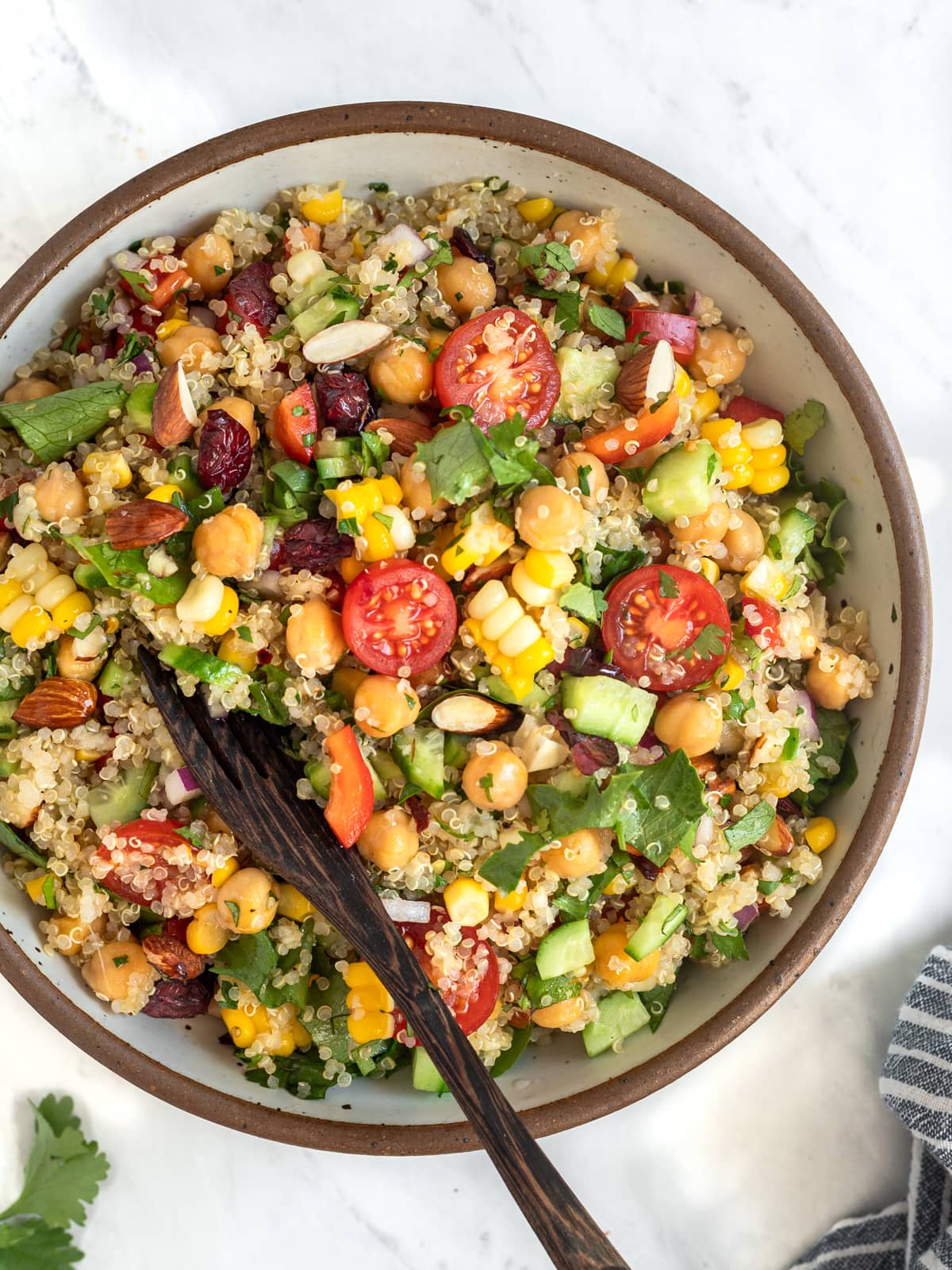 What to Pair with Quinoa Salad
Whether you are serving it as a side dish for a BBQ, taking it to a potluck or serving it for lunch or dinner, pretty much everything pairs well with this dairy free quinoa salad. Here's a few ideas:
If you tried my vegan Quinoa Salad with Chickpeas, let me know how you liked it! Please leave a rating and review below! Be sure to follow along on Instagram and Pinterest for more delicious vegan recipes.
JOIN US SUNDAY MORNINGS: Sign up for my weekly NEWSLETTER!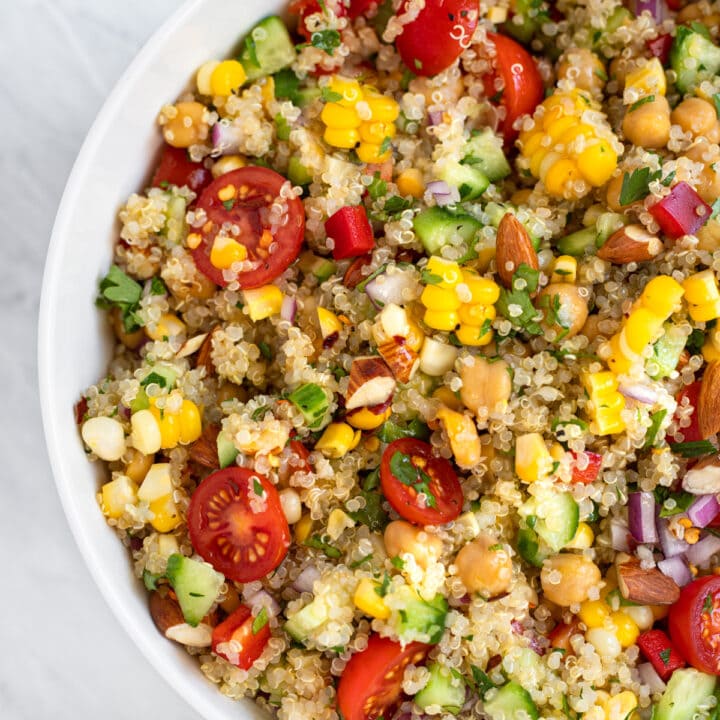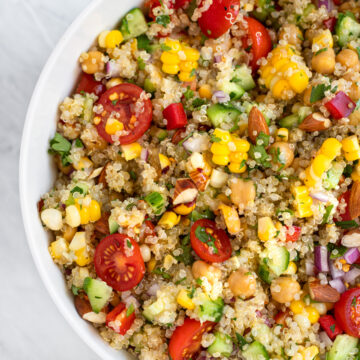 Easy Quinoa Salad with Chickpeas (vegan, gf)
This healthy, quinoa salad recipe is bursting with all the flavors of summer. A family favorite, this easy quinoa and chickpea salad is packed with plant protein, lots of fresh veggies, and a killer lemon balsamic dressing. It's vegan and gluten free! Serve it family sized or 4 individual salads.
Rate this recipe!
INGREDIENTS
1

cup

uncooked quinoa

1 ½

cups

chickpeas, drained, rinsed, patted dry

1

cup

bell pepper, chopped

1

cup

cucumber, chopped

1

cup

cherry tomatoes, halved

⅓

cup

red onions, finely diced

2

cups

spinach or leafy greens

1

cup

corn, steamed (2 cobs)

¼

cup

parsley, chopped

¼

cup

cilantro, chopped
Lemon Balsamic Dressing
¼

cup

olive oil

¼

cup

white balsamic vinegar

3-4

tablespoons

fresh lemon juice and lemon zest

1

garlic clove, minced

½

teaspoon each

salt and pepper
Salad Toppings
⅓

cup

almonds, toasted

½

teaspoon

red pepper flakes

3-4

tablespoons

dried cranberries
Optional Add-Ins
1

avocado, diced

⅓

cup

vegan feta cheese
INSTRUCTIONS
Cook the quinoa as per package directions (see tips in post). Let cool then fluff with a fork and stir in some chopped herbs.

Wash and prep the vegetables. For the corn choose fresh or frozen. I peel and steam the corn in boiling salt water for ~4 minutes. Then slice the corn off the cob and sprinkle with a pinch of salt and black pepper.

Make the lemony balsamic dressing. Put all the ingredients into a jar and shake until well combined. Taste and adjust flavor as desired.

Dress the quinoa salad. For a family style salad, toss the quinoa, chickpeas, vegetables, and herbs together in a large serving bowl with the lemon balsamic dressing until well incorporated. Garnish with nuts/seeds, fruit, and any add ins.

For individual Mason jar salads: Divide the salad dressing evenly between 4 jars. Next, layer in the chickpeas, then chopped vegetables, quinoa, and top with leafy greens and any crunchy ingredients like nuts or croutons. Dump the salad jars into a bowl or plate when ready to enjoy!
NOTES
Yield: This recipe makes 1 large family size salad or 4 individual salad jars.
Quinoa: If you have leftover or frozen quinoa (2-3 cups), you can use that and skip cooking more quinoa. To save time, make the quinoa a few days in advance and store in the fridge. Let the quinoa cool completely before assembling the salad.
White Balsamic Vinegar: White balsamic vinegar is a light, bright and tangy, slightly sweet condiment. Sub with an aged balsamic vinegar (or balsamic reduction) for a more complex flavor and darker colored dressing (especially tasty with roasted veggies).
Make Ahead Options: Toast the nuts/seeds, steam the corn, chop the veggies, cook the quinoa and/or make the dressing up to several days in advance.
Optional Add Ins: Add diced avocado or vegan feta cheese for extra creaminess. Wait to add either of these two ingredients until right before serving for best results.
Storage: Store the salad in the fridge in airtight containers for up to 4 days.
This recipe is from simplyceecee.co food blog. All images and content are copyright protected. Please do not use my images or republish this recipe without prior permission. Thank you.