Luxuriously rich and creamy, this basic tahini sauce is a delicious dairy-free recipe made with tahini, garlic, lemon and salt. There are only a few steps to make this easy tahini sauce recipe and it makes everything taste better from salads to falafels and shawarma wraps.
Rich and silky smooth, this delicious tahini sauce is a wonderful dairy-free alternative to creamy sauces plus it's oil-free, gluten-free, and vegan! If you like tahini as much as we do, try my new, flavorful spicy green tahini sauce or this addictive sweet and spicy tahini sauce recipe. It's the most popular sauce on my blog!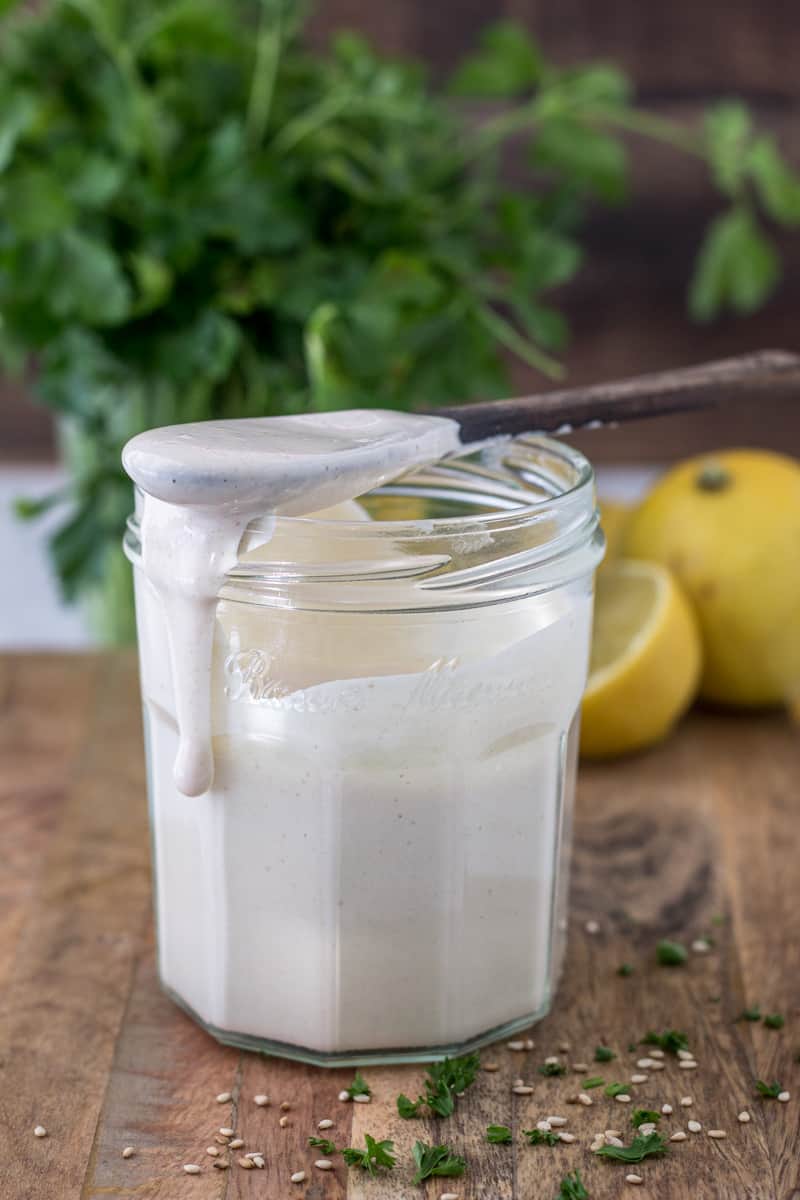 I like to add a twist to my sauces and in this case, I think the nutty sesame flavour and pungent garlic benefit from a titch of sweetness so I added a date - just one, to balance the flavour. Okay, I added one other twist too. Keep reading . . .
Ingredients (dairy-free and gluten-free)
So simple, delicious and healthy to make from scratch, you'll never buy store-bought again. Basic tahini sauce is made from only 4 ingredients, here's what you'll need:
Tahini Paste - simply sesame seeds ground into paste. Because tahini paste is the star ingredient, choose one that is runny and tastes good (not too bitter). Here are some popular, easy to find brands: Soom, Whole Foods 365 Brand, and Trader Joe's.
Shopping Tip: find tahini in the peanut butter, health food or International aisle at the grocery store. Sold in jars or plastic tub. Or if you prefer order online.
Lemon Juice - freshly squeezed is best!
Garlic - minced, pressed, grated/microplaned fresh garlic (more details below).
Salt - coarse ground, elevates flavours
Let's Make Tahini Sauce - step by step
This yummy everyday condiment is so easy to make, let me show you how . . .
Prepare the garlic. I didn't want big chunks of garlic in my silky sauce so I went with the garlic press which imparted the garlic flavour without big chunks. Don't go overboard on the garlic because as the sauce sits, the garlic becomes more prominent. (See below for garlic chopping tips).
Whisk the tahini paste, garlic, freshly squeezed lemon juice, and salt together.
Add the water a few tablespoons at a time. The sauce will seize up as you add the liquid, but keep whisking and it will all smooth out into a luscious pourable sauce.
Taste and adjust as necessary. You might like it thinner, add more water; tangier, add more lemon; and salt enhances overall flavours. So have a bunch of tasting spoons on the ready and taste as you go.
Pour into a jar and store in the fridge for up to two weeks.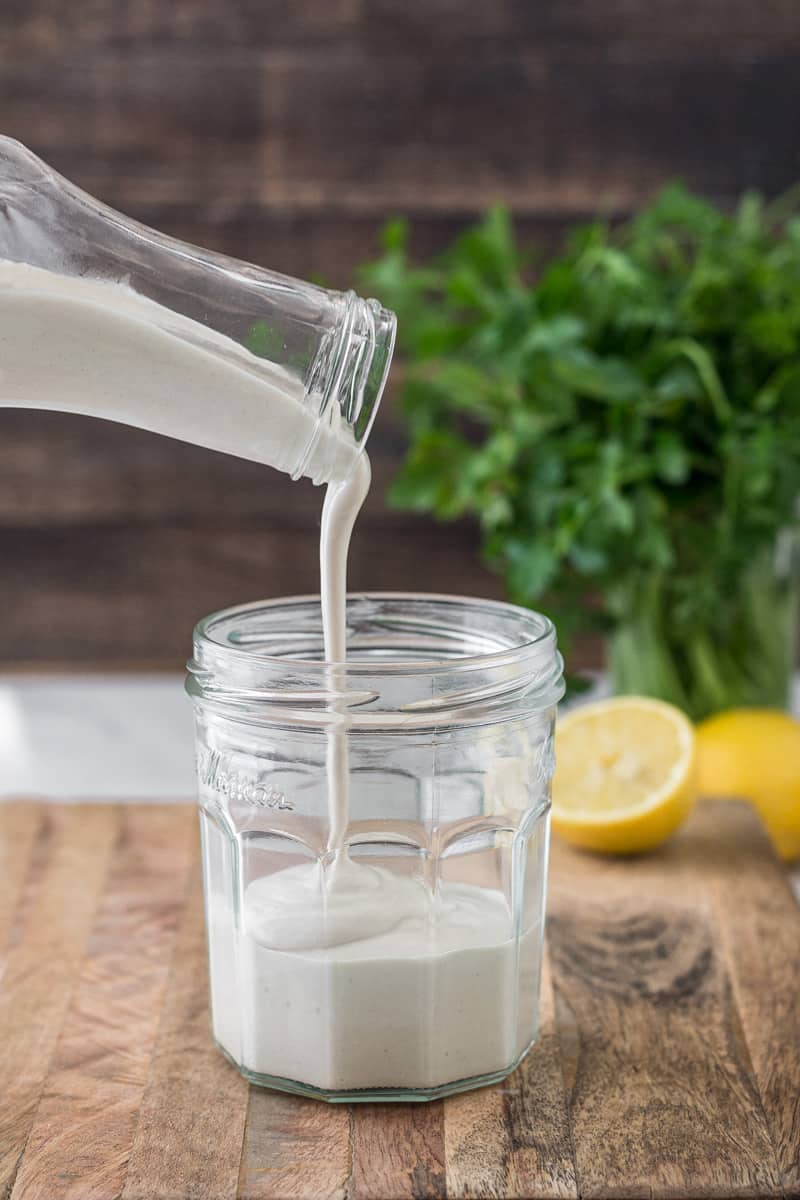 Basic Tahini Recipe (sweet + heat)
Tahini sauce is super versatile. I always have a jar in the fridge - we love dipping freshly baked pita bread in tahini sauce and hummus for an afternoon snack! This basic tahini sauce is easily transformed into a salad dressing, a veggie dip or tasty drizzle for bowls, tacos, and baked veggies by adding a few ingredients. Here are two simple options:
Sweeten it up - add one medjool date which smooths out the flavours and takes the edge off the pungent garlic. Don't overdo it! Soften the date in warm water for a few minutes. Then pop it into the blender or food processor with everything else.
Add some heat - add one or two tablespoons of pickled jalapeno juice for a subtle hit of heat and tang.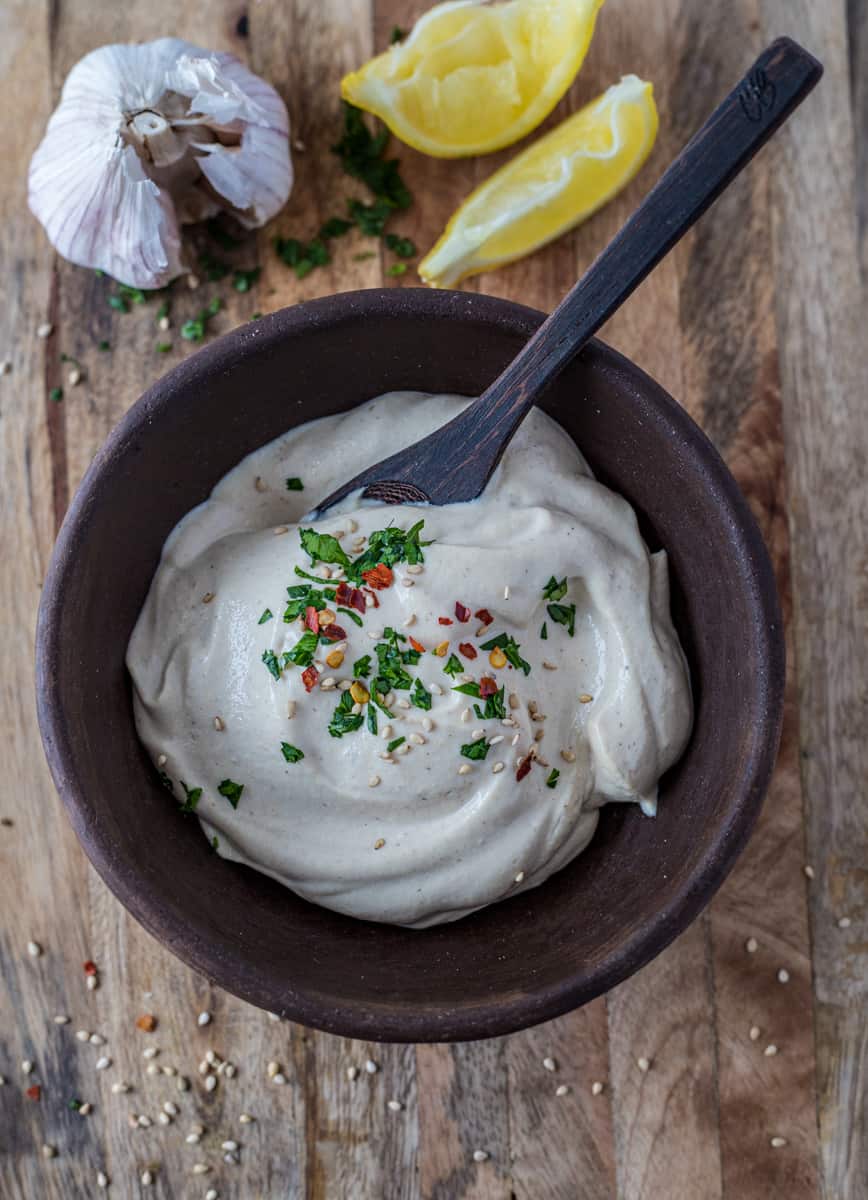 My favourite is to add both - it's pretty irresistible!!!! This is a great sauce for meal prep - make it once a week and eat it every day!
How to Chop, Mince, Press, Grate Garlic
Chop - small chunky pieces of garlic if you like some texture in your food.
Mince - finely chopped particles of garlic used when you want the flavour but not so much texture eg. for raw dishes like pizza sauce, salad dressings, dips or sauces.
Garlic Press - modern gadget popular for crushing garlic cloves.
Microplane/Grating - finely grated particles of garlic (very potent)!
For this silky smooth sauce, I like all the flavor of garlic but not too much texture. So I typically use my garlic press. The garlic press and microplane create quite a bit of garlic juice which really amps up the garlic potency so add prudently!
A head of garlic is made of many individual cloves varying in size. Here are a few tips for peeling and chopping the garlic:
Pull the clove apart removing the number of cloves you'll need.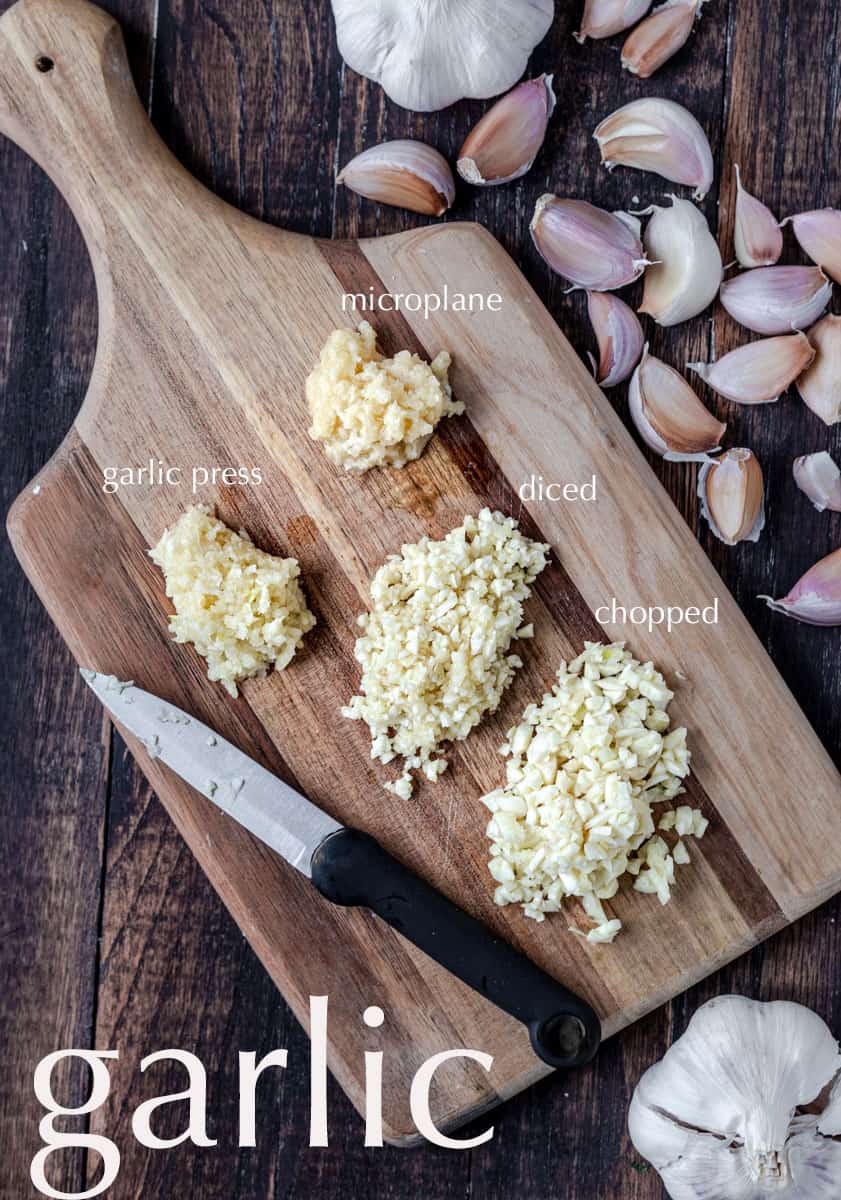 Place garlic clove on cutting board.
Place large (knife) on the clove.
Using a flat hand, hit the knife to crush the garlic (or use a wooden spoon, pan, etc instead of the knife).
Peel the loose outer papery skins and the hard membrane. Cut the small hard root end off.
To Chop: Pile the peeled garlic cloves together, hold with one hand and chop with the other hand using a sharp kitchen knife.
To Mince: Once the garlic is chopped, place one hand on top of the knife blade (keep fingers straight out) and grab the handle with the other hand. Continue to chop the garlic using a fan motion over and back across the pile until the garlic is finely minced.
To Press: peel the garlic, place one clove in the garlic press and squeeze the handles together. Cut the pressed garlic off with a knife.
To microplane/grate: peel the garlic. Carefully rub one clove at a time across the microplane or smallest opening of a grater.
Storing Tahini Paste and Tahini Sauce
Tahini paste typically is sold in large tubs. Because it's made of sesame seeds that are ground into a paste, it settles - the solids and liquids separate just like natural peanut butter. When you open a fresh tub, you'll need to give it a stir until it comes back together.
Once the tahini paste has been opened, store it in the fridge.
Store the tahini sauce in a jar in the fridge for a week to ten days. Which is perfect for a meal prep sauce, dip, dressing!
More Addictively Delicious Vegan Sauces/Drizzles
Sweet and Spicy Tahini Sauce - family obsession!!!!
Green Magic Tahini Sauce - it's so luscious - perfect jalapeño heat!
Tex-Mex Dressing - so tangy and spicy - try it drizzled on tacos.
Delicious Tangy Tzatziki - easy to make and delicious on everything!
Tasty Tartar Sauce - with a secret ingredient that elevates the flavour.
Dragon Dressing - incredible, addictive dressing on a super popular Buddha Bowl.
Did you make my Easy Tahini Sauce recipe? 
If so, giving it a star rating and comment helps others discover my blog and recipes. Thank you so much for your support!
Thanks for sharing your creations! Tag me on IG @ceeceecooks and Facebook!
NEVER MISS A RECIPE: Sign up for my email NEWSLETTER!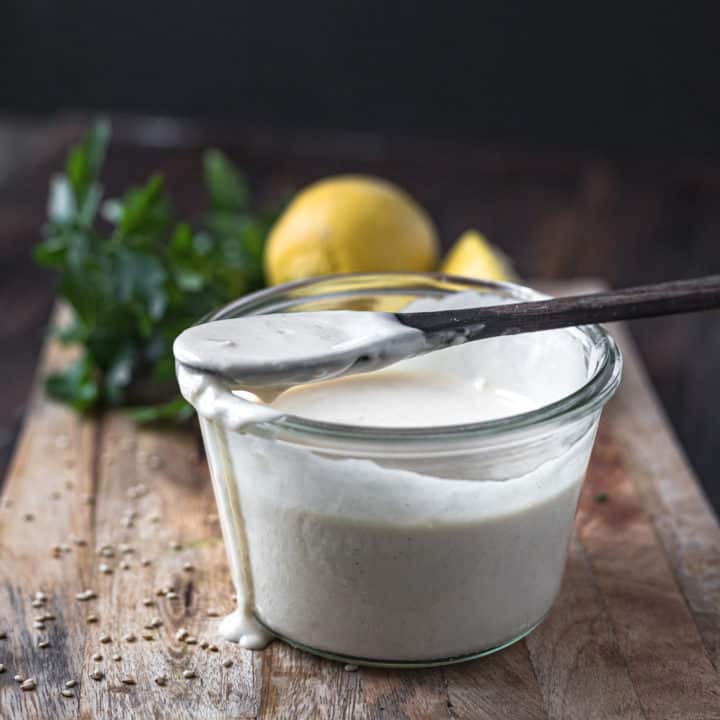 Easy Basic Tahini Sauce Recipe
Step-by-step guide to making the creamiest most luscious tahini sauce from scratch. Make it once a week and use it daily! So versatile it's perfect for everyday dressings, dips, sauces and drizzles. Plus it's 100% vegan, gluten-free, oil-free, dairy-free and 1000% delicious.
Rate this recipe!
INGREDIENTS
Basic Tahini Sauce
2-4

cloves

garlic, finely minced

½

cup

tahini paste

¼

cup

fresh lemon juice

6-8

tbsp

water

½

tsp

coarse ground sea salt (more to taste)
Sweet Heat Option
1

softened medjool date

1-2

tbsp

jalapeno juice
INSTRUCTIONS
Finely mince the garlic or use a garlic press.

Mix the tahini, garlic, salt, and lemon juice in a bowl or jar. Whisk in the water a couple tablespoons at a time until the desired consistency is met.

The sauce will seize up when you add the liquids, but keep whisking and adding water until it all comes together as a smooth, silky sauce.

Taste and adjust seasoning as you go. Lemon makes it tangier, garlic makes it more pungent, salt enhances the flavours. Add more water if you want a thinner more pourable consistency.
Sweet Heat Option
Place all the ingredients* plus 1 softened medjool date (remove pit) and 2 tablespoons of pickled jalapeno juice into the blender or food processor and blend until silky smooth.

*Remember to add the water a couple tablespoons at a time until desired consistency is met.

Store in the fridge in a jar for a week to ten days.
NOTES
Add the garlic a bit at a time tasting as you go. The garlic will intensify during fridge time.
For the sweet heat option, place everything in the blender or food processor until silky smooth. The date is a game changer!
Store the sauce in the fridge in a jar for a week to ten days.
If the sauce thickens up too much in the fridge, add a teaspoon of water at a time until you reach the desired consistency.
This recipe is from simplyceecee.co food blog. All images and content are copyright protected. Please do not use my images or republish this recipe without prior permission. Thank you.