Quick and easy, falafel pita is made with crispy spiced chickpea balls of deliciousness. Stuffed with crunchy veggies nestled in the crease of a warm pita smeared with hummus and liberally drizzled with 2 luscious sauces (tahini and tzatziki) it becomes a filling and nourishing vegan meal!
Choose how you want to cook your homemade falafel - baked in the oven, air fryer or pan fried!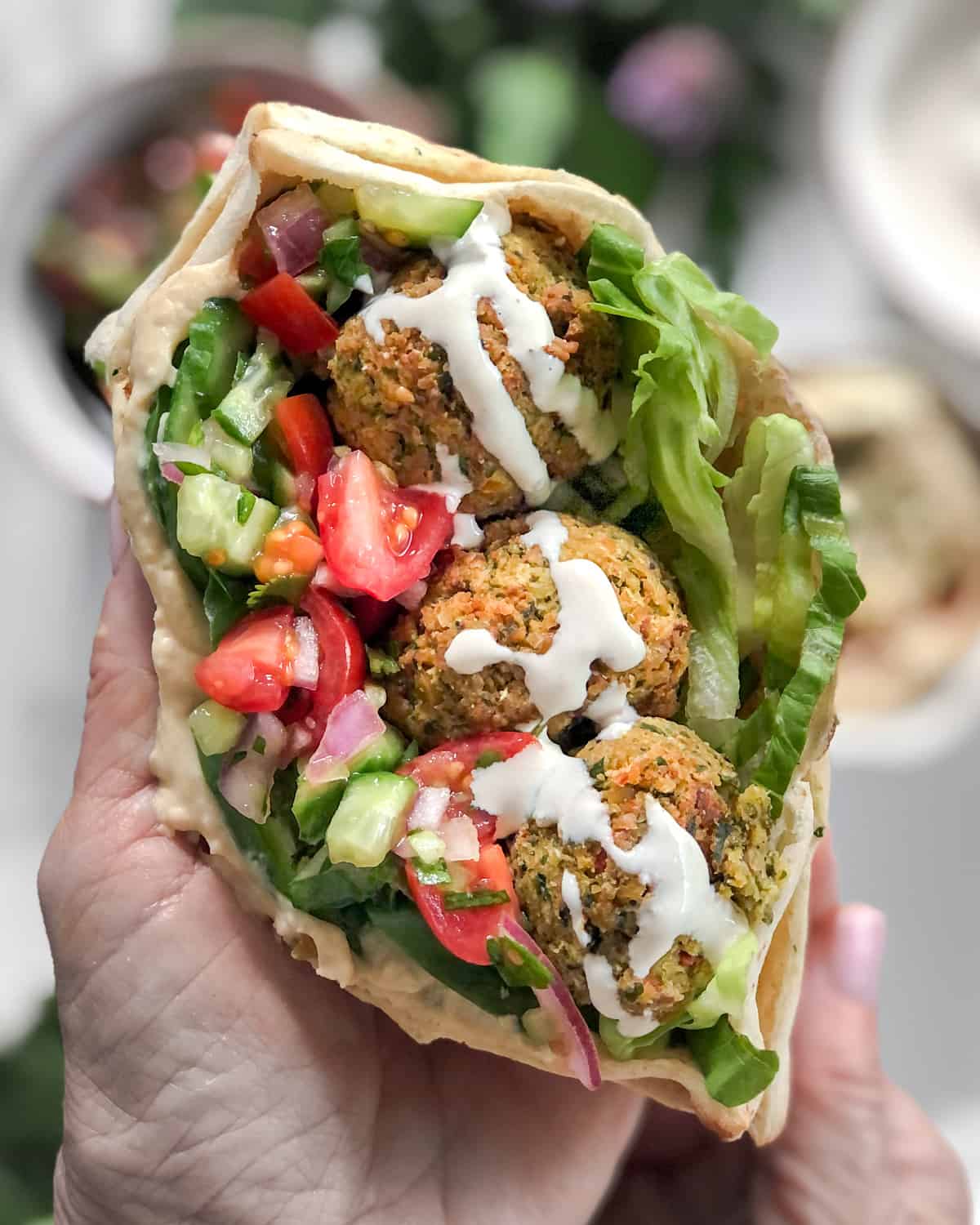 I've been searching for the perfect quick and easy, baked (not deep fried) falafel that has the flavors and textures of traditional falafel but is made with canned chickpeas. After lots of testing and tasting, my family agrees this is the best vegan falafel recipe. I think you'll love it too!
Why Should You Make/Try This Recipe?
Falafel is a popular Middle Eastern cuisine traditionally made from ground chickpeas (fava beans), herbs and spices. The mixture is shaped into balls or patties and then deep fried - yum!
But, when I have an instant craving for falafel pita, this is the quick and easy recipe I turn to because it's:
Convenient - falafel are inexpensive, quick, store well in the fridge, and freeze beautifully so they are great for meal prep and a quick weeknight meal.
Versatile - there are so many ways to serve falafel! They are delicious in sandwiches and burgers, bowls, platters, salads, and so much more!
Healthy and Nourishing - falafel are a great source of plant-based protein and fiber. As well, each variety of vegetable in the falafel toppings brings its own nutrient and flavor profile!
Special Diet Friendly - falafel are the perfect choice for vegan, vegetarian, plant based, dairy free, eggless, gluten free, oil-free, soy free, and sugar free dietary preferences.
The Ingredients
The ingredients for this falafel sandwich recipe are easily found at the grocery store or market. Here's what you'll need: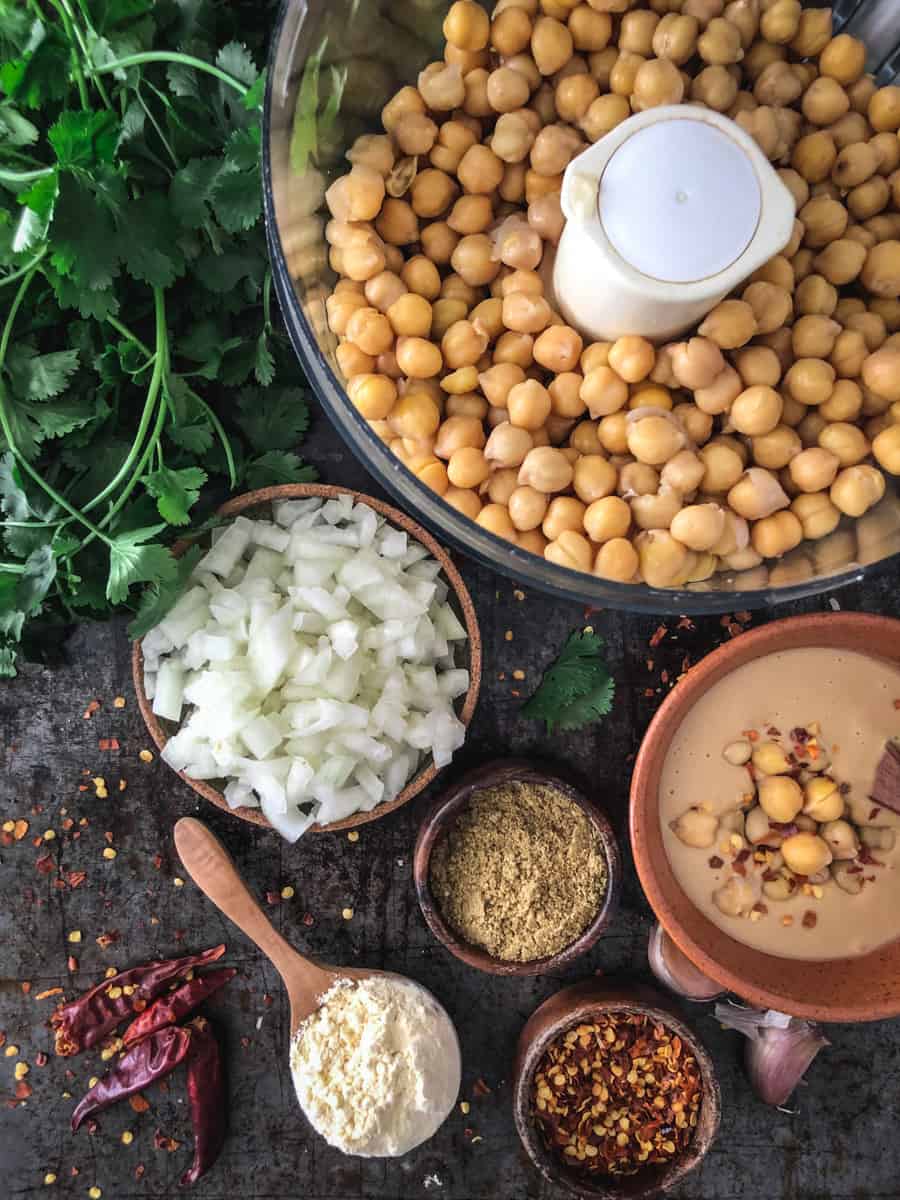 For the falafel filling: add these ingredients to your shopping list - canned chickpeas (garbanzo beans), white onions, fresh garlic, fresh parsley and cilantro, ground cumin and coriander, hot pepper flakes, tahini paste, and flour.
For the falafel toppings: you'll want fresh tomatoes, cucumbers, onions, pickles, pickled onions, and a homemade or store bought pita or flatbread. Additionally, store bought or homemade hummus, vegan tzatziki or tahini sauce are popular sauces for falafel wraps.
Substitutions & Helpful Ingredient Notes
Vegetables - stick with traditional falafel pita veggies as I have in this recipe or add in a few others like thinly sliced radish, pickled carrots, bell pepper slices, arugula or other leafy greens instead of romaine, etc.
Recommended sauce for falafel - all falafel sauce can be made several days in advance and stored in the fridge or grab your favorite store bought versions:
Hummus - try tasty olive hummus with sun dried tomatoes.
Tahini sauce is the classic falafel sauce! Try one of these three versions - traditional lemon tahini sauce, green tahini sauce or sweet and spicy tahini.
Tzatziki sauce tangy and bright dairy-free tzatziki.
Best bread/wrap/pita - select something a bit substantial so the filling and sauce aren't dripping down your arms. Warm mediterranean bread like pita is utter perfection, but store bought flatbread or pita pockets are a great choice.
How to Make
Pretty quick and simple, making falafel fritters from scratch is really just a dump and blend situation. Grab your food processor and let's get started.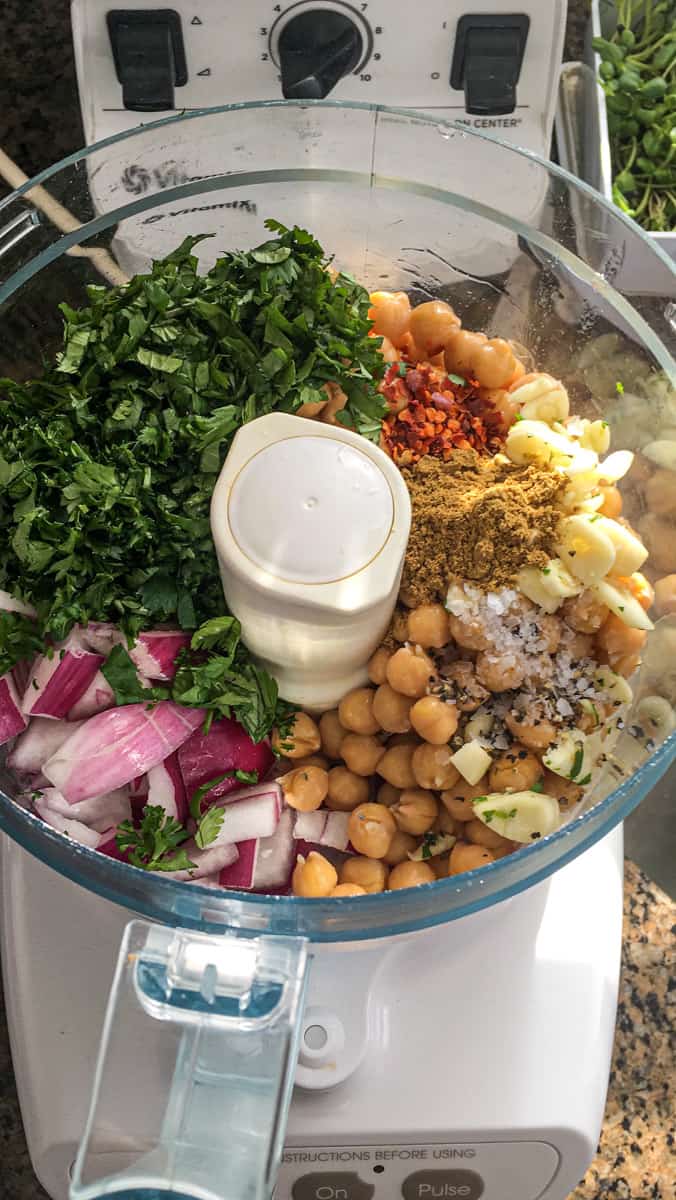 Prepare the falafel mixture. Add the ingredients to a food processor and blend until the desired texture is obtained, stopping to scrape down sides as necessary. Don't over process the mixture - leave some texture for the best results (see photo).
Stir in the tahini and flour just until the mixture sticks together when formed into a ball. Cover mixture and place in the fridge for 30 - 60 minutes to chill.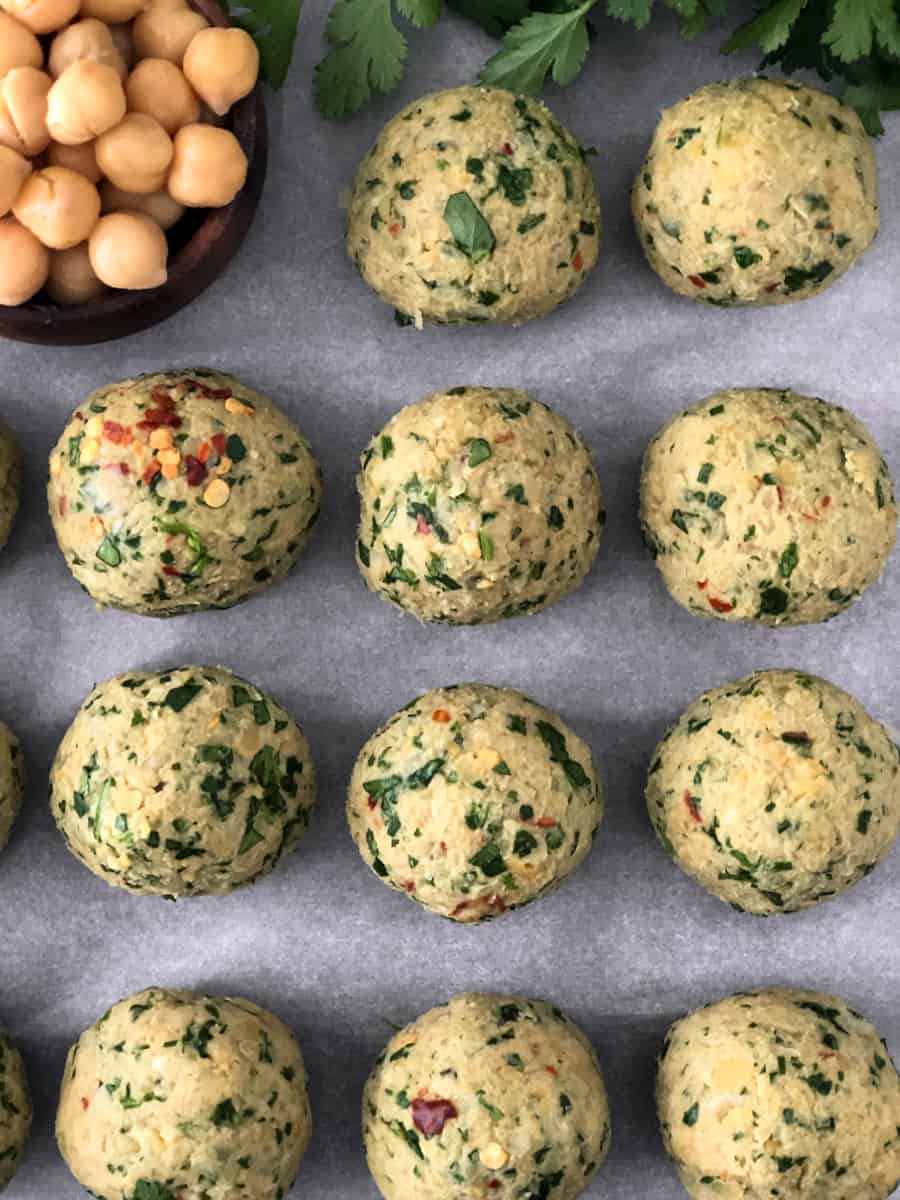 Shape the falafel. Once the mixture is chilled, use a cookie scoop or your hands to form balls (about the size of ping pong balls) or small slider-size patties.
Cooking the falafel. Preheat the oven, air fryer or frying pan and cook until brown and crispy on the outside.
Building your falafel sandwich. Smear a warm pita with hummus, pile on the veggies and a few falafel balls, drizzle with falafel sauces, and enjoy!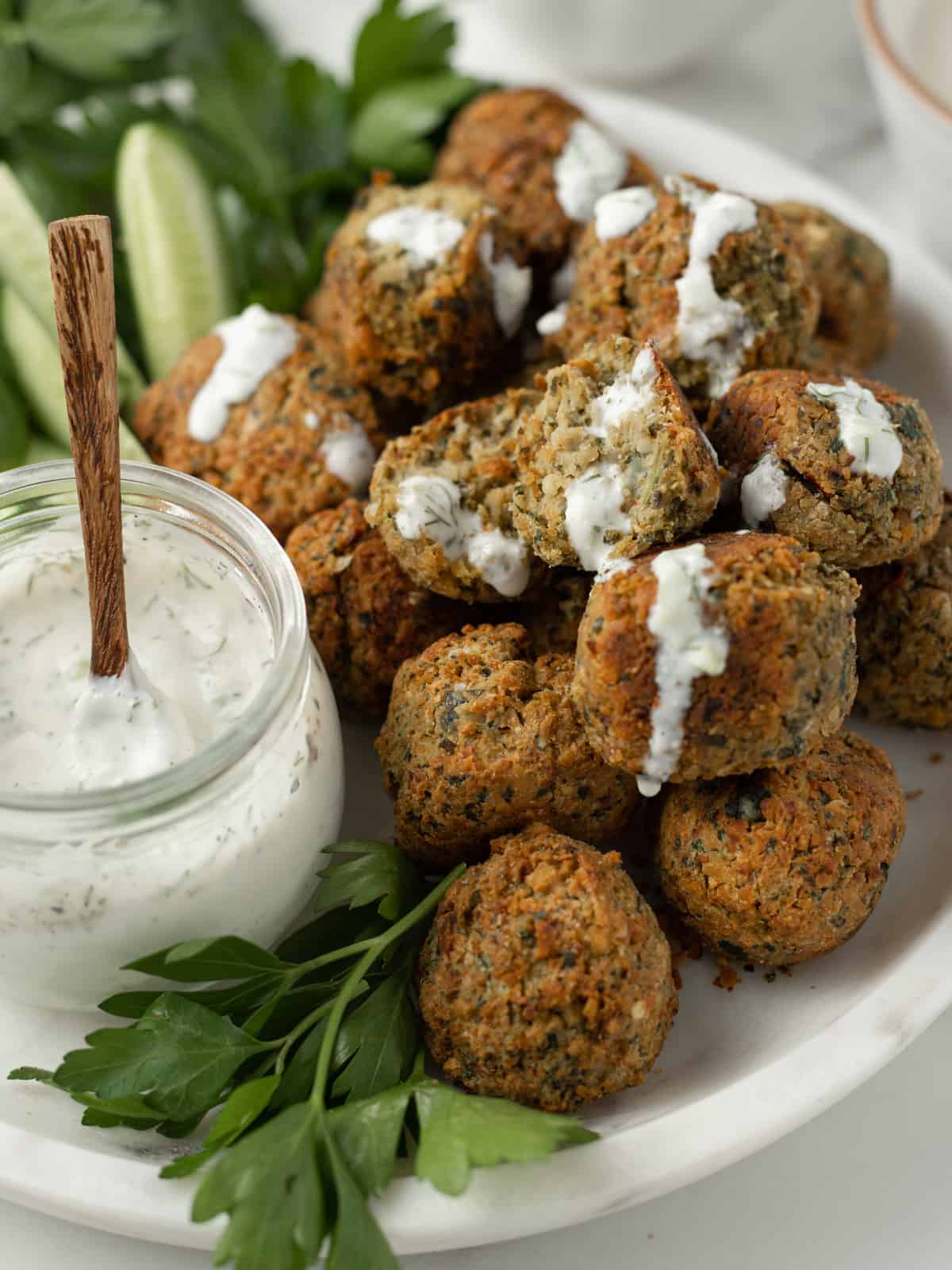 Falafel Tips!
Although simple to make, here's some tips to help you make this popular Middle Eastern street food at home:
Chickpea (garbanzo beans) filling. The secret to achieving the best falafel texture using canned chickpeas without the falafel texture getting too soft or falling apart is to pulse the ingredients - DO NOT over blend the mixture. (We're not trying to make hummus here!).
How should I cook vegan falafel? I tested 3 ways, air fryer, oven baked and pan fried. I usually bake them. If you want to skip the oil altogether, the air fryer is the best choice. For the crispiest, most traditional results, pan fry with a bit of oil.
Warm the Pita. Gently warm the pita or flatbread on a griddle, in the oven or microwave before serving.
Serving Suggestions
One of the reasons I love falafel so much is its versatility! Here are a just a few of my favorite ways to enjoy vegan falafel: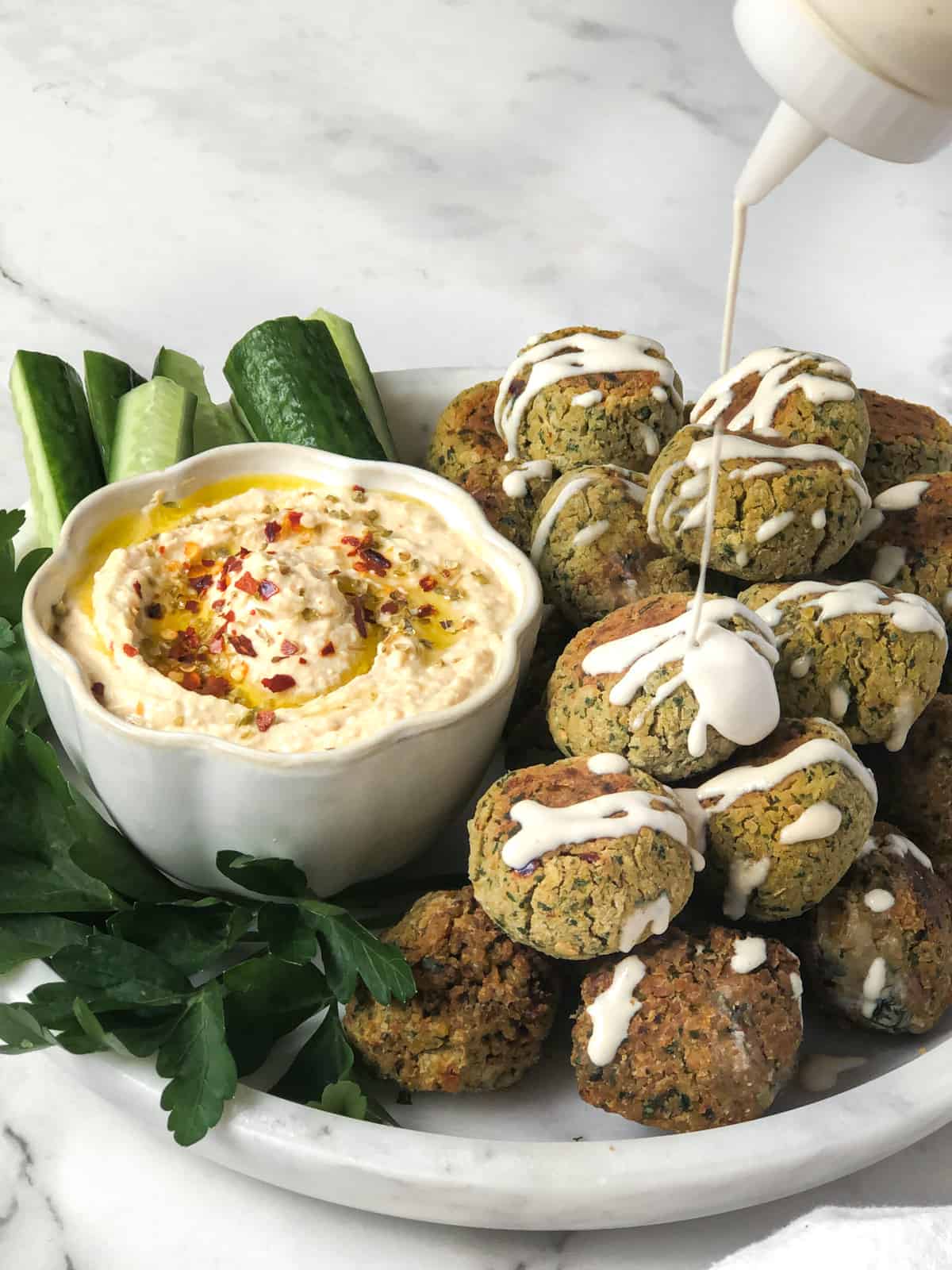 Falafel Plate - as a simple snack of falafel, hummus, and tahini for dipping.
Falafel Sandwich - homemade falafel make an epic vegetarian sandwich on fluffy pita or flatbread. Add a smear of hummus or baba ganoush, slow roasted tomatoes and roasted eggplant, crunchy lettuce, cucumbers, picked onions and hot peppers and a drizzle of tahini sauce! Pass the napkins please!
Mezze Platter - meze is a selection of small dishes such as falafel, baba ganoush, tabbouleh, dolmas, olive hummus with sun dried tomatoes, muhammara dip, roasted garlic with mediterranean pita bread or pita chips for scooping. Add olives, dates, pickles and nuts and serve as a show stopping appetizer platter or light meal with a glass of crisp chilled wine on a hot summer night.
Falafel Bowl - make a Mediterranean salad bowl! Start with a rainbow salad, add homemade falafel, couscous or quinoa, olives, Israeli salad, avocado slices, pickled onions, crispy air fryer chickpeas, and a drizzle of your favorite vegan sauce. The perfect plant-based, protein rich, gluten free friendly, hearty salad for lunch or dinner!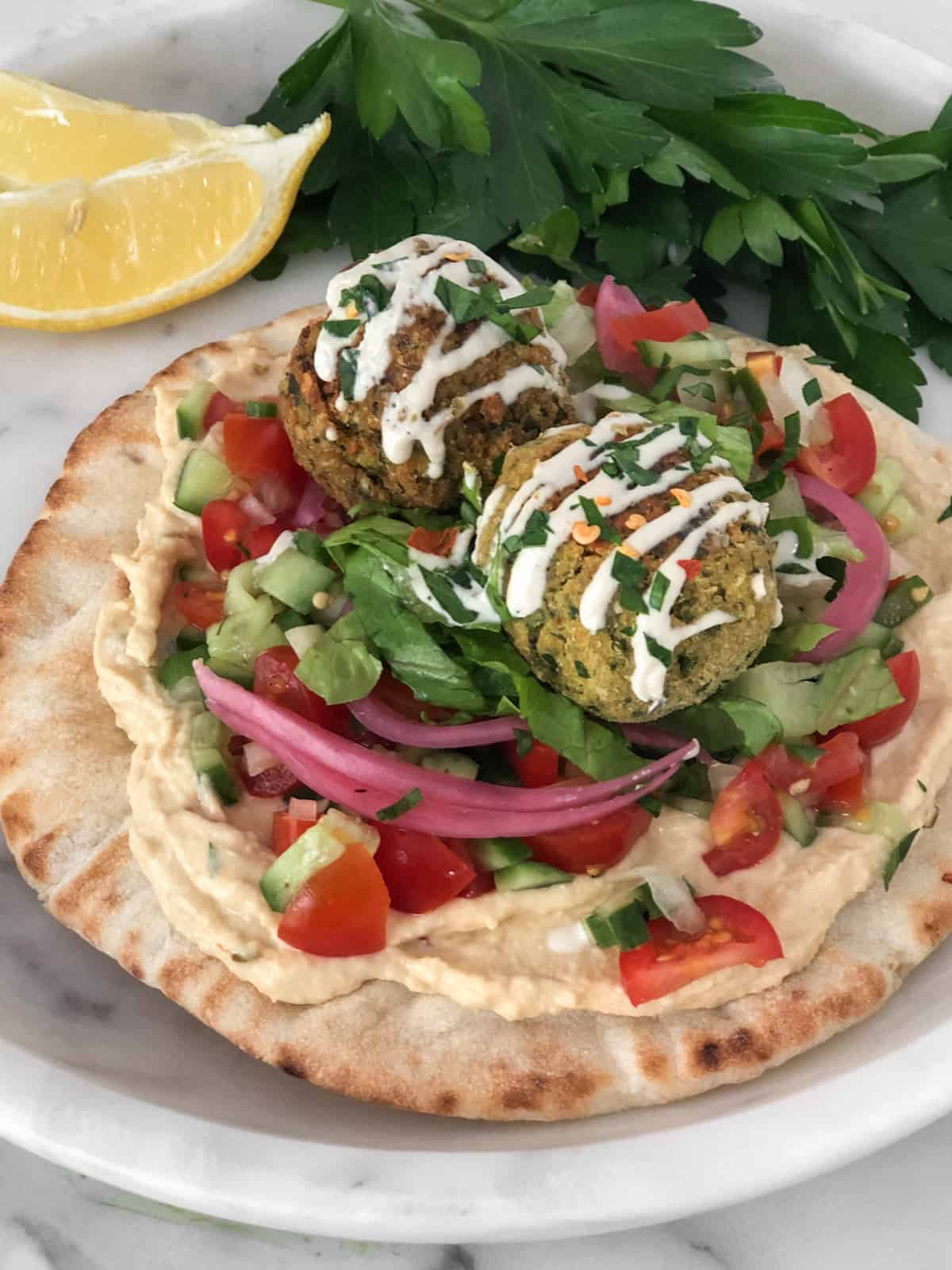 Storage Tips
Perfect for batch cooking or meal prep, baked falafel keeps well in the fridge all week. When ready to eat, just pop into a toaster oven or air fryer to crisp up and warm through.
Freezing Cooked Falafel - store leftover baked falafel balls in the freezer in an airtight container for up to two months. I recommend, freezing them in a single layer on a baking sheet and then once solid, transferring them to a freezer bag.
Reheating Falafel - remove cooked falafel from the freezer anytime you want a snack or meal. Let them come to room temperature, then warm in a 350ª oven, air fryer or toaster oven until heated through.
Freezing Unbaked Falafel - after shaping the falafel, place on baking sheet in the freezer. Once frozen, transfer to a ziplock back and store for up to 3 months. When ready to serve, remove from freezer, preheat the oven and cook as per recipe adding a few minutes as needed.
More Vegan Dinner Ideas
If you love this easy vegan falafel as much as we do, here's a few more vegan dinner recipes to try:
Did you make this recipe? I'd love to see it!
Please let me know in the comments. Thank you so much for sharing!
Tag me on Instagram
NEVER MISS A RECIPE: Sign up for my email NEWSLETTER!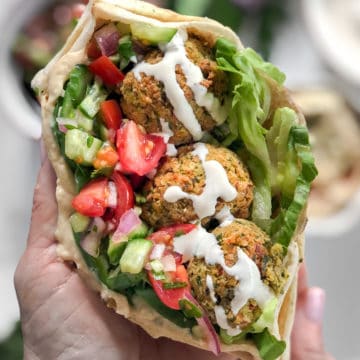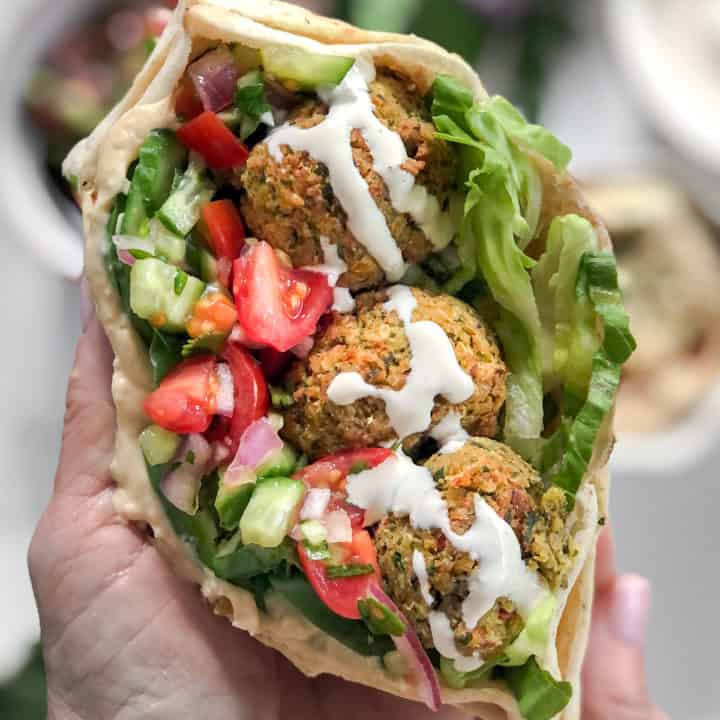 Easy Falafel Pita (with 3 sauces!)
Crispy on the outside, fluffy on the inside, these easy vegan falafel are a super versatile, Mediterranean type plant-based dinner for weeknights!. Serve these healthy, protein rich, falafel in a pita, falafel bowl or salad with dairy free tzatziki, tahini or hummus!
Rate this recipe!
INGREDIENTS
Vegan Falafel Balls or Patties
1, 19 oz

can

chickpeas, drained, rinsed, patted dry

½

cup

onions, rough chop

4

cloves

garlic, rough chop

½

cup

fresh parsley (more to taste)

½

cup

fresh cilantro (more to taste)

1

teaspoon

cumin

1

teaspoon

coriander

salt & pepper, to taste

1-2

teaspoons

red pepper flakes

2

tablespoons

tahini paste

2-4

tablespoons

all purpose flour*
Falafel Pita Toppings
2

medium

tomatoes, sliced or diced

4

mini

cucumbers (unpeeled) sliced or diced

½

red or white onions, thinly sliced

1-2

cups

romaine lettuce, shredded

1-2

dill pickles, thinly sliced

hummus, store bought or homemade

tahini sauce, store bought or homemade

vegan tzatziki, store bought or homemade
INSTRUCTIONS
Making the Falafel Mixture
Drain, rinse, and pat dry a can of chickpeas.

Place the onions, garlic, parsley and cilantro into the bowl of a food processor and pulse until chopped.

Add the chickpeas, cumin, coriander, salt and pepper and pulse until desired consistency is achieved (chunky or smooth). Stopping to scrape down sides and bottom of the food processor as necessary. Don't over process.

Taste and adjust seasonings and herbs as per your preference.

Stir in the red pepper flakes, tahini and flour* and mix together - adding flour 1 tablespoon at a time as needed until the mixture sticks together when formed into a ball. 

Cover the bowl and pop into the fridge for ~60 minutes until chilled.
Vegan Sauces
Slice, chop or dice veggies while the falafel mixture is chilling.
Shaping the Falafel (balls or patties)
Using a cookie scoop or your hands, shape the chickpea mixture to form balls (around the size of ping pong balls) or slightly larger and flatter to form patties.
Baked Falafel Option (with or without oil)
Drizzle a tablespoonful (or more to taste) of oil onto a parchment-lined baking sheet. Roll the falafel balls/patties through to lightly coat on both sides. Or mist with cooking spray.

Skip if baking the falafel oil-free.

Bake for ~20-25 minutes* until golden and crisp. Gently flip the balls halfway through.

*Time will vary depending on size of falafel (ball/patty) and how deeply golden you prefer the crust.
Cooking Falafel in the Air Fryer
Preheat air fryer to 370º F

Place a single layer of falafel in the basket of an air fryer leaving room between each. Lightly spray with cooking spray or brush with oil.

Cook for 12-15 minutes* at 370º F (turning halfway through) until deep golden.

*How long to cook falafel in the air fryer will vary depending on size of the falafel ball/patty and the type of air fryer.
Pan Frying Falafel Option
Heat a large non-stick skillet over medium heat with enough oil to cover the bottom of the pan. Once the oil is hot, add the falafel balls/patties and cook for 3-4 minutes until golden. Flip and cook the other side for 3 or 4 minutes. Remove to a paper towel-lined plate.

Pan fried falafel are delicate when hot, use a slotted spoon or frying pan flipper to handle them. They will firm up as they cool.
How to Serve Vegan Falafel
Right before serving, warm the pita pockets on the stove in a dry pan, in a 300º oven for a few minutes or in the microwave for ~15 seconds..

Slice in half, slather with hummus, fill with falafel balls and veggies of choice. Drizzle with tahini and tzatziki. Enjoy!!
NOTES
Extra Time Required - for best results, place the covered falafel mixture in the fridge for ~60 minutes. Make the sauces, pickled onions, toppings, etc while the falafel mixture is hydrating and binding. Flour - can sub chickpea flour or 1:1 gluten free flour in this recipe which produces a slightly different texture and flavor. Binding Agent - tahini adds good flavor and also acts as a binder for the falafel. Alternatively, aquafaba (the liquid from the chickpeas) can be used for a binder. The flour soaks up liquid creating a sticky mixture. If there's not enough binder, the falafel balls will break apart. Tender when Hot - the falafel are tender when hot, but firm up as they cool down. Handle them gently during the cooking process so they don't break apart. Falafel Sauces - if making from scratch, the sauces can be made several days in advance and stored in the fridge for ease and convenience the day of.  Freezing & Reheating:
Cooked Falafel - store leftover cooked falafel balls in the freezer in an airtight container for up to two months. Let them come to room temperature and then reheat them in a skillet, on the stove, air fryer or in the microwave until heated through
This recipe is from simplyceecee.co food blog. All images and content are copyright protected. Please do not use my images or republish this recipe without prior permission. Thank you.