Crispy, crunchy crust with a fluffy tender inside, perfectly spiced and deliciously healthy, it's tough to resist this yummy, vegan baked falafel recipe. This easy-to-make version uses canned chickpeas, is packed with flavour, and offers several cooking methods. Which tahini sauce will be your favourite - Sweet and spicy tahini sauce or easy basic tahini sauce (with a twist)?
I've been searching for the perfect, mostly-authentic, baked falafel. Top 3 must haves: chunky texture, crunchy outside and soft (but not too soft) fluffy inside, and baked.  So . . . I've been in the kitchen making and testing batch after batch; and finally, the votes are in and we've settled on the new family favourite vegan falafel!
It's a healthy, vegan, baked version of falafel. Plus it's gluten free, oil-free friendly, high in protein and fiber and super versatile! Let's go!
Reasons to Love this Baked Falafel
easy to make
inexpensive and filling
healthy - gluten-free, high in protein and fiber, vegan
delicious tucked in a homemade pita, as an appetizer, on tacos, pizza, and Buddha bowls
freezes well and are a delicious plant-based meal preparation idea
Ingredients for Vegan Baked Falafel Recipe
Falafel are made with only a few plant-based ingredients, and if you bake them instead of fry them, you amp up the health factor by A LOT!! Here's what ingredients you will need to make these homemade falafel balls.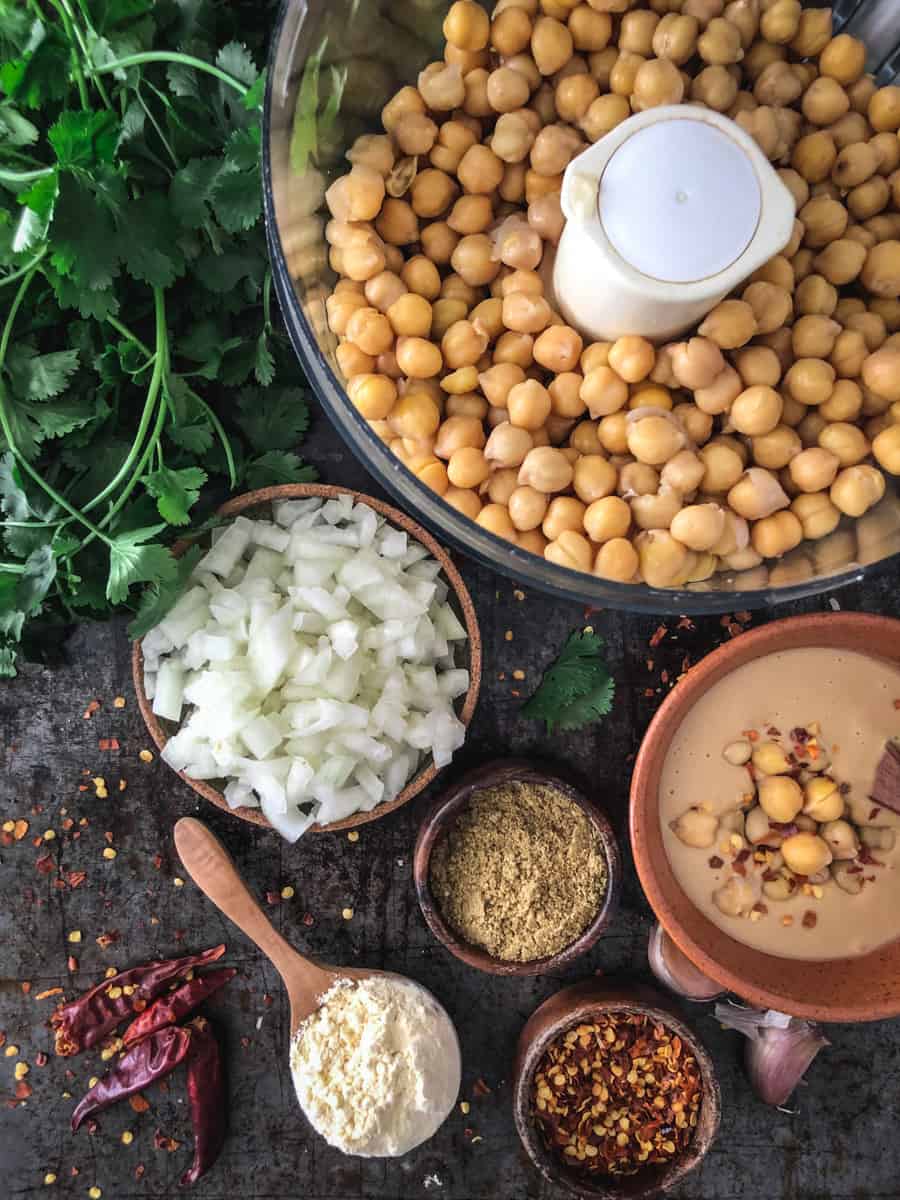 Chickpeas (garbanzo beans) - loaded with protein and fiber, the inexpensive and humble chickpea has A LOT going for it. In this recipe it provides texture and bulk. I like some texture in my falafels so I leave the chickpeas a little chunky, but you have total control over the texture. I know canned chickpeas aren't authentic for falafel, but for this simple, quick recipe, they work perfectly.
Onions - which is the best? Red, yellow or white. Red onions are popular in salads and other raw dishes as they are pretty and a bit mild in flavour. White onions are sharper, more pungent; but they are tender when cooked. Yellow onions are the most popular for cooking as they impart a lovely flavour and are the least expensive! So you choose - any variety will work with this recipe.
Herbs - parsley and cilantro. Rough chopped together and added to the chickpeas and onions, these fresh herbs add a lovely freshness and a punch of colour! Add more or less to your personal taste.
Flavour - cumin and fresh garlic add more layers of flavour (sooo important in vegan cooking).
Let's Stick Together - flour and tahini are binding agents for the falafel. The tahini also adds a lovely, mild, earthy flavour. (I use chickpea flour for the flavour, but use your favourite gluten-free flour, all purpose flour, brown rice flour, etc.)
How to Make the Perfect Baked Falafel
Pretty simple to make, it's really just a dump and blend situation. Let's get after it.
Rough chop the onion garlic and herbs, place in food processor and pulse a few times. Add the chickpeas which have been patted dry and the remaining spices.
Pulse the ingredients a few more times until the desired texture is obtained, stopping to scrape down sides as necessary. Don't over process - leave some texture for the best results.
Stir in the tahini and flour until the mixture sticks together when pressed into a ball. Cover mixture and place in fridge for ~60 minutes to chill.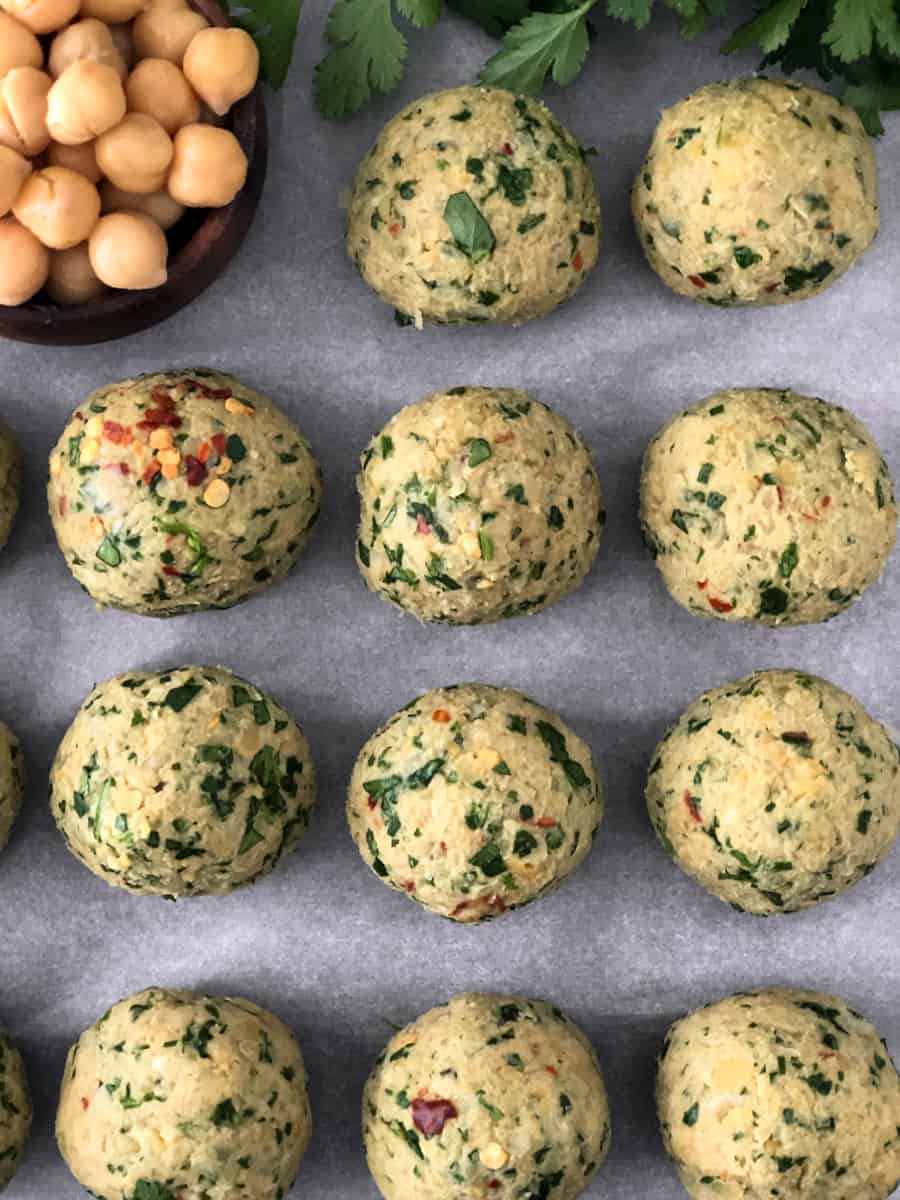 Once, the mixture is chilled, use a cookie scoop or your hands to form balls (about the size of pingpong balls) or patties and cook as per directions. So easy, so delicious!
Falafel Serving Suggestions
What's falafel without a delicious sauce or drizzle? Typically I serve falafel with delicious hummus but it's wonderful with this tasty Sweet and Spicy Tahini Sauce, a yummy vegan tzatziki drizzle or a scrumptious Everyday Tahini Sauce.
The great thing about falafel balls is they are SO versatile:
Tuck into a warm pita pocket with a dollop of spicy hummus, hot pepper rings, pickled onions, chunks of tomato, cucumber, and lettuce. 
Add to tacos, salads, vegan Buddha bowls (below), on a pizza or a burger. Make a BIG batch of these yummy homemade falafels to enjoy all week!
Storage Tips
Perfect for batch cooking or meal preparation, falafel store well in the fridge for several days without any loss of flavour. Just warm in oven or toaster oven to crisp up the outside and warm through.
Freeze baked falafel in an air-tight container ready to be grabbed a few at a time when needed for a lunch or snack.
More Delicious Vegan Chickpea Recipes
Cauliflower Chickpea Tacos with Sloppy Slaw - easy to make and loved by all eaters.
Stuffed Sweet Potatoes - most popular recipe on the blog (for good reason)!
Vegan Shawarma with Soy Curl Tenders - succulent soy curl tenders and two addictive sauces.
Did you make my Vegan Baked Falafel Recipe? If so, giving it a star rating and comment helps others discover my blog and recipes.
Thank you so much for your support!
I love seeing your creations so tag me on IG @ceeceecooks and Facebook!
NEVER MISS A RECIPE: Sign up for my email NEWSLETTER!
Baked Falafel Recipe (vegan)
Crispy on the outside, tender and fluffy on the inside, these baked falafel balls are easy to make with canned chickpeas and are super delicious. Naturally gluten free and oil-free friendly, these vegetarian falafels are fabulous in wraps, vegan bowls, tacos, and salads.
INGREDIENTS
Vegan Falafel Balls or Patties
1, 19 oz

tin

chickpeas, drained, rinsed, patted dry

½

cup

onions, chopped

4

cloves

garlic, rough chop

¼

cup

fresh parsley, rough chop

¼

cup

fresh cilantro, rough chop

salt & pepper, to taste

1-2

tsp

hot pepper flakes

1

tsp

cumin spice

2

tbsp

tahini paste

2-4

tbsp

flour*
INSTRUCTIONS
Vegan Falafel Balls or Patties
Drain, rinse, and pat dry the canned chickpeas or use (2 cups) homemade soaked cooked chickpeas and set aside.

Rough chop onions, garlic, parsley, and cilantro.

Place in the bowl of a food processor and pulse a few times. Add the chickpeas and the remaining spices.

* Heap and pack the fresh herbs in the ¼ cup.

Depending on the texture you prefer (chunky or smooth), pulse until desired consistency is achieved. Stopping to scrape down sides as necessary.

Pro Tip: I keep ours chunky.

Taste and adjust seasoning and herbs as per your preference. I stir in extra minced parsley and cilantro!

Transfer to a mixing bowl and stir in the tahini and flour (chickpea, gluten-free, AP or similar) and mix together - adding flour 1 tablespoon at a time as necessary until the mixture sticks together when pressed into a ball. 

Cover the bowl and pop into the fridge for ~60 minutes until chilled.

Shaping the falafel - using a cookie scoop or your hands, shape the chickpea mixture to form balls (around the size of pingpong balls) or flatten to form patties.

Baked Falafel Method - Preheat oven to 400º F

Place on lined baking sheet. 

Bake for 30-35 minutes until golden and crisp. Flip the balls after 15 minutes.
Oven Baked with Oil Option
Drizzle a tablespoonful of oil onto a parchment-lined baking sheet. Roll the falafel balls/patties through to lightly coat balls.
Air Fryer Option (delicious and crispy)
Place a single layer (not touching) of balls in the basket of an air fryer. Lightly spray with oil (optional).

Cooked for ~15-17 minutes at 370º F (shake/turn halfway through).
Pan Fried Option
Heat ~¼" vegetable oil over medium-high in a cast iron skillet until a small test piece of falafel sizzles.

Add a few falafel balls/patties at a time and cook until a golden crust forms (2-3 minutes). Using two forks, carefully flip and cook on the other side until crisp.

Transfer to a cooling rack over paper towel to catch drippings. Keep warm in the oven between batches.

This was my least favourite and the balls/patties didn't stand up well to this method.
NOTES
Extra Time Required - For best results, place the covered falafel mixture in the fridge for 60 minutes. It's a good time to prepare hummus, sauces or toppings. Binding Agents - the tahini adds flavour and also acts as a binder for the falafels. You can skip if you don't have any. The flour also acts as a binder. If there's not enough binder, the falafels will break apart. Storage - Make a big batch and then use up the falafels throughout the week. They store nicely in the fridge for several days without loss of flavour. To crisp the outside, gently warm in microwave or in a pan on the stove. Freezing - Throw leftover cooked falafel balls in the freezer in an airtight container for up to two months if not using immediately. Let them come to room temperature and then warm them in a pan on the stove or the microwave when ready to use.
This recipe is from simplyceecee.co food blog. All images and content are copyright protected. Please do not use my images or republish this recipe without prior permission. Thank you.