This homemade taco seasoning is a simple way to add a big boost of flavor to everything from vegan chicken and beef recipes to tacos, tofu taco bowls, sauces, and dips. Plus it's quick and affordable to make healthy taco seasoning at home!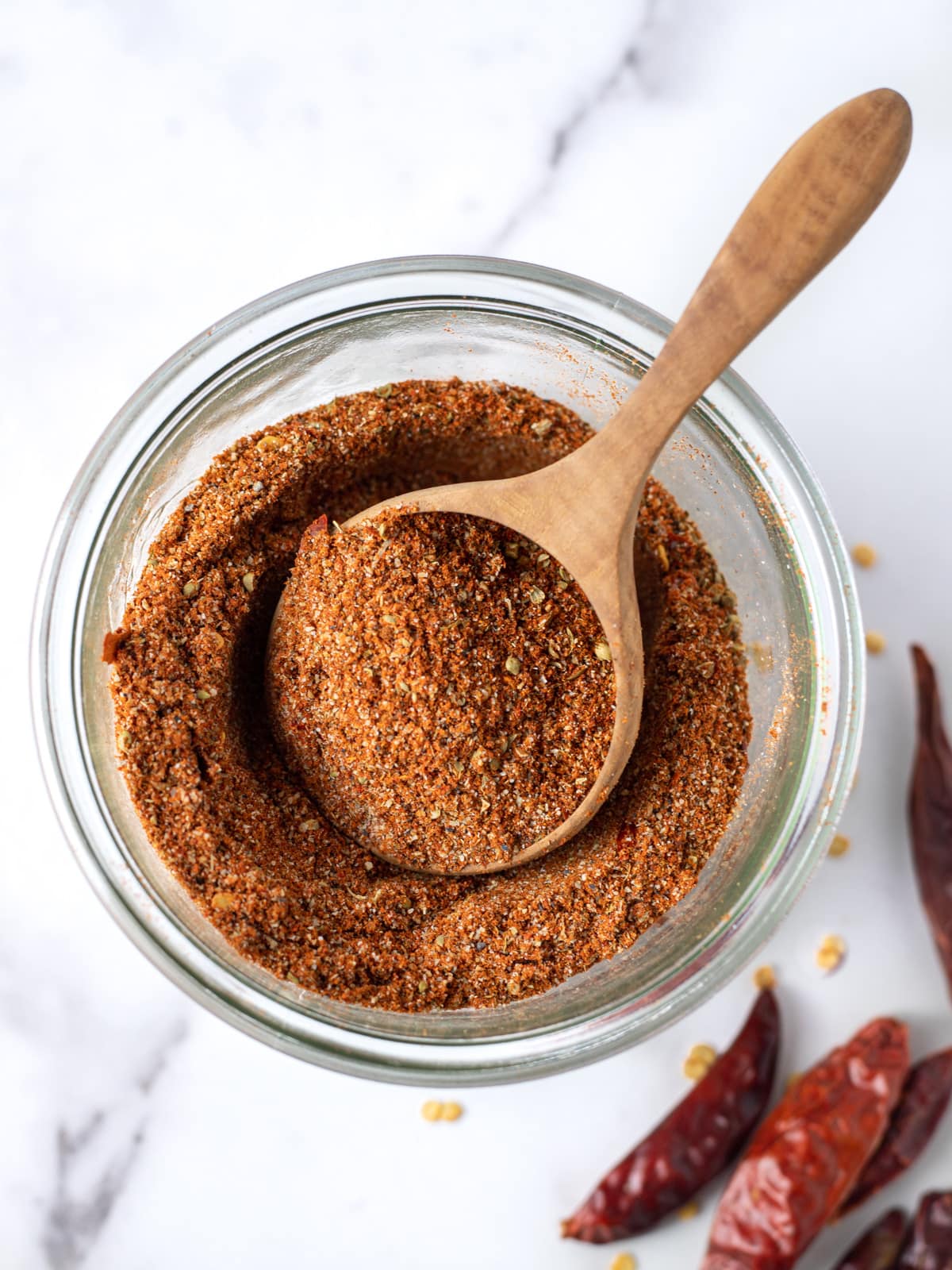 I love making my own healthy spice blends. They are a cinch to throw together and totally customizable. Just like my sage and onion seasoning, madras curry blend, and southwest spice mix this DIY taco seasoning recipe tastes way better than the store bought versions. Time to skip the store-bought taco seasoning packets and make your own blend at home!
Reasons to Love DIY Taco Seasoning
Here's a few reasons homemade taco seasoning always tastes the best:
Customizable: you control the proportions eg. extra spicy, mild, garlic free, salt free, sugar free, low carb
Allergy and Special Diet Friendly: gluten free, vegan, keto, paleo, egg free, dairy free, soy free, nut free, oil free
Basic Pantry Items: you probably have everything in your spice cupboard right now!
Healthy: no preservatives or additives, and you control the salt!
Cheap and Easy
Taco Seasoning Ingredients
This taco seasoning mix is a simple combination of savory herbs and warming spices commonly used in many of our favorite Mexican inspired recipes.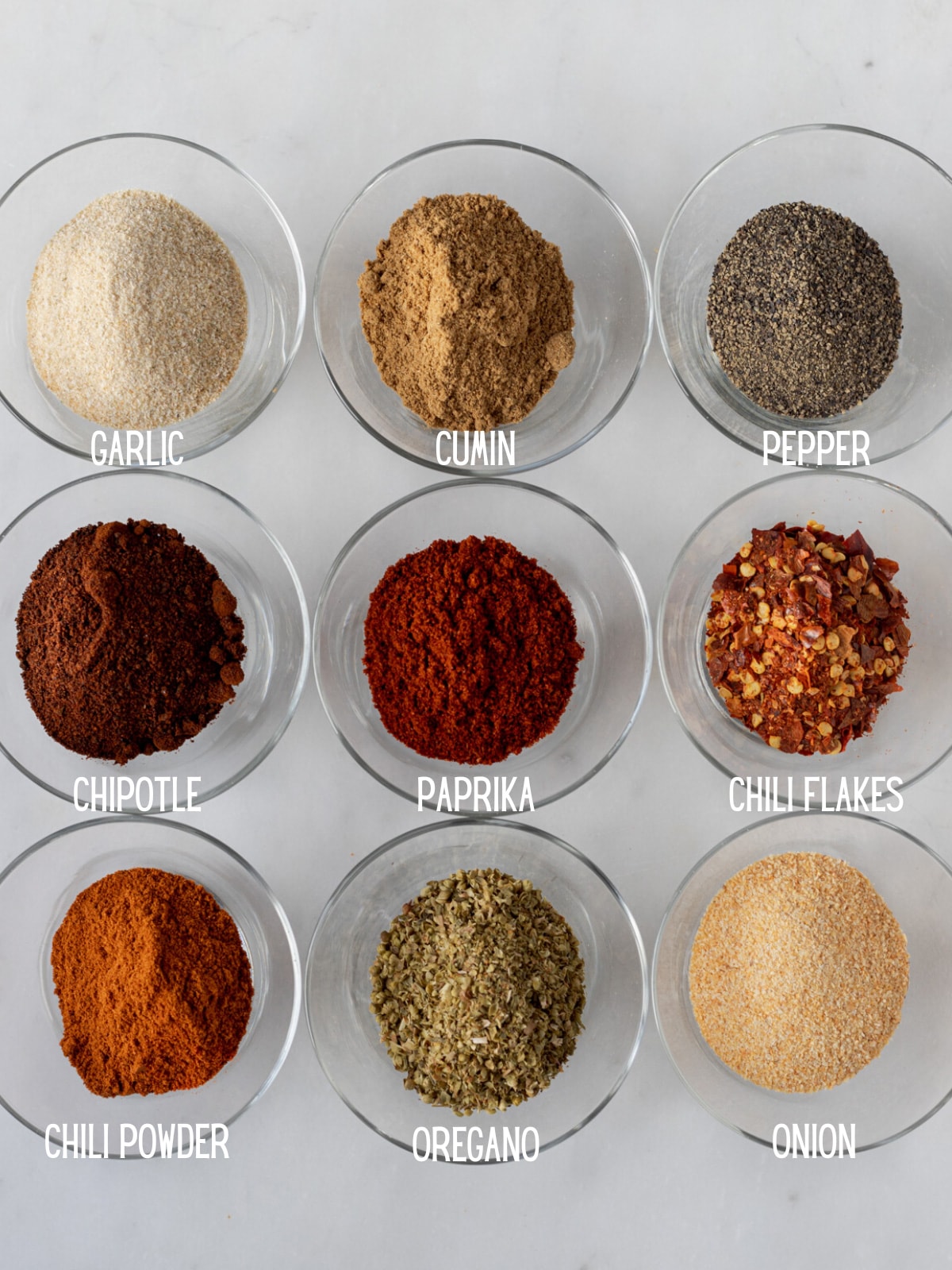 For this taco spice mix, you'll need: chili powder (choose a hot or mild chilli to taste), garlic and onion powder, cumin and dry oregano. Also grab some paprika (smoked, sweet or hot), black pepper, red pepper flakes, and dry chipotle peppers.
It's not necessary to add salt or sugar to this taco spice blend. They can be added to recipes as need which gives you more control over the salt and sugar in your meal.
How to Make Taco Seasoning
This homemade taco seasoning recipe as written is how our family enjoys it. Please adjust and customize the ingredient proportions to suit the tastes and dietary needs of your own family. It's an easy recipe to make:
Start with fresh spices (they lose potency over time).
Figure out how much taco seasoning you'll need then double or triple the recipe as needed.
Measure the ingredients straight into a jar, put the lid on, and shake to mix.
Voilà, ready to enjoy.
Pro Tip: I usually make a triple batch because we use this spicy taco seasoning a lot! It makes the BEST tofu taco meat seasoning and cauliflower-walnut crumble seasoning!
FAQ - Taco Seasoning Mix
Is taco seasoning gluten free?
Commercial taco seasoning is not always gluten free depending on the additives. Always check the label or better yet, make your own gluten-free taco seasoning at home in under 5 minutes!
How much taco seasoning is in a packet?
One packet of McCormick or Old El Paso taco seasoning is equal to ~3 tablespoons of homemade taco seasoning.
How to Use Taco Seasoning
If you're looking for a smoky, savory flavor boost, this DIY taco seasoning is a really simple way to spice up more than just tacos! Here's a few of our favorite ways to use it:
as a taco spice: Adds the perfect smoky, savory zing with a kiss of heat to our vegan tacos, roasted cauliflower tacos, tofu taco bowl, and spicy taco Buddha bowl
to season veggies: Toss some taco seasoning, a drizzle of olive oil and sprinkle of salt together with vegetables (eg. cauliflower, broccoli, carrots, sweet potatoes, parsnips) before grilling or baking. Makes a perfect side dish!
on crispy potatoes: Swap out the sage and onion seasoning for Mexican taco seasoning and dip the crispy oven roasted potatoes in dairy-free sour cream.
on protein: A great fish, beef or chicken taco seasoning for your favorite grilled or baked vegan meat replacements.
in a vegan sauce or Mexican dip: Try this creamy chipotle sauce or hummus dip
add a sprinkle: over crispy chickpeas, pita bread with a drizzle of olive oil, French fries or sweet potato fries before going into the oven.
popcorn seasoning: the kids love a sprinkle of taco seasoning, nutritional yeast, and salt on hot buttered popcorn!
Buying and Storing Spices
Buy vibrant, fresh spices for the best, most potent flavor. Check the expiry date.
Buying directly from a spice merchant (either in person or online) should ensure the freshest spices.
Storing: I recommend storing spices in a jar in a cool, dry place like the pantry or a spice cupboard (not near the stove). This homemade taco seasoning mix stays fresh for up to 6 months.
What did you put this taco seasoning on? I'd love to see it!
Please leave a star rating and comment at the bottom of the page.
Thank you so much for sharing with your F&F! Tag me on Instagram
For more Vegan Recipes: Sign up for my email NEWSLETTER!
Homemade Taco Seasoning (salt free + gf)
An easy and affordable, gluten free Taco Seasoning you can make at home in under 5 minutes. Customize to your taste - extra spicy, mild, salt free, extra garlicky or smoky. You decide!
Rate this recipe!
INGREDIENTS
2

tablespoons

chili powder

½ - 1

teaspoon

garlic powder

½ - 1

teaspoon

onion granules

½ - 1

teaspoon

red pepper flakes

1

teaspoon

oregano, dried

1 - 2

teaspoons

paprika, smoked

1 - 1 ½

teaspoons

cumin (to taste)

½

teaspoon

salt (optional)

½

teaspoon

pepper

½

teaspoon

ground chipotle (optional)
INSTRUCTIONS
Measure and mix all ingredients together. Adjust seasoning proportions to your personal preference - more or less heat, salty, extra smoky, etc.

Store in an airtight jar in the pantry for up to 6 months.
NOTES
Big Batch: I usually triple this taco seasoning recipe because we use it a lot! 
Best Price: Buy your spices at the bulk store!
Salt-free: I make this taco seasoning without salt and then just add salt to whatever I'm cooking as needed.
Store Bought Taco Seasoning Packet: Most store brand packets like Old El Paso taco seasoning or McCormick Taco seasoning have ~3 tablespoons in it.
This easy taco seasoning recipe is healthy and suitable for all diets. It's vegan, sugar free, salt free, gluten free, soy free, nut free, dairy and egg free, keto and paleo friendly, and low carb. Make it extra spicy or mild to suit your taste.
This recipe is from simplyceecee.co food blog. All images and content are copyright protected. Please do not use my images or republish this recipe without prior permission. Thank you.