Vegan Summer Rolls (aka rice paper rolls) are fresh, super flavorful and filling! They are perfect anytime you're craving a healthy lunch, light dinner or simple appetizer.
Easy to make and packed with a delicious combination of crunchy veggies, mint and rice noodles, fresh spring rolls are incredible served with this totally irresistible Vietnamese peanut dipping sauce.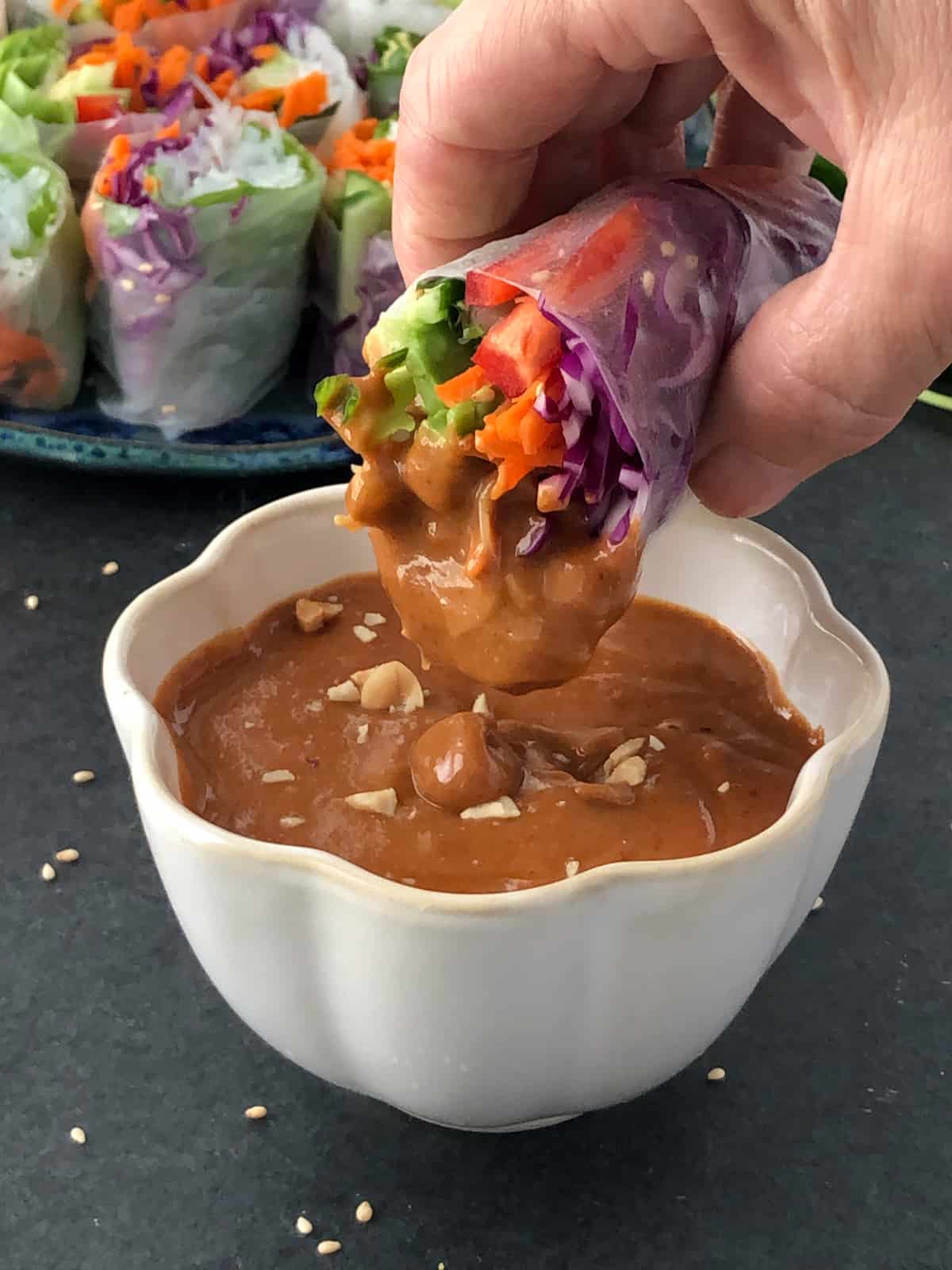 I love sharing recipes that are not only healthy, but easy to make. Just like my collard green wraps, vegan sushi or rainbow salad, what I really love about these vegan summer rolls is that I can use up any veggies in the fridge so nothing goes to waste.
My family and I couldn't get enough of these delicious vegetarian rice paper rolls when we visited Vietnam, so I just had to recreate them at home. And you know what - they are surprisingly quick and simple to make - and no cooking!
But, don't let the name fool you, these vegan summer rolls can be enjoyed any time of the year!
Ingredients
The beauty of summer rolls is they are so simple, yet so good. Just grab your favorite veggies and a few other ingredients. Here's what you'll need for the rice paper rolls: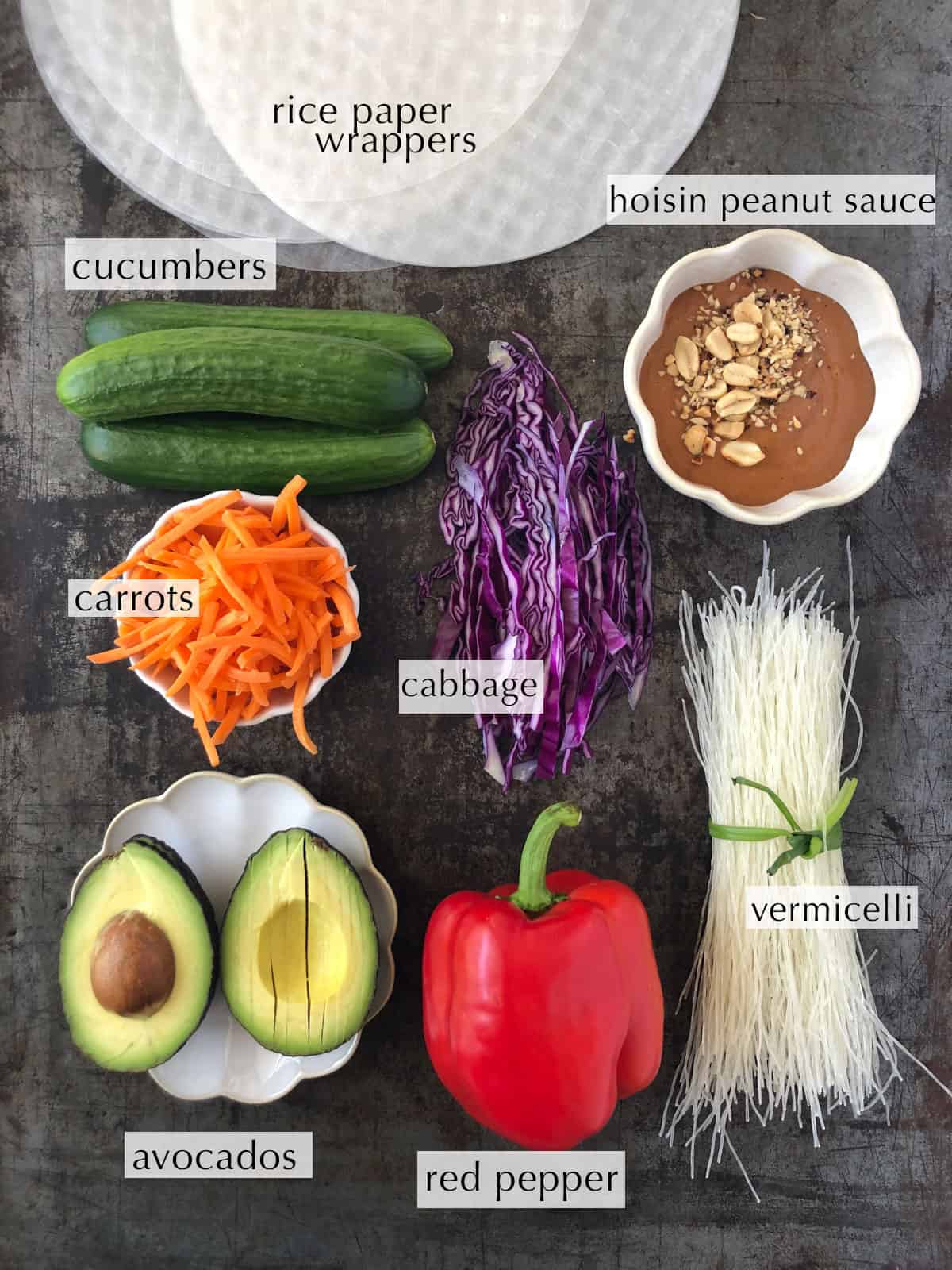 Rice paper wrappers: These thin spring roll wrappers can be found in the international food aisle at the grocery store, in Asian grocery stores or order them online. I have the best luck rolling with 8.5 inch round wrappers.
Vermicelli noodles (thin rice noodles): You'll find these noodles with the rice paper wrappers at the grocery store or online. I use the thinnest variety.
Veggies: Chose a rainbow of colors and textures for the best (and prettiest) vegetarian rice paper rolls. I like the combination of crunchy cucumber, grated carrots, purple cabbage, and avocado.
Herbs: For my family, both fresh mint and Thai basil are a must; but cilantro works too.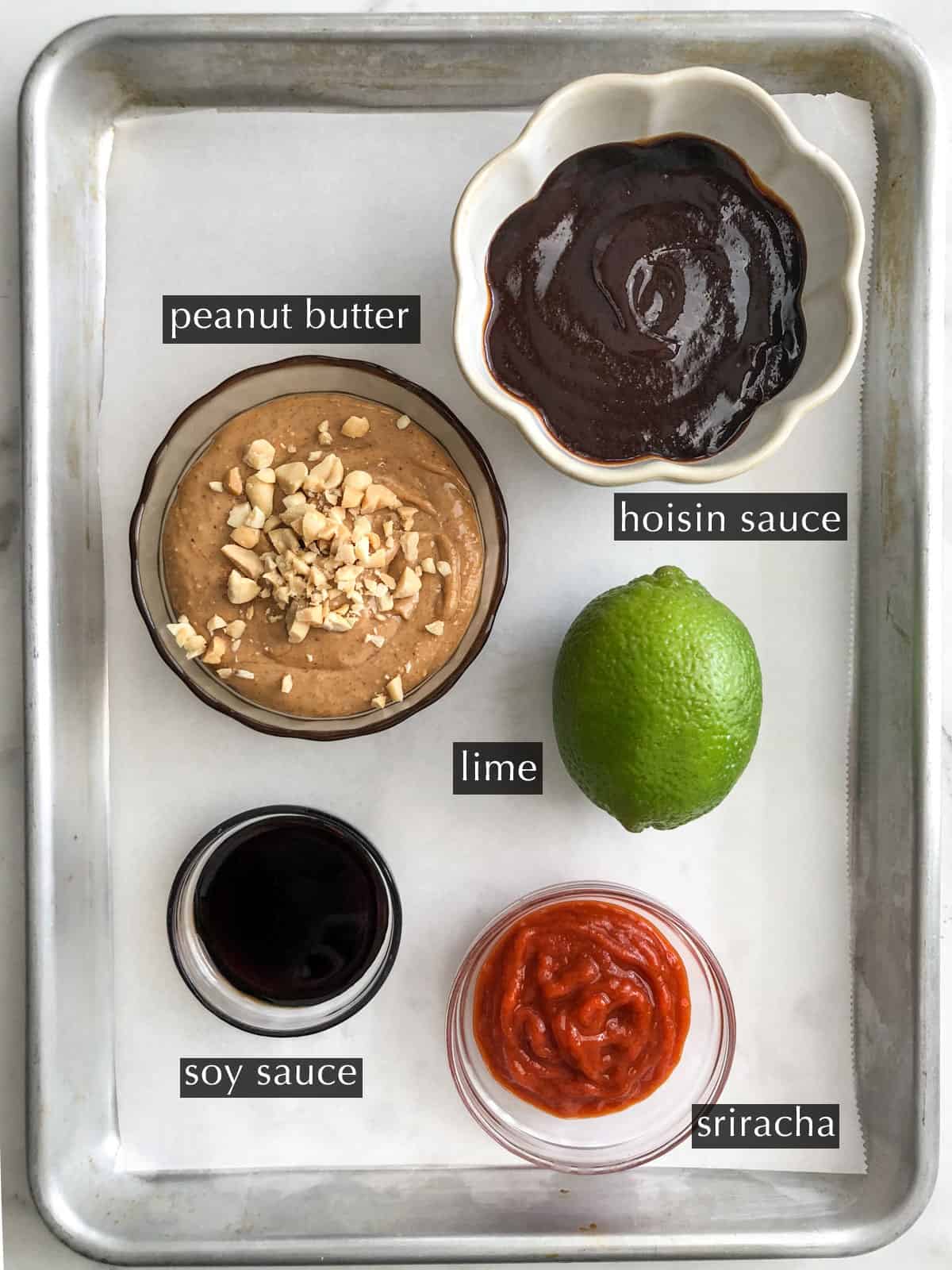 For the hoisin peanut dipping sauce: gather together hoisin sauce, smooth peanut butter, fresh lime juice, soy sauce (low sodium) or tamari (gluten free), and sriracha sauce.
Ingredient Variations
Another reason these summer rolls are so easy to make is they are super versatile - feel free to play with the fillings. Here's a few suggestions:
Vegetables: Other popular veggies include leafy greens like butter or gem lettuce, bell peppers (red, orange, green, or yellow), spring onions, edamame, snow peas, radish or pickled radish, and sprouts. For convenience use pre-shredded coleslaw and carrots!
Add some plant protein: Make tofu summer rolls! Buy seasoned tofu, make marinated tofu or use up any leftover baked tofu you have on hand.
Dipping Sauce: Fresh spring rolls are best served with a super flavorful dipping sauce (or two). Here's a few ideas: sweet chili sauce, spicy peanut dipping sauce or sriracha mayo. If you're allergic to peanuts, sub any nut or seed in the peanut hoisin sauce recipe or try dipping your rolls in one of my sushi sauces or this popular sweet and spicy tahini.
How To Make Summer Rolls
Although this recipe is easy to prepare on your own, it's much funner to round up your kids or some friends and make them together! Here's how:
Prepare all your ingredients: Cook the vermicelli noodles, drain, and rinse.
Prepare the veggies: Wash, peel, cut, and grate vegetables. Note: if the cucumbers are super juicy or seedy, remove some of the seeds prior to slicing so the rice paper rolls aren't watery.
Set up a rolling station: Lay out the prepared veggies, herbs, noodles, rice paper wrappers, a damp dish cloth or damp paper towels, a pie plate filled with room temperature water, and a plate for the finished rolls.
Dip the wrappers: Start by dipping one rice paper wrapper at a time in the water for around 10 seconds until it's pliable but not floppy.
Roll on a damp surface: make the rolls on a damp cloth or damp work surface so the rice paper wrapper does not stick and tear.
Add the filling: Pile the filling about a third of the way from the bottom of the wrapper keeping the edges clear. Fold the bottom up and over the filling. Next fold in the sides, then tuck and roll everything together - kind of like rolling a burrito. (Or fold the sides over first then pull the bottom flap up and over the filling and finish rolling - either way works.)
Place the prepared rolls on a plate between two damp paper towels (to prevent sticking) while you make the other rolls.
Serving: When ready to serve, slice the spring rolls in half. Pro Tip: Use a damp knife to cut the rolls to prevent sticking. Serve with a bowl of hoisin peanut sauce for dipping topped with chopped peanuts and sesame seeds. Enjoy!
How To Make Vietnamese Peanut Sauce
The secret to the BEST fresh spring rolls is an incredible peanut dipping sauce! It's so dang simple to make; let's get started: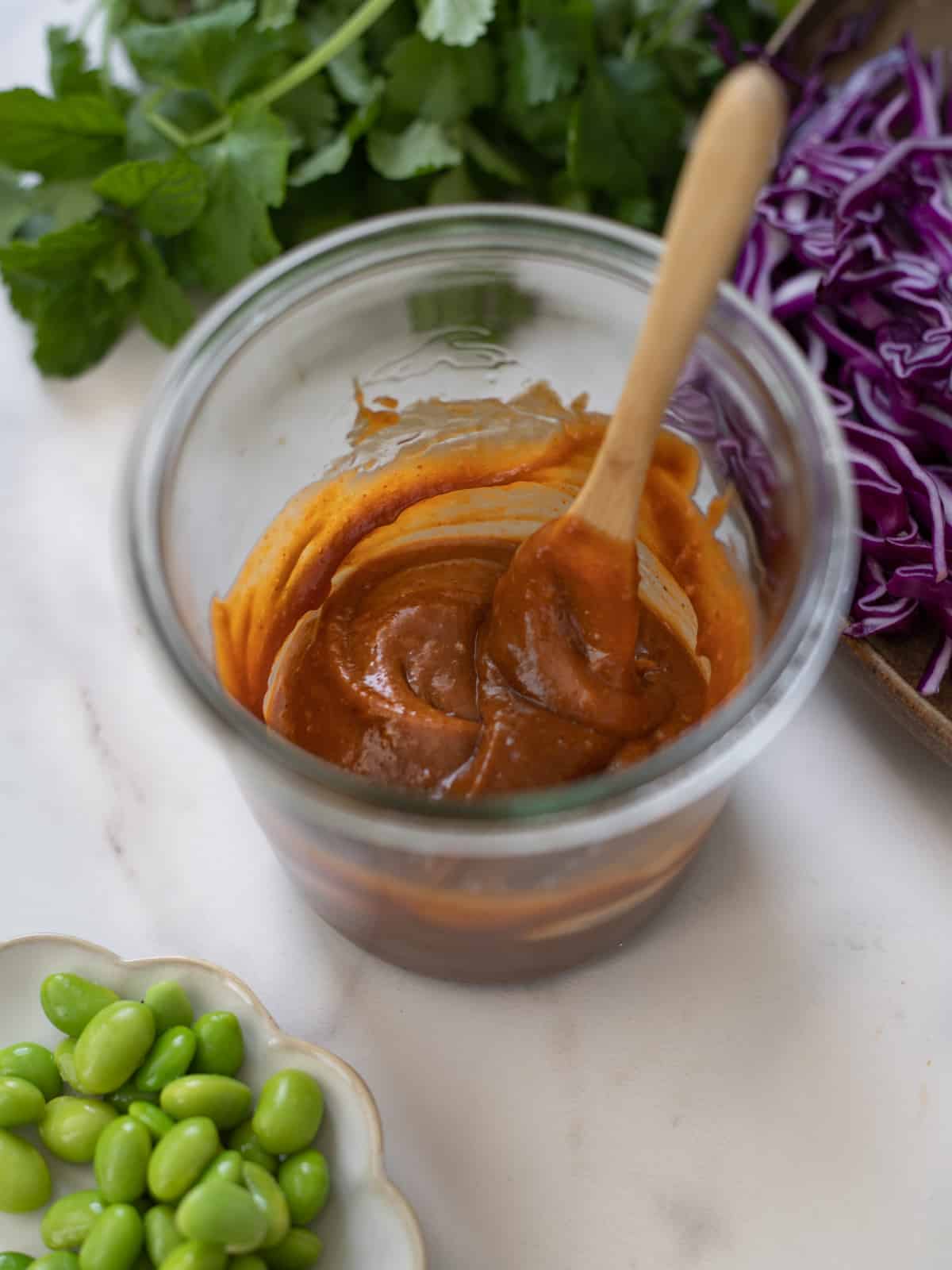 Combine the sauce ingredients: Place all ingredients into a bowl and whisk until combined. Adjust the consistency by adding a few tablespoons of water and whisking until smooth.
Taste and adjust: Taste the sauce and adjust to suit your preference (tangier, spicier, sweeter, etc).
Tips for Perfect Summer Rolls
Wrapping rice paper rolls can be a bit tricky, but don't worry! I've put together a few tips to help you master rice paper and wrap like a pro:
Create a rolling station: Before beginning to assemble the summer rolls, prepare and set out all the ingredients. This makes the assembly process fuss free. I also recommend making the hoisin peanut sauce and any additional dipping sauces ahead of time (up to a week in advance) and storing in the fridge.
Softening the wrappers: The one thing I could not get the hang of at first, was how long to dip the rice paper wrappers! I always left them in too long which resulted in a rubbery, slimy mess. For best results, fill a pie pan with lukewarm water and dip each wrapper for ~10 seconds. This might take some trial and error because of water temperature etc, but the wrapper should be flexible yet still firm. It will continue to soften as you pile on the veggies and vermicelli noodles.
Wrapping the rolls: If you've ever made homemade vegan sushi, you know that rolling can feel a bit clunky at first -but you'll get the hang of it after a few tries. Don't stress if they're not perfect; the more whimsical, the better!
Don't overfill: Don't add too much filling as it makes the rolls difficult to handle and prone to tearing.
Prevent sticking and drying: The rice paper can be sticky, but it also dries out easily. Keep your work surface damp to prevent sticking. Cover prepared rolls with a damp cloth or paper towel to keep the rice paper from drying out.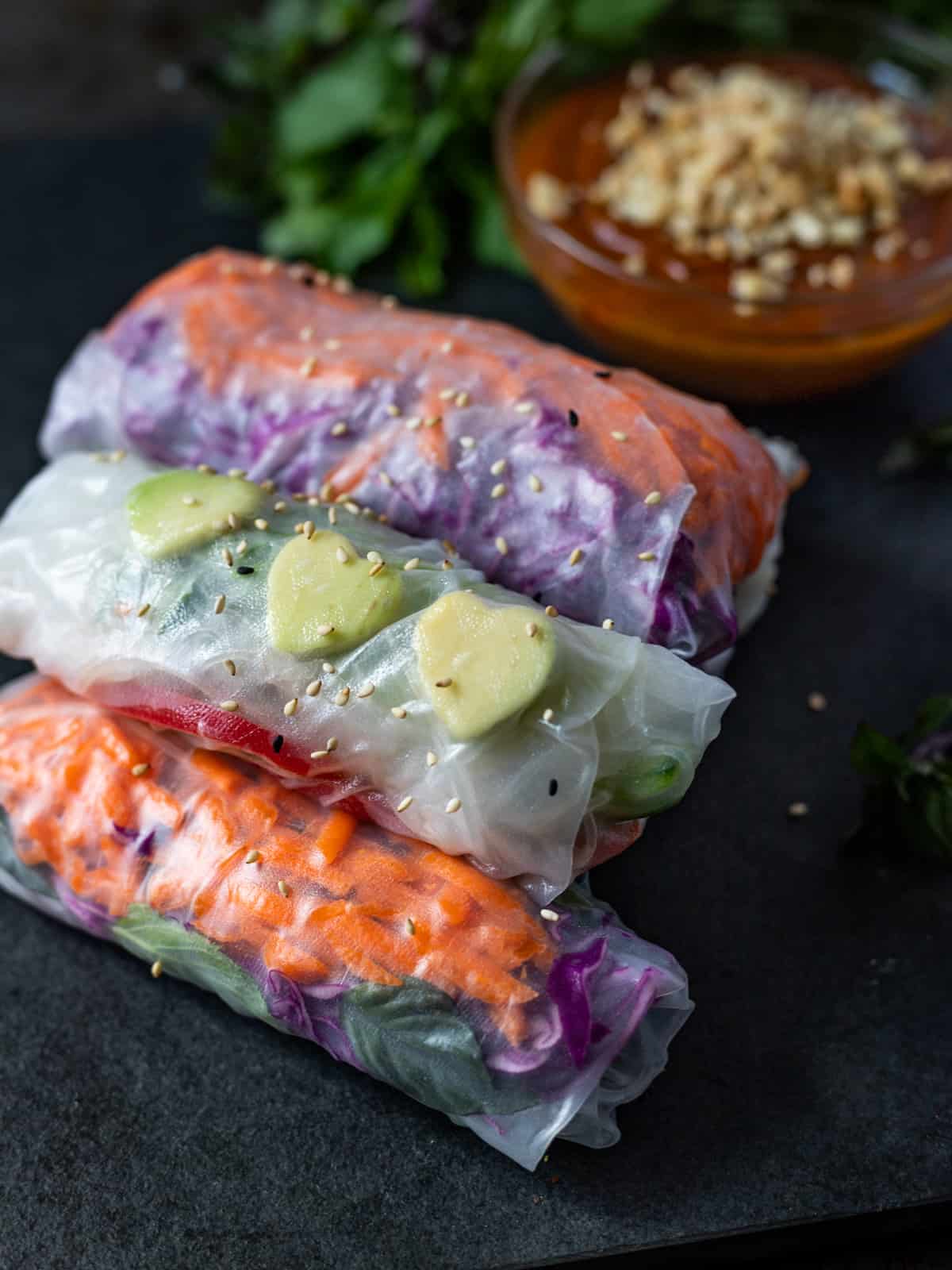 FAQ
Are spring rolls and summer rolls the same?
Vietnamese spring rolls and summer rolls are the same thing. They are made with fresh veggies, herbs, and vermicelli noodles wrapped up in rice paper wrappers. Not to be confused with Chinese spring rolls which are deep fried (also delicious!).
Can you make rice paper rolls ahead?
Rice paper rolls are best served fresh, but you can make them earlier in the day to serve later that evening. Just store them in the fridge wrapped in layers of damp paper towels to keep them from sticking or drying out. You can also prepare the veggies, noodles, and dipping sauces a day or two in advance and then just build them when ready to serve.
How to Store
If you have leftover summer rolls, store them in the fridge in an airtight container lined with a damp paper towel. They stay fresh in the fridge for about 3 days.
Leftover hoisin peanut sauce can be kept covered in the fridge for 10 days. Give it a good stir and a splash of water if necessary for thinning. There's a million uses for leftover peanut sauce like slathering it on tofu wraps, burgers, and baked or grilled veggies to name a few.
More Recipes to Try
Some more super flavorful and quick vegan recipes to try:
Did you make this recipe? I'd love to see it!
Please let me know in the comments. Thank you so much for sharing!
Tag me on Instagram
NEVER MISS A RECIPE: Sign up for my email NEWSLETTER!
Vegan Summer Rolls with Peanut Hoisin Sauce
Everyone loves these fresh and delicious vegan summer rolls! They're made with tons of veggies, vermicelli rice noodles, and the most incredible creamy peanut hoisin sauce for dipping. Ready in under 30 minutes, they make the perfect healthy weeknight meal. And, don't let the name fool you, these vegan summer rolls can be enjoyed any time of the year!
Rate this recipe!
INGREDIENTS
2

Persian or mini cucumbers, julienne

1

large

carrot, grated

1

cup

red cabbage, shredded

1

avocados, slices

½

cup

assorted herbs (mint, Thai basil, cilantro), rough chop

1-2

ounces

vermicelli noodles (or brown rice noodles)

8

rice paper wrappers, 8.5" round
Vietnamese Dipping Sauce
¼

cup

hoisin sauce

¼

cup

peanut butter

2-3

tablespoons

lime juice, fresh

1+

tablespoon

soy sauce

1-2

tablespoons

sriracha sauce

2-4

tablespoons

water
Optional
sesame seeds

peanuts, chopped
INSTRUCTIONS
Vermicelli Noodles
Cook the vermicelli noodles according to package directions. Drain, rinse with cool water, and set aside.
Make Peanut Hoisin Sauce
Whisk together the peanut butter, hoisin sauce and remaining ingredients in a small bowl. Then whisk in 2-4 tablespoons of water until smooth. Taste and adjust to your preference (sweeter, spicier, tangier, etc).

Cover and store in the fridge until ready to use.
Prepare Vegetables
Prepare fresh herbs, slice avocado, grate or julienne carrots and cucumbers, slice thin or mandoline the red cabbage* - place into bowls. *Use pre-shredded cabbage for convenience.
Prepping Workstation
Gather together all the prepared veggies, herbs, rice noodles, spring roll wrappers, damp dish cloth or paper towels, pie plate filled with lukewarm water, and plate for finished summer rolls to create a rolling workstation.
Rice Paper Wrappers
Making one summer roll at a time, dip the wrapper in a plate of room temperature water for ~10 seconds until pliable but not floppy (it softens up more once rolled with the filling). You'll get the feel for how long the wrappers need to dip pretty quickly.

Place one softened rice paper wrapper on a damp surface (cutting board or towel). Pile the filling about one-third from the bottom of the rice paper wrapper. Don't go too wide or it's a challenge to wrap the sides of the spring roll.

Pull the bottom flap up and over the filling, fold in each side, tuck and roll - like you're rolling a burrito (see photos).

Stack the finished rolls on a damp paper towel.

Right before serving, slice in half (using a wet knife). Serve with a big bowl of sweet and spicy hoisin peanut sauce garnished with chopped peanuts and sesame seeds.
NOTES
Dip the rice paper wraps one at a time for best results. Eg. dip, fill, roll and store. Repeat
Make the rolls on a damp work surface to prevent sticking.
Keep the prepared fresh spring rolls covered with a damp cloth/paper towel so they don't stick together or dry out.
Make the peanut hoisin sauce up to a week in advance and store in the fridge.
Store for up to 3 days in an container lined with damp paper towels. Place damp paper towels between the layers as well.
This recipe is from simplyceecee.co food blog. All images and content are copyright protected. Please do not use my images or republish this recipe without prior permission. Thank you.