This is the ultimate Vegan Caesar Dressing recipe! It's quick and easy to make, bursting with all the tangy savory flavors of traditional caesar dressing without anchovies or eggs. Plus it keeps well and is delicious on absolutely everything (not just vegan caesar salad)!
Everyone's Favorite Caesar Dressing
The secret to a really good tasting caesar dressing is the bold, umami flavors and rich creamy texture which traditionally come from anchovies, dairy, and egg yolks. So making a vegan version can be tricky.
Don't worry though, after much recipe testing and tweaking, I finally hit the magical combination of ingredients that nails the creamy, zesty, garlicky flavors you expect in a traditional caesar dressing but without the eggs, dairy or fish. There's good reason EVERYONE (vegan or not) loves the taste of this 5 minute vegan caesar dressing! I think you will too!
Vegan Caesar Dressing Ingredients
This caesar dressing has only a few key ingredients. The authentic taste comes from the right combination of these ingredients. Here's what you'll need: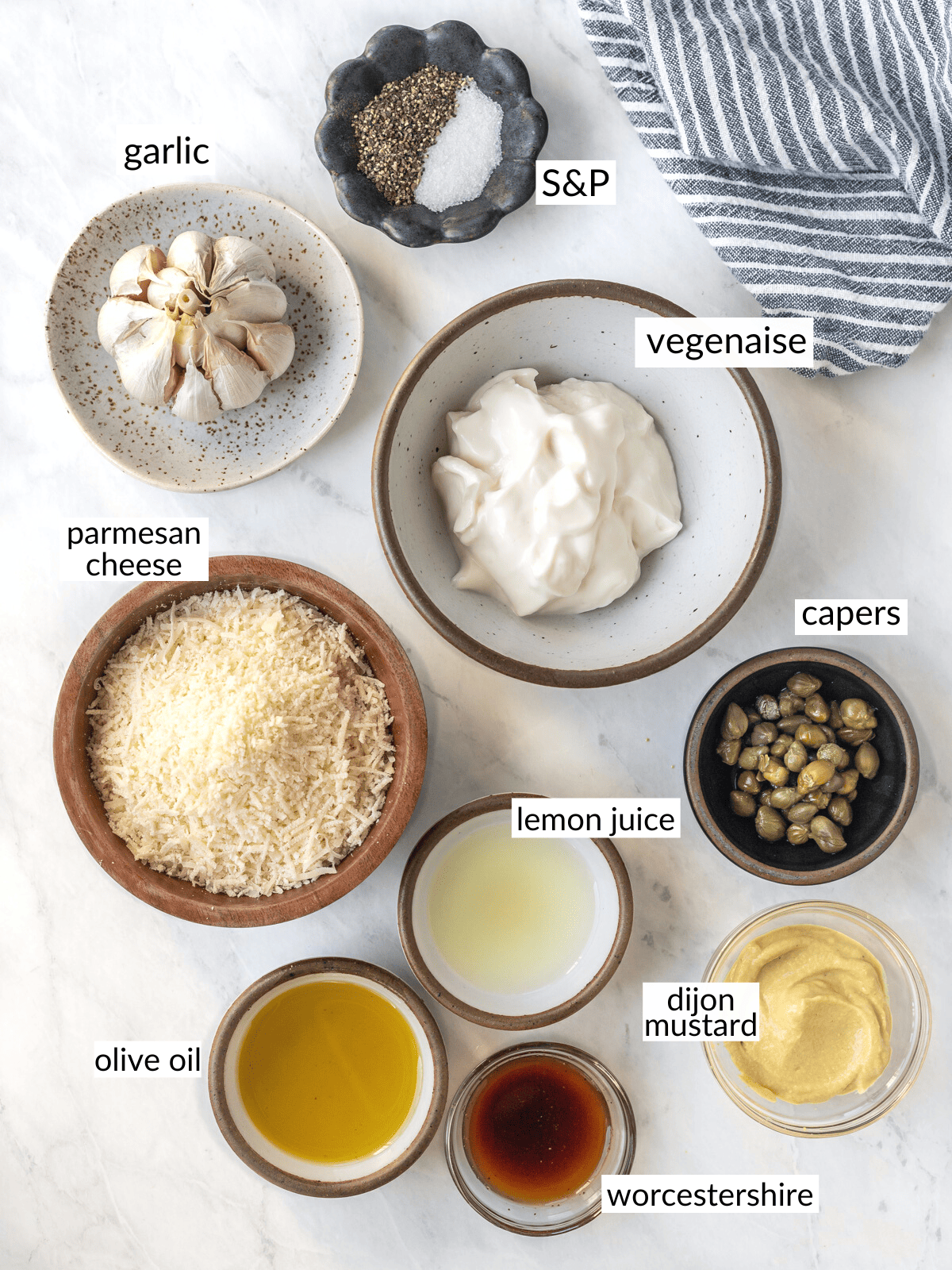 Follow Your Heart Vegenaise (vegan mayonnaise), dijon mustard, and olive oil create the base for this creamy, vegan caesar salad dressing.
Fresh lemon juice, vegan worcestershire sauce, and capers: These important ingredients help create the authentic Caesar flavor. Plus the acidity cuts through the creamy base keeping the caesar dressing light and tangy.
Seasonings: Fresh raw garlic is pungent and spicy. Salt and pepper are essential to bring all classic caesar dressing flavors together.
Parmesan Cheese: Parmesan cheese intensifies the salty, umami flavor of the dressing. I like to add some to the dressing and then toss a ton in my salad.
How to Make Caesar Dressing - vegan version!
I think you'll be surprised at how quick and easy it is to make this killer vegan caesar dressing from scratch. Grab your ingredients and let's whip up a batch together!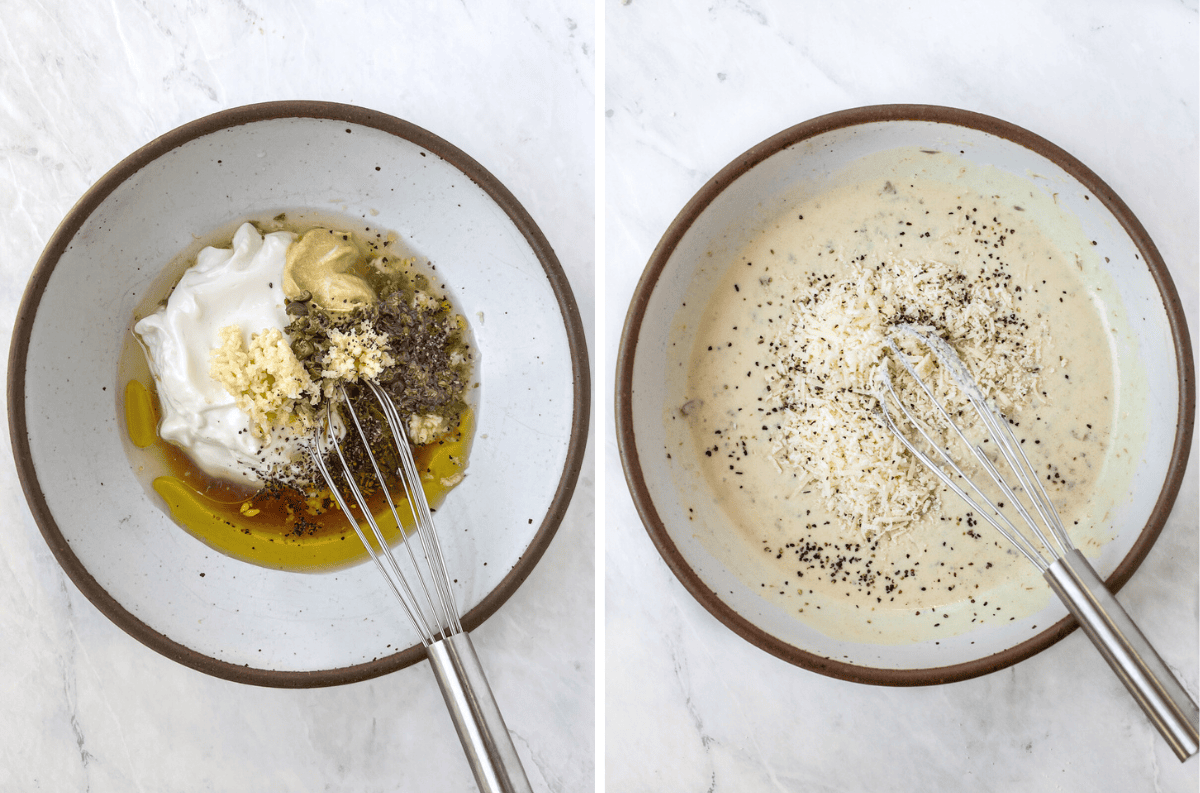 Mix it: Measure all the ingredients into a bowl or jar. Whisk together.
Taste it: Taste and adjust seasonings to your preference.
Chill it: If time allows, chill the caesar dressing so the flavors bloom and the dressing thickens slightly.
Serve it on everything: Not just for caesar salad, this dressing is the perfect addition to any salad, grain bowl, grilled veggies, BBQ burgers, drizzled over corn on the cob plus so much more. It's makes everything taste 1000% better! Trust me on this!
Tips and Options
This recipe is honestly the best tasting vegan caesar dressing ever. Our family and friends are obsessed with it as written. However, there's lots of room to customize this dressing to your personal taste by adjusting the amount of garlic, salt, pepper, and lemon juice, cheese, etc. Here's a few flavor and ingredients tips:
Too tangy?: If the caesar dressing is too acidic/sour, add another teaspoon or two of oil or Vegenaise or ½ teaspoon maple syrup to balance out the flavors.
Is your dressing is missing something?: If the salad dressing tastes flat or it's missing something, the answer is usually salt. For caesar salad, it could also be pepper. Whisk in another pinch or two of salt - taste again. Then add more coarse ground black pepper to enhance the flavors as needed.
Oil options: Sub in any oil like grapeseed oil, vegetable oil or canola oil if preferred.
Extra briny: Add a teaspoon of caper brine for extra zip and flavor.
No Worcestershire sauce?: No problem! If you can't find vegan Worcestershire sauce, you can make it (it's easy and stores forever in the fridge). Or in pinch sub in 1 teaspoon of soy sauce to add the salty, umami, fermented flavor. Taste and adjust the amount of soy sauce as you go. Use light or medium soy sauce or tamari (gluten free).
Parmesan cheese: I add some dairy-free parmesan to the dressing and lots to the salad. Measure the cheese with your heart.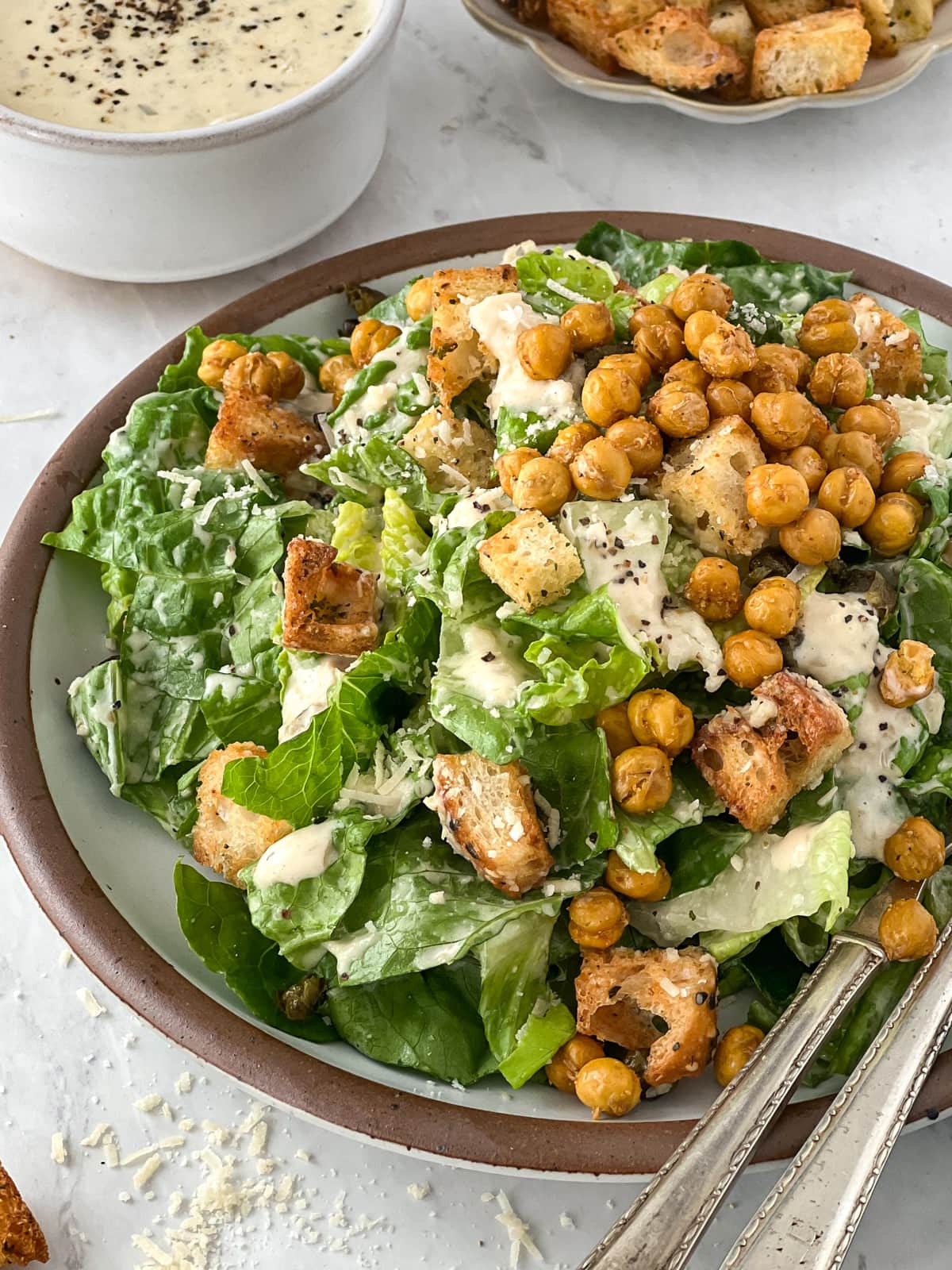 Ways to Use Caesar Dressing
This flavorful vegan dressing makes everything taste 1000% better! Trust me it can be enjoyed in a variety of different ways:
on caesar salad: Make a crowd pleasing vegan caesar salad topped with homemade air fryer croutons or crispy chickpeas and tons of freshly grated parmesan cheese.
as a salad dressing: Great dressing on potato salad, pasta salad, rainbow salad, kale caesar.
as a drizzle: Drizzle over pizzas, vegan tacos, crispy potatoes, sweet potatoes or tofu.
as a dip: Delicious for dipping veggies, tofu fingers, cauliflower bites or fries.
as a condiment: Smear it on veggie sandwiches, vegan burgers, and chickpea or tofu wraps.
Storing Tips
Store any leftover salad dressing in an airtight container or jar in the refrigerator. Since there are no raw eggs to worry about, the dressing should keep for 7-10 days. This dressing thickens as it chills, stir in some water to thin as needed.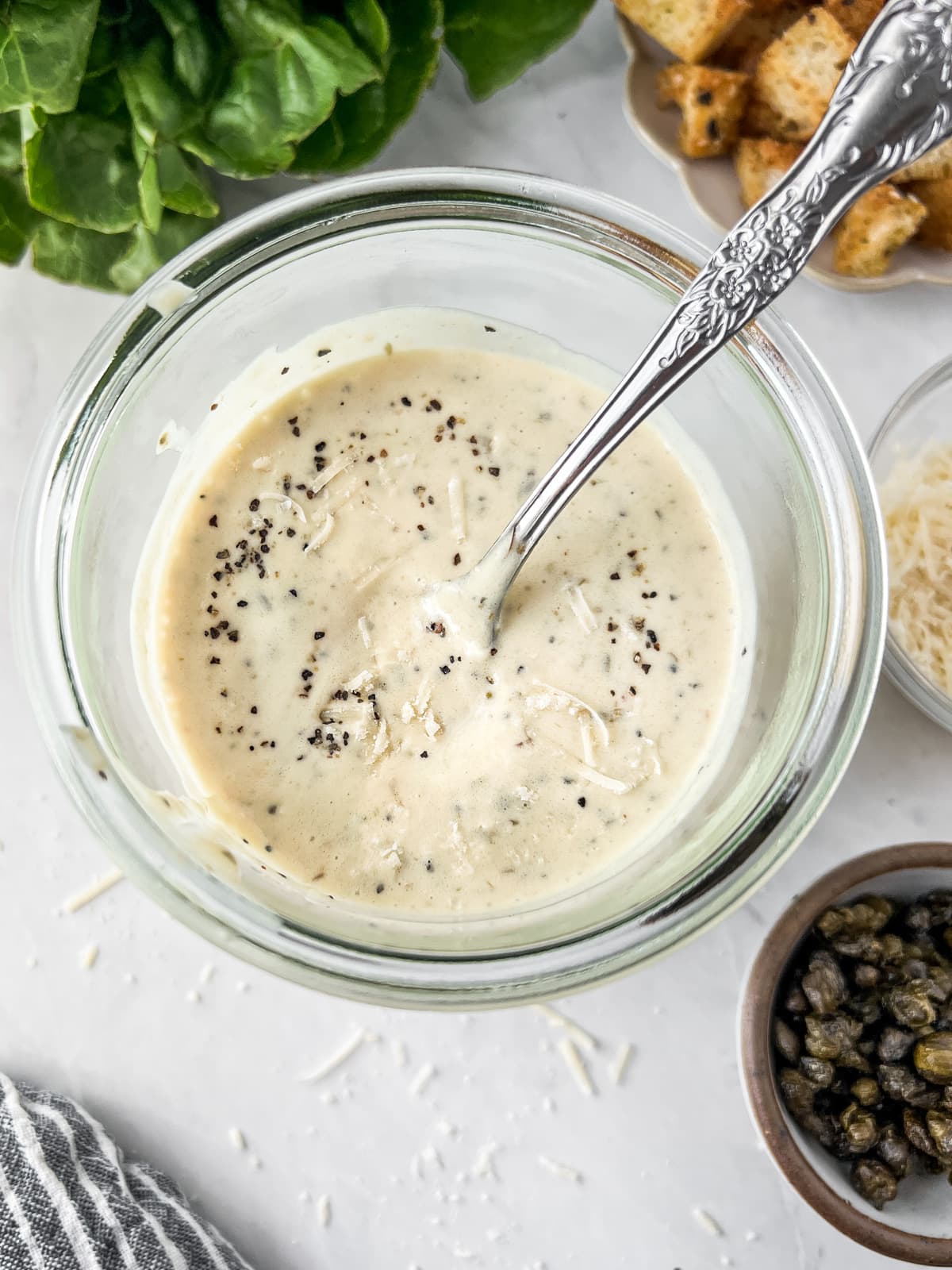 More Vegan Dressings & Sauces
I'm obsessed with an extra flavorful salad dressing, sauce or dip. If you are too, here's a few to try next:
If you tried this creamy Vegan Caesar Dressing recipe or any other recipe on the blog, please let me know how you liked it by leaving a rating and review below! Follow along on Instagram and Pinterest for more delicious vegan recipes.
JOIN US SUNDAY MORNINGS: Sign up for my weekly NEWSLETTER!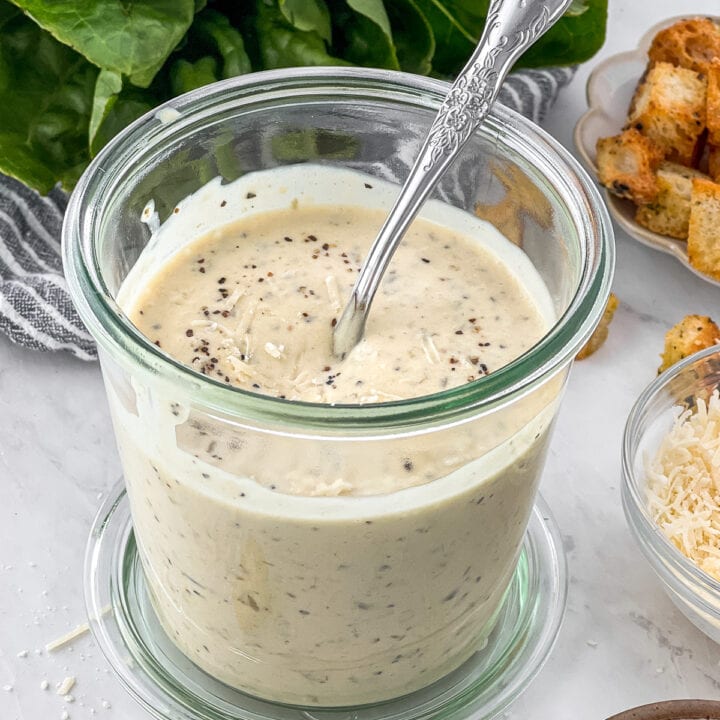 Really Good Caesar Dressing (vegan + gf)
Simple, 5 minute Vegan Caesar Dressing that's just as flavorful and creamy as classic caesar salad dressing. This vegan version is made without anchovies, no eggs, and no dairy. Delicious on salads, bowls, and veggie wraps or use it as a veggie dip!
Rate this recipe!
INGREDIENTS
½

cup

Vegenaise (vegan mayonnaise)

1

tablespoon

dijon mustard

1

tablespoon

olive oil

2

cloves

garlic, finely minced or grated

2+

tablespoons

lemon juice (freshly squeezed)

1

tablespoon

capers, finely minced

1

tablespoon

worcestershire sauce*

salt and pepper to taste

2-4

tablespoons

vegan parmesan cheese
INSTRUCTIONS
How to Make Vegan Caesar Salad Dressing
Whisk all the dressing ingredients together. Taste and adjust seasonings as needed.

Store in the refrigerator for up to 10 days.
NOTES
Extra Briny: Add a teaspoon of caper brine for extra tanginess. *Worcestershire Sauce: I use 1 tablespoon of my homemade vegan (gf) Worcestershire sauce. If you are using store bought, start with 1 teaspoon then taste and add more as needed. Worcestershire Sauce alternative: Sub in a teaspoon of light soy sauce if you don't have vegan Worcestershire sauce on hand. Storing: Store the salad dressing in the fridge for up to ~10 days.
This recipe is from simplyceecee.co food blog. All images and content are copyright protected. Please do not use my images or republish this recipe without prior permission. Thank you.