When I dream about an epic, healthy sandwich, this classic California sandwich is what appears! A big, crunchy, creamy sandwich packed with veggies, vegan cheese, avocado, sprouts, and hummus on multigrain bread.
This vegan version of the California classic veggie sandwich is quick and easy to recreate at home in just 10 minutes!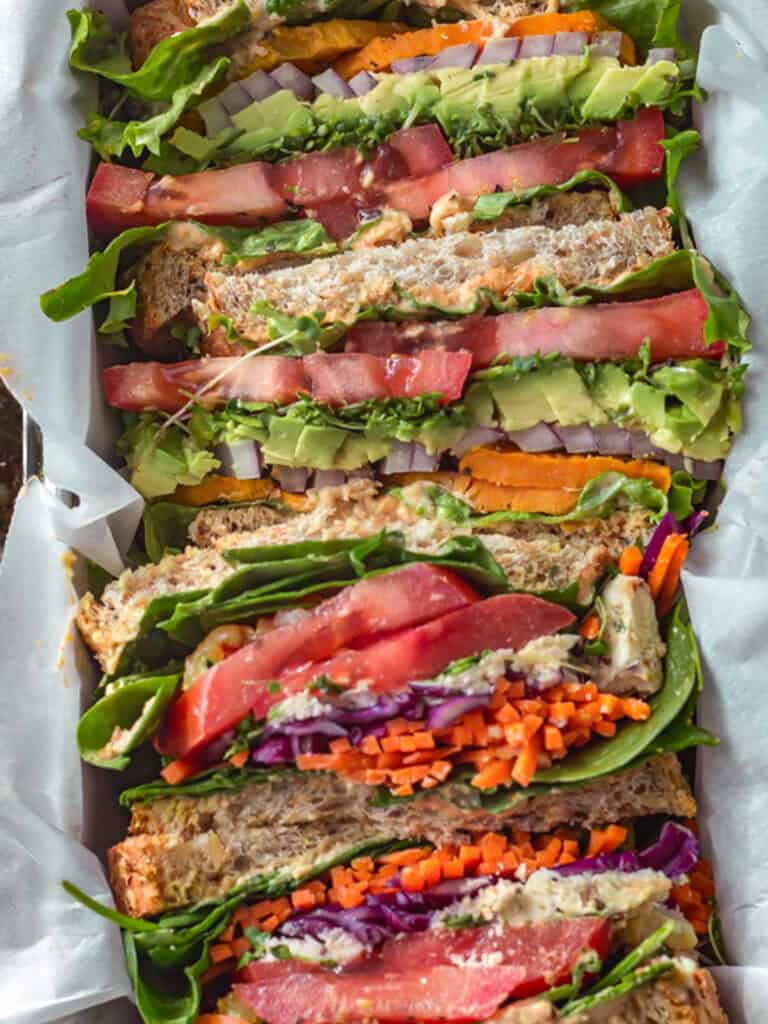 Although this gorgeous sandwich looks like you fussed, you didn't have to! It's super customizable too - use any vegetables you have in the fridge (raw or cooked).
I'm the daughter of the sandwich Queen so I know a thing or two about making a sandwich! Here's what I know a great veggie sandwich needs: a delicious bread, an incredible filling (in this case veggies), a variety of textures and flavors (crunchy, creamy, tangy, sweet, salty, spicy), and a flavorful sauce or condiment!
Veggie Sandwich Ingredients
Here's what I used to make this classic California sandwich (vegan version):
Bread - the bread is important! It has to be sturdy enough to stand up to the ingredients and it has to taste good. Multigrain is traditional.
Fresh Veggies - crunchy grated carrots, julienne cucumbers, tomato slices along with sprouts and avocado are classic on a California sandwich.
Condiment - creamy hummus or vegan mayo.
Something Pickled - add something tangy (sour) like spicy or Mexican pickled red onions, sweet pickled gherkins, dill pickles or pickled hot peppers.
Seasoning - salt enhances the flavors (sprinkle it on the tomatoes and cucumbers). Coarse black pepper and red chili pepper flakes add a kiss of heat.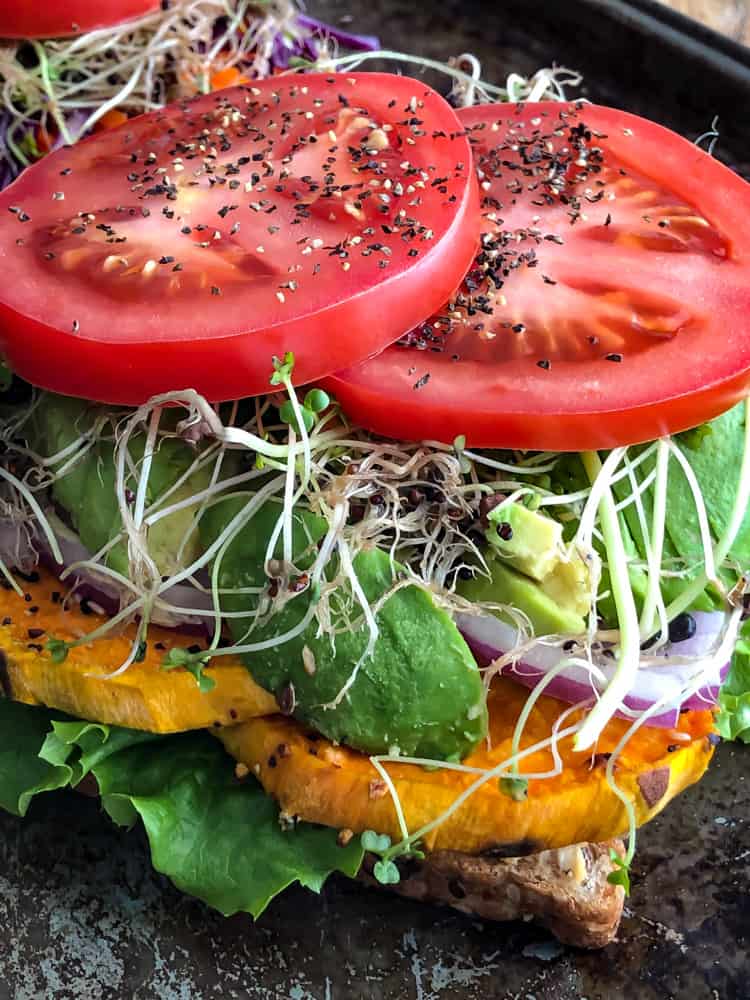 Ingredients Variations
Bread ideas: choose your favorite bread (toasted or not) like a grainy sourdough, traditional sandwich bread, pita pocket, cheese bun, everything bagel, sprouted or gluten-free bread.
Condiments: skip the butter and go straight to hummus for extra flavor, protein and nutrients. Vegan honey mustard is delicious and takes only minutes to make. Other vegan condiments include sriracha mayo or vegan tzatziki sauce (cashew base)!
Can I add more veggies?: Yes, add more veggies! Try sliced (or pickled) radishes, assorted leafy greens, bell peppers, onion slices, olives, and .
Baked/warm veggies: I like to add baked sweet potatoes for extra texture and flavor. They are very creamy and add a ton of nutrients and heartiness to a vegetarian sandwich.
Add some vegan cheese: the classic California veggie sandwich typically includes cheese (slices or cream cheese). Add your favorite dairy-free cheese like Miyoko's, Follow Your Heart, Field Roast (Chao), Kite Hill or Violife to name a few. We have several outstanding local vegan cheese brands - I'm sure you do too!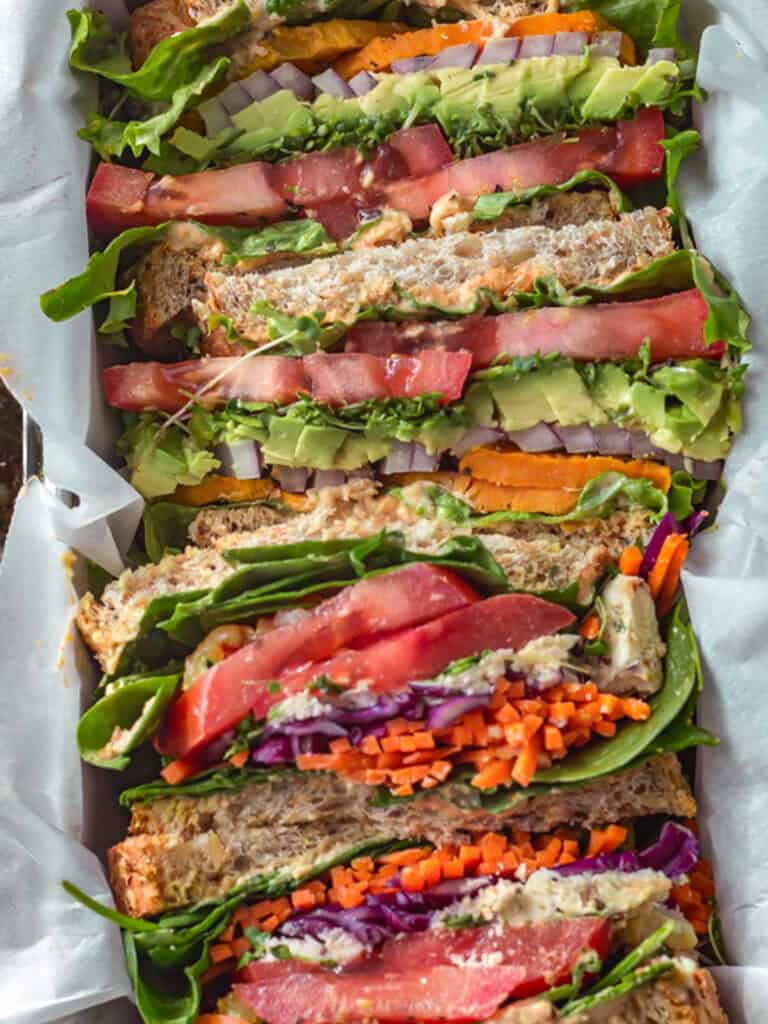 Tips for Making an Epic Vegan Sandwich
It's easy to make a veggie sandwich, just cut up the vegetables of choice, slather hummus on the bread, add the veggies, vegan cheese, and pickled onions, and it's ready to enjoy! Here's a few constructions tips just in case:
Choose your bread wisely: The bread should be sturdy. Avoid huge slices of bread (too floppy) or thin bread (too drippy). Toast the bread if preferred. As well, you can add an extra layer of bread in the middle.
Sandwich glue: The condiments are the glue that sticks the bread (and everything) together - apply liberally to all slices of bread. They also add creaminess, nourishment and flavor - try spicy hummus, vegan honey mustard, sweet and spicy tahini or spicy vegan ranch.
Pat the veggies dry: Use a salad spinner or kitchen towel to dry the leafy greens and sprouts. This will prevent a soggy sandwich.
Layering the veggies: Cut the vegetables flat especially the tomatoes and avocados - which are also slippery! Start with the sturdy vegetables at the bottom then layer so the sandwich remains as flat as possible.
More layering tips: Don't add two slippery ingredients on top of each other or you'll be wearing that sandwich after the first bite. Layering a slippery ingredient next to a stable ingredient (like sweet potato or bread) will help keep your sandwich stable.
The crowning glory: Add the light ruffly veggies on top (lettuce, spinach, sprouts, pickles, etc).
Eating strategy: Gently press the sandwich down before biting into it. I suggest having extra napkins on hand!
Serving Suggestions
This California veggie club style sandwich is a meal on its own, but what goes better with sandwiches than soup or fries! Here's a some favorite vegan soups: Vegetable Bean Soup, Curried Cauliflower Soup (aka: the greatest soup ever!) or classic tomato soup.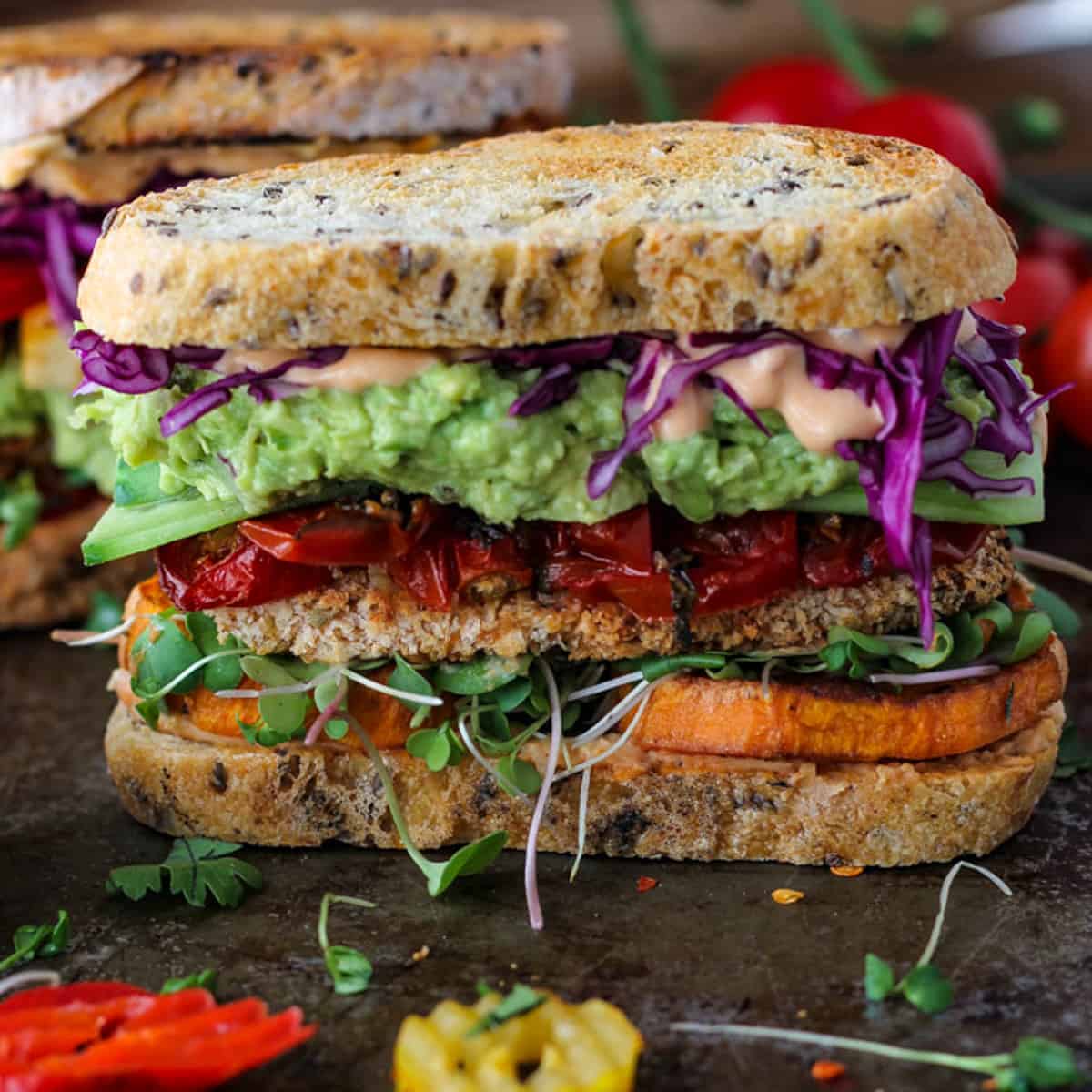 More Vegan Sandwiches to try
Did you make this recipe? I'd love to see it!
Please let me know in the comments. Thank you so much for sharing!
Tag me on Instagram
NEVER MISS A RECIPE: Sign up for my email NEWSLETTER!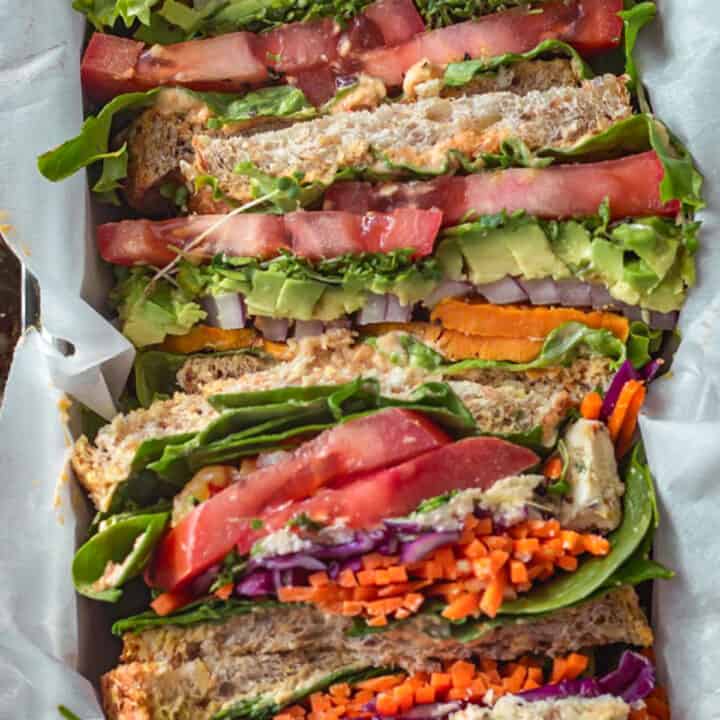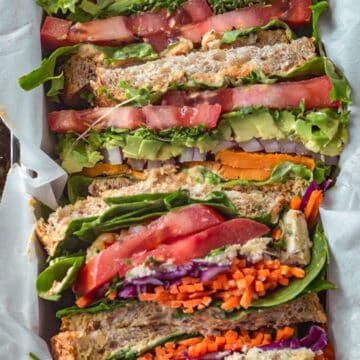 California Veggie Sandwich (easy+healthy)
Vegan California sandwich with layers of crunchy vegetables, avocado, sprouts, and cheese on multigrain bread. This fresh, healthy sandwich will appeal to everyone - vegan or not!
Rate this recipe!
INGREDIENTS
1

large sweet potato, sliced

spicy hummus (sriracha + soya sauce)

1

tomato, sliced

1

avocado, sliced

2

red onion, slices

1

carrot, grated

1

cucumber, julienne

purple cabbage, shredded

handful

sprouts

leafy greens (spinach, leafy greens, arugula)

4

slices

vegan cheese

pickled jalapeños, gherkins, pickled red onions

4

slices

multigrain bread
INSTRUCTIONS
Preheat oven to 400º F.  Prepare a baking sheet by adding a sheet of parchment. 
Baked Sweet Potato Slices (optional)
Wash and slice a large sweet potato into ½" thick slices.

Place in a bowl, drizzle with 1 teaspoon oil, season with garlic powder, salt, pepper, hot pepper flakes, and a squeeze of lemon juice - toss to coat.

Transfer to a prepared baking sheet in a single layer. Cook for ~12 minutes (flip the slices) and then cook for another 8 minutes or until tender but crispy.

*Turn the stove to broil for the last minute or two to crisp up if desired.
Hummus
Hummus, use your favorite store bought brand or homemade hummus. Add a generous squirt of sriracha sauce and a teaspoon of tamari or soy sauce - stir to incorporate.
Prepare Veggies and Toppings
Gather together spicy pickled onions, pickled jalapeños, non-dairy cheese, and any additional veggies you prefer.
To Serve
Slather the bread slice with hummus, vegan butter or mayo or vegan honey mustard. Add the flat sturdy vegetables first then pile on the leafy greens, sprouts and top with pickles, pickled onions, and another slice of bread. Cut in half and enjoy!
NOTES
Cut the vegetables flat.
Don't stack two slippery vegetables on top of each other.
Don't over stuff the sandwich.
Toast the bread if necessary for stability or stuff a pita pocket or a bagel.
Serve with extra napkins.
This recipe is from simplyceecee.co food blog. All images and content are copyright protected. Please do not use my images or republish this recipe without prior permission. Thank you.