This epic vegan veggie sandwich recipe is simple to make. It's a big, hearty sandwich packed with flavour, texture, the whole rainbow, and it takes both hands to eat! Crunchy, creamy, tangy, sweet and sour, this healthy sandwich is stacked high with all your favourite veggies plus a few surprises too!
Although this gorgeous sandwich looks like you fussed, really, it's a cinch to make. It's also super versatile so you can use any veggies you have in the fridge; however, this combo will light your tastebuds up.
I'm the daughter of the sandwich Queen so I know a few things about sandwiches! Here's what I know: a great vegan veggie sandwich needs delicious bread, a creamy sauce/spread, a variety of texture - raw and baked veggies, something crunchy, juicy, creamy, tangy (sour), sweet, salty, and some heat!
Ingredients for the Best Vegan Veggie Sandwich
Bread - bread is important, it has to be sturdy enough to stand up to the ingredients and it has to taste good. Whether you toast or not will be factor as well. I like sourdough and grainy bread usually; but every now and then, I want good old toasted sandwich bread fresh out of the oven (no preservatives and vegan).
Spread - skip the butter and sub in classic hummus (incredible Dan Dan spicy hummus or try tangy sun-dried tomato and olive hummus). You'll get loads of flavour and nutrients from the creamy hummus.
Equal amounts of vegenaise and dijon mustard with a squirt of sriracha is also a delicious creamy spread.
Fresh Veggies - fresh, crunchy, colourful (eat the rainbow), juicy, tangy, sweet, salty. Use whatever you have on hand. Crunchy julienne carrots and purple cabbage, delicate cucumber ribbons, crisp radishes, leafy greens, juicy tomatoes, bell pepper slices, creamy avocado chunks, fresh sprouts, pungent onion slices, black or green olive slices - the options are endless.
Baked/Warm Veggies - baked sweet potatoes - optional, but dang they are a delicious choice - the texture is the bomb, and they play well with all the other flavours.
Tangy/Sweet - add something tangy (sour) like pickled red onions, sweet pickled gherkins, dill pickles or pickled hot peppers.
Cheese - dairy-free and vegan of course! The cheese isn't required for a fantastic vegetarian sandwich because it's already got hummus and avocado which are both flavourful and creamy. Having said that, cheese is a tasty option. Try a jalapeno havarti or spicy cheddar.
Spices - salt which enhances the flavour (I usually add it on top of the tomatoes/cucumbers). Pepper which adds some heat and flavour. Hot pepper flakes for a pop of heat. Sprinkle of Tajin or EBTB!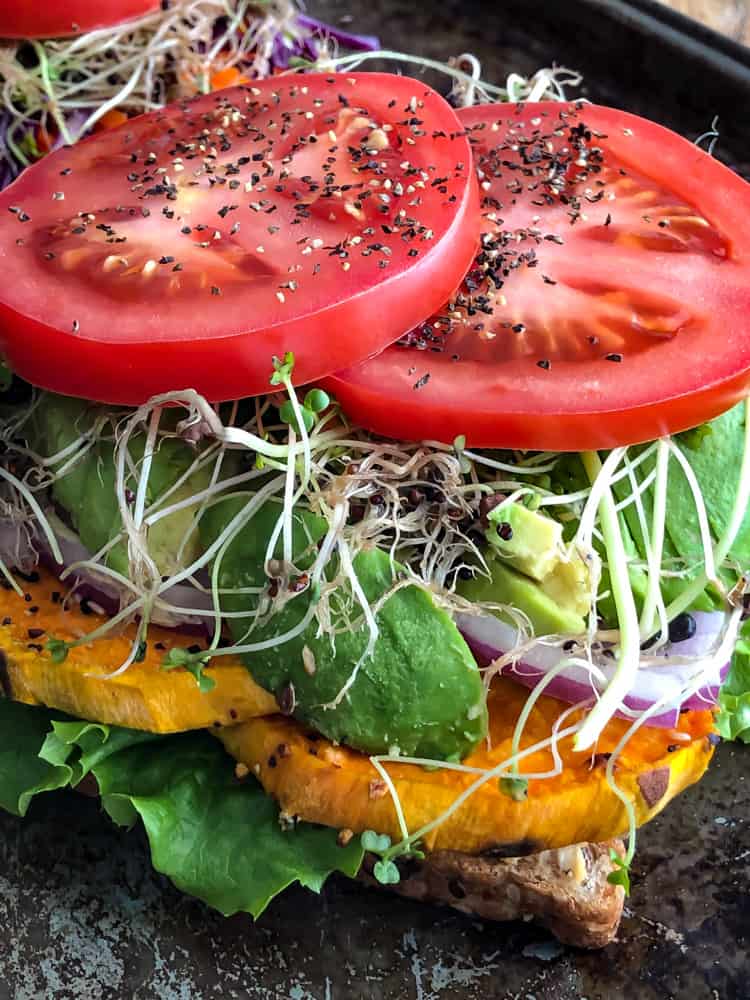 Tips for Making A BIG Vegan Veggie Sandwich
Your bread needs to be sturdy. So avoid huge slices of bread or thin bread. Toast if necessary. As well, you can add an extra slice of bread halfway through.
The hummus or creamy dijon spread are going to be the glue that sticks the next layer to the bread. So apply liberally to all slices of bread.
Cut the vegetables flat especially the tomatoes and avocados as they are slippery.
Dry the leafy greens and sprouts - don't add soggy veggies to the sandwich.
Start with the sturdy vegetables at the bottom then layer so the sandwich remains as flat as possible.
Don't add two slippery ingredients on top of each other or you'll be wearing that sandwich after the first bite. Placing slippery ingredients next to the hummus or a stable ingredient (like the baked sweet potato) will help keep your sandwich stable.
Add the light ruffly veggies on top (lettuce, spinach, sprouts, pickles, etc).
Gently press the sandwich down before eating. I suggest using both hands and passing extra napkins!
Other Vegan Sandwiches Everyone will Love
Epic Veggie & Tofu Sandwich - tofu is our new favourite in sandwiches!
Avocado Chickpea Salad Sandwich with a surprise ingredient!
Best Vegan Shawarma with 2 unbelievable sauces!
Easy Hearty Meatball Sub with pesto - this substantial sandwich is a real crowd pleaser!
BBQ Jackfruit Burger with sloppy slaw - easy and irresistible!

Did you make this recipe? I'd love to see it!
Please leave a star rating and comment at the bottom of the page.
Thank you so much for sharing! Tag me on Instagram 
For more Vegan Recipes: Sign up for my email NEWSLETTER!
BIG Vegan Veggie Sandwich (easy+healthy)
Hearty vegan California-style vegetable sandwich stacked high with creamy hummus, crunchy vegetables, tangy pickles, and some heat. This fresh, healthy sandwich will appeal to everyone - vegan or not!
Rate this recipe!
INGREDIENTS
1

large sweet potato, sliced

spicy hummus (sriracha + soya sauce)

1

tomato, sliced

1

avocado, sliced

2

red onion, slices

1-2

carrots, julienne

1

cucumber, ribbons

purple cabbage, shredded

handful

sprouts

greens (spinach, leafy greens, arugula)

4

slices

vegan cheese

pickled jalapeños, gherkins, pickled red onions

4

slices

bread
INSTRUCTIONS
Preheat oven to 400º F.  Prepare a baking sheet by adding a sheet of parchment. 
Baked Sweet Potato Slices
Wash and slice a large sweet potato into ½" thick slices.

Place in a bowl, drizzle with 1 tsp of oil (for no oil roasting, dip each slice in some vegetable stock - for extra flavour), sprinkle with garlic powder, s&p, hot pepper flakes, and a squeeze of lemon juice - toss to coat.

Place each slice on the prepared baking sheet in a single layer. Put in the oven and cook for about 12 minutes (flip the slices) and then cook for another 8 minutes or until soft but crispy (I like my slices a bit firm). 

*You can turn the stove up to broil for the last minute or two to crisp up if desired.
Hummus or Spread (instead of butter)
Prepare Veggies and Toppings
Gather sprouts, picked jalapeños, and any additional veggies you prefer.
Putting It all Together
Slather the bread with hummus or spread. Add the flat sturdy vegetables first the pile on the leafy greens, sprouts and top with pickles, pickled onions, etc.
NOTES
Cut the vegetables flat.
Don't stack two slippery vegetables on top of each other.
Don't over stuff the sandwich.
Don't choose large slices of bread.
Toast the bread if necessary for stability.
Serve with extra napkins.
This recipe is from simplyceecee.co food blog. All images and content are copyright protected. Please do not use my images or republish this recipe without prior permission. Thank you.