This tasty baked tofu recipe is perfectly seasoned, easy to make, and healthy to boot. Ready in under 30 minutes, the tofu texture is perfection - succulent and meaty on the inside and crunchy and golden on the outside.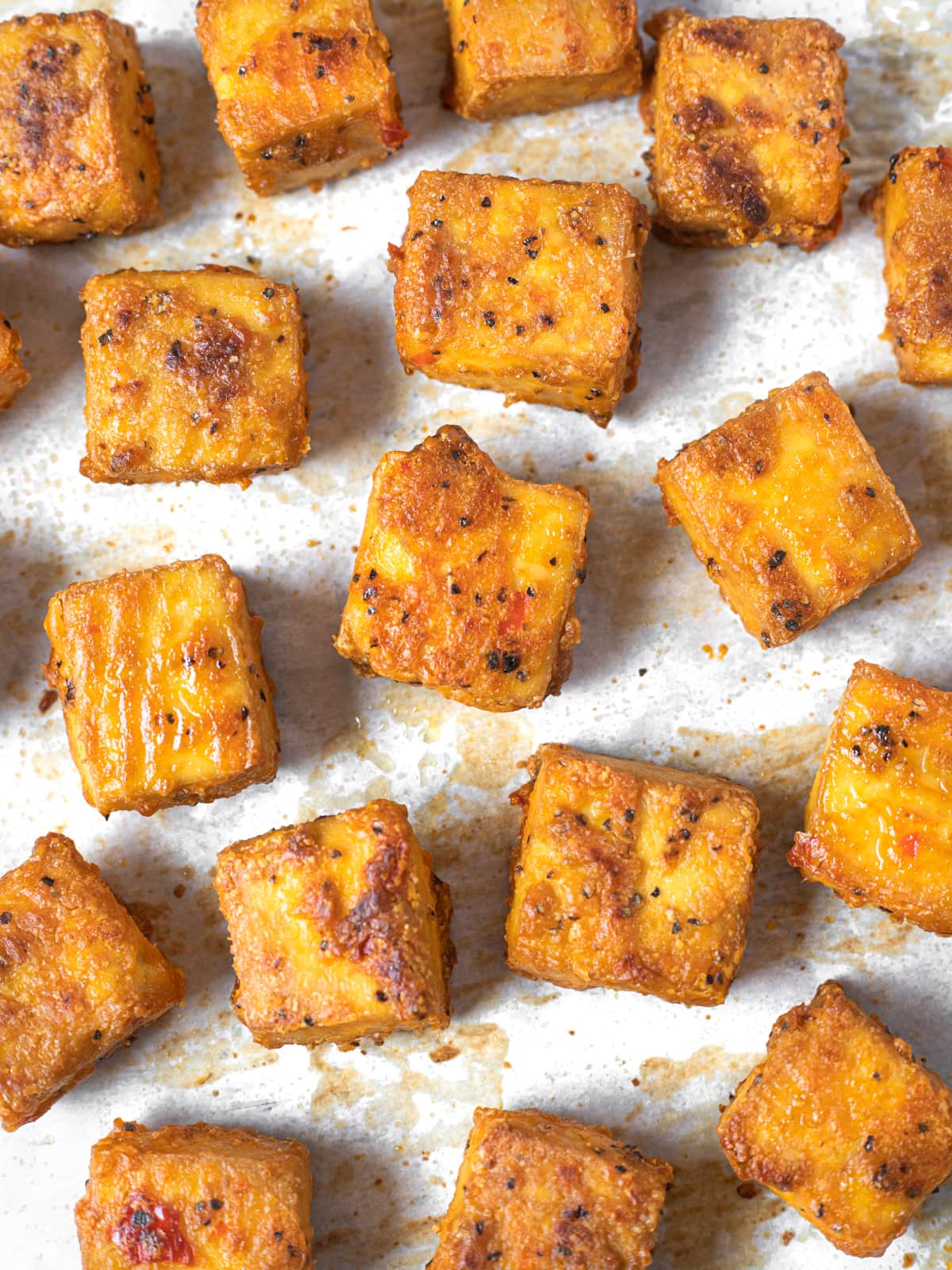 We are BIG fans of tofu dishes at our house, I cook tofu A LOT and everyone loves it (now). Tofu is a healthy vegan protein, quick and easy to make, inexpensive, and super versatile.
Air fried tofu is the quickest, least fussy, healthy way to cook crispy tofu.
Sizzling pan fried tofu is hands down the crispiest way to cook tofu for irresistibly crispy tofu and epic crunchiness.
Baked tofu (my favorite!) is one of the easiest tofu recipe to make and yields a batch of the most succulent tofu with tender pillowy insides and gorgeous crispy crusts! It's perfect for adding to salads, ramen, tacos, stir fries, Buddha bowls and so much more.
Try one of these 3 EASY tofu cooking methods for the tofu lovers and tofu skeptics in your life - they won't be disappointed (and neither will you), I promise.
Ingredients with Substitutions
Cooking with tofu is quick, healthy, and delicious (great for meal prep!). It's inexpensive and readily available at the supermarket in the refrigerated aisle (usually near produce, cheese or deli). Here's what you'll need to make the easiest baked tofu recipe: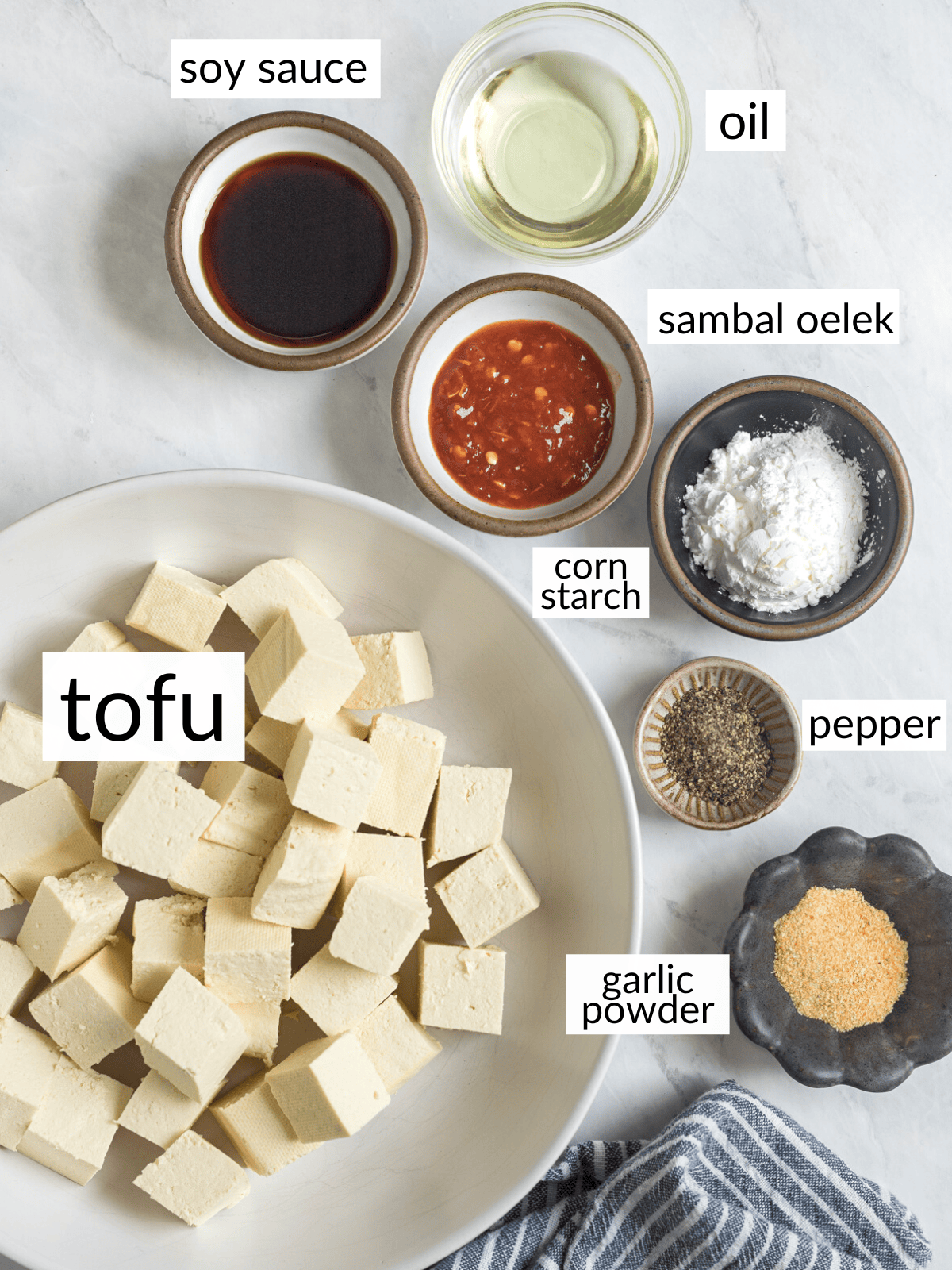 Extra firm tofu: Can use firm if no extra firm available (talk to you, January!)
Soy sauce: For rich umami, salty flavor. Sub with gluten-free soy sauce, tamari or low sodium soy sauce.
Sambal oelek: Asian chili paste that adds a kick of heat. Can sub with sriracha or skip altogether to suit your taste.
Basic seasonings: I always use garlic powder and coarse black pepper, but there's no limit to the type of seasonings you can add (see notes below).
Olive oil: I like olive oil, but any oil can be subbed in for olive oil or skip it if oil free.
Cornstarch: One of the secrets to the crispiest tofu coating.
Tofu FAQ
Tofu may taste like nothing special on its own (it's a blank canvas), but transforming it into something special starts with selecting, preparing, and seasoning it properly. Let's get into the details:
What is tofu anyway?: Tofu is so easy to make at home. It's just boiled soy beans that are curdled and then the water is pressed out. The more water pressed out, the firmer the texture is.
Which tofu texture should I use?: For this baked tofu recipe (and most tofu main dishes), go for the extra firm or firm variety. Extra firm tofu has denser/firmer texture as it has a lower water content than other types of tofu like medium and silken.
To Press or not to press tofu: Typically I don't press extra firm tofu that comes in a vaccum pack. I just wrap it with paper towels and gently squeeze any excess water from it. For softer tofu, pressing is recommended. Use a tofu press if you have one or wrap the tofu in a clean kitchen towel, stack a few cookbooks on top for 15-30 minutes.
Seasoning tofu: Tofu itself has a neutral taste, but it's super flavorful when seasoned well. Tofu can be seasoned with dry rubs, marinades, sauces or dips (some suggestions below).
How to Bake Crispy Tofu
Oven baked tofu makes the perfect substitute for chicken in any recipe. And the process is so simple (great recipe for beginners!). Here's the step by step instructions for baking tofu: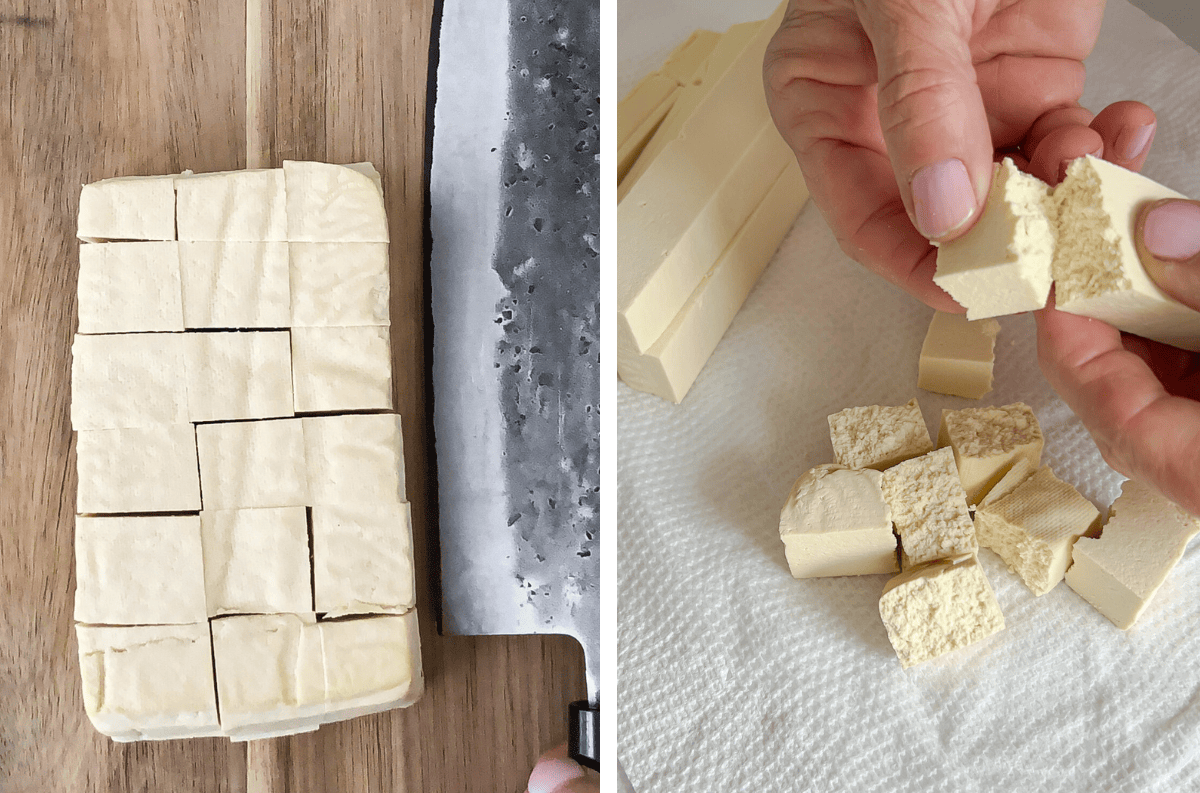 Cut or break the tofu: Once the tofu is prepped, cut or break it into ~1" pieces then place them into a large bowl.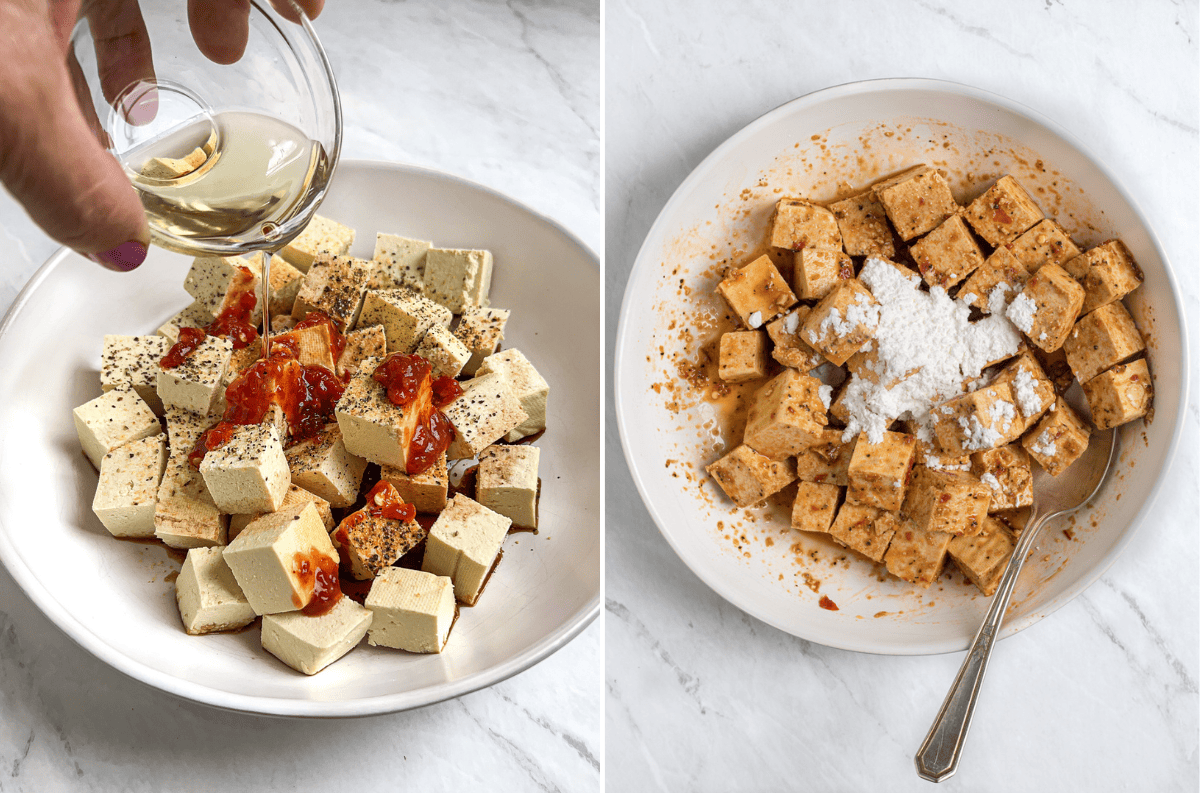 Marinate: Add the tofu marinate ingredients (soy sauce, sambal oelek, oil, garlic, coarse black pepper) to the bowl then toss to coat.
Tofu coating: Sprinkle with 1 tablespoon of cornstarch, toss to coat completely. If the marinade is still juicy, add another tablespoon of cornstarch. The tofu should be sticky and coated (not juicy and wet).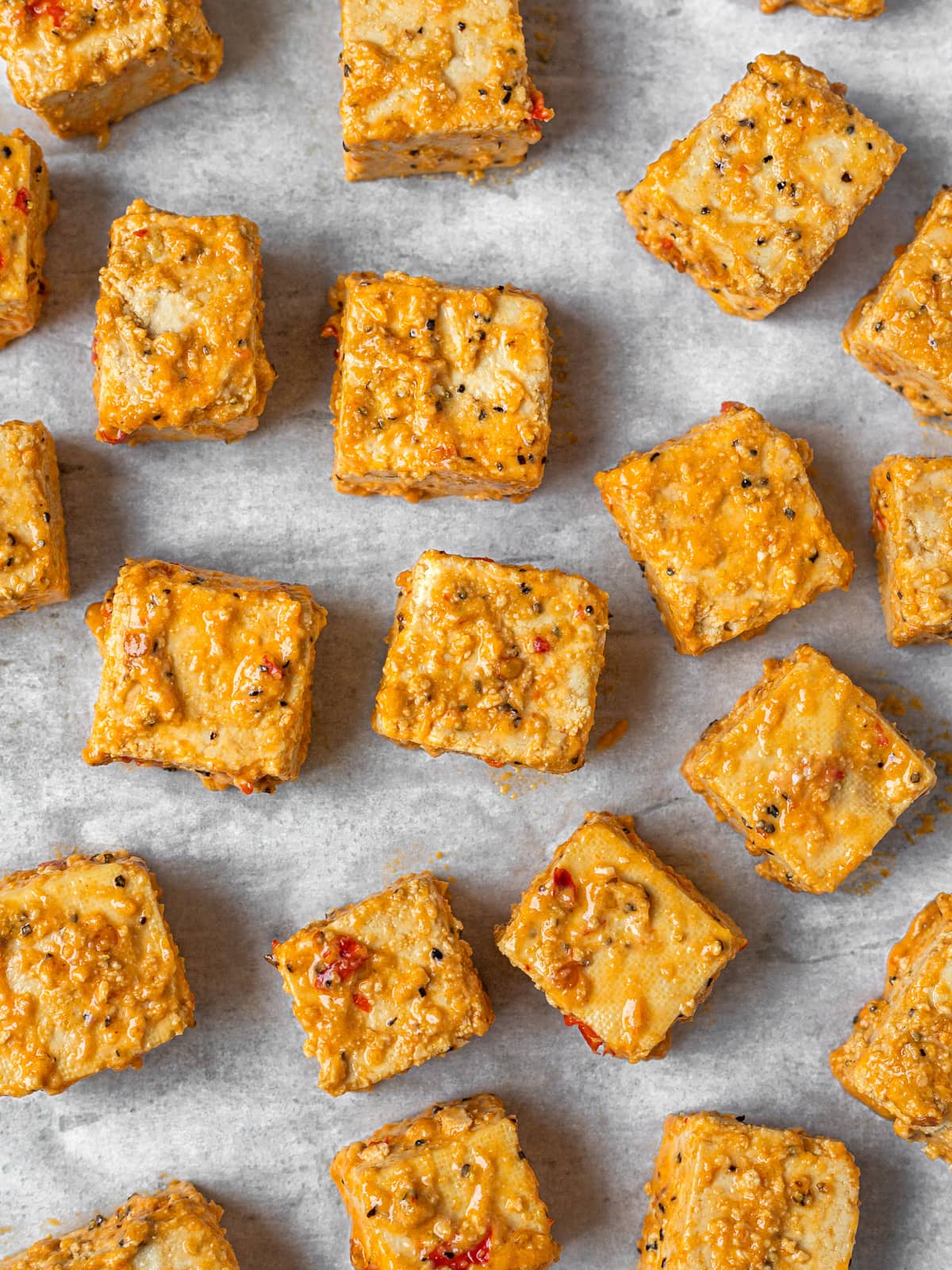 Time to Bake: Transfer the tofu pieces to a parchment paper lined baking sheet in a single layer with space between. Bake at 400º F until the golden, crispy crust forms ~18 minutes total (flipping after 12 minutes). Voilà, the most delicious, perfectly cooked and irresistible tofu!
Dig In: Garnish and enjoy immediately.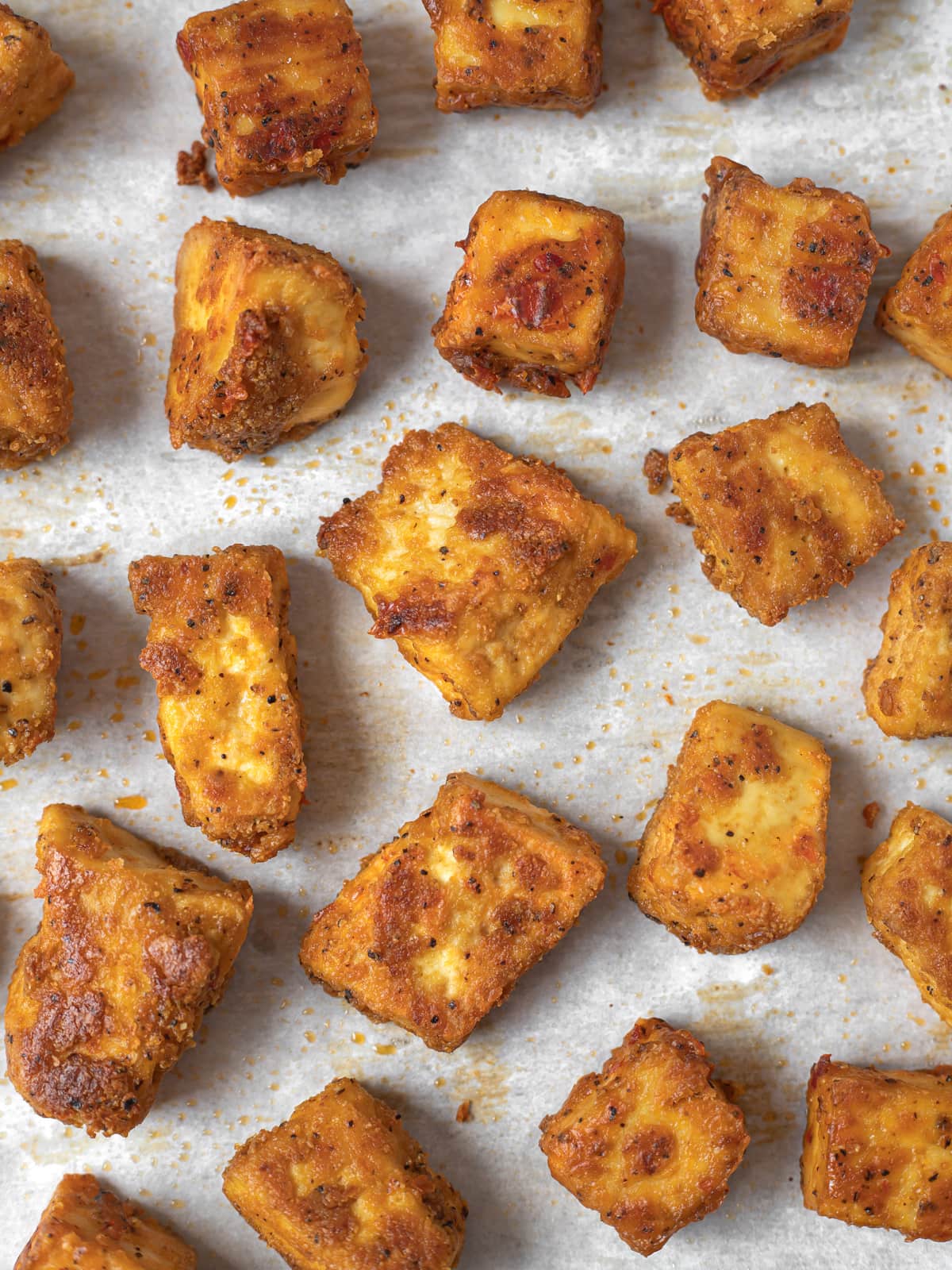 Pro Tips & Variations
Epic crunch: For an extra crispy crust on your tofu, add a drizzle of oil to the parchment-covered baking sheet. Spread it evenly over entire sheet before adding the tofu pieces.
Make it oil free: If you follow an oil-free diet, this healthy baked tofu is still super delicious made without oil - just skip it altogether. We enjoy this tofu oil-free often.
Tofu seasonings and marinades: There are lots of ways to make tofu taste good! Play with the flavor by adding 1-2 tablespoons of your favorite seasoning mix to this basic tofu recipe eg. taco seasoning, KFC seasoning, sage and onion seasoning, Italian seasoning or Buffalo spice to name a few. Or soak the tofu cubes in your favorite tofu marinade or dressing for 15 minutes before coating and baking. Of course there's always finishing sauces and dips to add layers of flavor to tofu as well!
Storing leftover tofu: Leftover over baked tofu bites will keep in the fridge all week. It's not crispy, but it's very delicious and the texture is excellent.
Reheating tofu: To bring the crispness back to baked tofu, pop it into the air fryer at 380ºF for ~2 minutes until heated through.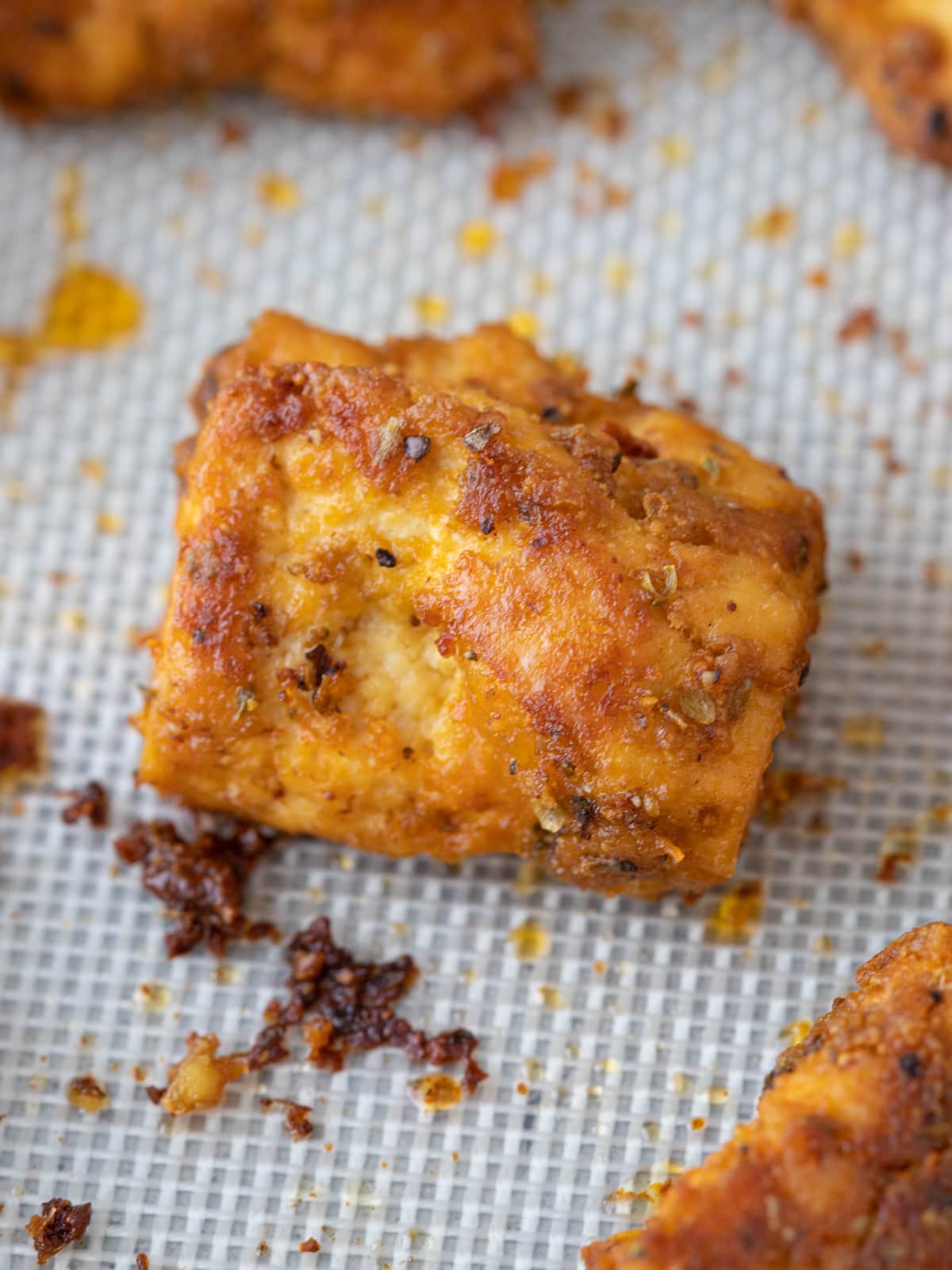 MILLION DOLLAR TIP: Don't overcook your tofu! Overcooked tofu is rubbery and dry (not great). In my experience, newbies to tofu prefer a firmer tofu texture (well done) at first. To achieve that, cook the tofu for a few extra minutes or cut it into smaller tofu cubes which creates that firmer, meaty texture. When you first start cooking tofu, I recommend tasting it periodically as you're cooking until you find the perfect combination of time, temperature, and texture to suit your taste (rare, medium or well done). This tofu recipe is ~medium.
Ways to Serve Baked Tofu
The Best Tofu Recipes
Whether you air fry tofu, pan fry it, shred it, crumble it or bake it, tofu makes a delicious plant-based, high protein meal in minutes. Here's some of my family's favorite tofu recipes:
If you tried this Succulent Baked Tofu recipe, please leave a rating and review below! Be sure to follow along on Instagram and Pinterest or sign up for my Sunday morning newsletter for tips on how to make vegan food taste incredible.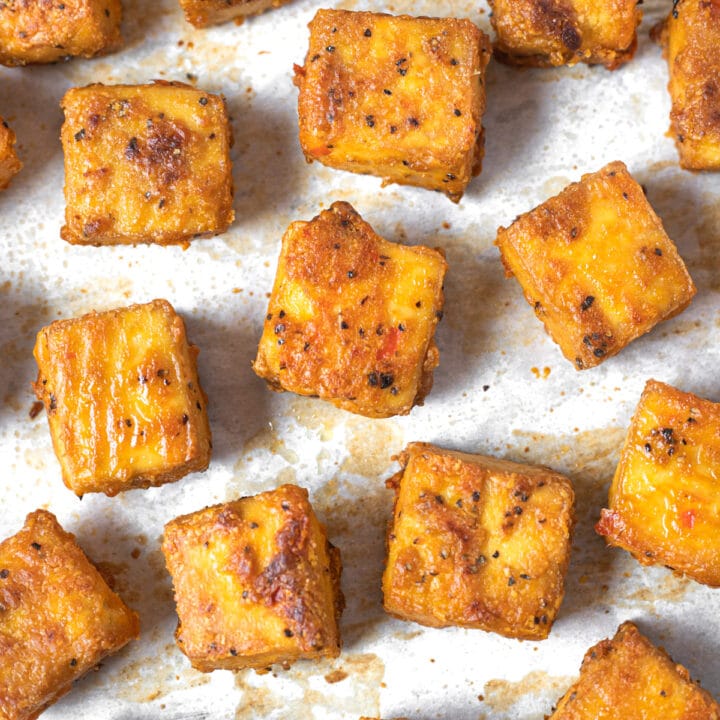 Oven Baked Tofu (The Best!)
This ultra easy Baked Tofu recipe is my favorite way to cook tofu!  Ready in under 30 minutes, it's super succulent and meaty with a crispy crust. Easy to customize with your favorite seasonings, tofu marinades or finishing sauces. Great tofu recipe for beginners!
Rate this recipe!
INGREDIENTS
12

ounce

tofu block, extra firm

2

tablespoons

soy sauce or tamari

2

teaspoons

sambal oelek

1

teaspoon

garlic powder

½ - 1

teaspoon

coarse black pepper

2

teaspoons

olive oil

1-2

tablespoons

cornstarch
INSTRUCTIONS
Wrap tofu (12-16 ounce block) in a clean kitchen towel, gently squeeze any extra water and pat dry. If your tofu is softer, it would benefit from being pressed. (see notes).

Cut or break the tofu into ~1" pieces. Place in a large mixing bowl. Sprinkle the soy sauce, sambal, garlic powder, black pepper, and oil over the tofu and toss to coat using a large spoon or your hands.

Sprinkle 1 tablespoon cornstarch over the tofu and shake again to coat the tofu. If the tofu is still wet/juicy, add another 1 tablespoon cornstarch and mix until the tofu is coated and sticky (see photos). No dry spots.

Cover a baking sheet with parchment or a silicone mat, add 1 tablespoon of olive oil and spread evenly over the surface. Arrange tofu on the baking sheet in a single layer with space between. *The oil is optional.

Bake at 400º F for 12 minutes. Flip the tofu pieces over and return to the oven for an additional 6 minutes. Bake for additional time for a more well done tofu texture.
NOTES
Do I have to press the tofu?: If using extra firm* or super firm tofu, you can probably get away without press it. If the tofu is firm or medium firm (which means it is less compressed and therefore has a higher water content) or if it feels soft (saturated), it will benefit from being pressed. *In my experience, not all extra firm and super firm tofu is created equally. So some Brands of extra firm tofu can still be pretty soft (looking at you Costco), in that case, go ahead and press it for the crispiest baked tofu. If you live in Canada and use Sunrise Soya Tofu, their extra firm tofu in the vacuum pack is very firm and compressed! How to press tofu: Wrap the tofu in a clean kitchen towel (or paper towels) and stack a few heavy cookbooks or a heavy cast iron skillet on top. Or use a tofu press if you have one. Let the towel absorb the excess water for ~15 minutes (or longer) while you prepare the other recipe components. 
This recipe is from simplyceecee.co food blog. All images and content are copyright protected. Please do not use my images or republish this recipe without prior permission. Thank you.