This Air Fryer Tofu recipe is so delicious and super easy to make in just 10 minutes! It's perfectly crisp on the outside but tender and juicy on the inside. Air fried tofu is super versatile, extra flavorful, and packed with plant based protein.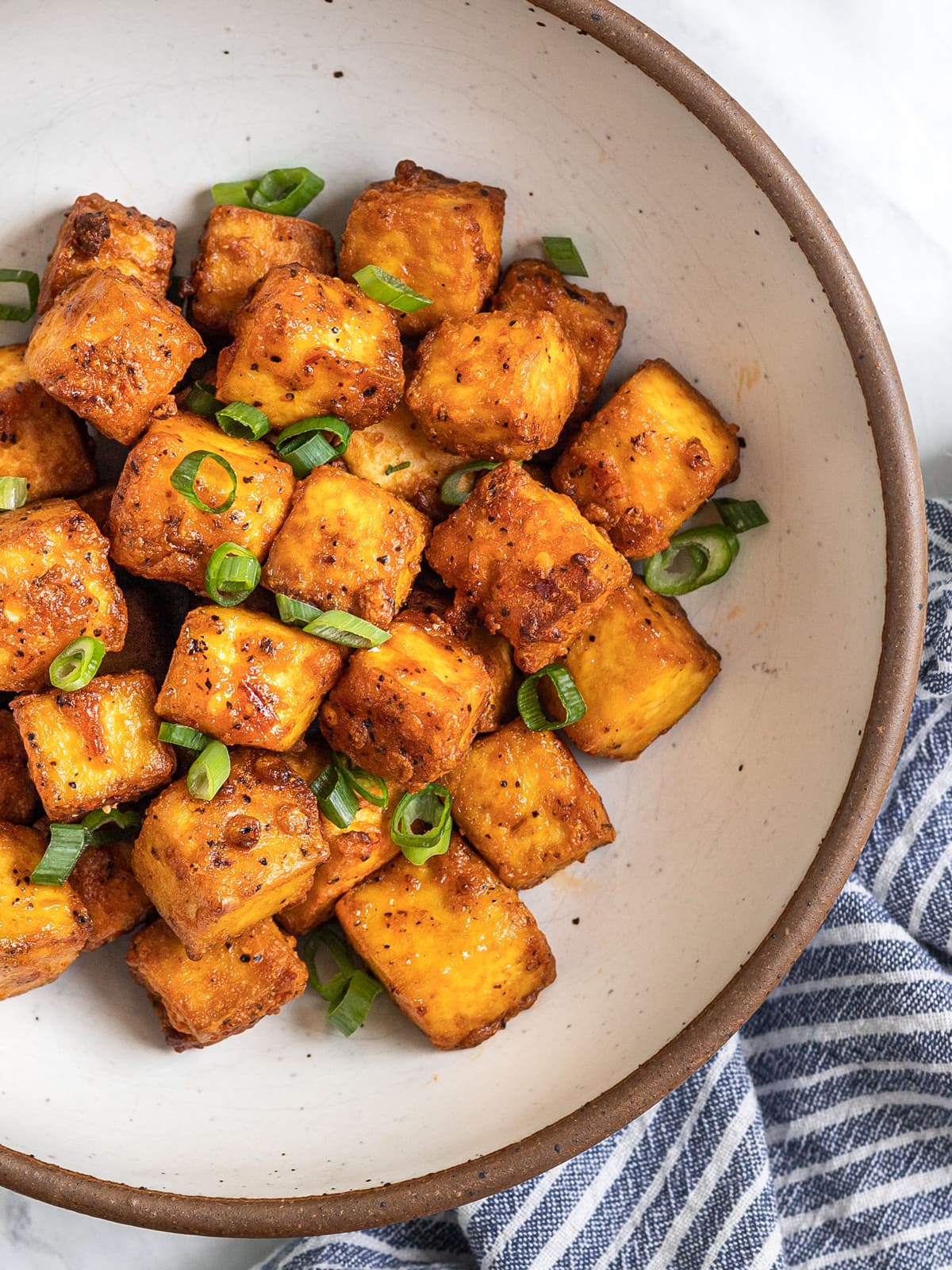 There are so many great ways to cook tofu, from pan fried tofu and deep fried to oven baked tofu, stir fried, and shaved tofu. But the easiest, least messy way to make crispy tofu is in the air fryer. It's quick and healthy - making it a popular choice for meal prep and weeknight dinners. There's no sticking, no oil splashing, no pots and pans, and practically zero hands on time. This is a fantastic tofu recipe for beginners!
What is an air fryer?: I'm sure you've heard the buzz - who hasn't! Air fryers are compact, countertop convection ovens. They use little or no oil to get food nice and crisp by forcing hot air to circulate all the way around the food. There are lots of sizes and styles of air fryers, at every price range. This air fryer is similar to mine (which I love!).
Crispy Tofu Ingredients
There are three main components for this air fried tofu recipe: tofu (of course), the tofu marinade for flavor, and cornstarch to form the crispy crust. Here's what you'll need: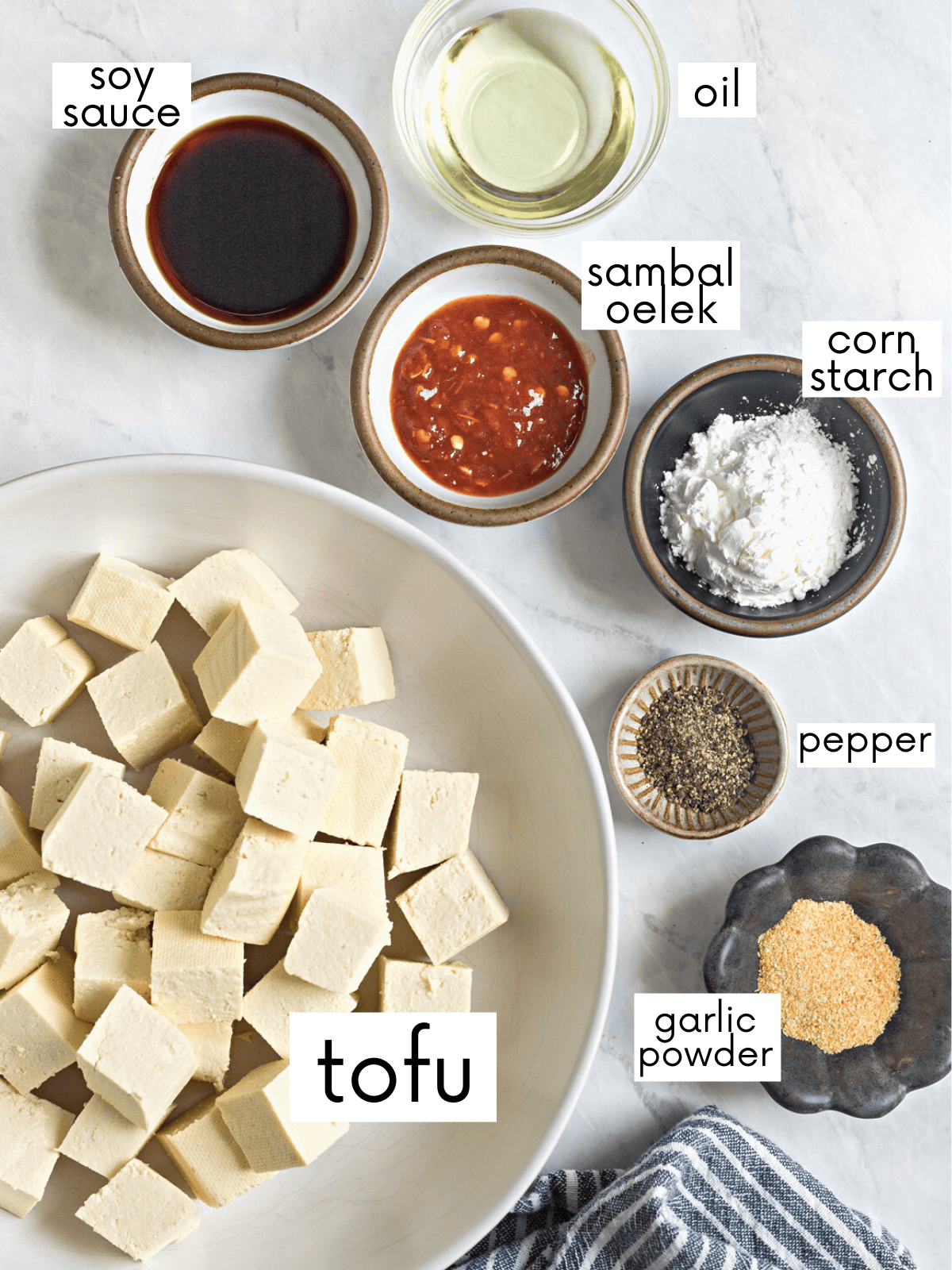 Tofu: Extra firm tofu is the best choice for this recipe because of the low water content which is important for a golden crispy exterior.
Soy sauce and chili sauce (sambal oelek): Infuses a savory, spicy flavor into the tofu. Use gluten free soy sauce or tamari (or reduced salt soy sauce) as needed to suit special diet and allergy preferences.
Seasonings: I like garlic/onion powder, pepper, and nutritional yeast (optional) to build more layers of flavor.
Oil: Use any oil you have on hand (eg. olive oil, canola oil, vegetable oil). Oil heats to a much higher temperature (than water) which helps create the nice crispy exterior.
Cornstarch: For crunch! Cornstarch helps remove moisture from the tofu surface and produces a thin, crispy, dry crust locking the juices in the tofu and crisping the exterior - just like searing does.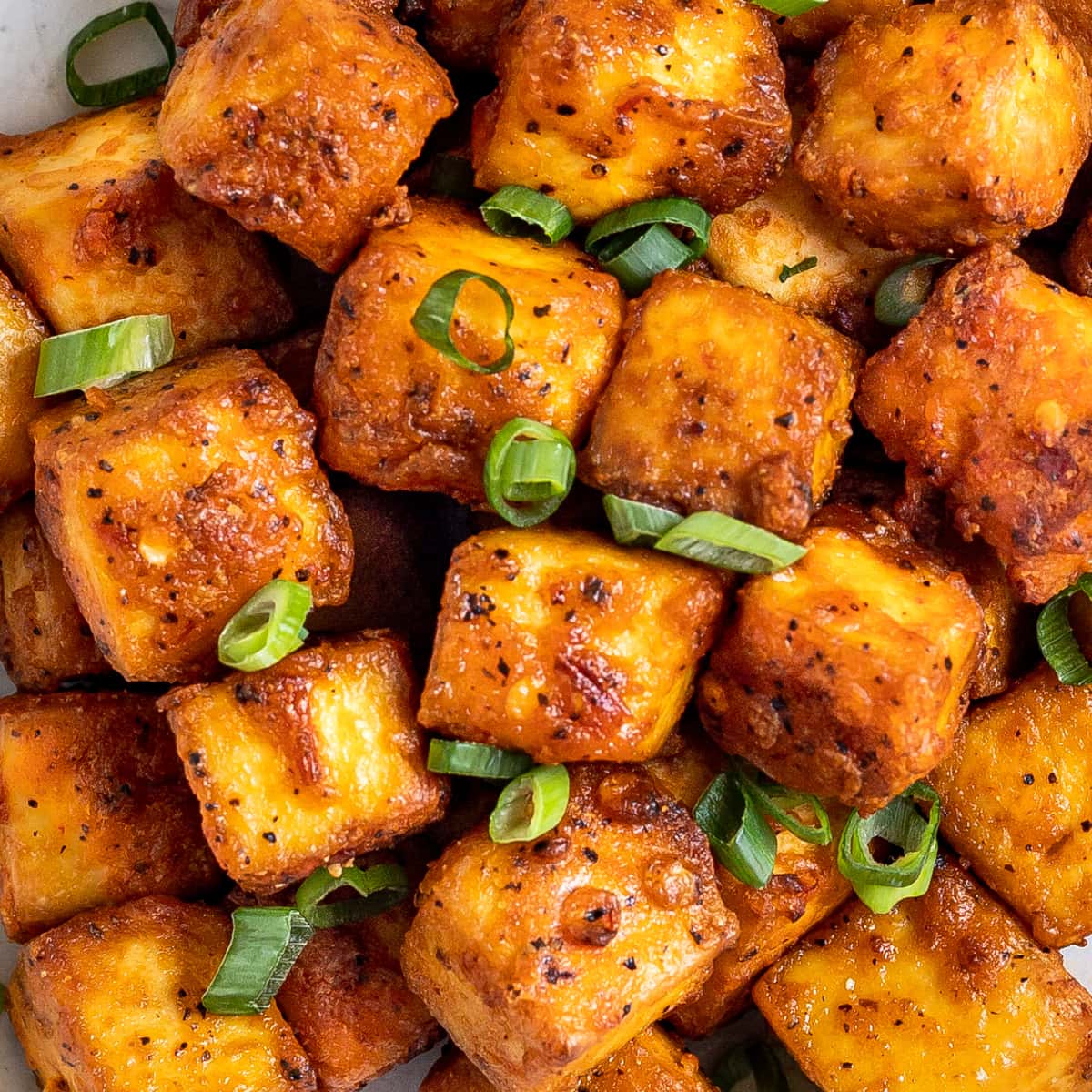 Substitutions & Variations
Oil options: If you're watching your oil intake or follow an oil-free diet, skip the oil. The tofu is still very flavorful with a firm, tasty crust. Alternatively, you can spritz the tofu cubes with a light layer of cooking spray rather than adding the oil to the tofu marinade.
Nutritional yeast: The nutritional yeast is optional. It adds a lovely cheesy flavor if you have some on hand. Add the nutritional yeast after the marinade ingredients, but before the cornstarch so each piece gets coated before the cornstarch is added.
Tofu seasoning ideas: This basic air fried tofu recipe takes on any seasoning - we like KFC tofu nuggets (like popcorn chicken!). Italian seasoning, taco seasoning, sage and onion seasoning, smoky BBQ or Indian spices, all work. You decide what flavor you're in the mood for!
Do I need to press the tofu?: Extra firm tofu is already pretty dense and firm (however, brand to brand it does vary). I don't press my extra firm tofu - just a quick squeeze and pat dry. Anything less than extra firm tofu does need to be pressed for the crispiest tofu IMO. Use a tofu press or wrap the tofu in a towel and stack a couple heavy cookbooks on top.
How to Make 10 Minute Air Fried Tofu
Making tofu in the air fryer couldn't be quicker or easier, and the tofu turns out so dang perfect every time! Here's the step-by-step instructions:
Prepare the tofu: Once the tofu is patted dry (or pressed), cut the tofu into bite size pieces - roughly 1" cubes.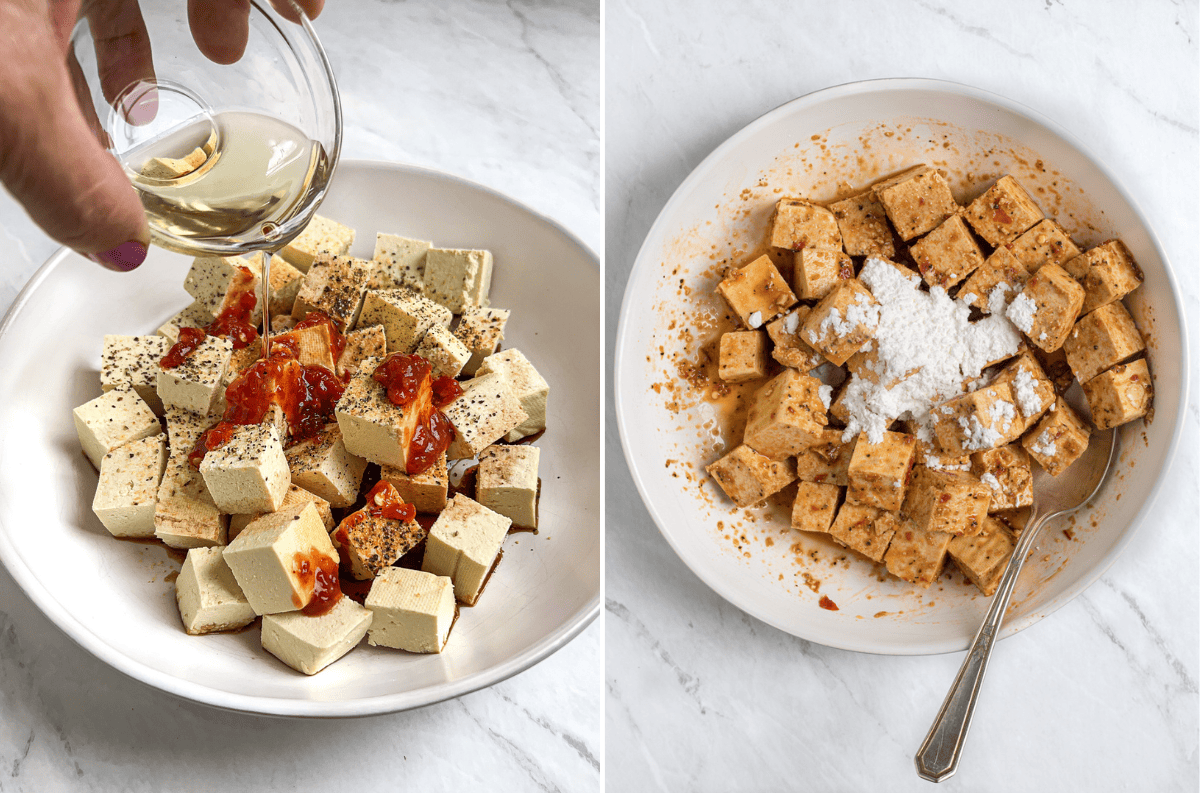 Season the tofu: Toss the tofu cubes with the oil and all the tofu seasonings (except the nutritional yeast and cornstarch) in a large bowl until all the pieces are well coated.
Add the coating: Sprinkle the tofu with nutritional yeast (if using) - shake/gently stir. After that sprinkle with cornstarch and toss until all the pieces are completely coated (no dry spots).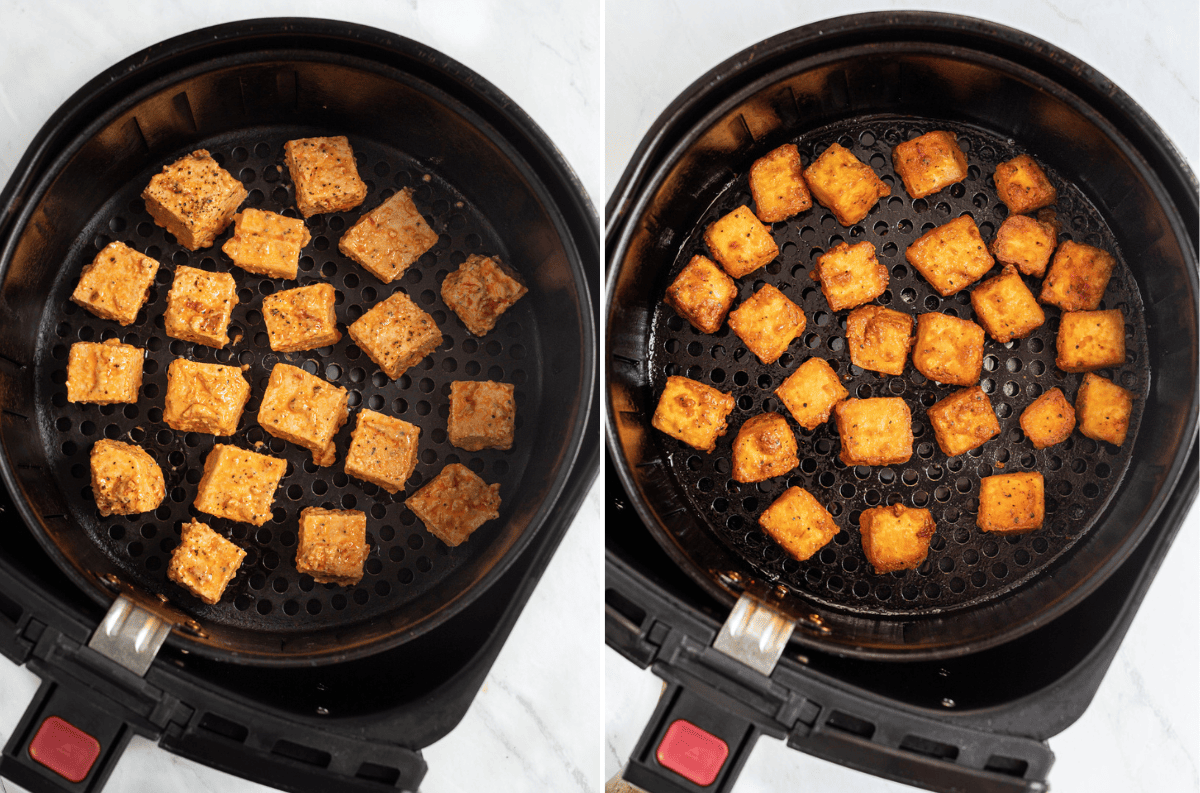 Time to cook: Arrange the tofu pieces in a single layer in the air fryer basket. Leave some space around each piece for the crispiest edges. In my air fryer, I cook two batches (they're quick!). Shake the basket half way through so the tofu cubes cook evenly. If spraying with cooking spray: give a light spray to start and when you shake the tofu halfway through.
Let's eat!: Enjoy as is or with your favorite dipping sauce.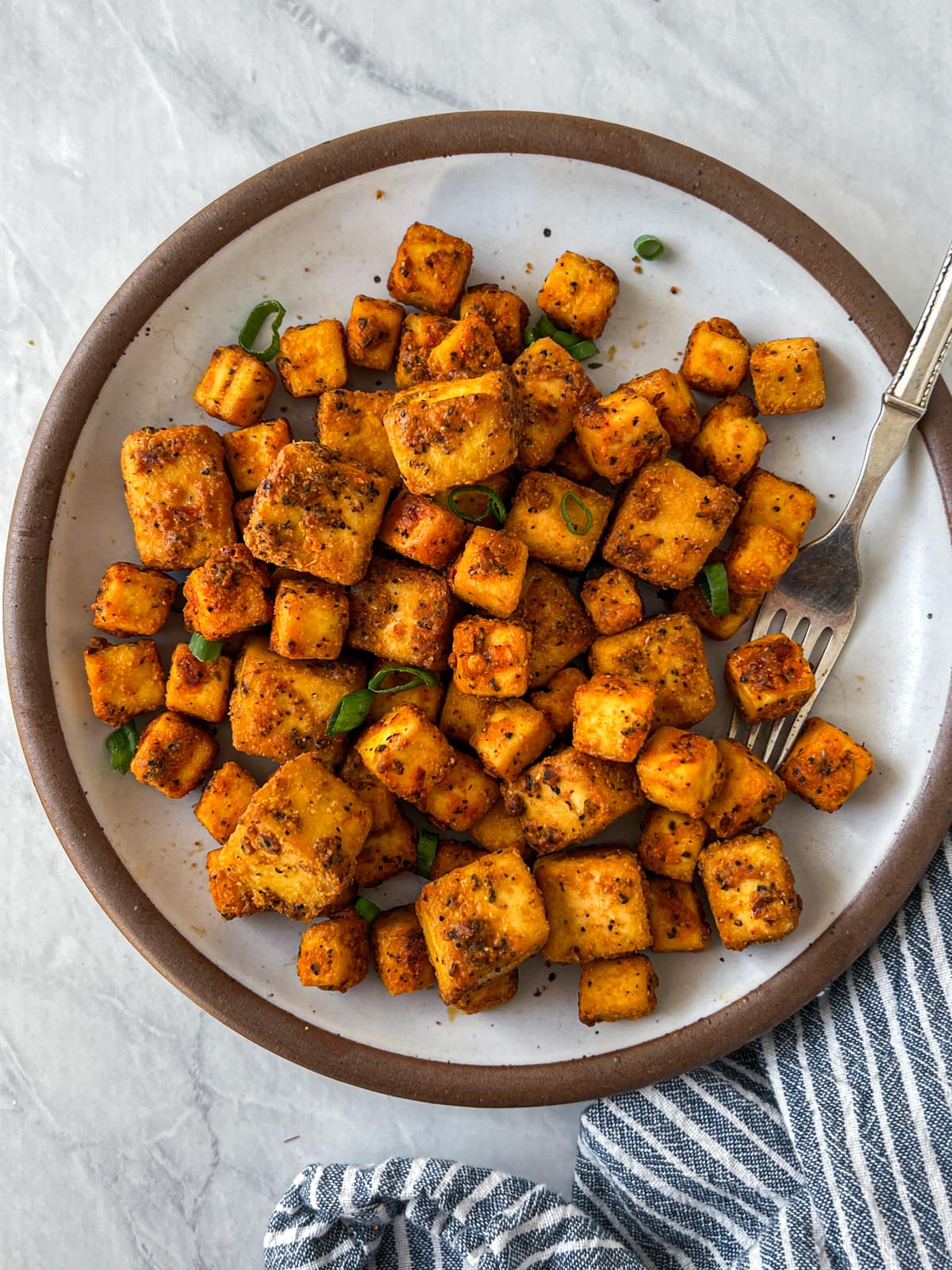 Expert Tips for Crispy Tofu
If we were making this easy air fried tofu together, these are some of the tips I would share with you:
Best tofu to use: Extra firm tofu is the best choice for this recipe. It's very dense with low water content (most of the pressing has already been done for you). Firm tofu works, but needs to be pressed first. You can press the tofu a day or two ahead and then wrap it in paper towels and place in a plastic bag in the fridge until ready to use. Don't use silken or soft tofu for this recipe.
Don't crowd the air fryer: Cook the tofu in two batches if you have a smaller air fryer. The hot air needs to touch all surfaces of the tofu to make it crisp.
Extra crispy tofu: Add a light spritz of cooking spray when you shake the tofu for extra crispiness. Optional!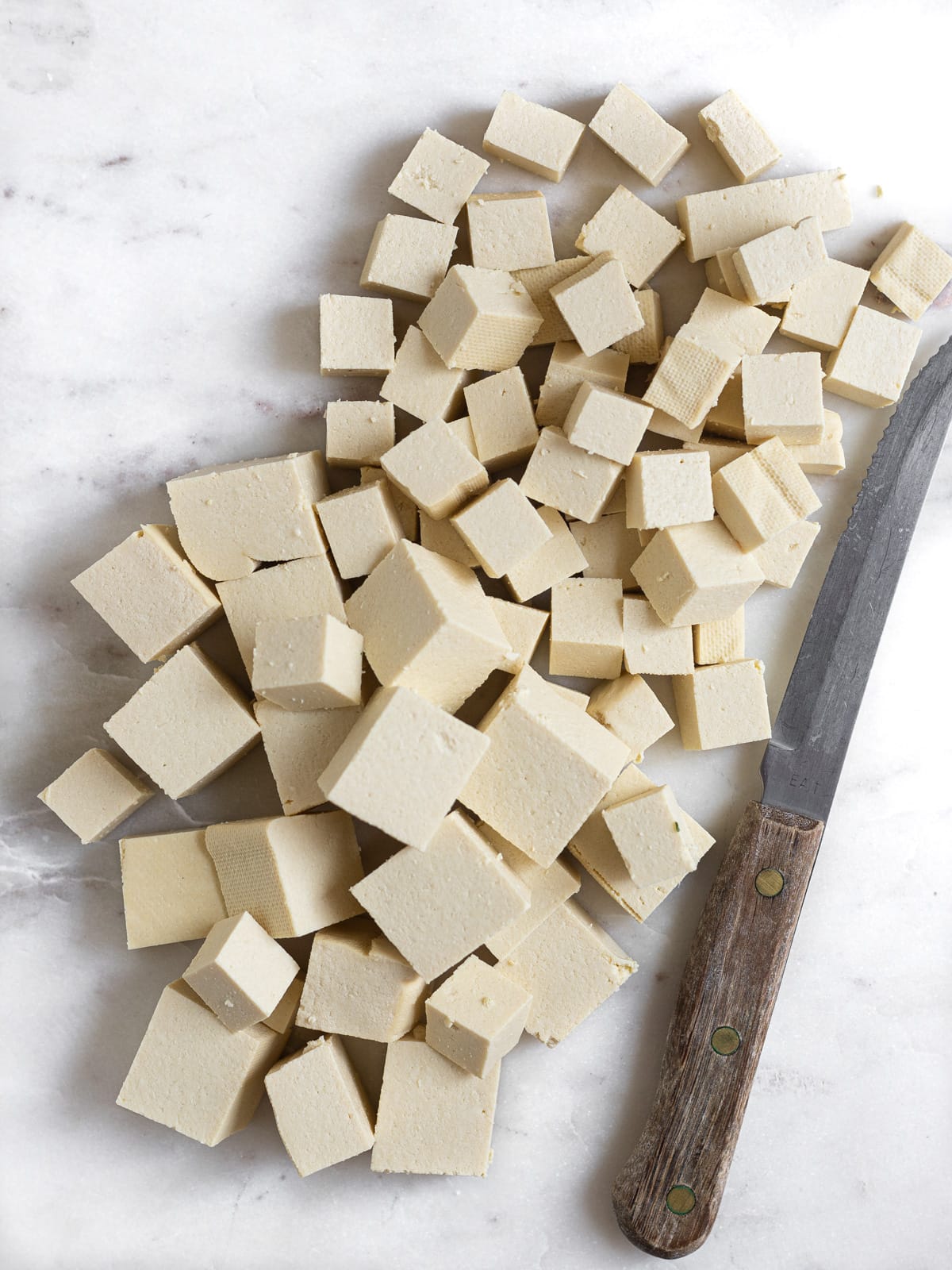 Tofu Sizes: The ~1" tofu cubes in this recipe are pretty standard, bite-size pieces. However, if you are trying to stretch one block of tofu or you're sprinkling it on pizza or salad, try the smaller cubes. Cook them at 370ºF for 6-7 minutes. Shaking half way through.
How long to cook tofu in the air frier: Overcooked tofu is rubbery and the next day it's dry and tough. For tender, crisp tofu, I recommend not going too hot or too long (under 10 minutes). The size of the tofu cubes and the type of air fryer impact the cook time.
Personal preference is key! Do you prefer tofu rare, medium or well done? Air fry it a little longer for a firmer texture or a little shorter for a tender texture. Taste as you go to determine the perfect tofu texture for you!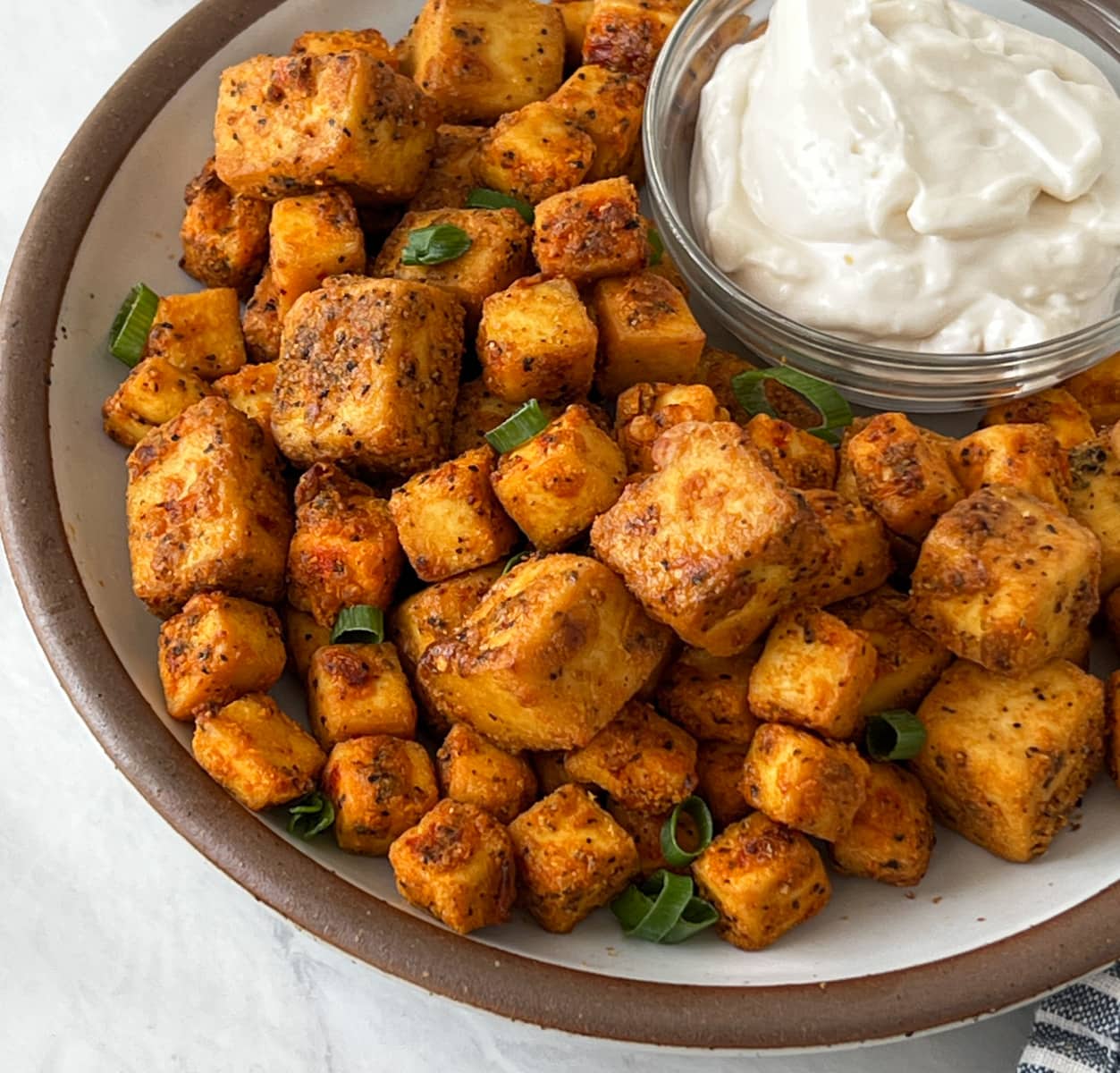 Storing & Reheating Tofu
Storing Tofu: Air frier tofu keeps well in the fridge all week in an airtight container.
Reheating Tofu: Leftover tofu is incredible at room temperature or straight out of the fridge. However to reheat it, pop it into the air fryer at 400º F for 1 or 2 minutes, warm it in the microwave or in a toaster oven.
Is tofu an acquired taste? Maybe! In my years of experience making, eating, and serving tofu, people's tofu tastebuds change. They start off skeptical (or hating it), then begin to enjoy tofu (on the well done side) eventually moving to liking/loving a juicier more tender tofu. If you're a tofu newbie, this air fried tofu recipe is a great place to start. Try the Tofu Noodle Bowl with spicy peanut sauce next - after that, there's no turning back. Trust me!
Ways to Serve Air Fried Tofu
Crispy, succulent, and flavorful, air fryer tofu is the perfect plant based protein to enjoy as a snack straight out of the air fryer or make tofu nuggets to serve as an appetizer with a dipping sauce like sweet and spicy tahini or peanut hoisin sauce.
Tofu is a great high protein, meat alternative to add to vegan and vegetarian recipes. My super quick and healthy go-to summer meal is a big salad packed with veggies, quinoa, avocado, croutons, crispy tofu, and a killer dressing. Here's a few more ideas: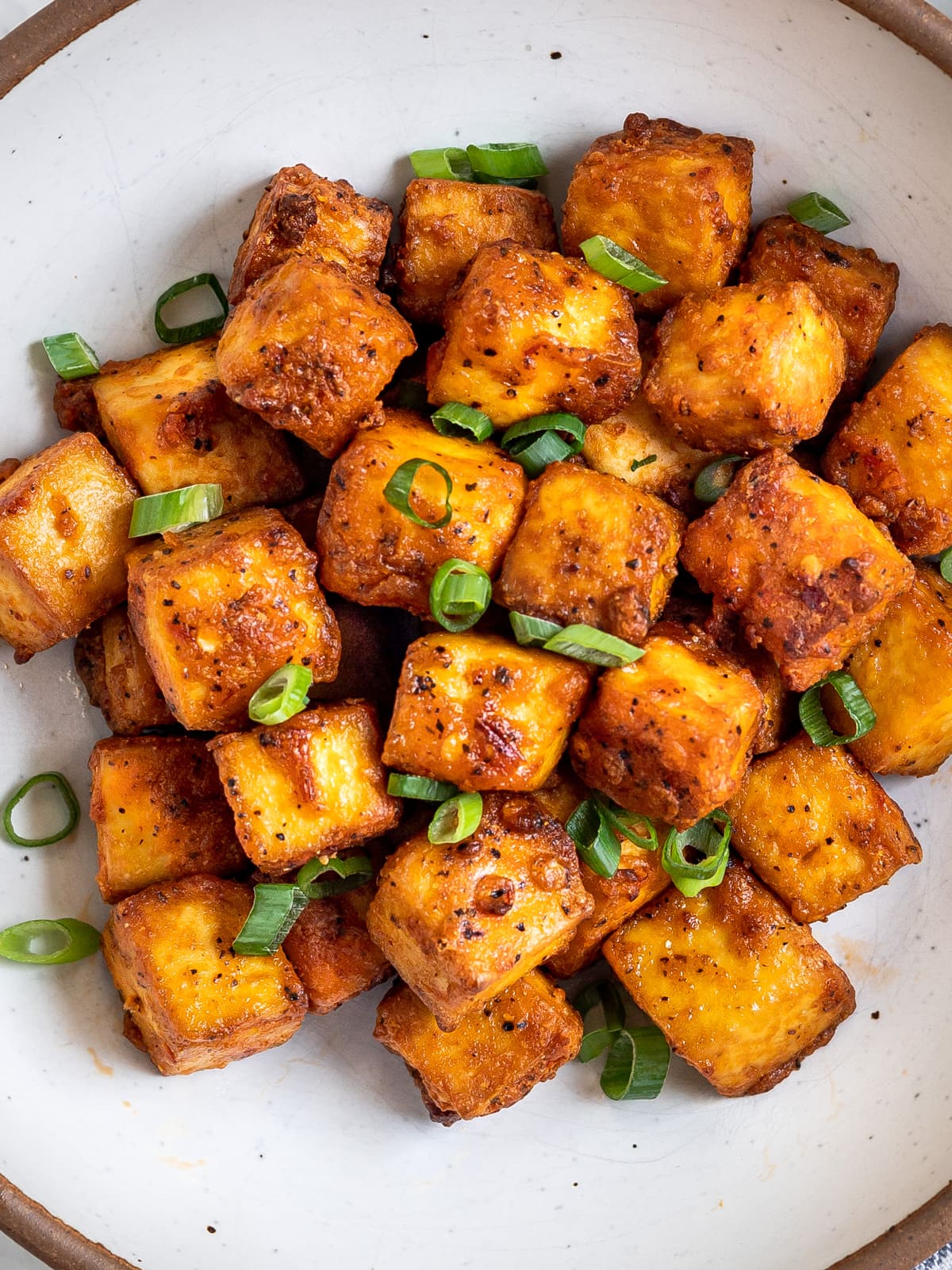 More Air Fryer Recipes
The air fryer is not just for fries and onion rings, we use ours almost every day. Here's a few recipes to try:
Did you make this crispy Air Fryer Tofu recipe? Please leave a rating and comment to let me know how it turned out. Follow me on Instagram, Facebook and Pinterest for more vegan content.
NEVER MISS A RECIPE: Join our Sunday morning NEWSLETTER!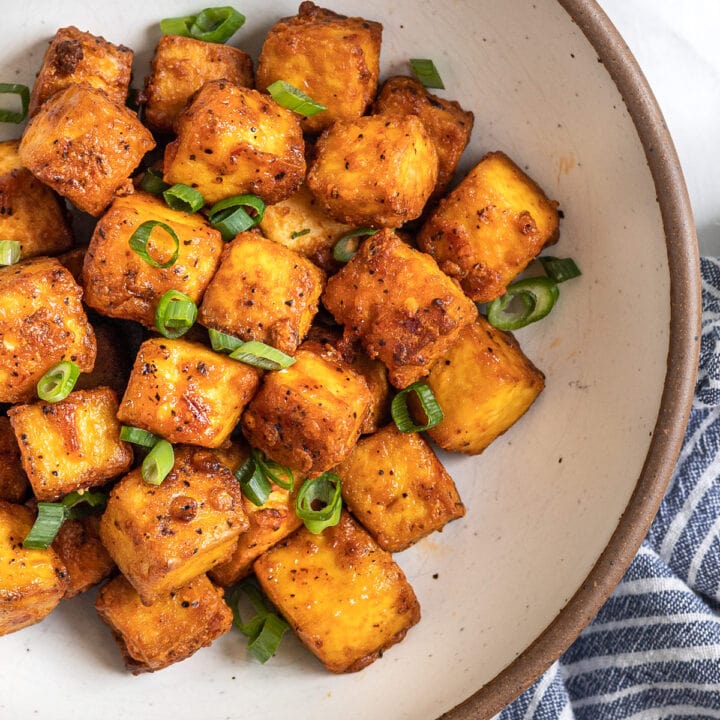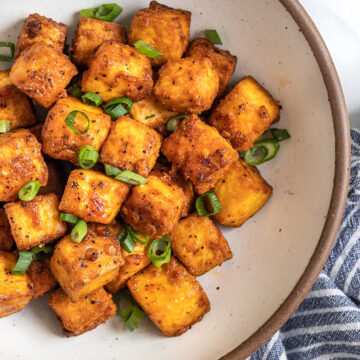 How to Make Crispy Air Fryer Tofu in 10 Minutes!
This easy air fryer tofu recipe is so simple (perfect for beginners), flavorful and crispy. It's high protein, vegan, gluten free, and extra delicious. Make a double batch to enjoy all week on salads, pizzas, tacos, or as a snack with your favorite dipping sauce!
Rate this recipe!
INGREDIENTS
12

ounce

block of tofu (extra firm)

1

tablespoon

oil

1 ½

tablespoons

soy sauce (tamari)

2-3

teaspoons

sambal oelek

¾

teaspoon

garlic powder

¼ - ½

teaspoon

salt

½

teaspoon

coarse black pepper

1 ½

tablespoons

nutritional yeast (optional)

1 - 2

tablespoons

cornstarch
INSTRUCTIONS
Press or squeeze excess moisture from the extra firm tofu. Cut the tofu block into bite size pieces (photos in post).

Transfer the tofu pieces to a large bowl. Sprinkle with all marinade ingredients (except the nutritional yeast and cornstarch). Toss to coat.

Sprinkle the nutritional yeast over the tofu (if using) and toss to coat. Then finish with the cornstarch - shake the bowl/toss to thoroughly coat the tofu (no dry spots).

Place the tofu in the basket of the air fryer in a single layer. Leave some space around each piece.

Set your air fryer to 380°F. Cook for 6 minutes, shaking the basket to cook the tofu pieces evenly. Cook for another 2-4 minutes to taste.

Remove the tofu from the air fryer and enjoy!
NOTES
Work in batches: Don't crowd the air fryer basket - leave room for the hot air to circulate and sear the surface of the tofu! I make this recipe in 2 batches in my air fryer.
Don't overcook the tofu (overcooked tofu is rubbery)!: Depending on the size of tofu cubes and how hot your air fryer is, the cooking time can vary by several minutes more or less.
Tofu cooking time: For the smaller (hash brown size) tofu, I recommend turning the air fryer to 370ºF and cooking

for 6-8 minutes (shake half way through).
Does perfectly cooked tofu exist?: Yes, you're in control! These are the cooking times and temperatures that work best for my air fryer and our taste, you may want to cook for longer. People new to tofu often prefer their tofu to be cooked a little longer aka firmer. Always taste as you go!
Flavor profiles: Switch up the seasonings to create any flavor crispy tofu you enjoy.
This recipe is from simplyceecee.co food blog. All images and content are copyright protected. Please do not use my images or republish this recipe without prior permission. Thank you.