Simple and healthy, this delicious savory green pancake recipe is quick to make which is lucky because they get devoured so freakin' fast!
Made with green onions, spinach, and cilantro, there are two tasty versions to choose from - both are made without eggs or dairy and are oil-free friendly; one is gluten-free! Pile them up with all the goodies and a generous drizzle of sweet and spicy tahini sauce or keep it green and try the spicy jalapeno tahini sauce!!!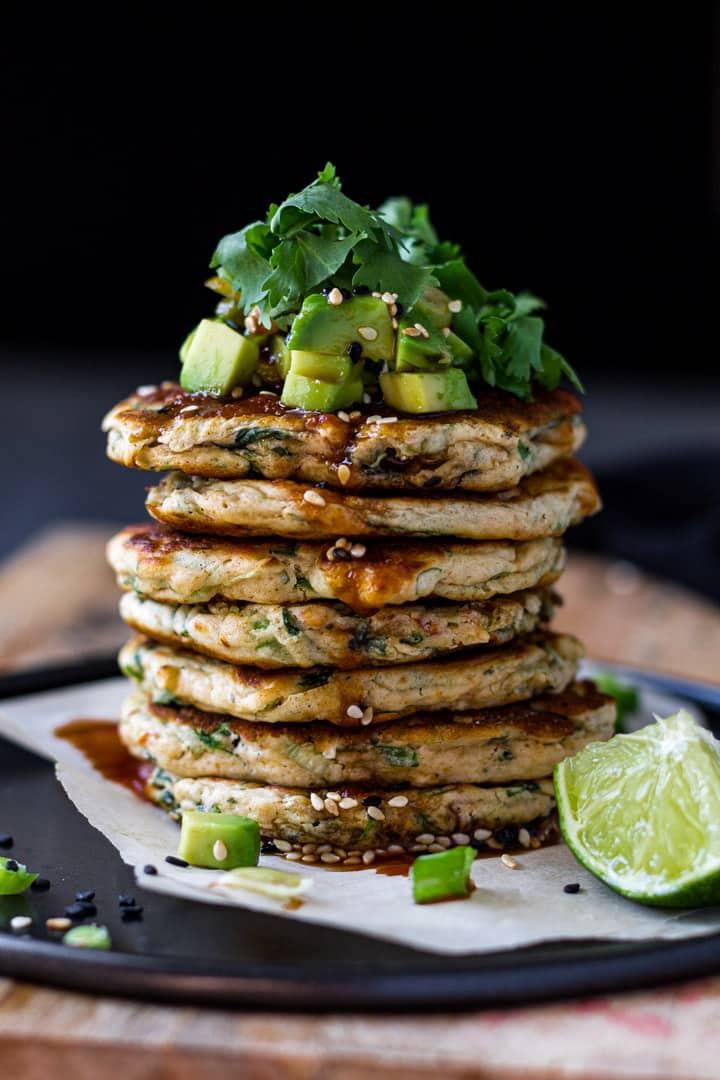 If you're looking for an easy to make, savory green onion and spinach vegan pancake recipe, keep reading. There's step-by-step instructions for two versions (gluten-free and oil-free) of these green onion/spinach pancakes and all the yummy toppings to serve on top. Plus don't miss the luscious dipping sauce options!!
Let's get started . . .
Why This Savory Green Pancake Recipe is so Popular
quick and easy to make
inexpensive, nourishing, and delicious
super adaptable, switch up the veggies for what you have on hand
gluten free and oi-free friendly, made without eggs or dairy
healthy, vegan, vegetarian, plant-based natural ingredients
great way to eat more greens
yummy leftovers and great for food prep
How to Make Savory Green Pancakes - 2 ways!
I was inspired to make green pancakes by my brother (who loved them growing up), and by a recipe in Plenty by Ottolenghi. I've made two versions, let me know which one you like best.
Both versions start with the same savory green filling: Garlic, spinach, and green onions. I love the sizzle and the smell when the garlic and green onions hit the hot skillet. It really gets my tastebuds paying attention and the whole family running for the kitchen!
You've got Options: choose one of the pancake batters below (both are scrumptious - trust me on this!)
All Purpose Flour Version (tender + fluffy)
Wheat Flour Batter Option - these are the fluffiest, softest, most delectable pancakes ever. They are almost too good to be true.
Pro Tips: Don't thin the batter out too much. Make sure the pan is heated up before you add the batter. Don't mess around with the batter once it's down, just leave it until it's ready. You will see the edges starting to look cooked and the pancake will naturally release from the pan. Time to flip then cook for another ~ 2 minutes until both sides are golden.
Serving Tips: With this fluffy pancake version I like to take 2 pancakes, spread each one with spicy sauce or hummus, pile avocado slices, arugula, green onions, and tomatoes in between and then slap them together like a pancake sandwich! Soooo comforting and satisfying!
One more idea for serving these yummy green onion pancakes (either version) is for a fancy Sunday brunch. Smother a pancake with tofu scramble, pico de gallo, guacamole, a sprinkle of black beans, green onions, and cilantro. Drizzle with Tex-Mex cashew cream and a squirt of sriracha. You won't be disappointed - promise!
Chickpea Flour Version (hearty + gluten-free)
Chickpea Flour Batter (gluten-free) Option - this version of the pancake is more substantial, earthy, and denser (in a good way) than the all purpose flour pancakes.
I add a few extra spices and some tahini to enhance the earthiness. I love these naturally gluten-free pancakes and serve them for dinner all the time.
Foodie Tip: Because this version is rustic, I like to add a few chopped juicy tomatoes on top with the avocado to lighten them up and add freshness. These pancakes are incredible!
Dairy-free Dipping Sauce (spicy sweet tahini sauce)
Dipping Sauce - our family loves a sauce, dip or drizzle and this one is spectacular. Keep it oil-free by adding tahini for some incredible creamy nutty, richness. It's gluten-free too!
The dairy-free sauce is spectacular drizzled over tacos, shawarma, tofu scrambles and anything else you can get your hands on. Keep any leftover sauce in an airtight container and use it up throughout the week.
Storing and Freezing
Make these pancakes ahead of time then leave them covered in the fridge until it's time to serve. Then warm them quickly in a hot pan or gently in the microwave.
They freeze well without any loss of flavour or texture for a month. Store them in a freezer-friendly container. Let them come to room temperature and then reheat just before serving.
The Best Vegan Sauce Recipes!
If you love these pancakes, you'll love my Simple Savoury Chickpea Pancakes, they are a perfect, fast easy healthy meal when you've got bits and bobs of leftovers to use up!
Everyday Tahini Sauce with a twist - everyone needs a spectacular backpocket sauce recipe, this is it!
Spicy Green Tahini - the level of heat and sweet is perfection - you're going to love this sauce!
Sweet and Spicy Tahini - the QUEEN of tahini sauces - truly addictive!! (gf, oil-free, dairy-free)
Vegan Tzatziki Sauce - fresh, tangy and incredible drizzled on everything but truely a game changer on these spicy vegan shawarma wraps!

Did you make my Savoury Green Pancake recipe?
If so, giving it a star rating and comment helps others discover my blog and recipes. Thank you so much for your support!
I love seeing your creations so tag me on IG @ceeceecooks and Facebook!
NEVER MISS A RECIPE: Sign up for my email NEWSLETTER!
Savoury Green Pancake Recipe (vegan)
These savoury green onion and spinach pancakes are everything!! Make a big stack of the regular or gluten-free version and top it off with all the goodies. Whatever you do, don't forget the spicy-sweet tahini drizzle!
INGREDIENTS
Pancake Ingredients (both options)
1

tbsp

oil (optional)

1-2

cloves

garlic, minced

1

bunch

green onions, sliced

7-8

cups

spinach, rough chop

2-4

tbsp

cilantro, chopped

1-2

fresh green chilies, thinly sliced (optional)
Pancake Batter (ap flour option)
¾

cup

self-rising flour* (recipe in Notes)

1

tbsp

baking powder

⅔

cup

milk (plus more for thinning)

1

tsp

apple cider vinegar
Chickpea Pancake Batter (gluten free option)
1

cup

chickpea flour

¼

cup

nutritional yeast

1

tsp

onion powder

1

tsp

dry oregano

1

tsp

coriander spice

salt and coarse black pepper

2

tsp

tahini

¾

cup

water (plus more for thinning)
Spicy-Sweet Dipping Sauce
2

tbsp

tahini

2-3

tbsp

soy sauce (tamari)

1

tsp

rice wine vinegar

1

tsp

sriracha

1

tsp

maple syrup
Optional Garnish
1-2

avocados, cut into chunks

1-2

cherry tomatoes, halved

cilantro, chopped

1-2

green onions, sliced

toasted sesame seeds
INSTRUCTIONS
Make the sauce and prepare the garnishes before starting.
Pancake Ingredients (both options)
Rough chop spinach, slice green onions, chop cilantro, and green chilis if using.

Add oil to the bottom of a cast iron (or non-stick) heavy bottom skillet, heat over medium-high until it shimmers. Skip if oil-free.

Add garlic, green onions, and jalapenos if using. Season with a pinch of salt.

*use a splash of water as needed if oil-free

Cook over medium-high heat for a minute or two while the onions sizzle and cook.

Stir in the spinach until it wilts (2-3 minutes). Remove from heat, stir in cilantro, and transfer to a bowl.
AP Flour Pancake Batter Option (self-rising flour recipe in Notes)
In a medium mixing bowl add the flour, baking powder, milk*, apple cider vinegar, S&P, whisk until smooth.

*Any plant-based milk will work, I've used oat and soy.

Stir in the green onion-spinach-cilantro mixture.

Batter Tip: the batter is medium thick, if it's too thick, add a tablespoonful of milk or water to thin out (but not too much!).
Chickpea Batter (gluten-free option)
Add chickpea flour, nutritional yeast, spices (onion powder, dry oregano, coriander spice, s&p) to a medium bowl. 

Add the tahini and ¾ cup water* - whisk until fully incorporated.

Stir in the green onion-spinach-cilantro mixture.

Batter Tip: If too thick, add a tablespoonful of water at a time until thick pancake batter consistency is met.
Frying the Green Onion and Spinach Pancakes
Heat a tablespoonful of oil* in a cast-iron or heavy bottom frying pan over medium-high heat until it shimmers. Use non-stick pan if oil-free.

*or spray with cooking oil

Add a 2 tbsp - ¼ cup of batter to the pan, cook for about 2 minutes until puffed up and golden.

Flip and cook until golden on the other side. Another 2-3 minutes.

Transfer to a serving plate then continue cooking pancakes until all the batter is used up.

You may need to add more oil each batch if you are using a cast iron.

For the oil-free version, use a non-stick pan and skip the oil.
For Serving
To serve, pass extra green onion slices, chopped cilantro, avocado chunks, cherry tomato halves, and a bowl of spicy sauce for dipping or drizzling.
NOTES
This recipe makes around 8-12 pancakes (depending on the size).
*
Small Batch Self-Rising Flour Recipe:
1 cup all-purpose flour, 1 ½ teaspoons baking powder and ¼ teaspoon salt. Whisked together.
I recommend trying both versions of the pancakes. They are very different in texture and flavour - both are super yum.
Prepare all the ingredients ahead of time - chop the onions, garlic, spinach, cilantro, avocado, etc. Also, make the sauce and place in fridge before mixing the batter.
The pancakes cook up quickly so you'll be happy that everything is prepared ahead of time (it's a good use of time).
Store any leftovers in the fridge and then just warm up in a pan (or the microwave if you have one) when you're ready to serve.
These pancakes are just as delicious the next day warm or cold. They make a great sandwich: slather hummus on one pancake, pile on some leftover baked tofu slabs or baked sweet potato slices, tomato slices, cucumbers, avocado slices, red onions, sprouts, pickled onions, a drizzle of the spicy sauce and top with another pancakes - finger licking good!
This recipe is from simplyceecee.co food blog. All images and content are copyright protected. Please do not use my images or republish this recipe without prior permission. Thank you.