This baked sweet potato is stuffed with Mexican-spiced tofu taco meat, black beans, chopped tomatoes and avocados, a layer of crunchy shredded romaine and a drizzle of sweet and spicy tahini sauce. The flavor combination is delectable!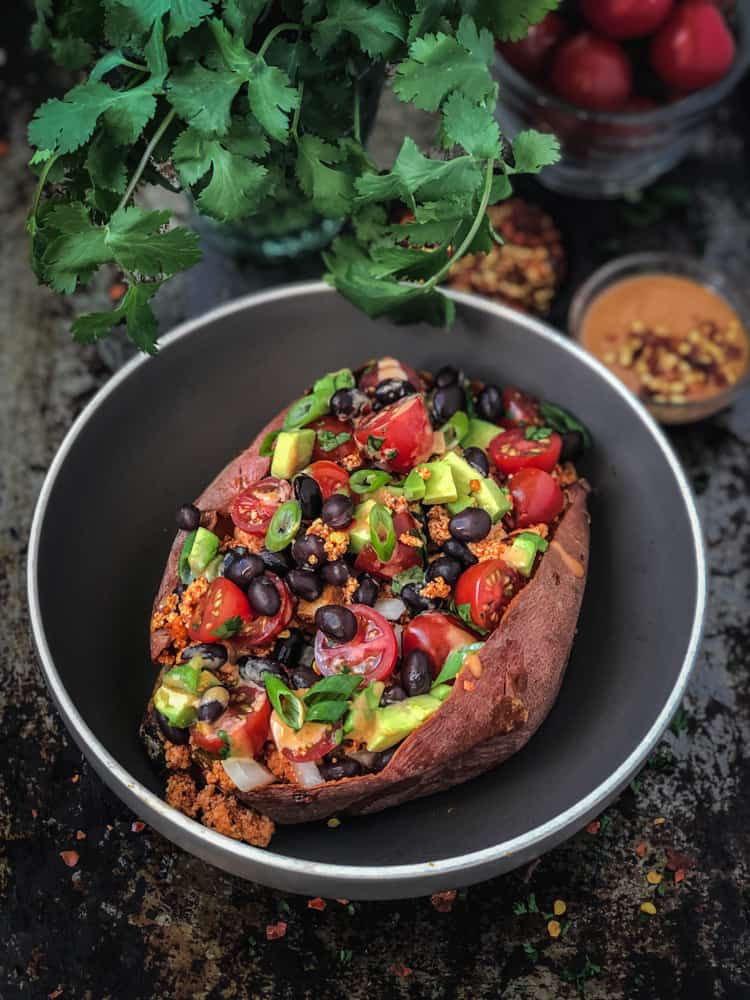 Is Taco Tuesday a thing at your house? It sure is around here! This week I combined our love of potato bars with our obsession for tacos and voila - taco stuffed sweet potatoes!
How to Make The Perfect Taco Sweet Potato
Oil-free, gluten-free, super healthy, filling, and delicious, these baked sweet potatoes are totally customizable. Easy to make too!
While the sweet potatoes are baking, make the taco-seasoned tofu crumbles, cut the tomatoes and avocados, shred the cabbage, and open the beans.
One last step, choose which craveable dairy-free sauce to make. We love the sweet and spicy tahini sauce right now, but check out more incredible vegan sauces to see which one you like best!
Why You'll Love Taco Sweet Potatoes
easy to make
super healthy - gluten-free, dairy-free, oil-free, plant based
affordable - inexpensive to make with basic ingredients
delicious, loaded with flavor and texture
convenient to make for busy weeknights when everyone is running in different directions!
How to Make Healthy Vegan Taco Filling
Tofu taco meat is a delicious, nutritious, vegan meat replacement for tacos. It's easy to incorporate additional nutrients without changing the flavor or texture of the tacos.
I usually add dried oregano leaves and ground flaxseeds (which are optional, but have incredible health benefits). As well, add ½ teaspoon of turmeric powder for an extra boost of nutrients.
Plant protein: Add ½ cup cooked lentils or a handful of chopped walnuts for added texture and protein.
Plant-Based Taco Topping Ideas
Around our house essential taco toppings include: tomatoes, avocados, onions, lettuce or slaw, and sliced black olives.
However, when feeling fancy, we go all out! A few more topping ideas: grilled corn salsa, easy guacamole, pico de gallo, creamy vegan slaw, black beans, green onions, hot peppers, pickled red onions, hot sauce, and of course - drizzling sauces!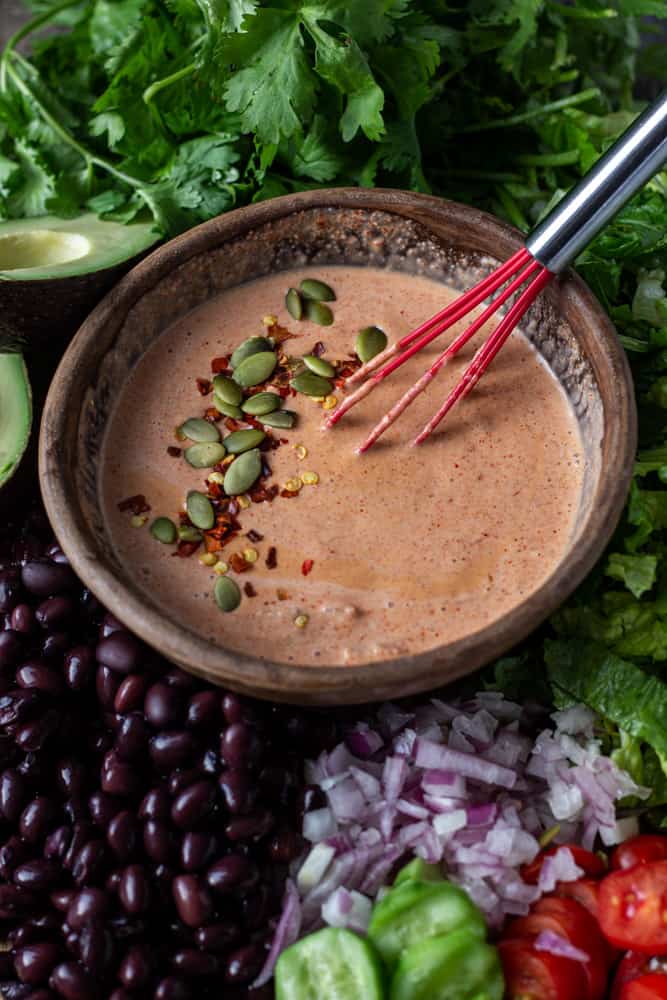 Addictive Sauce and Drizzle Recipes
Who doesn't love a good sauce or drizzle? I mean come on, the perfect drizzle puts the 'extra' in extraordinary - am I right?!
Our current addictions include: Creamy Chipotle Sauce, Dilly Hummus Drizzle, Tzatziki Sauce, and Tex-Mex Cashew Cream to name a few. Try them all!
How to Bake Sweet Potatoes - 2 ways (oil free)
BAKED: Preheat oven to 425º F. Add a slice of parchment paper to a baking sheet.
Wash and pat potatoes dry. Pierce with fork a number of times. Place on baking sheet in oven.
Cook for 30-45 minutes or until tender when gently squeezed or fork tender. *The cook time will vary depending on size of sweet potatoes.
Easy Clean up Tip: Place a baking sheet under the potatoes as they release a sticky sugar when baking and it makes a mess in the oven.
ROASTED: Preheat the oven to 425º F.
Slice in half lengthwise. Sprinkle the cut side with lime juice, a light dusting of cinnamon, cumin, and garlic powder.
Place cut side down on a parchment-lined baking sheet and bake in oven until soft and caramelized around 20-30 minutes*.
*The timing will vary depending on how big the potatoes are and how hot your oven runs. Check on them periodically by gently squeezing them (oven mitt on) or until fork tender.
Serving Size Note: you can remove some of the cooked potato if it's a BIG potato and save it in the fridge for use later.
Once, the potatoes are cooked, pile them up with the tofu taco crumbles, all your favorite toppings, liberally drizzle with tasty sauce, and dig in.
Leftovers and Storage
This recipe is great for leftovers - store each of the components separately in the fridge. Then just warm up the potatoes when you are ready to enjoy later in the week.
The potatoes and taco filling will keep in the fridge for 4 or 5 days.
The pico de gallo and slaw will lose texture and vibrancy after one day in the fridge so for best results, use those up the next day.
*Leftover Tip 1: Cut any leftover sweet potatoes into chunks and fry them up with chopped cooking onions. Serve the tofu filling and toppings on top of the sweet potato hash and a drizzle of easy tahini sauce!
*Leftover Tip 2: Warm and mash any extra potato. Top with green onions, black beans, and a drizzle of Spicy Green Tahini Sauce or Spicy Peanut Sauce.
More Sweet Potato Recipes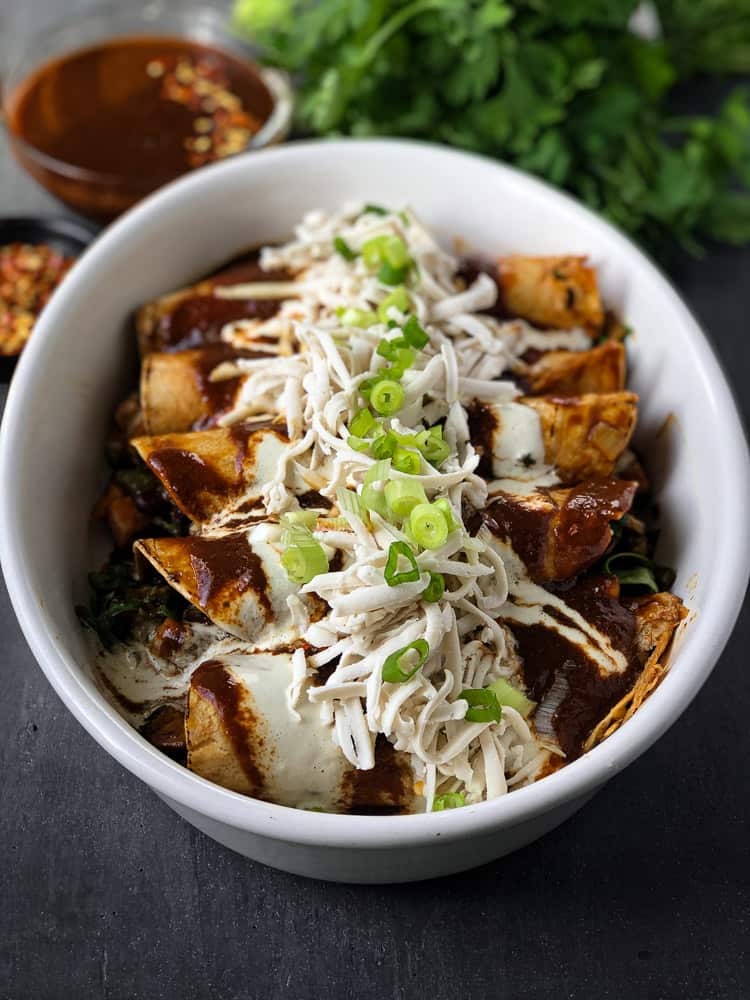 Did you make my healthy Taco Stuffed Sweet Potatoes recipe?
I'd love to see it! Tag me on IG @ceeceecooks and Facebook!
NEVER MISS A RECIPE: Sign up for my email NEWSLETTER!
Healthy Taco Stuffed Sweet Potatoes
Over flowing with a Mexican-spiced tofu filling and topped with avocados, tomatoes, black beans, lettuce and green onions, these baked sweet potatoes are super healthy and incredibly delicious. But the one ingredient that elevates this dish to five stars is an addictive sweet and spicy tahini drizzle!!!!
Rate this recipe!
INGREDIENTS
2

medium

sweet potatoes

lime, cumin, cinnamon

1

350 gram

tofu block, extra firm, pressed

3+

tablespoons

taco seasoning

1

teaspoon

garlic powder

2

teaspoons

oregano (optional)

3-4

tablespoons

tomato paste

1

cup

salsa

½

cup

water or broth (divided)
Sauces / Drizzles
¼

cup

tahini

3

tablespoons

lemon juice

1-2

cloves

garlic, minced

1-2

teaspoons

tamari (soy sauce)

1

tablespoon

maple syrup

1+

tablespoon

sriracha sauce
Toppings
1-2

avocado, cut into chunks

10-12

cherry tomatoes, halved

1

tin

black beans

3-4

green onions, sliced

purple cabbage, shredded

cilantro, chopped

hot pepper flakes
INSTRUCTIONS
Tofu Block Prep
Press the block of tofu for 15 minutes while you get the sweet potatoes ready for the oven.

Wrap the block of tofu in a clean kitchen towel (or paper towels) and stack a few heavy cookbooks on top.
Sweet Potatoes - 2 ways
Baked Sweet Potatoes - wash and pat dry the sweet potatoes. Poke a few times with a fork. Place whole potatoes on baking sheet in 425º F oven for 30 - 45 minutes until fork tender. OR

Roasted Sweet Potatoes - cut in half lengthwise, sprinkle with spices, place cut side down on parchment lined baking sheet.

Bake at 400º F for 25 - 30 minutes until fork tender.
Taco Filling
Heat oil over medium-high heat until shimmering. Crumble the pressed block of tofu* into a hot, non-stick skillet (if no oil, add a splash of water as required to prevent sticking). I use the Sunrise Soyganic Extra Firm Tofu

Add 2-3 tablespoons of taco seasoning, garlic powder, oregano, tomato paste, salsa, and a splash of water or broth then fry it over medium to high heat for 5 – 8 minutes.

I add about ¼ - ½ cup more water or broth (if needed) and the chipotle tabasco then simmer over medium-low until evaporated.
Sweet and Spicy Tahini Sauce
Place all ingredients in a small bowl and whisk together. Taste and adjust flavours as desired. Add a tablespoonful or two of water to thin as needed.

Leftovers can be stored in a jar in the fridge for a week.
Toppings / Garnish
Prepare toppings while the potatoes are baking:

Avocado cut into chunks.

Sweet cherry tomatoes halved.

Black Beans, drained and rinsed.

Shredded purple cabbage OR make creamy, Sloppy Slaw (recipe below)*

Grilled Corn (optional), place frozen corn in a hot cast iron skillet, stirring so it doesn't stick. Add 1 crushed garlic clove, pinch sea salt, coarse ground pepper, squeeze of lemon/lime and red pepper flakes. Quick and flavourful option.
Putting It All Together
Split the baked potato open OR score/churn the roasted potato half with a fork.

Spoon the taco filling on to each sweet potato.

Top with the avocado, tomato, beans, cabbage, green onions, chopped cilantro, red pepper flakes, and a liberal drizzle of sauce.
*Sloppy Slaw Recipe (Optional)
Use your favourite slaw mix from grocery store or shred ½ cabbage to make 2-3 cups. Whisk together (2-4 tbsp Vegenaise, 2-4 tbsp vinegar, squeeze of lemon, pinch of sugar, S&P). Taste for flavour – adjust as necessary. Pour sauce over cabbage mixture and toss to incorporate.PRO TIP: I like to use pickled hot pepper juice instead of vinegar – but of course, any vinegar will work perfectly fine.
NOTES
Sweet Potatoes - try to find small to medium sized sweet potatoes (single serving size). A medium or large sweet potato can serve two people (half each).
Store sweet potatoes and taco filling in separate containers in the fridge for 3 or 4 days.
Once the potatoes are in the oven, make the sweet and spicy tahini sauce (3-4 minutes), prep toppings (5-7 minutes), make tofu filling (8-10 minutes). Everything will be ready around the same time.
Sweet and Spicy Tahini sauce can be stored in an air-tight container in the fridge for up to a week.
This recipe is from simplyceecee.co food blog. All images and content are copyright protected. Please do not use my images or republish this recipe without prior permission. Thank you.