If you're a sauce loving family like we are, you'll want to keep this list of scrumptious, easy to make, vegan sauce and dressing recipes handy! I've included sweet and salty, indulgent and healthy, rich and light, savory, spicy, tangy, thick and pourable options. There's something for everyone!
As a vegan food blogger, I always have a fridge full of bits and bobs from recipe testing. I repurpose leftovers at least 3 times a week. Sauces and drizzles are my secret weapon for transforming leftovers to something spectacular.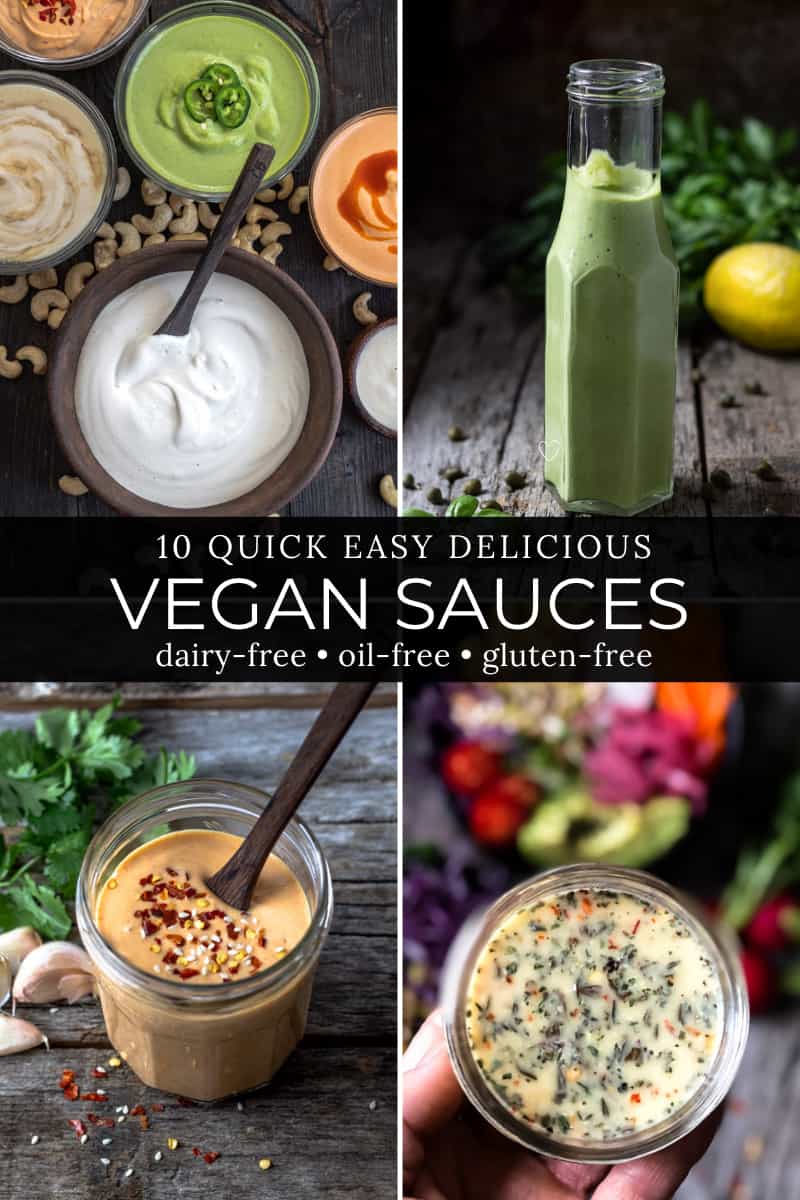 Quick and easy, uncomplicated, and incredibly addictive, these vegan sauce recipes make everything 1000% more delicious. Keep reading for my Top 10 List of Yummy Vegan Sauces and Dressings plus a bonus backpocket salad dressing recipe you'll use over and over!
Sweet and Spicy Tahini Sauce Recipe - this sensational sweet and spicy tahini sauce is completely addictive. It's a super popular reader favorite to drizzle on Buddha bowls or over tacos, burritos, and grilled veggies. Oil-free, gluten-free, dairy-free, wfpb, and paleo.
Reader Stacey loves this tahini sauce: "So delicious and easy, our whole family loved it, I can stop looking for the perfect Tahini dressing now, thank you!"
I created this sweet and spicy tahini sauce for my succulent shawarma wrap. It transforms this incredible plant-based sandwich into a tangy flavour bomb that everyone loves!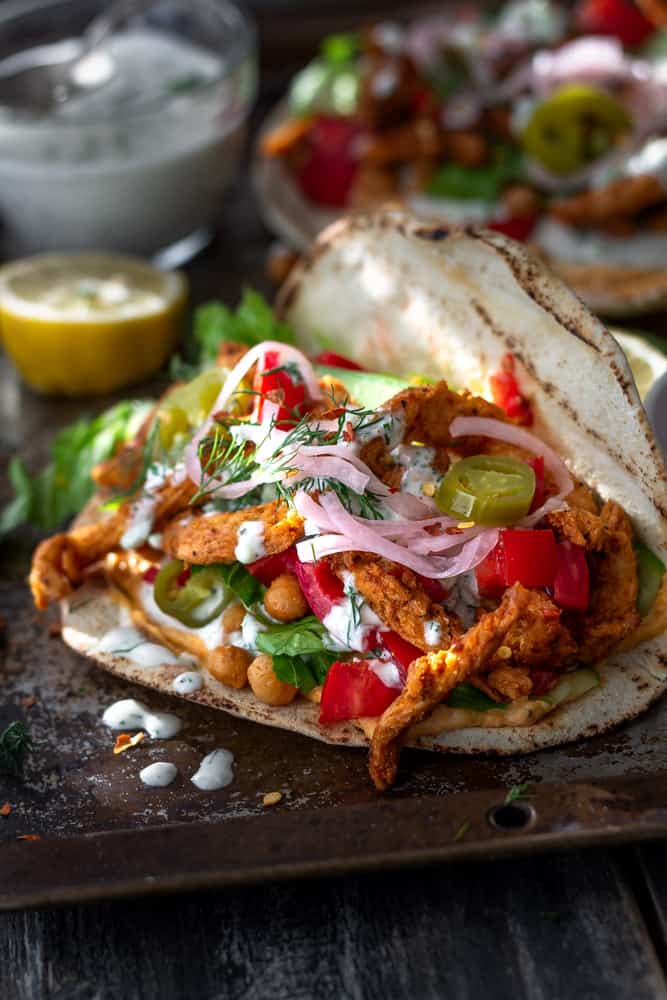 Find more scrumptious dairy-free sauce and dressing ideas on my vegan sauce recipes page.
Everyday Tahini Sauce Recipe with a Twist - everyone needs a great sauce recipe or two in their back pocket, and this basic tahini sauce is an incredible one. It's quick and easy to make, is super adaptable, and tastes amazing on everything. I added a couple flavor twists too!
Reader Stephanie says: "We love this tahini sauce - it's so easy to make silky smooth. We love the date option for a hint of sweetness!"
Reader Greg says: "So creamy and delicious! Thanks for the garlic tips too!!"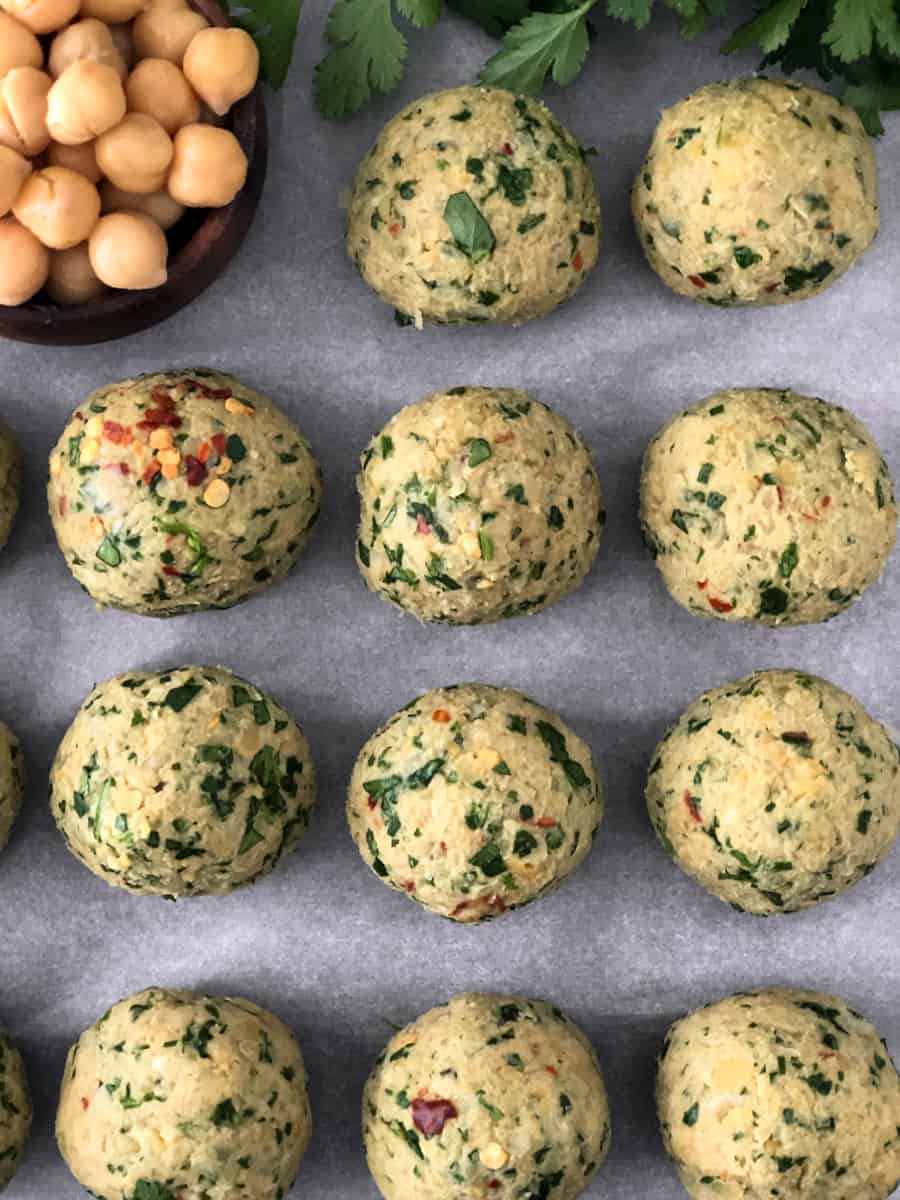 Check out the tahini sauce recipe series on the blog for more flavor variations!
Easy Cashew Cream Sauce Recipe - cashew cream is a vegan chef's staple in the kitchen. It's so adaptable with every flavor and texture combination possible. Sweet and savory versions that are delicious as a cream, drizzle, sauce, dessert or thick dip! This recipe includes lots of tips and tricks for making the perfect cashew cream sauce!!
We have a saucy family, and cashew cream sauces are very popular at our house. I often make a big batch of the basic garlic cream sauce then keep it in the fridge to use up all week - making it easy to flavor the sauce ½ a cup at a time. Stir it into soup, drizzle over tacos, breakfast burrito, pasta, and so much more!
Reader Karoline says: "The cashew cream is so delicious. Just put it on everything! The best vegan sauce I have ever tasted. Such creamy, nutty, spicy perfection. Thank you!"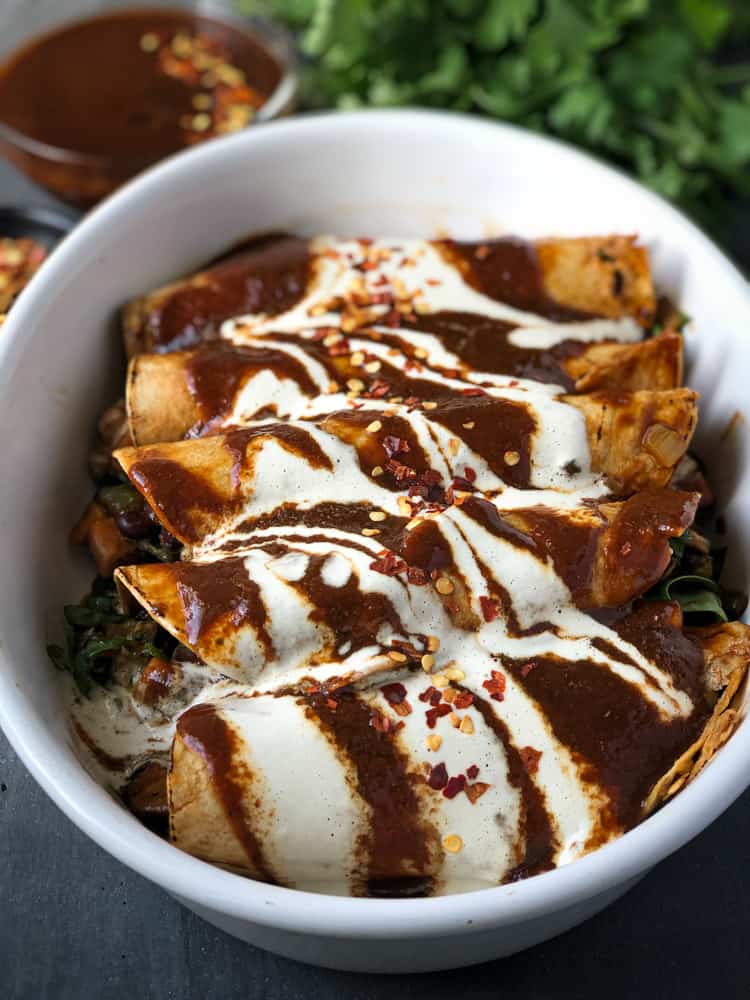 Delicious Vegan Tzatziki Sauce Recipe - everyone loves this tangy, dairy-free, vegan tzatziki sauce. It's absolutely delicious on tacos, stuffed sweet potatoes, pizza, and pretty much everything else!
Reader Miranda says: "Hands down my favourite dressing EVER. I love this so much! I put it on everything, I especially love it on my vegetarian bowls. It's so easy and fast to make and so tasty. Recipe was super easy to follow."
Reader Sam says: "This tzatziki sauce should be made by the jugful it's that delicious!"
Simple Creamy Salad Dressing - perfect on slaw, garden salads or drizzled on vegan bowls, this tangy, creamy sauce is sensational! Oil-free, dairy-free, gluten-free and 100% vegan.
Everyone loves this incredible salad dressing. It's easy to make, stores well in the fridge, has lots of flavor without any added dairy or oil. Plus it's versatile - switch up the spices or vinegars for a new flavor combination every single time!
Tex-Mex Salad Dressing - so good you could drink it straight from the bottle, but drizzle it on a Southwestern Chopped Salad for a full meal deal! Tangy, spicy, smoky, oil-free, gluten-free, and dairy-free, this dressing will elevate anything you drizzle it on!!
Reader Drisana says: "This salad was AMAZING! Full of delicious veggies and the dressing was so quick and just the perfect flavor needed to bump this salad up a notch!"
It's the perfect dressing for all your summer salads and coleslaws, a delicious drizzle on taco Buddha bowls, healthy taco stuffed sweet potatoes or dip for delicious vegan tacos.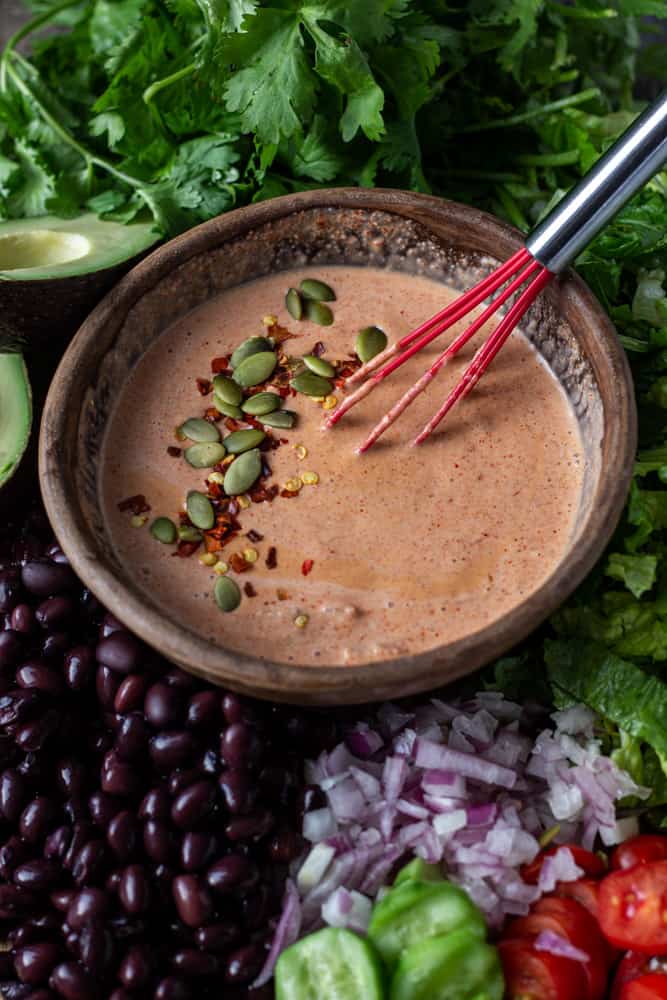 Vegan Queso Cheese Sauce Recipe - family favorite on Taco Tuesdays or Vegan Nacho Supreme Friday nights. Thick, cheesy, spicy yumminess drizzled over nacho chips with Chipotle Mexican sausage chunks, homemade guacamole, easy pico de gallo, black beans, pickled hot peppers, and corn salsa. A full meal vegan deal that is devoured down to the last crumb every single time!
Easy 5 Minute Vegan Pesto Recipe - this versatile pesto sauce is really quick and it easy to make and it amps up the flavors on everything you add it to. Stir it into soup or lentil bolognese sauce, or drizzle over tacos for extra yumminess.
But I created this pesto to slather on my Vegan Meatball Sub, and it's an extraordinary flavor combination!!!
Some five star reviews: 'This is definitely in my top 5 sandwiches ever eaten. This is like secret food truck level good. I can't say enough good things about this sandwich.' Scott
'What a delicious sandwich. The pesto is so delicious. I didn't know that I loved pesto this much. The flavors go together so well. I can't wait to make it again.' Julie
'I can't believe this is vegan, the sauce is so incredible!! I LOVE this sandwich. Make it again please!' Jennifer
Spicy Satay Peanut Sauce - this vegan sauce recipe is so incredible it should be illegal! It's super flavorful, easy to make, keeps well in the fridge, is delicious slathered on everything; and it's oil-free, gluten-free, dairy-free and vegan! Whoop!
Enjoy this satay sauce on a Spicy Peanut Tofu bowl, over grilled veggies or as a Buddha bowl sauce. Drizzle it over a salad, tacos or breakfast burrito - it's awesome sauce!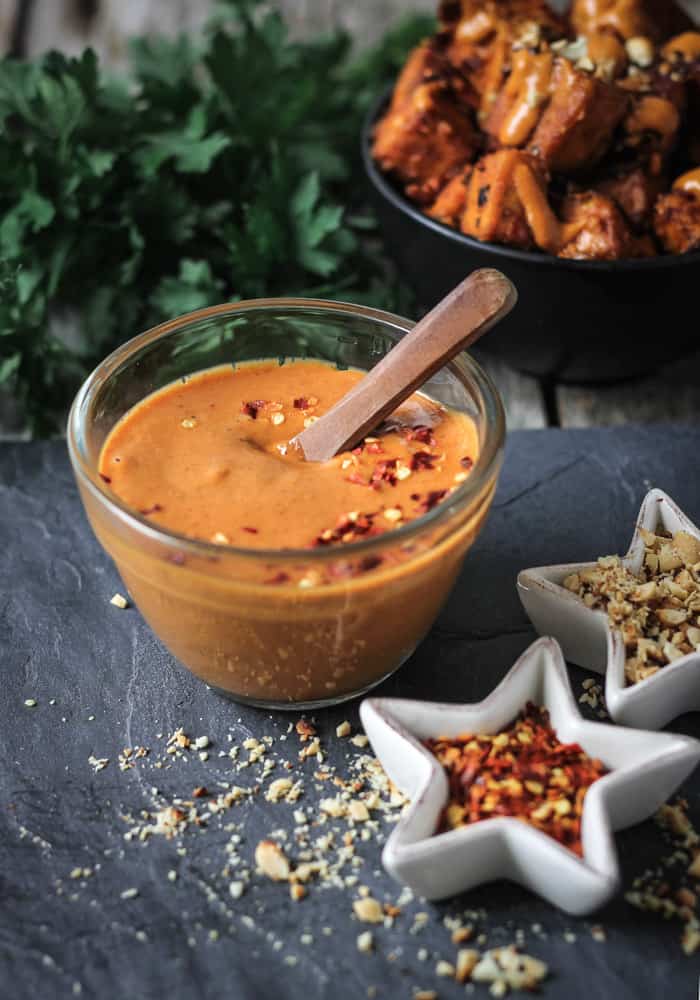 Salted Caramel Sauce Recipe - so easy to make and it's thick, rich, and totally indulgent. Drizzle it over Walnut Praline Biscotti (best biscotti EVER!), stir it into Iced Coffee or swirl on dessert.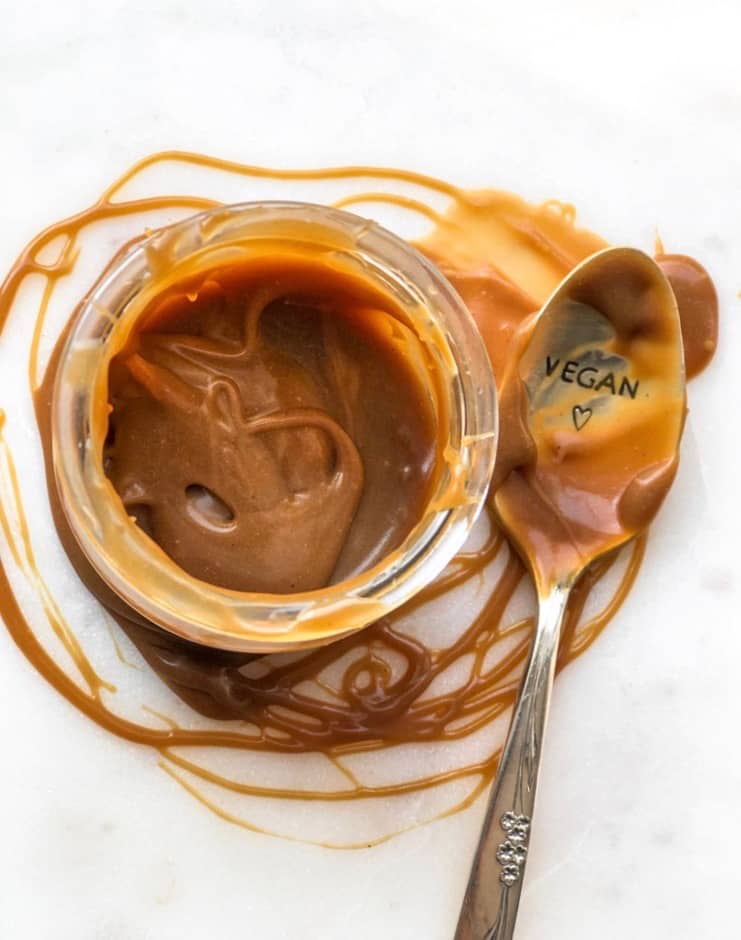 This dairy-free salted caramel sauce is really difficult to resist. The first time I made it, I kept going back to the fridge to have a little taste; and before I knew it, it was all gone. Yikes!
So although I can attest to its deliciousness straight out of the fridge, try it on these life-changing and fancy holiday millionaire cookies or serve it over Affogato for a special dessert. I have no doubt that you'll find your own places to drizzle or dip this caramel sauce.
Bonus: Everyday Oil-free Salad Dressing Recipe
This is one of two oil-free salad dressing recipes I whip up whenever we have salad (the other one is #5 above). A dairy-free vinaigrette that is super simple and easy to make, totally adaptable, and really delicious. It stores well in the fridge for several days.
Vinaigrette Salad Dressing (oil-free, dairy-free)
2 tbsp Dijon mustard
1 tsp maple syrup
2 tbsp apple cider vinegar
juice of 1 small lemon
fresh thyme (can sub dry)
hot pepper flakes to taste
1-2 tsp dry oregano
1-2 tbsp water (for thinning)
cracked black pepper & salt to taste
Method: Place everything into a lidded jar and shake to incorporate. Taste and adjust ingredients to your preference: sweeter, more maple; creamier, more mustard (or blend in ¼ avocado); tangier, more acv or lemon; spicier, add garlic or more red pepper flakes; sub in any herbs.
Storage: place in the fridge in a lidded jar for 3 or 4 day.
Did you make any of the Vegan Sauce or Dressing Recipes?
Please let us know which is your favorite below in comments.
Please share your photos with me on IG @ceeceecooks and Facebook,
I love to see your re-creations!
NEVER MISS A RECIPE: Sign up for my email NEWSLETTER