If you're a sauce loving family like we are, you'll want to keep this round up of 10 best vegan sauces handy. I've included sweet and savory, indulgent and healthy, rich and light, salty, spicy, tangy, thick and pourable options. There's something for everyone!
As a vegan food blogger, I always have a fridge full of bits and bobs from recipe testing. I repurpose leftovers at least 3 times a week into bowls or tacos. Sauces and drizzles are my secret weapon for transforming leftovers to a spectacular weeknight meal in minutes.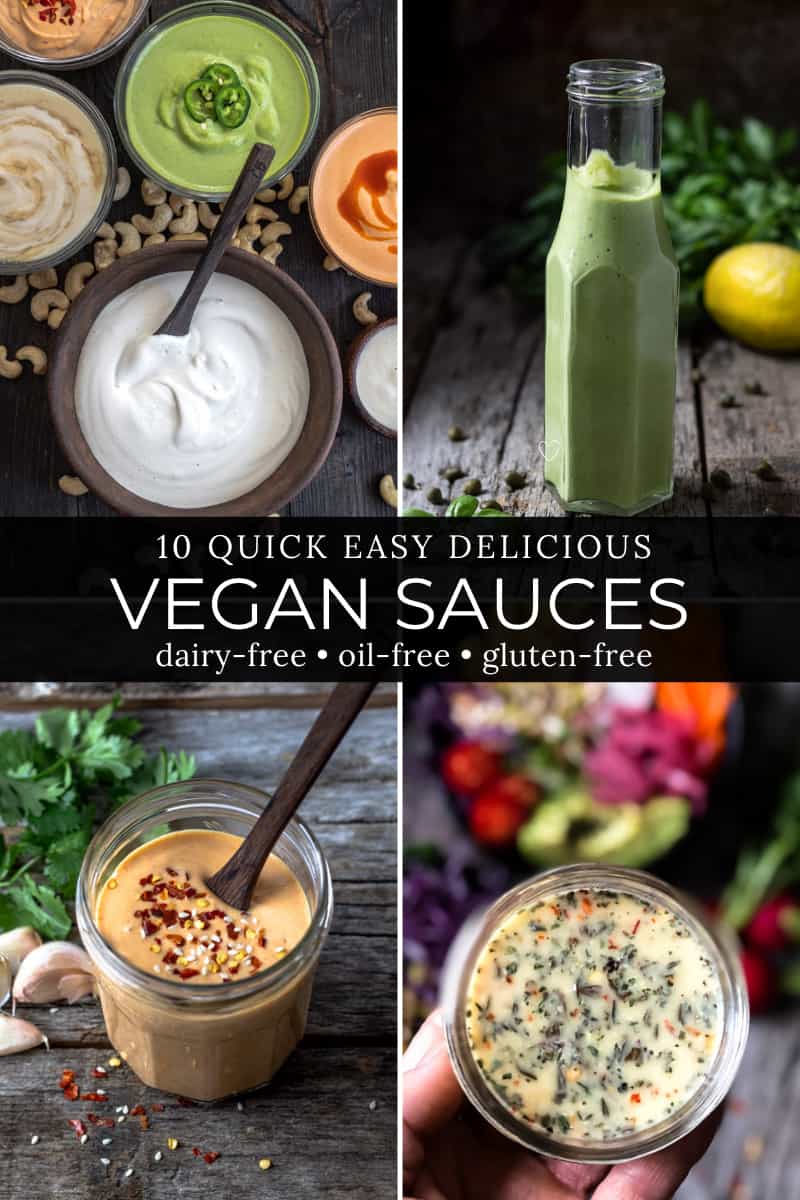 Quick and easy, uncomplicated, and incredibly addictive, these vegan sauce recipes are delicious on rice bowls, Buddha bowls, tacos, salads, and desserts. Keep reading for my Top 10 List of Scrumptious Vegan Sauces and Dressings plus a bonus backpocket salad dressing (oil-free) recipe you'll turn to again and again!
Sweet and Spicy Tahini Sauce Recipe - this sensational 3 minute sweet and spicy tahini sauce is completely addictive. It's a super popular vegan sauce to drizzle on Buddha bowls or over tacos, baked potatoes and grilled veggies. Oil-free, gluten-free, dairy-free, wfpb, and paleo, it's made with tahini, maple syrup and sriracha sauce.
Sweet and Spicy Tahini Sauce
This tahini sauce is perfectly sweet and spicy. Totally dairy free and completely addictive, you'll want to smother it on everything! Easy to make plus oil-free, gluten-free, dairy-free, a drizzle of this sauce makes everything 1000% better! Trust me.
Check out this recipe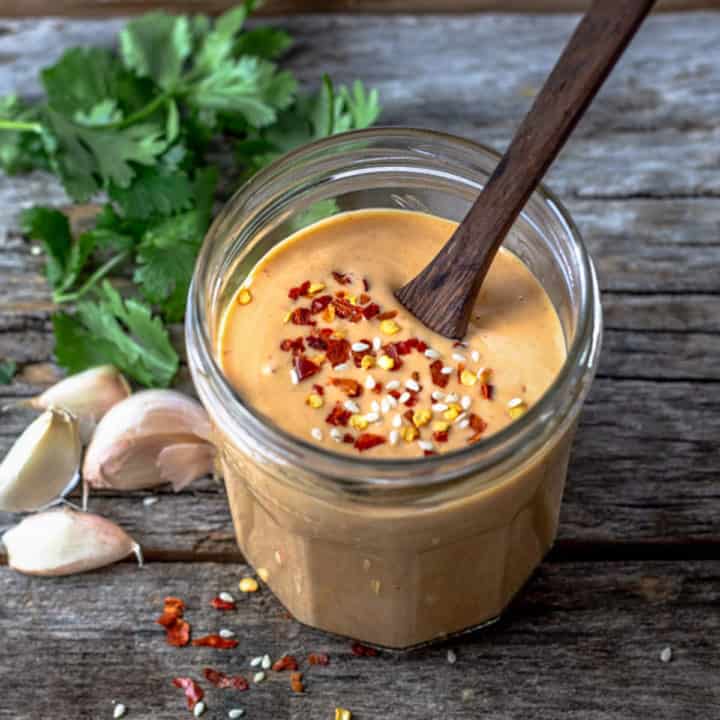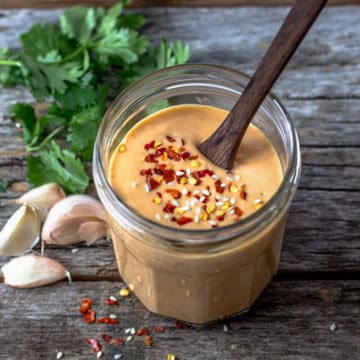 Reader Stacey loves this tahini sauce: "So delicious and easy, our whole family loved it, I can stop looking for the perfect Tahini dressing now, thank you!"
I created this sweet and spicy tahini sauce for my succulent shawarma wrap. It transforms this incredible plant-based sandwich into a tangy flavour bomb that everyone loves! Bursting with tangy, nutty flavor, a hit of heat and a kiss of sweet, this sauce will rock your world!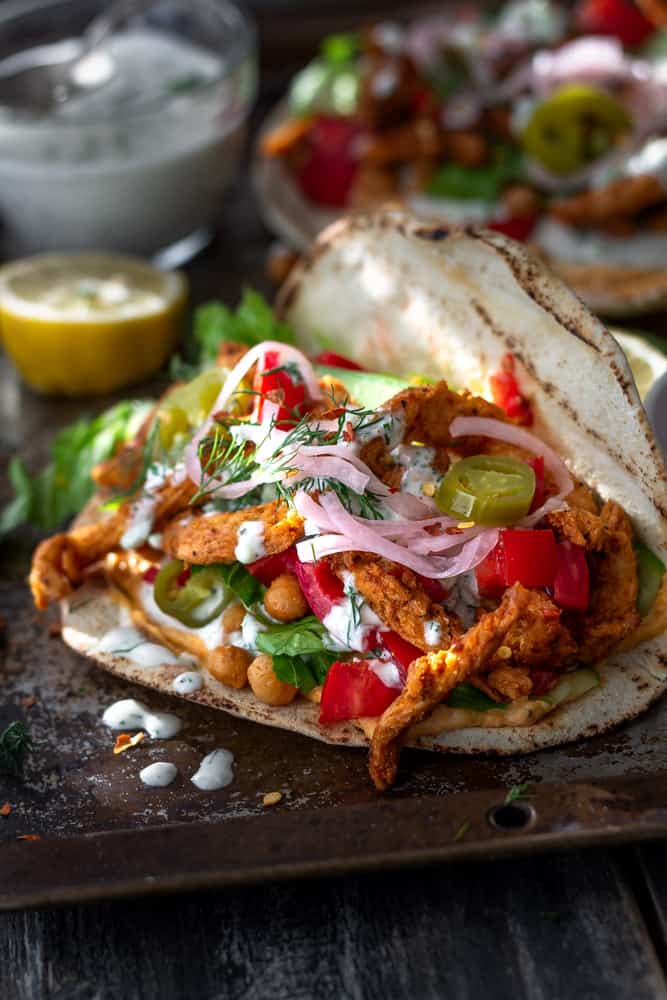 Find more scrumptious dairy-free sauce and dressing ideas on my vegan sauce recipes page.
Everyday Tahini Sauce Recipe with a Twist - everyone needs a great sauce recipe or two in their back pocket, and this basic tahini sauce is an incredible one. It's quick and easy to make, is super adaptable, and tastes amazing on everything. I added a couple flavor twists too! It's rich and creamy but made without oil or dairy!
Easy Basic Tahini Sauce Recipe
Step-by-step guide to making the creamiest most luscious tahini sauce from scratch. Make it once a week and use it daily! So versatile it's perfect for everyday dressings, dips, sauces and drizzles. Plus it's 100% vegan, gluten-free, oil-free, dairy-free and 1000% delicious.
Check out this recipe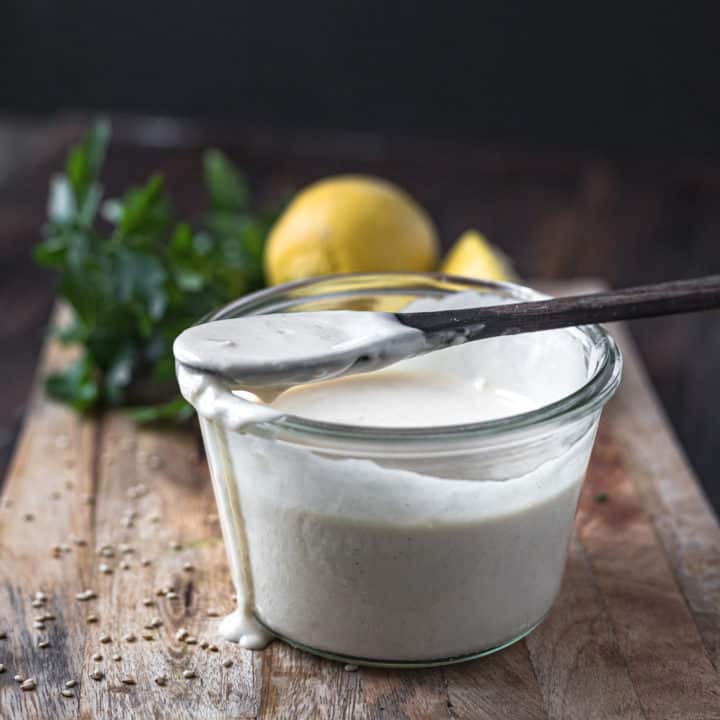 Reader Stephanie says: "We love this tahini sauce - it's so easy to make silky smooth. We love the date option for a hint of sweetness!"
Reader Greg says: "So creamy and delicious! Thanks for the garlic tips too!!"
Check out the tahini sauce recipe series on the blog for more flavor variations!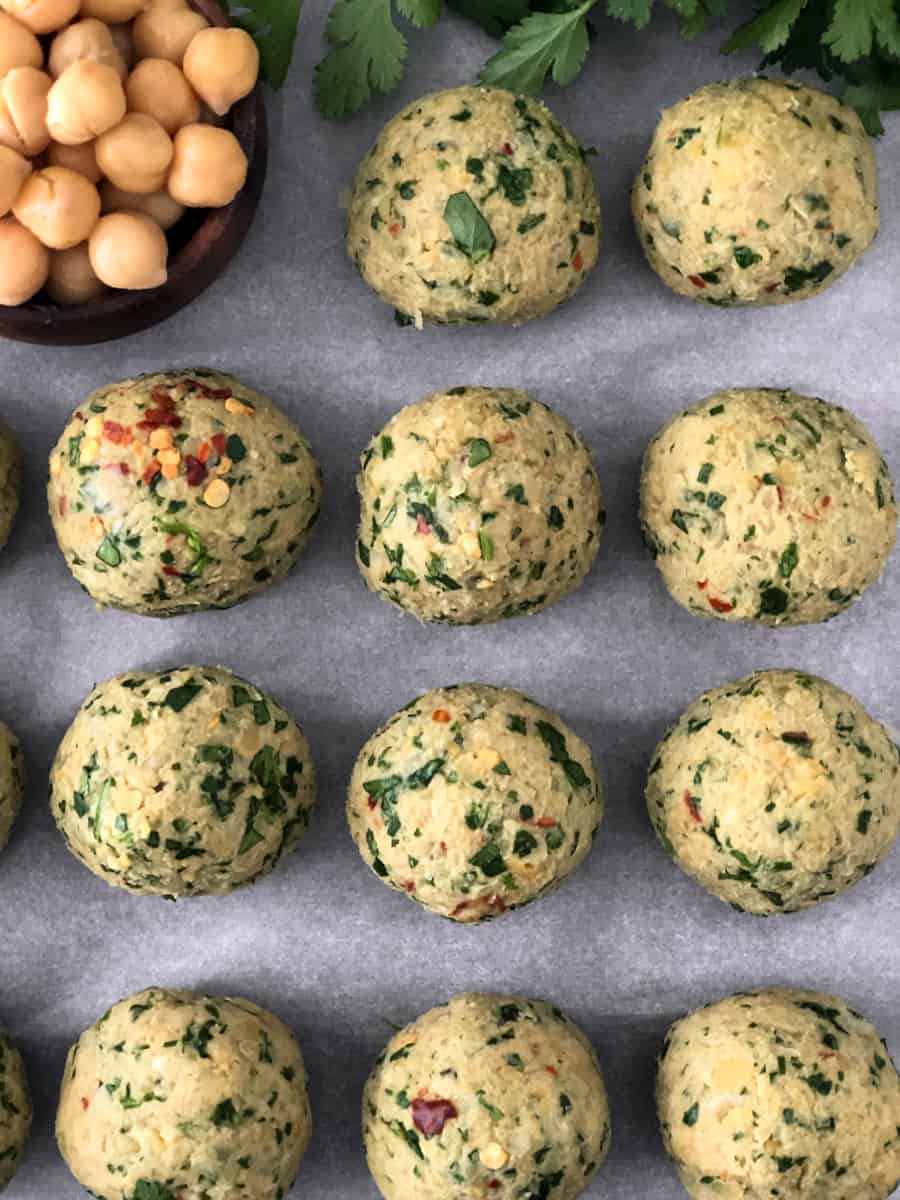 Easy Cashew Cream Sauce Recipe - cashew cream is a vegan chef's staple. Very quickly, a few simple pantry ingredients are transformed into sweet or savory, thick and creamy sauces, dips, and drizzles - no oil, gluten or dairy required! This recipe post includes lots of tips and tricks for making the perfect cashew cream sauce every time!!
Easy Cashew Cream Sauce Recipe
Creamy, rich, and delicious, dairy-free cashew cream sauce is incredible drizzled on buddha bowls, stirred into curries, and takes vegan lasagna over the top! Everyone is obsessed with cashew cream sauce - vegan or not!
Check out this recipe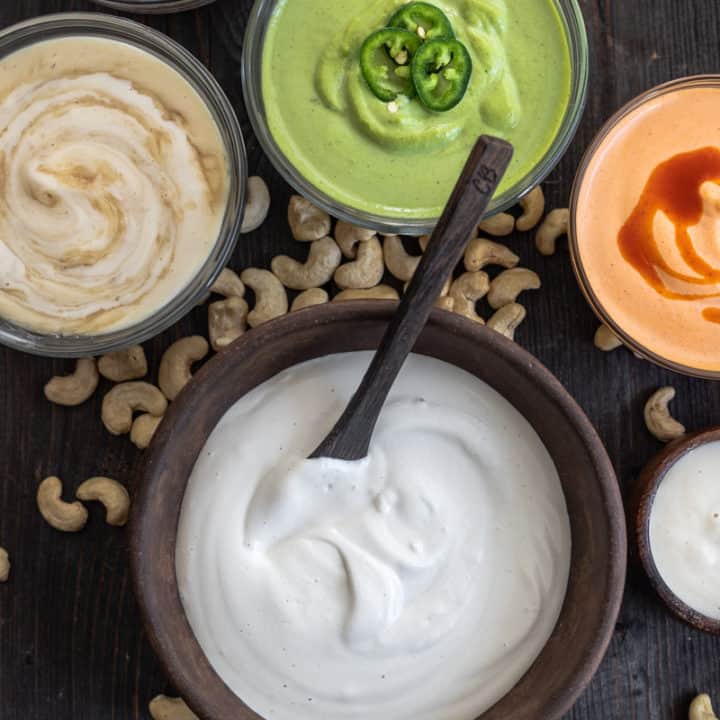 We have a saucy family so all the flavors of cashew sauces are very popular at our house. It's a quick, easy, and super versatile sauce so make a big batch to stir into soup, drizzle over tacos, breakfast burritos, pasta, and so much more!
Reader Karoline says: "The cashew cream is so delicious. Just put it on everything! The best vegan sauce I have ever tasted. Such creamy, nutty, spicy perfection. Thank you!"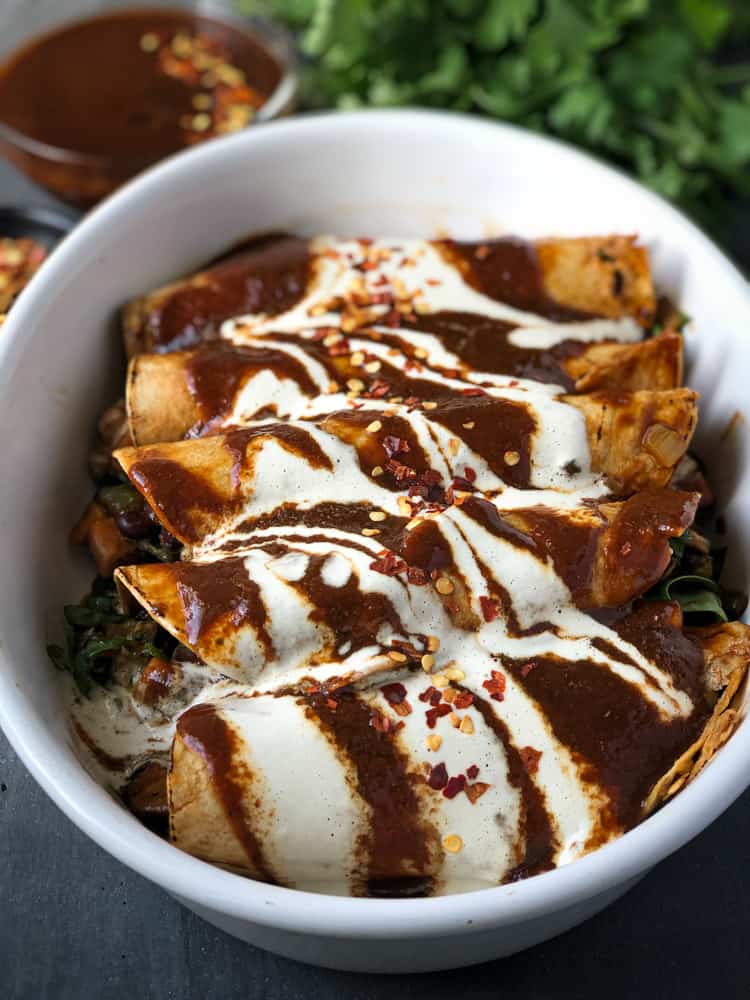 Delicious Vegan Tzatziki Sauce Recipe - everyone loves this tangy, fresh and creamy dairy-free tzatziki sauce. Made with vegan mayonnaise, cucumber and dill, it's absolutely delicious drizzled on tacos, stuffed sweet potatoes, pizza, and pretty much everything else!
Delicious Vegan Tzatziki Sauce
This creamy, dairy-free tzatziki sauce is tangy and delicious. Easy to make, oil-free and gluten-free, this yummy vegan sauce elevates all your favourite meals - tacos, baked sweet potatoes and Buddha bowls.
Check out this recipe
Reader Miranda says: "Hands down my favourite salad dressing EVER. I love this so much! I put it on everything, I especially love it on my vegetarian bowls. It's so easy and fast to make and so tasty. Recipe was super easy to follow."
Reader Sam says: "This tzatziki sauce should be made by the jugful it's that delicious!"
Creamy Tangy Homemade Salad Dressing - perfect on cabbage coleslaw, garden salads or drizzled on vegan rice bowls, this tangy-sweet, creamy dressing is sensational! Made with your choice of red wine vinegar or balsamic vinegar and dijon mustard, this oil-free, dairy-free, gluten-free dressing is 100% deliciously vegan.
Easy Delicious Coleslaw Dressing Recipe (dairy-free)
This tangy-sweet coleslaw recipe is incredibly delicious on coleslaw, salad or as a drizzle on Buddha bowls. It's an oil-free, creamy, extremely easy to make dressing that makes everything extra delicious and it's 100% vegan/plant-based!
Check out this recipe
Everyone loves this incredible vegan salad dressing. It's easy to make, stores well in the fridge, has lots of flavor and is made without dairy or oil. Plus it's versatile - switch up the spices or vinegars to customize your own flavor combination!
Tex-Mex Salad Dressing - so good you could drink it straight from the bottle, but drizzle it on a Southwestern Chopped Salad - it's the best homemade vegan salad dressing! Say goodbye to store bought dressings and sauces, this creamy, dairy-free sauce is ready in 3 minutes. It's spicy, smoky, oil-free, gluten-free, and bursting with flavor.
Southwestern Chopped Salad with Creamy Tex-Mex Dressing
Fully loaded, fresh, and healthy, this Southwestern Chopped Salad drizzled with creamy spicy Tex-Mex dressing is loved by all eaters! It's dairy free, gluten free, oil free, vegan, and it's extraordinary! No Joke!
Check out this recipe
Reader Drisana says: "This salad was AMAZING! Full of delicious veggies and the dressing was so quick and just the perfect flavor needed to bump this salad up a notch!"
It's the perfect spicy vegan salad dressing for all your summer salads and coleslaws, a delicious drizzle on taco Buddha bowls, stuffed sweet potatoes or dip for delicious vegan tacos.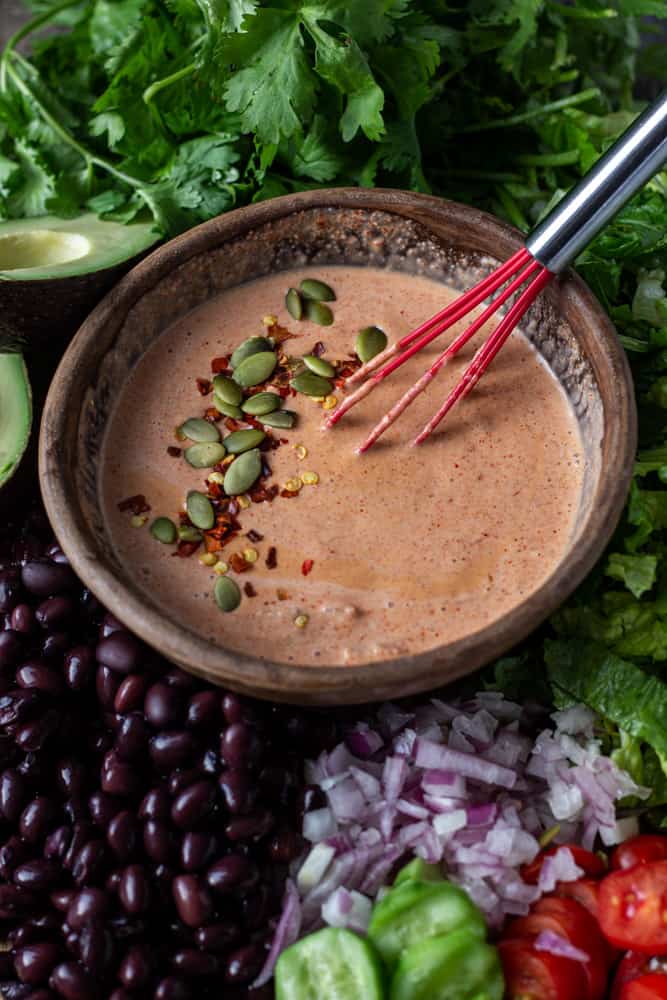 Vegan Queso Cheese Sauce Recipe - family favorite on Taco Tuesdays or weekend parties Vegan Nacho Supreme. Made with blended cashews, salsa, smoky spices, and roasted red pepper, this thick, cheesy vegan queso is fabulous drizzled over everything!

It's the perfect sauce for game day, family get togethers and parties because everyone loves this queso - vegan or not!
Incredible Vegan Queso Cheese Sauce
Spicy, cheesy, vegan queso dip that's beyond incredible and a little addictive. It's seasoned with Mexican spices, roasted red peppers, chunky salsa, and the perfect pinch of heat and smoke. Everyone loves this queso - vegan or not! Grab a bag of chips and dig in!
Check out this recipe
Easy 5 Minute Vegan Pesto Recipe - this versatile vegan pesto sauce is really quick and it easy to make and it amps up the flavors on everything you add it to. Stir it into soup or lentil bolognese sauce or drizzle over tacos for extra yumminess.
But I created this zesty garlicky pesto to slather on my Vegan Meatball Sub sandwich, and it's an extraordinary flavor combination!!!
Simple 5 Minute Vegan Pesto Recipe
We love adding pesto to everything because it's bursting with so much dang flavour!!! It's garlicky, tangy, creamy, healthy, and soooo simple to make. Try it smothered on our Vegan Mealball subs for an incredibly magical plant-based meal!
Check out this recipe
Some five star reviews: 'This is definitely in my top 5 sandwiches ever eaten. This is like secret food truck level good. I can't say enough good things about this sandwich.' Scott
'What a delicious sandwich. The pesto is so delicious. I didn't know that I loved pesto this much. The flavors go together so well. I can't wait to make it again.' Julie
'I can't believe this is vegan, the sauce is so incredible!! I LOVE this sandwich. Make it again please!' Jennifer
Spicy Satay Peanut Sauce - this savory-sweet vegan peanut sauce recipe is so incredible it should be illegal! It's super flavorful, easy to make, keeps well in the fridge, is delicious slathered on everything; and it's oil-free, gluten-free, dairy-free and vegan! Whoop!
Spicy Satay Tofu Noodle Bowl
This incredible Satay Tofu Noodle Bowl recipe is spicy, saucy, and totally addictive! It's an easy to make, healthy, flavorful recipe that is oil-free, gluten-free, vegetarian, and vegan. Everyone loves this scrumptious Buddha bowl - vegan or not!
Check out this recipe
Enjoy this 5 minute vegan satay sauce on a Spicy Peanut Tofu noodle bowl, over grilled veggies or as a Buddha bowl sauce. Use it as a salad dressing, taco sauce or breakfast burrito drizzle - it's a popular and versatile sauce in my vegan kitchen!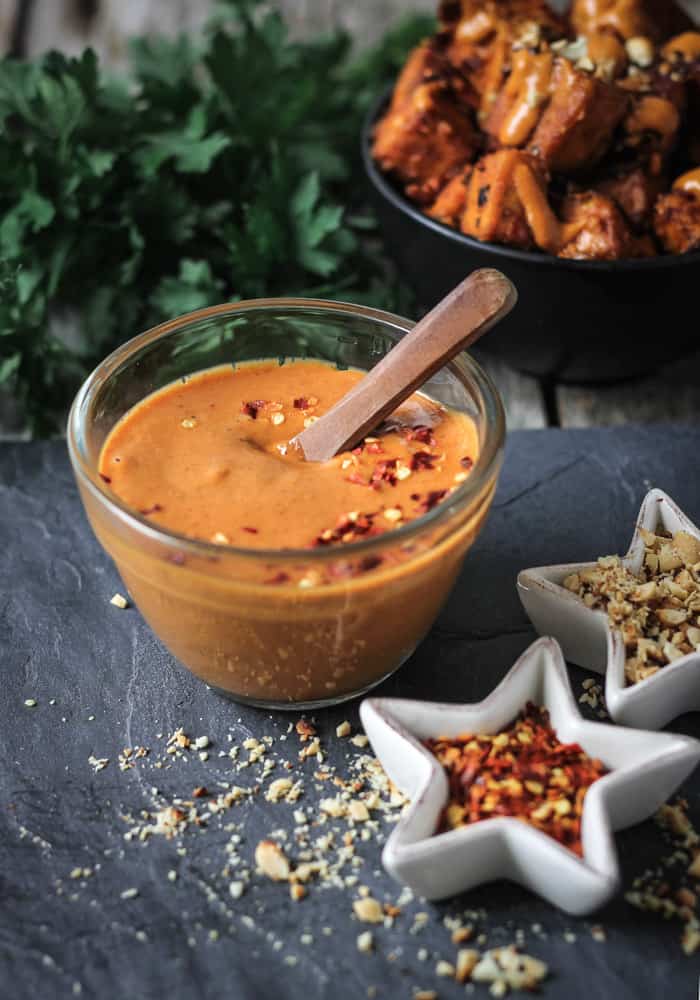 Salted Caramel Sauce Recipe - so easy to make and it's thick, rich, and totally indulgent. Drizzle it over Walnut Praline Biscotti (best biscotti EVER!), stir it into Iced Coffee or swirl on dessert.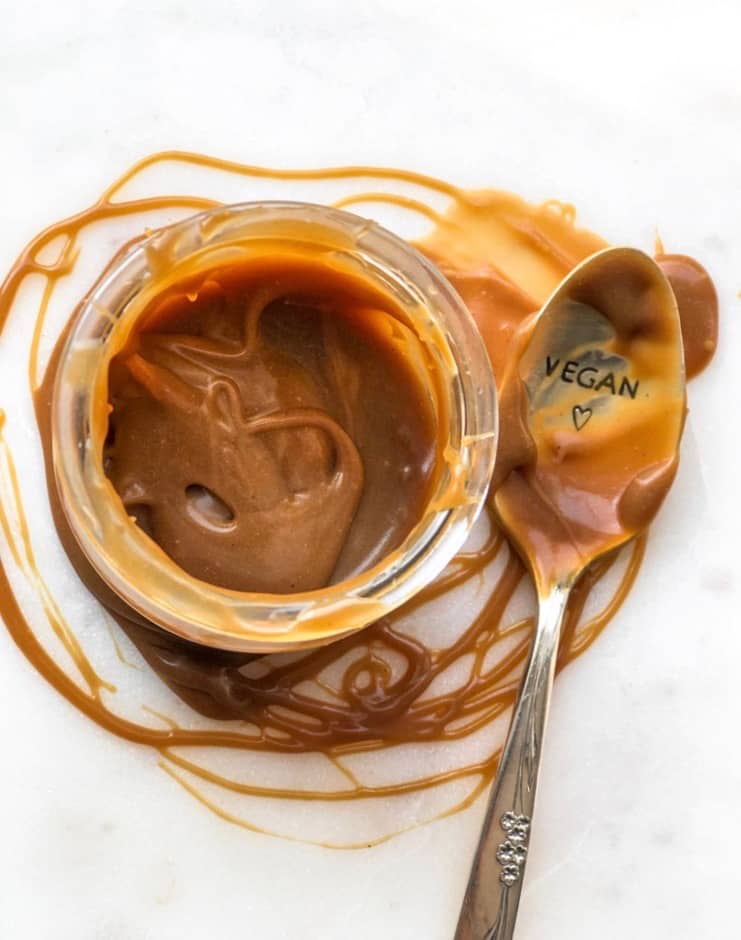 This dairy-free salted caramel sauce is really difficult to resist. The first time I made it, I kept going back to the fridge to 'test' it; and before I knew it, it was all gone. Yikes!
So although I can attest to its deliciousness straight out of the fridge, try it on these life-changing and fancy holiday millionaire cookies or serve it over dairy-free Affogato for a special vegan dessert. I have no doubt that you'll find your own places to drizzle or dip this homemade vegan caramel sauce.
This is one my go-to vegan salad dressing recipes I whip up whenever we have a big salad or rice bowl. A zesty oil-free lemon dressing for salad that is quick and easy and makes everything 1000% more delicious. It stores well in the fridge all week.
Creamy Lemon Vinaigrette Dressing
Quick and easy, creamy lemon vinaigrette dressing or marinade recipe that's bright and zesty. This family favorite elevates everything it's drizzled on. Plus it's oil-free, dairy free, and totally vegan! Ready in under 5 minutes, this creamy dijon lemon dressing keeps well in the fridge all week!
Check out this recipe
Pour this lemon vinaigrette dressing on a fancy garden salad, Mediterranean bean salad, avocado tomato salad or drizzle it on slaw for vegan tacos, Buddha bowls and pretty much anything else!
Did you make my 10 Best Vegan Sauces, Dressing and Dips Recipe?
Which is your favorite? Let me know below in comments.
Tag me on Instagram, I love seeing your food!
NEVER MISS A RECIPE: Sign up for my email NEWSLETTER
10 Best Vegan Sauce Recipes
Sauces are the secret ingredient that change ordinary to extraordinary; they transform boring leftovers into something special and make a boring salad sing. These vegan sauce recipes take only a few minutes to make, store well in the fridge, and are ready to elevate any vegan/vegetarian dish. Dairy free, oil free, nut free, soy free, gluten free and vegan - there's an option for everyone!
Rate this recipe!
INGREDIENTS
cashews, sunflower seeds or other nuts

vegenaise

dijon mustard

tahini paste

maple syrup

hot sauce

herbs + spices
INSTRUCTIONS
Making Vegan Sauces: Tips

Pick out a couple sauces to make each week (they store well in the fridge and are super versatile for serving with salads, bowls, tacos, leftovers, etc.).

Vegan sauces couldn't be easier to make - ready in under 5 minutes with only a few pantry ingredients in most cases. Pro Tip: Read through the sauce recipe first as some may require pre-soaking nuts or pressing tofu, etc.
NOTES
Adding a vegan sauce drizzle or dip makes it seem like you fussed but you didn't!
Store in fridge all week ready to be drizzled, dipped or poured on everything!
This recipe is from simplyceecee.co food blog. All images and content are copyright protected. Please do not use my images or republish this recipe without prior permission. Thank you.